NFL Power Ratings: Top 5 and Bottom 5
by Mike Davis - 9/10/2014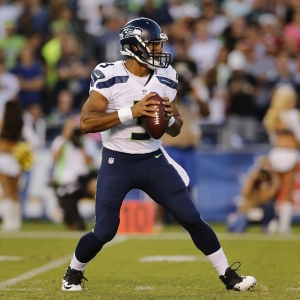 Every other week I will deliver my updated Top 5 and Bottom 5 NFL power ratings article. The article will feature writeups about the 10 teams with added commentary from me. Putting together NFL power ratings always helps me with my handicapping during the week before I make my picks. The commentary may or may not be pertinent or funny, you decide. Without further adieu…
Top 5 teams:
1 — Seattle Seahawks: This team is the best team the league has seen in many years. They are known for their defense, the Legion of Boom, the 12th man, and their outspoken, Stanford-educated cornerback. The common denominator: defensive disruption. It's no secret that Seattle's title run last year was because of their defense. Many of those same defensive players are back, but I'm here to tell you that their offense could be the most complete offense in the NFL. That's a scary thought.
Russell Wilson is as good as any quarterback not named Peyton Manning. Heck, he may be on a different level than Manning because of his escapability — something that would serve him well if he ever had to face his defense. Marshawn Lynch is a strange bird; there is no doubt about that. However, he can pound the rock and is tough as nails. The addition of a healthy Percy Harvin for an entire season is icing on the cake. Harvin is a playmaker with not many equals in this league (Cordarrelle Patterson & LeSean McCoy).
Pete Carroll's rah-rah attitude has been well received in Seattle, and we could very well be looking at a dynasty in the making. The folks in the desert were way off in Week 1 with their line of Seattle -5.5 at home vs. the Packers. This week, the opening line is once again Seattle -5.5, but this time they are on the road at San Diego. This line seems to be more in line with where I would put it. We will watch closely to see how (if any) this line moves.
2 — Denver Broncos: The defending AFC champs opened their season at home vs. Peyton's former team, the Indianapolis Colts. Denver was sharp early and built a big enough lead to hold on when the wheels seemed to come off in the second half.
Was Peyton missing Welker? Is Sanders the answer? Do they miss Knowshon? All of these questions could have entered your mind as you watched the Colts storm back. The truth is: The Broncos are a better team than they were last year, specifically on defense. The problem they had Sunday night was the Indianapolis Colts. The Colts are good.
Denver received plenty of respect as they finished as high as a nine-point favorite in some places. Most bets were placed with Denver being a 7.5-point favorite. As we all know, they failed to cover. They opened this week as 12.5-point favorites at home vs. Kansas City. At the time of this writing, they are anywhere from 13- to 14-point favorites. The line seems sharp as the bookmakers are onto the Broncos early in the year this time around.
3 — Detroit Lions: I know what you are thinking: Mike, you're an idiot. Hear me out. The Lions added a key piece in the offseason when they signed Golden Tate. This is an offense that was loaded last year but was missing that second wide receiver. Tate can fill that void. Matthew Stafford made an effort to get in better shape. (I stood next to him on the UGA sidelines at a spring game two years ago, and I was amazed at how "chubby" he looked.) The addition of offensive coordinator, Joe Lombardi, paid immediate dividends.
Firing Jim Schwartz and bringing in a new, aggressive defensive philosophy is perhaps the single best reason why I have them ranked this high. The Lions had only 36 sacks last season because they relied so heavily on their defensive line alone to pressure the quarterback. This year, the defense will be much more aggressive.
Detroit finished around 5.5- to 6.5-point favorites over the Giants in Week 1. As we saw, that was a soft line. This week they travel to Carolina, and Cam Newton is expected to get the start. The Lions opened as a 3.5-point underdog, and they are currently a 2.5- to three-point dog. The new-and-improved Lions offense vs. the great front seven of the Panthers is the matchup to watch.
4 — Philadelphia Eagles: The team from The City of Brotherly Love had huge expectations coming into the season. However, they found out quickly that you can't just roll your helmets out on the field and expect the other team to lie down in this league. Philly was down 17 points at the half vs. the improved Jacksonville Jaguars. However, give the Eagles credit as they rebounded to score 34 unanswered points and win the game despite a marginal game from "Shady" McCoy. Speaking of: Did he really leave a 20 cent tip on a $60 bill as reported in the media? That is "Shady". I digress.
Chip Kelly's offense will score points in bunches this season. The question remains: Can the defense slow teams down? That is a question we will get an immediate answer to this week. The Eagles were a double-digit favorite vs the Jaguars last week. This week they open as a three-point underdog on the road at Indianapolis.
5 — Indianapolis Colts: I can hear you at your computer now: Mike, where are the San Francisco 49ers? The answer is: they aren't in my Top 5. They have issues on defense that will be exposed in coming weeks. Back to the real No. 5 team, the Colts. Indy showed me a lot in their seven-point loss at Denver Sunday night. Andrew Luck and the offense played much better in the second half. As for the defense? After a rough start, the D held Peyton and the Broncos to just seven points in the second half.
This team has that "it" factor that many teams lack. I can't put my finger on it, but this is a team to keep a close eye on this season. As mentioned above, they were 7.5-point underdogs on the road at Denver and they opened as a three-point favorite at home vs. the Eagles this Monday night.
My Team 4 vs. my Team 5 is the matchup to watch in the NFL this week. Can either team make a huge statement, or will this be a close game? Will it be a shootout, or will the defenses rise to the occasion? I will have the answer for you with my "Monday Night Football" 6-Unit selection.
Bottom 5:
32 — St. Louis Rams: They have a great Front 4 on defense. That is the only positive thing I can say about the Rams. Jeff Fisher is well-respected around the league, but what has he really done? Yes, he took the Titans to a Super Bowl. What else? He has been a head coach for 20 years, and he has six winning seasons. That's it. This year's Rams' team is the worst team in the league, and it falls directly on the shoulders of Jeff Fisher and GM Les Snead.
The offense managed just six points in the opener vs. the Minnesota Vikings. Yes, the Minnesota Vikings. Are you kidding me? The loss of Sam Bradford could certainly be blamed for some of that, but come on, that is pathetic. And that dominant Front 4 on defense I told you about? Zero sacks. Where is the dominant defense that was promised to Rams' fans everywhere? Gregg Williams (yes, the same one) was supposed to be the savior. Umm, not exactly. This effort was one of the worst efforts I have ever witnessed in an opening home game in the NFL.
The Rams were just three-point favorites at home vs. Minnesota. This week they opened as 3.5-point underdogs at Tampa Bay. However, the Bucs are currently 6.5- to seven-point favorites. Has Vegas made the proper adjustment, or did they overreact?
31 — Washington Redskins: Has the best of the RGIII era already happened? Griffin made an immediate impact in the NFL his rookie season. He looked great running the read option and hitting wide-open receivers in the areas vacated by the linebackers. However, since his knee injury, he has been a shell of his former self. He looks like a fish out of water in this new offense and some have even said that it's time to give Kirk Cousins a shot. I thought the Redskins would trade Cousins in the offseason for value, but maybe Jay Gruden and the Redskins' brass have other ideas.
The Redskins were a slight underdog last week on the road at Houston. They lost the game 17-6 to a team quarterbacked by Ryan Fitzpatrick, the Harvard man. This week, the Skins are a seven-point favorite at home vs. Jacksonville. There is a lot of value with Jacksonville at this number. Vegas has not adjusted correctly to Washington.
30 — New York Giants: Paging Eli Manning, Paging Eli Manning. Has anyone seen Eli Manning? The younger brother to Peyton Manning is M.I.A. The guy who has twice as many Super Bowl rings as his older brother looks like a third-string CFL quarterback (if those exist). Manning is trying to adjust to a new offense, but that is no excuse. He has been trending downwards the past couple of years, and his performance in the preseason and in Week 1 were bad, really bad. A lot of that can be contributed to the offensive line or lack thereof. The Giants can't get a running game going, and that puts all of the pressure on Eli, and he can't handle it. Period.
Unlike the Redskins, the Giants have the same head coach as they did last year. In fact, Tom Coughlin has been with the G-Men since 2004. That is a very long tenure in today's National Football League. I would venture to say that his message is falling on deaf ears at this point and that this will be his last year. It's a shame that a two-time Super Bowl winning coach will have to suffer through a horrible season, but that is exactly what is staring Coughlin and the Giants in the face.
The Giants were 5.5- to six-point underdogs last week in Detroit. This week, they opened as one-point favorites at home vs. Arizona. The line is currently Arizona -2. Hmmm.
29 — Dallas Cowboys: Where do I begin? Tony Romo looked unenthused, and he played like it. He was lobbing the ball up in traffic, and he frankly looked as if he didn't care. It was hard to watch. The Cowboys were able to get their running game going, but Romo would self destruct in the red-zone. I couldn't believe the play calling inside the 10-yard line. I'm at a loss for words. It was that bad.
We knew coming into the season that Dallas would struggle on defense, and they did. The injuries, suspensions and overall lack of talent make this defense the worst in the league. San Francisco struggled mightily in the preseason on offense (I know, I know — it was the preseason), but they looked like the 2007 New England Patriots vs. the Cowboys' defense. Things will get worse before they get better in Big D. Can the offense keep them in games? Can Dez Bryant play a full game? Will Romo care moving forward?
Dallas was a four-point underdog at home last week vs. the Niners. This week, they opened as a three-point dog at Tennessee. The Titans are currently a 3.5-point favorite.
28 — Kansas City Chiefs: What the heck was that? Is this an Andy Reid-coached team? Jamaal Charles only had seven carries. SEVEN. Reid admitted after the game that he called a bad game. Ya think? The truth is: Reid lost most of his offensive line in the offseason. He also lost a dynamic playmaker (McCluster) and Dwayne Bowe was suspended for the opening game. His only threat on offense was Charles, and he touched the ball only 11 times. That's all you need to know about the Chiefs vs. Titans game.
On defense, the Chiefs didn't play well. They allowed Jake Locker to pick them apart through the air and the Titans' running backs to rush for 162 yards. On top of that, they lost starting linebacker Derrick Johnson and starting defensive end Mike DeVito for the rest of the season. Both players ruptured their achilles.
Vegas was sharp on the Chiefs in the opening week as they were only a three-point favorite at home vs. Tennessee. This week, they opened as a 12.5-point underdog at Denver. Currently, the Broncos are favored by 13.5 to 14 points.
After a 4-2 football week last week I look to do even better this week. I will have a big 5-Unit pick going on Saturday for college football and a 6-Unit pick for Monday Night Football. Click Here for more information on this week's picks, and click here for $60 worth of my picks for free (first-time Doc's clients only). Send me feedback on Twitter @mikedavisdocs