NFL Power Ratings: Top 5 and Bottom 5
by Mike Davis - 9/24/2014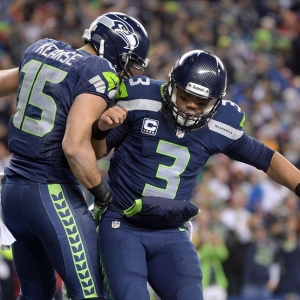 As we roll into week 4 of the NFL season, I want to take some time to share my thoughts on the "Top 5 and Bottom 5". Remember when I told you the 'Niners would be exposed defensively and that's why they were not in my original Top 5? I'm a genius, right? Well, let me remind you that I did not believe the Jaguars or Buccaneers were Bottom 5 teams. Yeah, um, about that….
You can see my previous NFL power ratings for Top 5 and Bottom 5 here .
While I am still high on all of the teams I placed in the Top 5, some of the Bottom 5 teams have made significant improvements and, hence, moved up my list. Let's get started.
1 - Seattle Seahawks: This team is still the best team in the league. The Seahawks lost on the road to a very good Chargers team, but Seattle showed plenty of moxie in defeating the Broncos at home after a great comeback led by Peyton Manning. Offensively, the 'Hawks are better than last year. However, this team is not quite as good on defense as it was during its Super Bowl-winning year. The Seahawks are a bit thin on the defensive line, and it has showed in the past two weeks. Seattle has a bye this week and then play in Washington on MNF in week 5.
2 - Denver Broncos: As mentioned above, the Broncos took the Seahawks to overtime in Seattle. That in itself is a great achievement. The Broncos have the best quarterback to ever play in the NFL leading this team, and although his arm strength isn't what it was pre-surgery Peyton still is able to dominate with his anticipation and his football I.Q. I am still waiting on this new defense to play its best, but the pieces are certainly in place to return to the Super Bowl. Denver has a bye this week and then hosts Arizona in week 5.
3 - San Diego Chargers: Phillip Rivers is a great competitor, and I love watching him and this year's version of the Chargers play. After a big letdown in the fourth quarter vs. the Cardinals in Week 1, San Diego has won impressively at home vs. the Seahawks and on the road at the previously-unbeaten Bills. The defense is flying around making plays, and I love the addition of Brandon Flowers in the secondary. Can this team win the Super Bowl? I'm not sure, but it certainly has a chance to get there as the Chargers play the Broncos tougher than any other team not named Seattle. San Diego hosts Jacksonville this week and the Jets in week 5.
4 - Philadelphia Eagles: The Eagles are still flying high after a big win at Indy and an exciting home victory over DeSean Jackson and the Redskins. Philadelphia is still undefeated despite a sub-par year from LeSean McCoy so far. The addition of Darren Sproles has already paid huge dividends. The concern for this team moving forward is its defense as Philadelphia has allowed 78 points through three games. Also, is there dissent amongst the players? Is Chip Kelly practicing the team too hard? It will be fun to see how the season plays out. Philadelphia is on the road at San Francisco this week and at home vs. the Rams in Week 5.
5 - Detroit Lions: Detroit made my original top 5 and then promptly went out and lost 24-7 at Carolina. However, that was a very close game for three quarters as the Lions held a 7-6 lead in the third. Detroit came home this week and defeated the Green Bay Packers 19-7. I really like this team moving forward as there are a lot of weapons on offense, and the defensive front is as good as any. Detroit plays at the Jets this week and at home vs. the Bills in Week 5.
I know many of you are reading this and calling me an idiot. It's okay, I hear it all the time at home; I've been married 17 years. Before you continue your rant, I want to bring your attention to a couple of things: Andy Dalton & Carson Palmer (Drew Stanton). Do you really believe a team quarterbacked by either of these quarterbacks is a legitimate Top-5 team in this league? Sure, the Bengals and Cardinals are both playing very good football. However, I would take any of the above teams vs. either the Cardinals or Bengals on a neutral field. When determining my Top 5, I certainly consider current form, but I also consider the prospects of wagering on these teams. At this time, it is very unlikely that I would ever bet on Cincinnati or Arizona. Some may call that closed minded, but I'm confident in the way I evaluate teams.
32 - Tampa Bay Buccaneers: It is very tough for me to admit this as I was extremely high on the Bucs prior to the start of the season. However, playing the "Tampa 2" defense for most of the game and being successful in this league is a thing of the past. The pass-happy offenses of today will eat you alive if you don't have a great defensive line that can apply pressure with just the front four. Tampa doesn't have that. The Bucs' offense is offensive. The O-Line is still horrible, and the quarterback play has been horrible. I truly believe the Bucs can turn it around, but being down 56-0 in an NFL game can not be overlooked. Tampa Bay plays at the Steelers this week and at the Saints next week.
31 - Jacksonville Jaguars: The Jags jumped out to a 17-0 lead vs. Philadelphia in week 1. Since then, Jacksonville has been outscored 119-27. Wow! Fans will get their wish as Blake Bortles will get the start this weekend. However, his receiving corps has been really banged up, and the O-Line play hasn't been good. The future may be bright for this young Jaguars' team, but the future isn't now. Jacksonville plays at San Diego this week and hosts Pittsburgh next week.
30 - Oakland Raiders: The Raiders actually played really well in New England this week. The thing about the Raiders is you never know which team will show up. They can play well vs. elite teams and lay eggs vs. cellar dwellers. Oakland hosts Miami this week and has a bye in Week 5.
29 - St. Louis Rams: The Rams defeated Tampa Bay and played well enough vs. Dallas to earn a victory. However, the defense on this team still concerns me. The front four can rush the passer, but if they don't get there gaping holes in the secondary become apparent. Also, I'm not sold on the run stopping ability of the linebacking corps. I do believe the Rams have found a gem in Austin Davis. However, young players make mistakes, like the interception Davis threw late in the game vs. Dallas. A coaching change in the offseason will help this ball club. St Louis has a bye this week and is at Philadelphia in Week 5.
28 - Tennessee Titans: Tennessee surprised a lot of people (myself included) with a Week 1 win at Kansas City. Since that game, the Titans have lost two straight and have been outscored 59-17 by the Cowboys and Bengals. Jake Locker is a very good athlete, but I'm not sure he is an NFL starting quarterback. As a matter of fact, take a look at the "Bottom 5" for this week. What do these teams have in common? Quarterback issues. Tennessee plays at Indianapolis this week and hosts the Browns in week 5.
The Vikings and Giants were considered for the "Bottom 5" this week. However, Eli and the Giants actually looked good on offense in New York's win over the Texans, and Minnesota has a defensive-minded coach and I am really high on Teddy Bridgewater. Remember, these rankings are the rankings I use when handicapping games each week. I strongly suggest you make your own list and tweak it each week. It will really help your handicapping moving forward.
Since the Thursday night start to the NFL season, I am 11-5 +38 units and $100 bettors are up $3,570. After a loss on Auburn last Thursday, I swept the board over the weekend (4-0 +24 Units +$2,400) including a big 7-Unit winner in college football and a huge 8-unit winner in the NFL. I am 6-1 on 6-unit plays and higher. Check out my handicapper page as I have 5 more BIG winners this week including two 7-Unit winners and my 5-Unit SEC winner (signature play). Clickhere for $60 worth of my picks for free. Best of luck - Mike.