NFL Betting: Odds and Predictions for Player Prop Matchups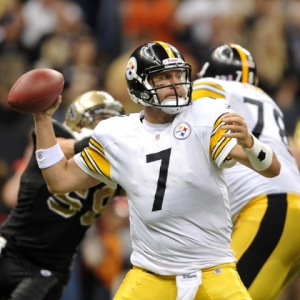 BetOnline has a wide range of player matchup props listed . Most deal with quarterbacks, and for good reason - those are always the most interesting to discuss and dissect. As I went through the long list of options, there were seven that stood out for the most important of reasons - they offer value. Let's take a look:
Most passing yards - Luck (-175) vs. Roethlisberger (+145): There is no doubt that Luck is a great QB or that he could be Hall of Famer when all is said and done. There is also obvious excitement about the prospect of him throwing to Andre Johnson this year. He's the favorite to win the passing yards title this year, too. That being said, this line makes Roethlisberger effective. Big Ben tied for the league lead in passing yards last season. He doesn't have inspiring targets to throw to, but then neither did he last year for the most part. He's seeing the game very well at this stage in his career. He'll also likely have to throw a lot because his lousy defense won't afford a lot of opportunities for the team to patiently try to kill the clock. Luck could arguably be a little more likely to pass for more yards, but the margin isn't big enough to justify these prices. There is value in Roethlisberger here.
Most passing yards - Tannehill (-200) vs. Bradford (+160): I don't feel the enthusiasm about Tannehill that some obviously do. He's not a liability or anything, but he certainly doesn't inspire - not enough to justify a price like this one. Bradford is a huge risk - his ACL is made of tissue paper and can tear with a big sneeze. He has looked very good in the preseason, though, and is in a system that should fit his skills like a glove if he can stay healthy. The correct move here is likely to pass because of the risk of Bradford's health, but if I was going to play it I would unquestionably be on the underdog.
Most passing yards - E. Manning (-115) vs. Stafford (-115): This one is a no-brainer. The Giants have issues they refuse to deal with, Manning looked sluggish at best last year, and I don't have reason to expect a massive improvement this year. Stafford has finished in the top three in the league in passing yards in three of the last four seasons, he will have a healthy Calvin Johnson this year unlike last, he has shown real maturity lately compared to where he started, and he is in the second year of a system that is helping him become a more responsible and rounded player. I'm not only very confident that Stafford will win this matchup, but I think he offers real value betting him to lead the league in passing.
Most passing yards - Winston (-140) vs. Bridgewater (+110)
Most TD passes - Bridgewater (-145) vs. Winston (+115): We group these two together for the obvious reason that they involve the same two players. For both the answer is obvious and emphatic in my eyes. Bridgewater was very good last year as a rookie, and he has given every indication this year that he has learned and matured with time. He has some decent talent around him and should be poised for a good year. Winston is a very good player who has the potential for a bright future. He has very little to work with in Tampa this year, though, and the transition to the pro game is going to involve a steep learning curve. I wouldn't be willing to bet on which guy will pass for more yards or touchdowns in five years - I'm very bullish on both in the long term - but right now there is no question that Bridgewater is the right choice.
Most TD passes - E. Manning (-145) vs. Ryan (+115): I've had such fun - and success - being universally negative about Matt Ryan and the Falcons for the last few years, so what I am about to suggest really concerns me. Ryan is the clear play here. His team has been so incompetently run for years that they just quit caring - and it showed on the field. Sadly, they actually made a good coaching change and should be a much more focused and hungry team. They also have better personnel all round. At their best I'm not convinced that Ryan is any better than Manning. Given that neither is coming of a season that is a golden ticket to Canton, though, I find it easier to accept the premise that Ryan will bounce back strong than Manning. At this price that makes Ryan a nice bet.
Most TD Passes - Bortles (-135) vs. Mariota (+105): Like the Bridgewater vs. Winston matchup earlier, the answer for this time frame could be different than the longer-term answer. Mariota stands a good chance of being very good. He's raw, though, and has little to work with in Tennessee. Bortles grew as a player last year and has given indications that he should be much improved this year. Year 2 versus year 1 at a reasonable price - I'd struggle to ever take the rookie.
Doc's Sports is offering new clients free NFL picks from any handicapper on our Advisory Board. This special offer does not require a credit card, and you will never have to deal with a salesman. Click here to get your free $60 NFL picks credit today. Also, get three handicappers for the price of one when you sign up for a full-season football package! Click Here for details.
Read more articles by Trevor Whenham