2015 NFL Power Rankings Week 15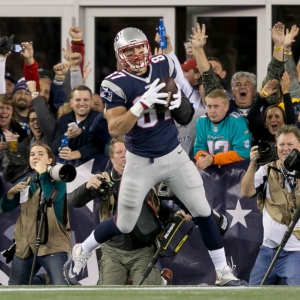 It was announced this week that the league is considering making some officiating changes for the postseason. The idea is that they are going to have someone from the league office working in conjunction with replay officers and officials during the playoff games. My question is this: why the hell isn't the standard throughout the season? Wouldn't that have helped to quell the fecal storm of blown calls and missed plays that have plagued this season?
However, I don't even think that move is enough. I think it is absolutely ridiculous that there isn't another member of each officiating crew up in the booth each week. There is no way that the crew chief should be going over the hood/screen to review plays. When viewers at home can tell whether a call was right or wrong within 20 seconds, thanks to quicker play reviews on the television broadcasts, it doesn't make sense for officials to take five minutes to come to the same conclusion.
There should be one guy up in the booth reviewing all plays. By the time a coach throws a challenge flag that official probably would've seen the play a half-dozen times by then. (Most times coaches throw challenge flags because they are told so by their own coaches in the coaching booths, whom are reviewing every play.) By the time the crew chief gets on the horn with his official up in the booth it should take all of about 30 seconds to make a determination on the challenge.
Further, the official up in the booth should have a direct line to the league office, where another team of officials should be available in case clarification is needed.
None of this is an earth-shattering idea. Hell, college has a guy up in the booth. But I think that adding one replay official to each crew - and the "designated replay official" should change whom he works with each week, rather than become part of the standard "crews" - would streamline the replay system and help keep up the pace of play.
So that's one problem solved. Only about 85 more to go.
Here are Doc's Sports NFL Power Rankings for Week 15:
1. New England Patriots (11-2) - Think Rob Gronkowski doesn't deserve some MVP votes? Despite quarterback issues for Cincinnati and Denver, the Patriots are still in a battle for home-field advantage. Bill Belichick knows how crucial that is for his team. That motivation, along with the fact that the Patriots have fresh wounds after losing two of their last three games, tells me that New England probably won't take it easy on the Titans this week. That said, the Patriots are just 5-9 ATS as double-digit favorites since the start of the 2012 season.
2. Arizona Cardinals (11-2) - Arizona's 8.5 yards per pass attempt is by far the best in football and is a full two yards higher than what they averaged last year. A big part of their passing offense in the second half of the year has been Michael Floyd, a guy I really like and whom I've been waiting to break out. He has six touchdowns in his last seven games and has broken the 100-yard barrier four times in his last five games. Philadelphia's weak secondary is not going to be able to cover Arizona's receivers at all.
3. Carolina Panthers (13-0) - What is amazing about the Panthers offense, which is somehow No. 1 in the league at 31.6 points per game despite averaging just 365.9 yards per game, is that there is absolutely nothing unique about it. The Panthers are running what looks like the same 20 plays every week and simply executing them at a ridiculously high level. There is nothing innovative or mysterious about anything Carolina is doing. But for some reason none of the losers they play can stop it.
4. Cincinnati Bengals (10-3) - And things in the NFL can change just that quickly. Oft-maligned Andy Dalton is out, and unproven AJ. McCarron is in. I always thought that McCarron had the potential to be a decent NFL quarterback if he had four or five years to learn. According to Bill Barnwell, the Bengals offensive line has allowed the second-least amount of pressure in the league this year. I expect Cincinnati to become more of a run-first offense, obviously. But is their defense, which I felt had been playing over its head, up to the task of winning by ground-and-pound means?
5. Denver Broncos (10-3) - The Denver offense hasn't scored a touchdown in seven quarters. But I still think they are better off with Brock Osweiler under center than Peyton Manning. The No. 1 thing that Osweiler needs is for Demaryius Thomas to pull his head out of his ass. He is tied for the most drops in the NFL. That's ridiculous for a guy that just got a monster payday in the offseason, and he has easily been the biggest problem on the Broncos offense in two of the last three weeks.
6. Seattle Seahawks (8-5) - No Marshawn Lynch and no Thomas Rawls this week for the Seahawks. I know that Russell Wilson has been playing out of his mind. But Seattle still needs its running game, and Rawls was a beast. Seattle re-signed Bryce Brown again this week. They won't feature Fred Jackson, who will stay in the third down role, but the feature back position is up in the air. I've always been a fan of Brown's, and I think he runs hard. I would roll the dice with him as opposed to DeJuan Harris, who was a disaster last week.
7. Kansas City Chiefs (8-5) - I know that Baltimore is decimated right now, but the Chiefs are just 4-6 ATS as a favorite of a touchdown or more under Andy Reid, and the role of Big Favorite does not suit this group at all. Last week the Chiefs almost lost outright for the second time as a double-digit home favorite. As expected, their absurd 6.8 OYPP two weeks ago against Oakland corrected itself last week against the Chargers, with the Chiefs posting an ugly 32.9 OYPP. Their offensive and defensive YPP numbers suggest that this week's game against the Ravens could be a little more high-scoring than people expect.
8. Green Bay Packers (9-4) - It is not at all a coincidence that Green Bay's offense played well once Mike McCarthy reclaimed play-calling duties. They ran for 230 yards against a tough Dallas defense, and I would expect more focus on straight-ahead running this week against Oakland. The Packers are 6-2 ATS in their last eight road games, and there is no denying that this team is slowly but surely building some momentum. There is also no denying that the public is overvaluing a team that is ranked in the 20s in both total offense and total defense. Green Bay is the squarest bet on the board this week, with 85 of the bets in that game coming down on the Pack.
9. Minnesota Vikings (8-5) - That was just another vintage Norv Turner meltdown at the end of the Arizona game. I didn't agree with Mike Zimmer's decision to not kick the 48-yard field goal with 13 seconds left. But I guess I can kind of get it if you think that five or six extra yards make that big of a difference there. But if you are going to run a play you have to know that Arizona blitzes all the damn time, and if you are going to call something it has to be a quick, one-read throw. That's just really common sense stuff.
10. Pittsburgh Steelers (7-6) - I used to love the Steelers. For most of the past 10 years this has been one of my favorite teams to bet on. I really don't know when or where my hatred for this year's group started, but I have a severe dislike for this team. I think that part of it is that I feel like they have overachieved relative to what their actual talent is. (A lot of that has to do with Big Ben, who is just ridiculous.) The Steelers are now 10-1 ATS in their last 11 games in December, 13-5 ATS in their last 18 games overall, 12-3 ATS against a team with a winning record, and 10-4 ATS in their last 14 games at home.
11. New York Jets (8-5) - Note that this is one of the oldest rosters in football. At the beginning of the season I felt as if they would wear down as the weather turned cold. But this team looks like it is still peaking. They have won three straight, outgaining opponents in all three games. However, they have lost their last three true road games and already fell flat during a trip to Texas once this year, losing at Houston on Nov. 22. The Jets are 4-1 ATS on Saturdays and they are 6-2 ATS in their last eight road games.
12. Oakland Raiders (6-7) - Oakland's win last week was more about the missed opportunities that Denver had than anything that the Raiders actually did. However, that was a bit of poetic justice since Oakland really outplayed Denver in the first meeting. I would expect a big bounce-back game from Amari Cooper this week. He was shut down in Mile High last week, but Green Bay's defense isn't close to the same level as Denver's. Oakland is 16-35 ATS in its last 51 games in December and 7-21 ATS in their last 21 games after they cover the spread.
13. Buffalo Bills (6-7) - How do ANY of the Ryans have jobs in the NFL? These guys are mega-losers! By every measure - points, yards allowed, yards per play, third down conversions, pass defense, sacks, etc. - the Bills are significantly worse on defense this year. It was a horrible decision to switch from the 4-3 that worked so well last year to Ryan's preferred 3-4 alignment. And considering how much better the Jets defense is without Ryan this year, I ask the question again: why does anyone think that Rex Ryan knows squat about coaching football and how does this guy have a job in the NFL?
14. Tampa Bay Buccaneers (6-7) - Losing Vincent Jackson was a brutal blow to the Bucs and completely changes the makeup of this offense. He is likely out for the rest of the season, and I think that his absence is going to precipitate a little Jameis Winston meltdown the rest of the season. Winston was a mess last week against a pathetic New Orleans defense, and outside of their Week 4 loss to Carolina he's been able to avoid the kind of four-turnover implosion that I've been expecting.
15. Washington Redskins (6-7) - Washington's commitment to the running game on offense - even though their running game is pathetic - is really quite impressive. They ran the ball 33 times for just 99 yards last week and have rushed 96 times for just 277 yards in the last three weeks. That is a comical 2.9 yards per carry, and it is no surprise that they have gone 'under' in two of those three games. Washington is smart enough to realize that it is a really bad team and their best hope is to shorten the game.
16. Philadelphia Eagles (6-7) - Regardless of how this season ends, if Chip Kelly comes back next year he absolutely has to get rid of Pat Shurmur. I said when Kelly came on board that hiring Shurmur makes zero sense, and I think that I have been proven right. The Eagles finally - FINALLY - connected on a deep ball last week with Nelson Agholor, and one of the missing components from their attack has been the throw-it-up-and-let-our-guy-make-a-play deep shots we've seen the past several seasons.
17. Houston Texans (6-7) - Oh yeah baby: T.J. Yates vs. Matt Hasselbeck. That's the good stuff right there. The entire AFC South should be relegated to the CFL immediately.
18. Chicago Bears (5-8) - If you exclude Monday Night Football, Jay Cutler is 41-70 ATS in his career. He is, without a doubt, one of the biggest losers in the NFL over the last quarter century. After last week's flop, Cutler is 7-16 ATS as a favorite, with The Bears are 13-29 ATS against other NFC teams and they are 14-32 ATS in December road games over the last 15-plus years.
19. Indianapolis Colts (6-7) - Have you ever injured your ribs before? I have. I know there are a lot of varying injuries one can suffer to the ribs, but based on my own experience most rib injuries make it painful to breath, much less throw a football (or take a hit). I will be really surprised if Matt Hasselbeck plays on Sunday in a critical game against Houston. But even more than that, I will be surprised if he plays well. By the way, wouldn't it have been amazing if the Colts had signed Ryan Mallet instead of Charlie Whitehurst (and why didn't they?) so that Mallet would've been playing against his former team with the division title just about on the line.
20. New York Giants (6-7) - I know that the Giants have been the giant killers in regards to toppling undefeated teams late in the season. But I just do not see any way in hell that the Giants can stop Carolina this week. The Giants have played against five teams that were 8-0 or better and four teams that were 11-0 or better in the past 20 years. New York has gone 5-0 ATS in all five of those games, losing by four, three, three and one points and winning one game by a field goal. But I don't see how the Giants defense is going to be physically tough enough to slow down what is just a wrecking crew from Carolina this week.
21. Detroit Lions (4-9) - The Lions actually beat the Saints at home last year as two-point favorites, but Detroit is 0-5 ATS in the last five meetings between these two teams. The Lions have lost by at least two touchdowns in their last three trips down to the Superdome, and Detroit looked, how should we say, uninspired last week against the Rams. Fortunately for Detroit, the Saints defense doesn't have anyone close to Aaron Donald, who singlehandedly demolished the Lions offense last week.
22. Miami Dolphins (5-8) - Miami is 0-9 ATS in its last nine games in December, and they are just 1-4 ATS in their last five Sunday games after a Monday Night Football contest. The Dolphins are 0-4 ATS in their last four games, and Dan Campbell really hasn't shown me much in terms of his coaching ability. But one thing he has done is keep this dumpster fire of a roster playing hard. I think it would be quite an accomplishment if he can keep his guys focused and playing with effort this week out in San Diego.
23. New Orleans Saints (5-8) - It is ridiculous to think, but the Saints are still nursing the slimmest of playoff hopes. Granted, they would need the Vikings to lose out and the Saints need to win their remaining three games. But the Saints clearly have the easier schedule. As long as Drew Brees has postseason life he is tough to bet against. But it will be interesting to see if the Vikings win on Sunday and eliminate the Saints if New Orleans will come out flat on Monday Night Football.
24. Atlanta Falcons (6-7) - A month ago the Falcons' odds of making the playoffs was at a healthy 67 percent. They were 6-3 at the time. They have since lost four straight, and now Atlanta has a scant 2.8 percent chance of making the postseason. I know the roster is still one of the weaker ones in football. But Dan Quinn does not look like he has a clue what he is doing. The Falcons, despite having a Pro Bowl quarterback, a Pro Bowl receiver, what will be a Pro Bowl running back, a Top 10 offense in terms of yards gained, and a completely average defense have gone 'under' in nine straight games. It has been unbelievable to watch and Atlanta has averaged just 15.1 points in regulation over those nine games.
25. San Francisco 49ers (4-9) - That was a solid mail-it-in effort out of the 49ers last week in the second of back-to-back road games. They have one final trip east this year, to face Detroit the Sunday after Christmas, and I expect a similar feeble showing out of this group. This week the 49ers are just 4.5-point favorites against Cincinnati mainly because San Fran will be facing a backup quarterback making his first NFL start. Regardless, less than 20 percent of the betting in this game is coming down on San Francisco as the public is convinced that this team has quit on the season. I can't argue there.
26. Dallas Cowboys (4-9) - Jerry Jones still thinks that Dallas is going to the Super Bowl this year. Please don't anyone spoil it for him.
27. St. Louis Rams (5-8) - It is hilarious to me that the Rams, just one week after closing as a home underdog to the Lions - the LIONS - are now favored this week. The last time the Rams were favored they lost by 24 points, and they are 2-5 ATS as a home favorite over the last 12 months.
28. Jacksonville Jaguars (5-8) - It is a testament to just how pathetic this franchise is that this week's game against Atlanta marks the closest thing to "playoff race football" that this team has seen in a decade. They are 5-8! I know Allen Robinson is getting all the love right now, but there's no denying the impact that Julius Thomas has had on the offense. He is averaging five catches and a touchdown over the last four games, and he, along with Allen Hurns, have been the beneficiaries of Blake Bortles' breakout season. But the defense is still allowing nearly 30 points per game, and these guys aren't a realistic threat to anyone.
29. Baltimore Ravens (3-10) - Ryan Mallett just signed with the Ravens this week, and the way things are going for Baltimore I'd say that it is 50/50 that he sees the field at some point this season. Remarkably, the Ravens have outgained three of their last five opponents by at least 140 yards and were only -122 last week against the Seahawks. Baltimore is catching just 24 percent of the action this week against Kansas City, but some books have moved the line from 7.5 to 7.0 already. That is kind of a red flag with that reverse line movement. And after starting the season 3-9-1 ATS, you would kind of expect the Ravens to scum out some ATS wins in the final three weeks.
30. San Diego Chargers (3-10) - The Chargers are 1-11 ATS in their last 12 home games and have had the worst home-field advantage in the league over the past two seasons. Some of that has to do with the fact that the team is hell-bent on abandoning the city. Some of it is just general apathy towards a bottom-tier team. Fortunately for San Diego, they are facing a team this week that has a fan base that is probably even more dispassionate than Chargers backers. San Diego is 7-17 ATS in its last 24 games and 2-8 ATS against teams below .500.
31. Tennessee Titans (3-10) - Right now the collection of skill players for the Titans is one of the worst that I've seen in the last 10 years. And considering some of the groups that the Browns and the Rams have trotted out during that time frame, that's really saying something. Their quarterback, Marcus Mariota, made the Titans' only touchdown catch last week. Over the last five week's Mariota is tied for second on the team in touchdown catches behind someone called Craig Stevens. Think about that for a second. General manager Ruston Webster should enjoy his last Christmas gainfully employed by the Titans.
32. Cleveland Browns (3-10) - I'll leave you with a quote from Sept. 12, 2001 written by my old friend Hunter, one that kept echoing in my mind this week while watching the Republican debate, stunned: "The towers are gone now, reduced to bloody rubble, along with all hopes for Peace in Our Time, in the United States or any other country. Make no mistake about it: We are At War now - with somebody - and we will stay At War with that mysterious Enemy for the rest of our lives. It will be a Religious War, a sort of Christian Jihad, fueled by religious hatred and led by merciless fanatics on both sides. It will be guerilla warfare on a global scale, with no front lines and no identifiable enemy."
Throughout the season I will have my NFL Power Rankings every Wednesday. My next ones will be released on Wednesday, Dec. 23.
Robert Ferringo has posted two of three winning football years and has averaged $5,600 in profit for his clients the last four years. Robert has posted 37 of 56 winning football months over the last eight years! Also, Robert's proprietary KING College Football Betting System has posted two of three winning seasons and is 104-73 over the last three years (58.8 percent). We are offering new clients $60 in free college football picks for Robert's picks or any Advisory Board handicapper of your choosing. Get your free college football picks now!
Read more articles by Robert Ferringo