2015 NFL Power Rankings Week 16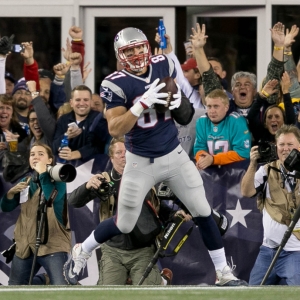 Merry Christmas to everyone! It is the happiest time of the year - unless you are a professional sports handicapper or a member of the Cleveland Browns. But one of the keys to surviving the holidays is suppressing your seething rage in the name of consumerism and Catholicism, so instead of railing against the NFL and its minions we will get on with the show.
Below is an abridged version of the power rankings, and next week will be four final entry of the regular season. In my opinion, this season can't end fast enough. But there is still a lot of big-time football to be played and we'll continue to document it with vigor.
Here are Doc's Sports NFL Power Rankings for Week 16:
1. New England Patriots (12-2) - Bill Belichick is 23-10 straight up against the Jets and New England has beaten its division rival in eight of the last nine meetings. The Patriots are 72-24 SU against AFC East opponents since 2000 and have absolutely dominated the division this century. I was surprised to see this spread come in so low, especially considering what the Patriots did to Houston two weeks ago against a short line.
2. Arizona Cardinals (12-2) - As outstanding as the Cardinals have been this year they have been kind of a nonfactor at home. Oddly, they have played just three home games in the last 11 weeks and they haven't covered the spread in any of them. All three games - against the Vikings, Bengals and Ravens - have come against quality teams and all three were decided in the final minute. Should we expect more of the same on Sunday against Green Bay?
3. Carolina Panthers (14-0) - Hey, I can admit when I'm wrong. And man was I wrong about Carolina's chances of going undefeated. They are going to hammer the Falcons again this week and I don't think there is any doubt that if the Panthers are 15-0 going into the final game versus Tampa Bay they are going to go all out to get to 16-0 and play all their starters. Carolina has beaten Atlanta by a combined score of 72-3 in the last two meetings and the Panthers are 6-1 ATS in the last seven against Atlanta.
4. Cincinnati Bengals (11-3) - I said last week that I thought A.J. McCarron has some potential and can at least be serviceable for this team. He throws a pretty good ball (though it has a tendency to float). The Bengals are a sensational 7-0 ATS in their last seven road games and have now gone 11-3 ATS in their last 14 games overall.
5. Denver Broncos (10-4) - The public is anticipating a Bronco bounce back this week, even with Brock Osweiler still under center. Around 75 percent of the betting action in this crucial game with Cincinnati is coming in on the home team. This game is so critical because it will likely decide which team secures the second bye and No. 2 seed in the AFC.Denver is 11-3 ATS in its last 14 games after a loss and they are 12-4 ATS in December. However, the Broncos are just 1-6 ATS in their last seven Monday Night Football games.
6. Seattle Seahawks (9-5) - This week is a rare divisional revenge situation for the Seahawks, who lost a fluke overtime game down in St. Louis in Week 1. The Seahawks are on a 5-0 ATS run and Russell Wilson's offensive numbers over the past month are just stupid good. Seattle is 7-2 ATS in its last nine divisional games and they are 8-2 ATS in their last 10 games against a team with a losing record. That is really some feat considering that the Seahawks are normally facing monster spread - like this week's two-touchdown line - against subpar opposition.
7. Kansas City Chiefs (9-5) - The Chiefs just continue to find ways to score that don't include their offense. They have tallied four defensive touchdowns in their past give games, including two last week, and over the last three games they have posted a ridiculous 10.2 offensive yards per point. Kansas City is on a 7-1 ATS run and they are 9-4 ATS in their last 13 home games.
8. Green Bay Packers (10-4) - I think we're going to find out everything we need to know about Green Bay's playoff outlook from this week's game in Arizona. They are definitely overrated and are not a great team (they are ranked in the bottom half of the league in total offense and total defense). However, they have still found ways to score (No. 7 in offensive yards per point) and are in the Top 10 in scoring offense and scoring defense. They are more than capable of pulling a stunner this week in Arizona. But if they get rolled like they did in Denver and Carolina then I think we can close the book on any title talk for one of the preseason favorites to win the Super Bowl.
9. Minnesota Vikings (9-5) - Things just keep looking up for the Vikings. Not only will they not have to face Odell Beckham, but the Vikings look like they should be getting back three key defensive starters (Linval Joseph, Anthony Barr and Harrison Smith) this week when they host New York. The Vikings are now 20-7 ATS in their last 27 games and 9-3 ATS in their last 12 home games. The Vikings have covered five straight against a team with a losing record and they are 13-3 ATS in December games.
10. Pittsburgh Steelers (8-6) - This offense is unstoppable right now. And I think that I would honestly put the Steelers on equal footing with the Patriots to win the AFC right now. Remember: the Steelers actually outplayed New England in their Week 1 game, done in by a few miscues on both sides of the ball. I've called this group to an AFC version of the New York Giants. And right about now is the time that the Giants have been known to get hot and go on championship runs.
11. New York Jets (9-5) - It is easy to forget that the Jets actually dominated the first three quarters in their initial meeting with the Patriots. New York is now 10-1-1 ATS in its last 12 games in December and they have been solid at home, going 7-3 ATS in their last 10 home games. However, they are just 4-12 ATS the last 16 times that they have hosted their rivals from Foxboro.
12. Washington Redskins (7-7) - Washington has covered three straight against the Eagles. And Washington is the rare team that has appeared to get healthier as the season has worn. It has had a significant impact on the offense and the results are noticeable. The Redskins have averaged a solid 23.8 points per game in their last four and 26.2 per game in their last six, going 4-2 against the total in those games. Their only losses the last two months have come against New England, Carolina and Dallas, with two of those three teams among the best in football.
13. Houston Texans (7-7) - Letdown or momentum? That's the question for the Texans this week. They were able suppress what's left of Indianapolis last week and take control of the division. But does that mean they are due for a flat spot this week against Tennessee? The Texans have gone just 6-14 ATS the week after they covered the spread. Brandon Weeden, who is going to start this week, became the fourth different Texans quarterback to get a win for Houston this year. I don't know that I've ever seen that before.
14. Oakland Raiders (6-8) - The Raiders are now just 16-36 ATS in their last 52 games in December and I think that they are getting a little too much love from both the books and the public this week against San Diego. Oakland is 1-4 ATS in its last five home games. And for as good as they have been on the field and at the window this year this is still a team that is not well adjusted to the role of favorite. The Raiders are 5-1 ATS in their last six against the Chargers. But the home team is just 3-7 ATS and the favorite is 1-12 ATS when these two meet.
15. Buffalo Bills (6-8) - This kind of sums it up for the Bills: they have lost the last three games in which they outgained their opponents and in their lone win the past month, over Houston, they were outgained. I have ragged on the Bills a lot in the second half of the season because I have felt like they are one of the league's biggest underachievers. But their schedule has been brutal. They've played five of their last six games on the road and only one of their games, at Philadelphia, has come against a team that isn't currently at .500.
16. Chicago Bears (5-9) - The Bears will head down to Florida this week to face their old coach, Lovie Smith, and I always like to side with the old coach when he goes up against his former players. However, this Chicago team isn't even close to what Smith left three years ago and they are still in the opening stages of a total rebuild. The Bears have dropped three straight after a nice 7-1 ATS run. Jay Cutler's eight interceptions this year are his second-lowest mark since he's been a starter, surpassed only by the seven he threw in just 10 games in his injury-shortened 2011 season.
17. New York Giants (6-8) - The Outrage Police claimed another victim this week, with media outcry prompting Odell Beckham's suspension. I had zero problems with him punching Josh Norman in the face a couple times (and he was flagged for it so it's not like he got away with anything) and I agree that Beckham's crack-back block was dirty as hell. But he should've been fined, not suspended. All the faux outrage and pearl clutching this week was pathetic and hysterical. It's football, guys. People are going to get hit and people are going to get hurt and nothing Beckham did would even crack my Top 100 in terms of dirtiest plays I've seen in an NFL game.
18. Detroit Lions (5-9) - If the Lions offense had played all season like it did last Monday night in New Orleans (and on Thanksgiving) then this team would still be in the playoff hunt. Stafford backers will point to his performance on MNF as vindication of his true franchise quarterback potential. But this was another big statistical performance in a perfectly meaningless game. So in a lot of ways I suppose it is the quintessential Stafford game.
19. Tampa Bay Buccaneers (6-8) - Tampa Bay's game against St. Louis is a perfect example of why you can only put so much stock into statistical measurements when handicapping the NFL. The Bucs actually outgained the Rams by nearly 200 yards last week, suggesting that they somehow took a bad beat in that game. But they were thoroughly dominated and were down 28-6 heading into the fourth quarter.
20. Philadelphia Eagles (6-8) - Hopefully the Eagles season will get euthanized on Saturday night as it has been pathetic to watch this team nurse its false hope of winning the division over these last few weeks. They do have revenge for a game that they gave away to the Redskins early in the season. And in theory the Eagles could complicate the NFC East race with a victory here. But the Eagles have been outgained by an average of 130.6 yards per game and outscored by an average of 14.4 points per game over the last five weeks.
21. Atlanta Falcons (6-8) - The Panthers robbed Atlanta of their manhood two weeks ago in a 38-0 beating. It was humiliating and Atlanta is not even close to being on the same level as the Panthers. I said during that game that there might be a lot of value on the Falcons in a revenge situation as a home underdog here in Week 16, but after watching them flop and flail in a win over Jacksonville I can say I wouldn't count on it. Kyle Shanahan finally started moving the pocket with Matt Ryan, and I saw more rollouts in this game (that's a Shanahan System staple) than I recall seeing from them in the past two months. Atlanta will need to move the pocket as much as possible against the Panthers.
22. Indianapolis Colts (6-8) - T.Y. Hilton, who is one of the best offensive players in the NFL, called out the coaching staff this week for not throwing the ball deep more. It was a surprising outburst but just another indication of how frustrated everyone associated with this team is right now. The Colts have scored just two offensive touchdowns in their last three games and are averaging just 18.6 points per game with Rob Chudzinski as offensive coordinator over the last six games. Remember that they fired Pep Hamilton after Week 8, and at that point they were averaging 21.6 points per game.
23. St. Louis Rams (6-8) - The underdog has been a really solid play in the Seahawks series, going 7-3 ATS in the last 10 meetings between these two teams. However, the Rams have lost their last four trips up to the Emerald City by 14, 18, 7 and 17 points. The Rams are 0-4 ATS on the road and 0-5 ATS against teams above .500.
24. Miami Dolphins (5-9) - Sorry Dan Campbell, but your team quit on you. And that tells me all I need to know about your head coaching bona fides at the moment. That's not to say that Campbell could be viable down the road. But there is no way the Dolphins should make him their full-time head coach after this season.
25. New Orleans Saints (5-9) - NFL oddsmakers like to say that no player in the NFL is worth more than a few points on the spread. But if Drew Brees, who is battling a torn ligament in his foot, doesn't play on Sunday in Jacksonville then this spread is likely going to plunge from the Saints -4.0 to the Saints +4.0. The Saints have absolutely nothing to play for and I think that this team is going to completely mail it in for these last two weeks. New Orleans is now just 3-9 ATS in its last 12 home games - an amazing fall after dominating in the Superdome for nearly a decade - and the Saints are 0-7 ATS in their last seven games against a team with a losing record.
26. Jacksonville Jaguars (5-9) - The Jaguars could fall victim to the schedule makers this week. The Jaguars are mathematically alive in the race for the AFC South. But Houston plays at 1 p.m. on Sunday, meaning the Jaguars could be eliminated from contention before they kickoff at 4 p.m. against the Saints. However, if the Texans lose then Jacksonville could come out and play with its hair on fire and blitz a Saints team that is just counting the minutes until this season ends.
27. Dallas Cowboys (4-10) - This was actually a game that I circled when the schedules came out and told myself that there was no way in hell, no matter how good or bad the teams are, that Dallas was going to go to Orchard Park in late December and get a win. I'm sticking to my eight-month-old assessment and I think that this one could be a blowout.
28. San Francisco 49ers (4-10) - Do you have any idea just how bad you have to be to only average 14.4 points per game in the NFL these days? The Niners could, theoretically, score the fewest points per game in franchise history. But when you consider all the changes to the rules and the sport in favor of scoring I think we can say unequivocally that this is the worst San Francisco offense of all time. Joe Montana is rolling over in his grave, and he isn't even dead yet.
29. San Diego Chargers (4-10) - I'm really not looking too much into San Diego's recent run of moderate success. They have won two of their last four and are 3-1 ATS over the past month. But their wins over Jacksonville and Miami are easy to brush aside - those teams suck - and the cover at Kansas City was weather-aided. This is easily still one of the worst rosters in the league and they have been outgained in five of their last six games.
30. Baltimore Ravens (3-11) - The Ravens have beaten the Steelers in four of the last five meetings. That includes their inexplicable 23-20 overtime win on Oct. 1 in a game that Pittsburgh dominated, but lost because they couldn't manage the clock and couldn't make one of several potential game-icing field goals. An inordinate number of Ravens-Steelers games have been decided by exactly three points over the past several years. But three of the last four meetings have actually been blowouts with an average margin of 17.7 points per game. If there is going to be another blowout in this series this week is the time.
31. Tennessee Titans (3-11) - This is the second time this season that Marcus Mariotta has missed time due to a ligament injury in his knee. That should be horrifying to the Titans front office, as I've felt Mariotta's play has been one of the few bright spots for another forgettable season. The Titans are now just 5-25 SU over the past two seasons and their ATS numbers are atrocious. Tennessee is 5-22 ATS in its last 27 games against AFC South opponents. The Titans are 7-20 ATS in their last 27 home gamesand they are just 19-42 ATS in their last 61 games overall. That is barely over 30 percent over the past four seasons and is comically bad.
32. Cleveland Browns (3-11) - I think that Christmas should be on a Friday every year, the same way that Thanksgiving is held on a Thursday each year. Having Christmas on Friday is perfect. It makes setting up the work week easier (you work Monday and Tuesday and, if your job sucks, Wednesday too, and then everyone is back at it on Monday). You have four full weekdays to take care of all of your last-minute shopping needs. And the sports calendar fits perfectly around Friday's celebration, with college hoops early in the week, football on Thursday and Saturday, and a huge NBA day on that Friday. It just works. Compare that to those years when Christmas is on a Tuesday or a Sunday, which sucks, and I think we need to just go ahead and amend the Constitution or something (just the parts that Jesus wrote).
Throughout the season I will have my NFL Power Rankings every Wednesday. My next ones will be released on Wednesday, Dec. 30.
Robert Ferringo has posted two of three winning football years and has averaged $5,600 in profit for his clients the last four years. Robert has posted 37 of 56 winning football months over the last eight years! Also, Robert's proprietary KING College Football Betting System has posted two of three winning seasons and is 104-73 over the last three years (58.8 percent). We are offering new clients $60 in free college football picks for Robert's picks or any Advisory Board handicapper of your choosing. Get your free college football picks now!
Read more articles by Robert Ferringo