2015 NFL Power Rankings Week 17
by Robert Ferringo - 12/30/2015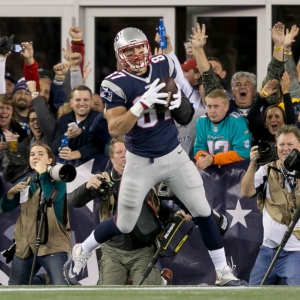 The two biggest NFL stories of the week were Bill Belichick's decision to kickoff at the start of overtime and the firing of Chip Kelly. Both of them were unique situations. But in a way the media firestorm surrounding both were born of the same fundamental underlying issue: it's all about results.
On its face, this seems like a pretty obvious statement about our culture. We are a results-driven society. If we weren't, the United States would end up as world's equivalent of a stoner-hipster-beatnik, often opining about lofty ideals and theories but never really producing anything of value. I get it.
However, in saying this we're representing an idea that is pure Machiavelli: the ends justify the means. And over the last millennia we've come to agree that isn't necessarily the case. Things are relative. Results matter. But intentions, confounding factors, things outside our control, and other principles all do - or at least should - get considered before The Masses Pass Judgment.
Belichick and Kelly spent the week being publicly flogged not because of the decisions they made. They were punished because the decisions they made didn't work. However, does that mean that, necessarily, those decisions were wrong?
Belichick isn't the first coach that has deferred in overtime. And with the new rules it kind of makes sense. If you stop your opponent and get the ball back you only need a field goal to win. However, if they get a field goal to start the extra period then you've tilted the odds of scoring in your advantage; because a failed drive ends the game you can go for it on every fourth down, giving yourself four downs to get 10 yards rather than just three.
The same goes for Kelly. This is a guy that won 10 games in two of his three seasons. His team was garbage this season. But EVERY team in the NFC East was garbage this season. The Browns have won 10 or more games twice in the last 26 years! Kelly did it twice in three seasons.
It played out that most of Kelly's personnel decisions were, in fact, terrible. He gutted his receiving corps and overpaid to bolster the league's most expendable position: running back. And he made both moves while allowing his offensive line to wither. (In the end, his worst move this offseason may have been the Evan Mathis debacle, not the Murray/Alonso for McCoy swap.) But Kelly didn't wreck Philadelphia's cap situation. And he didn't implode the franchise the way that Howie Roseman did with the "Dream Team" debacle a few years ago.
But it didn't work for Kelly this year. This one year. So now it is easy to call his tenure there a failure (even though he leaves with a winning record). But that's a gross oversimplification. And it glosses over what Kelly was attempting to do in Philadelphia: build a team from scratch that fit his unique approach to football.
I've been thinking a lot about these situations this week as I reflect on what has been my worst football betting season in 15 years. This is a bottom line business. And the bottom line is that I have sucked this year. Period. End of story. I made a lot of bad wagers and poor decisions, and the results speak for themselves, right?
But, as always, I know it is never that simple. My job as a handicapper is not just to make financial decisions based on my predictions and projections, but also to understand WHY those predictions and projections are and are not accurate. I have to do the same thing when evaluating teams; it is not just about who won or lost against the spread, but a great handicapper understands the "how" and the "why" teams win or lose.
In the end, production matters. But it isn't the only thing that maters. Whether you are a coach or a player or a football bettor, at the end of the day it is all about the results and the bottom line numbers. But only simple-minded people think that's the end of the story. Things will never be that black-and-white for me. And I know that I will be more successful in the long run for it.
Here are Doc's Sports NFL Power Rankings for Week 17:
1. New England Patriots (12-3) - You would think that the Patriots would be a dicey wager in the last week of the season, historically. Every year they know they are going to the postseason, and they generally have a division title and/or a first round bye wrapped up well before Week 17 so they could take this week off and rest players. But the Patriots are 6-1 ATS in their last Week 17 games, and this week they are trying to wrap up home-field advantage in the AFC.
2. Arizona Cardinals (13-2) - The Cardinals have an advantage going into this game. The Carolina Panthers will have already played. If the Panthers somehow lose to Tampa Bay then the Cardinals will go all-out for a shot at home-field advantage. However, if the Panthers win then I would be really surprised if Bruce Arians didn't rest Carson Palmer and some of his older starters against the physical Seahawks.
3. Carolina Panthers (14-1) - It has always been my longstanding belief, in all sports, that you bet against any team in the next game after they get a long winning streak snapped. There is a natural letdown that occurs before the sportsbook adjust the numbers back down from their inflated levels. What makes me second-guess that approach with Carolina, however, is that they are still fighting for home-field advantage. Also, what the Panthers do is so simple on both sides of the ball that it wouldn't surprise me if they dominated again this week.
4. Cincinnati Bengals (11-4) - Every year there is one or two shocking results from Week 17 involving teams favored by a touchdown or more that either lose outright or come damn close. I think the Bengals should devastate the Ravens this week. But what worries me just a touch is that Cincinnati is an almost unheard of 12-2-1 ATS this season while Baltimore is 5-10 ATS. Don't these things normally even themselves out?
5. Denver Broncos (11-4) - Are you kidding me that the Broncos beat Cincinnati but couldn't cover the three-point spread? There is a less than 10 percent chance of that happening, but that's exactly how it shook out on Monday Night Football. Denver has won eight of its last nine games against the Chargers and is 6-3 ATS in their last nine game against San Diego.
6. Seattle Seahawks (9-6) - I am really, really interested to see how Seattle approaches this week's game with Arizona, a team they are likely to see again in the postseason. Arizona dominated Seattle in the Emerald City a few weeks ago. Do the Seahawks go all-out and try to send a message to the Cardinals, or will Pete Carroll play this one close to the vest? I'm leaning toward the former.
7. Kansas City Chiefs (10-5) - That's now nine straight wins for the Chiefs, who have been dominating opponents despite a host of injuries to defensive stars. The Chiefs are 7-2 ATS in those nine games, and one of their best attributes under Andy Reid has been not playing down to their level of competition. Kansas City is 9-4 ATS in its last 13 games against a team with a losing record. The home team in the Oakland series is just 7-19 ATS.
8. Minnesota Vikings (10-5) - The Vikings defense is healthy again, and they are back to their devastating ways. However, don't read too much into that blowout win over the Giants; New York was in a killer letdown spot and had absolutely nothing to play for. Minnesota is 6-0 ATS in its last six road games, and they are 35-17 ATS in their last 52 games overall.
9. Green Bay Packers (10-5) - I really don't know how to handicap the Packers after a blowout loss because it has happened so rarely with Mike McCarthy and Aaron Rodgers leading the charge. Green Bay is 41-19 ATS in its last 60 divisional games and they are 12-5 ATS in their last 17 home games. Green Bay is also 9-3 ATS in its last 12 games in Week 17.
10. New York Jets (10-5) - I also said at the start of the season that it was obvious that this Week 17 game pitting Rex Ryan against his old team is set up perfectly as a win-to-get-in game and one that would be chock full of vitriol. At the time I just figured it would be the aging Jets trying to step up one last time to keep the Bills out of the playoffs. New York has been smoking hot. But it is impossible for them to not have a letdown after that sensational win over New England last week.
11. Pittsburgh Steelers (8-7) - I said at the start of the season that I felt this team was overrated and that they wouldn't make the playoffs. I would like to point out that I was one of the only NFL analysts making that claim, and if it weren't for some complete and total fluke wins when Mike Vick was under center this would be a six-win team right now.
12. Washington Redskins (8-7) - What are the Redskins playing for this week? I don't know how these guys get up for a trip down to Dallas this week, and I would be really surprised if they didn't rest several starters. The really interesting thing about this game is that if they rest Kirk Cousins, would the Redskins give Robert Griffin snaps? I don't believe they will, knowing how much money it would cost them in his option if he gets hurt. That would mean some Colt McCoy action, and remember that it was McCoy who led the Skins to a big win as a huge underdog down in Dallas last year.
13. Houston Texans (8-7) - I've always held this firm belief: be wary of teams in must-win situations because only bad teams put themselves in must-win situations. I know the Texans are getting Brian Hoyer back. But I have a hard time laying points with this group when the noose is clearly around their necks. I could absolutely see the Texans losing this game to the Jaguars yet backing into the playoffs thanks to a Colts loss or one of the other dominoes falling their way.
14. Oakland Raiders (7-8) - I think that this is a clear letdown spot for the Raiders here after what could've been their final home game in Oakland. The Raiders were outgained in that OT win over San Diego and now head east for a rugged game in Arrowhead. The Raiders are 6-13 ATS in Week 17 games, and they are just 2-5 ATS in divisional play. However, they are 7-2 ATS in their last nine games in Kansas City.
15. Buffalo Bills (7-8) - I always like to side with the former coach when he goes up against his old team and old players. He knows their strengths and weaknesses and knows how to attack them. I think it means something to the Bills that they get to .500. And because they are playing with house money this week, I wouldn't be surprised to see a loose Bills team in Orchard Park.
16. Chicago Bears (6-9) - The Bears have revenge for that absolutely garbage loss that they took in Detroit earlier in the season. The home team is 7-3 ATS in this series, but the Bears have been one of the worst home wagers in the NFL, going just 7-22 ATS in their last 29 home games. Jay Cutler is pathetic in the role of favorite, and the Bears are 6-14 ATS in their last 20 divisional games.
17. Detroit Lions (6-9) - Are the Lions really excited about going outdoors and playing in Chicago this week?The Lions are just 1-9 ATS in their last 10 games on grass, and they are 4-9 ATS in their last 13 road games. Detroit has been the play in this series, though, going 8-3 ATS in their last 11 games against the Bears. But I'm starting to think that this team is getting overrated, and they are just 1-7 ATS in their last eight divisional games.
18. Tampa Bay Buccaneers (6-9) - It is safe to say that the league is catching up with Jameis Winston, and I am still waiting for that multiple-turnover meltdown game that we haven't seen from him since Week 4 against…Carolina. Winston has completed less than 60 percent of his passes in three straight games, which all goes to show just how valuable Vincent Jackson is to this attack.
19. New York Giants (6-9) - Why is this team favored this week? The coach has one foot out the door. The season has gone up in flames. What are these guys playing for? The Eagles may at least be geeked up because they aren't playing for Chip Kelly anymore. But I think you're nuts if you expect the Giants to bring any intensity to Sunday's game since they've shown time after time that they are a bad team that is always willing to play up or down to its competition.
20. Philadelphia Eagles (6-9) - I'm sorry, but that was damn cold to fire Chip Kelly with one game left to play. Eagles fans are extremely self-satisfied at the moment now that they are rid of Chipper. But I want to see their faces once they realize just what a mess their roster is since it was nearly completely constructed to fit Kelly's system. The Eagles are 0-9 ATS after a double-digit loss at home and they are 3-8 ATS in their last 11 games in Week 17.
21. Atlanta Falcons (7-8) - The win over the Panthers last week was the best and worst thing for the Falcons. On the one hand, it gave their season a late highlight after their total collapse. On the other hand, I think it will give them a false sense of confidence after what has been a wasted season. This is still a terrible roster and a lower-tier team, and their talent and their coaching leaves a lot to be desired. Atlanta is 1-5 ATS in division games, 1-6 ATS against teams below .500, and 2-9 ATS in their last 11 games overall.
22. Indianapolis Colts (7-8) - It looks like Matt Hasselbeck is going to play this Sunday. But it likely won't matter. The only thing that the Colts have working in their favor this week is that Tennessee absolutely wants to lose this game to get the No. 1 overall pick. But everyone in that Indy locker room knows they aren't going to the playoffs, and I wouldn't expect a very inspired effort in what will likely (and strangely) be Chuck Pagano's final game at the helm.
23. St. Louis Rams (7-8) - I can honestly say that I don't mind Case Keenum. He throws a good, catchable ball and hasn't made too many terrible, head-scratching decisions under center. I think the kid could be a starter. His problem is that the Rams receivers are pathetic and give him zero to work with. The Rams have won three straight games and are at least playing hard for Jeff Fisher.
24. New Orleans Saints (6-9) - My sources are saying that Sean Payton is going to be out in New Orleans. He is signed through next season but would enter the year as a lame duck. After three of four losing seasons they think it may be time to shift into the post-Payton era in New Orleans. The Saints are 4-0 ATS in their last four divisional games and 35-17 ATS against teams with a winning record.
25. Jacksonville Jaguars (5-10) - I think that the Jaguars, because of their ability to put up points, are a dangerous underdog this week heading into Houston. The Jaguars are pathetic. But the only times they have shown up over the past month or so were their games against other AFC South opponents, picking up wins against Tennessee and Indianapolis while going 2-0-1 ATS.
26. Dallas Cowboys (4-11) - The Cowboys are shutting down Dez Bryant for the season, and he won't play on Sunday. I'm looking forward to this offseason when all the delusional Cowboys sympathizers are making excuses about how this was actually a really good team they just got sidetracked by injuries.
27. San Francisco 49ers (4-11) - I wrote in the preseason that San Francisco was going to be an easy team to bet against after their bye week, when their schedule gets absolutely brutal. Like with Miami, I didn't take near as much advantage as I should have. The 49ers have lost three straight ATS and they are just 3-6 ATS in their last nine games. This is a group of guys who will come to Sunday's game with their bags packed and the golf clubs already in the car.
28. San Diego Chargers (4-11) - If I'm Denver I am very wary of going into a crucial game with playoff implications and seeing Phil Rivers on the other side of the field. The Chargers were minus-two in turnovers and allowed a pick-six in the first matchup with the Broncos, but were only outgained by 21 yards in that 17-3 loss.
29. Baltimore Ravens (4-11) - Part of me expects the Ravens to have a massive letdown this week in Cincinnati. The Ravens played way over their heads against the Steelers and may have knocked their hated rivals out of the playoffs. But now Baltimore's skeleton crew has to go on the road and play a much more talented Bengals team.
30. Miami Dolphins (5-10) - I have been betting against the Dolphins since Dan Campbell was named coach. After a rough start - Campbell's two blowout wins his first two weeks seem like ages ago - I was dead-on about this dead-end team. My mistake was not betting more heavily against this crop of losers, who quit on the season weeks ago. Miami is 0-6 ATS in its last six games, 1-8 ATS in their last nine, and 5-16 ATS in their last 21 games overall. They are also 3-13 ATS in their last 16 conference games.
31. Cleveland Browns (3-12) - Juan Manziel certainly didn't look concussed last week when he was leading the Browns on a potential game-winning drive. I think that Manziel's benching is another tussle in his skirmish with the coaching staff due to yet another party video coming out. He might be worth the headache if he could play. But Manziel sucks, so I don't know why the Browns don't just cut bait and move on.
32. Tennessee Titans (3-12) - It is tank time in Tennessee. I absolutely think the Titans want to lose this week to the Colts in order to lock up the No. 1 pick. That would at least make this team relevant for the next four months in the lead-up to the draft.
Robert Ferringo has posted two of three winning football years and has averaged $5,600 in profit for his clients the last four years. We are offering new clients $60 in free college football picks for Robert's picks or any Advisory Board handicapper of your choosing. Get your free college football picks now!
Read more articles by Robert Ferringo