2015 NFL Power Rankings Week 3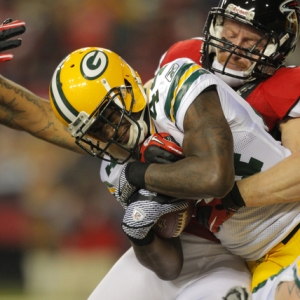 It takes absolutely everything in my power each Sunday to keep from putting my fist through my television by the time I've watched my 250th Draft Kings or Fan Duel commercial.
Daily fantasy sports are gambling. They just are. I know that the Supreme Court pulled a semantic tap dance to carve out a niche for them when they outlawed online gaming. But these daily fantasy leagues are obviously gambling. And it is incredibly frustrating, as a professional gambler and handicapper, to know that one form of gaming is socially and financially accepted into the mainstream while another is not. It drives me absolutely insane.
What's worse, is that this article outlines why daily fantasy football isn't nearly the Candyland that the commercials suggest while this other article takes a look at the conundrum that the NCAA faces with its indentured servants athletes. So while daily fantasy games may be enjoying their salad days on the national scene, there are long-term issues - surprise, surprise, the same issues that have hung up the sports gambling debate - that need to be factored into its long-term viability.
Here is Doc's Sports NFL Power Rankings for Week 3:
1. Green Bay Packers (2-0) - Once again, Aaron Rodgers is simply that much better than everyone else and proved it again on Sunday night against the Seahawks. That was a big revenge spot for the Packers, and even though they denied that was part of the motivation, you have to wonder if they will have a letdown this week after such a big win over their nemesis. Playing on Monday Night Football should help keep them focused. But the Packers are also just 1-4 ATS in their last five MNF games. Green Bay is 34-16 ATS in its last 50 home games and is essentially an automatic play at home, hence the inflated line this week against the Chiefs.
2. New England Patriots (2-0) - And that, ladies and gentlemen, is why you don't bet against the Patriots with Belichick and Brady. Man, they LIVE for situations like last week heading into Buffalo, and even I fell into the trap. The savvy thing to do with the Pats is to either bet on them or simply stay away; there's no upside in wagering against New England. The Patriots are 13-6 ATS in their last 19 home games, and they are 72-33 ATS after accumulating more than 350 yards in their previous game, which they do just about every week.
3. Seattle Seahawks (0-2) - Desperation time for the Seahawks. And even Kam Chancellor is feeling the heat obviously! I may be optimistic keeping the Seahawks here. Especially since the first thing I said about them this season was that I expected a steep regression. But who didn't think they were going to win that game on Sunday once they took the lead in the third quarter against the Packers? And now Seattle can get its head right
4. Arizona Cardinals (2-0) - This might still be too low for Arizona. They have looked dominating in their first two games, averaging nearly 40 points per game while also producing a physical, ball-hawking defense. Carson Palmer looks a lot more confident than I thought he would be. I was expecting him to be a bit more gun shy, but he is not at all. The Cardinals should be ready to unload some pent-up frustration on the 49ers this week. They have lost 10 of the last 12 meetings and are just 4-8 ATS in their last 12 games against San Francisco.
5. Buffalo Bills (1-1) - Look, everyone knows the benefits of having a guy like Rex Ryan. He brings energy and swagger to any team he coaches. But last week we saw the reality of having Ryan as your leader. That was just a vintage Ryan-coached team completely coming unraveled. By my count Buffalo's first-half penalties cost them at least 17 points and around 250 yards. They were an undisciplined mess, and most of those penalties were completely inexplicable. The Bills looked like a team that was in way over its head but also like a team that thinks it is much better than it really is.
6. Denver Broncos (2-0) - Ironically, for all the amazing work that Peyton Manning has done in domes during his career, the Broncos are 1-7 ATS in their last eight games on turf with Manning at the helm. I still can't believe that Denver escaped Arrowhead with a win. And I have to think that karma is going to settle the scales with a beating this time around. Denver is 20-8 ATS against teams with a losing record, but they are just 1-4 ATS after a win against the spread.
7. Cincinnati Bengals (2-0) - This may be a little too high for this group. But they have looked sound in all three facets of the game during two convincing wins to open the year. Now they face a different animal, though, as they go to M&T Bank Stadium to take on a wounded and desperate Ravens team. The Bengals swept the season series last year and have won four of the last five meetings. However, the underdog is just 2-6 ATS in the last eight meetings.
8. Kansas City Chiefs (1-1) - So, for the rest of the season I have to handicap the Chiefs as if they have one more win than their record shows. Because even though they are 1-1 they really should have earned the 'W' against Denver. The Chiefs are 4-1 ATS in their last five Monday Night Football games, and Andy Reid was always money in the bank in primetime games when he was with Philadelphia.
9. San Diego Chargers (1-1) - This is a tough situation for the Chargers. They pulled a surprising comeback upset at home in Week 1, and now they have to make long trips in back-to-back games with early start times. Still, I thought they played tough against a very game Cincinnati team. And Philip Rivers looked locked in. He is a guy that is really, really tough to bet against at this point in his career.
10. Pittsburgh Steelers (1-1) - Antonio Brown is not human. That guy is absolutely unbelievable and is a one-man wrecking crew. He really is unstoppable. The Steelers are the team earning the most lopsided action this week, taking 90 percent of the early week bets. However, they are walking into a bit of a reverse line movement as they opened at 2.5 but have dropped to 1.0 or 1.5. That could be a red flag.
11. Dallas Cowboys (2-0) - Tony Romo and Dez Bryant are out, Jason Witten is banged up, and their defense is a revolving door of personnel issues right now. Those are all built-in excuses for this team. But the truth is that these Cowboys looked like the same undisciplined bunch of losers that we've seen most of this decade. Philadelphia played as poorly as any football team can - and the Cowboys still let them hang around and needed a special teams touchdown to put some distance in that game. Any decent team would've beaten the Eagles by 40 last week. Dallas is 1-5 ATS in its last six home games.
12. Detroit Lions (0-2) - I may still be irrationally overconfident about this team, but I love the Lions this week. They are another team that has yet to play a home game. And I think Detroit is going to go absolutely bonkers on Denver this Sunday night. The fact that it is a primetime game against Peyton Manning only ups the stakes. Keep an eye on Matt Stafford this week. He looked shell-shocked walking off the field against Minnesota and spent the day getting crushed by Vikings defenders.
13. Indianapolis Colts (0-2) - Weird, it is almost as if someone has been saying for years that Andrew Luck is overrated mainly because he is a turnover machine. I said two weeks ago that I thought the Colts were massively overvalued, and they appear to be. But this week they get to face one of their pathetic rivals in the AFC South. The past three years these are the games the Colts lay the wood. So you have to believe that if this year's Indy team is as good - or better - than any of those past three teams then you should be pouring money into an Indy blowout.
14. Philadelphia Eagles (0-2) - That Dallas game was really one of the ugliest, worst football games I've ever seen in my life. The Eagles were completely pathetic in all facets of the game, and this team's confidence should be in the toilet. Of all their problems - and there are many - I think the biggest one is that their receivers stink. Jordan Matthews isn't nearly as good as people think he is, the rookie isn't ready, and Riley Cooper played last week like he was on LSD. If they can't move the ball in the air then their offensive line isn't good enough to open up the running game.
15. Baltimore Ravens (0-2) - Baltimore looked a bit more comfortable offensively last week. But I attribute most of their success to Oakland's depleted (and disorganized) back seven. I just wonder how long the Ravens can go throwing the ball to Steve Smith 12 times a game. He is really all they have to work in the passing game. The Ravens are just 5-14 ATS in their last 19 conference games. But they are 14-4 ATS when they play a team that is above .500. The favorite is 5-2 ATS in the last seven meetings.
16. Minnesota Vikings (1-1) - The Vikings are just 2.5-point favorites against the Chargers this weekend. But I have to ask: what is really different about this week's game against the Vikings versus San Diego's game at Cincinnati last week? The Bengals were a solid three-point favorite in that game. Now the Vikings get San Diego on the second of back-to-back road games, again coming east for an early start, and off a loss.
17. Atlanta Falcons (2-0) - I was really surprised that the Falcons were favored in Big D this week. I know that they are facing Brandon Weeden and the rest of Dallas' offensive backups. But I thought it was a bold stance for the books to take on the state of the Falcons. This team won 10 games the past two years. And while they have looked better, undoubtedly, this year, they also were just a play or two away from going 0-2 against a pair of weak teams. They had to overcome fourth-quarter deficits, and now this team is ready to go on the road and lay the wood?
18. Miami Dolphins (1-1) - It is always tough for teams to open the season with back-to-back road games. But now the Dolphins have backed themselves into an early wall by losing to the Jaguars. We will see if the heat and the humidity give the Dolphins a big advantage this week against Buffalo. Miami is 10-0 SU and 8-2 ATS when they host the Bills, and Buffalo is off a loss.
19. Carolina Panthers (2-0) - I'm still not buying into the Panthers. I give them credit for doing what they needed to do to get to 2-0. But I will still keep in perspective the two teams - and quarterbacks - that the Panthers have beaten.
20. New York Jets (2-0) - There has been nothing fluky about New York's 2-0 start. They hammered Cleveland and then they were totally in control of that game against the Colts. Unfortunately, they may have lost Eric Decker (knee), and they don't really have the offensive depth to overcome that.
21. Houston Texans (0-2) - I was never really on the Texans bandwagon. But I can say that after two weeks it is blatantly obvious that this team's ceiling is mediocre. They simply don't have the skill-position talent on offense or the depth on defense to be a factor in the AFC.
22. Chicago Bears (0-2) - Poor Chicago. Again, even though the final score looked like a blowout, the Bears really were stride for stride with the Cardinals in the first half. But then loser Jay Cutler just did what loser Jay Cutler does, and now Chicago's season is over before it began. And the fact that the best backup they could come up with Jimmy Clausen really doesn't speak well to the front office's ability to read the roster.
23. San Francisco 49ers (1-1) - I said last week: don't be fooled by that Monday Night Football win over Minnesota. San Francisco is still a mess this year. They moved the ball seemingly at will against the Steelers but managed to be their own worst enemy in the red zone with stunning drops and really bad penalties. San Francisco is going to be competitive for about another month, so I wouldn't load up betting against them just yet. We know what the floor for this team is going to be. We are going to see what their ceiling is this week in a really big divisional game at Arizona.
24. Tennessee Titans (1-1) - The Titans just crippled themselves last week. Their two early turnovers and some really bad penalties put them in the jackpot. But I really think that if the Titans had been able to stop Cleveland on that third-and-short (the one in which Manziel threw the game-clinching bomb) and gotten the ball back I really think the Titans would've scored again to tie the game. Their offense looks really sharp - when they can hold onto the ball.
25. St. Louis Rams (1-1) - Jared Cook is St. Louis' No. 1 receiver through two games. That tells you all you need to know about the Rams' skill-position players. I hate to keep banging the drums about it. But I can't take this team seriously with this group of clowns. St. Louis is just 15-36 ATS in its last 53 games in September.
26. New York Giants (0-2) - This game is eerily similar to last year's game against the Redskins. The Giants were 0-2 and in desperate need of a win, except they were heading down to D.C. on a Thursday night instead of hosting on a short week. Now they are about to make Coughlin's Last Stand at home, and coming off two games which they should've left with a 'W'. The Giants won last year's game 45-14, burying RGIII early. I don't think it will be that ugly this time around, but I have to think the Giants need this one a lot worse than the Redskins.
27. Cleveland Browns (1-1) - Manziel Mania, eh? Not so much. I think Manziel is garbage. But even I am surprised that the Browns are going back to Josh McCown. Cleveland still did not impress me last week (Travis Benjamin aside). All they really did was sit back and let Tennessee implode. But now the Browns have a big situational advantage over the Raiders. Oakland is coming off a big comeback, upset win at home and now has to travel east and play a 10 a.m. PST start. That didn't work out well for San Diego or San Francisco last week - both of whom were in the exact same situation - and we'll see if a trend is emerging this year in the NFL.
28. Tampa Bay Buccaneers (1-1) - Wait, who was it that said that the Bucs were going to sink a lot of Survivor Pools? Tampa Bay broke a lot of hearts last week by upsetting the Saints. But in just two weeks they proved exactly what I predicted for this group this week: they are going to get smoked by some bad teams that they should beat and they are going to upset some good teams that they shouldn't. This team is going to be a gambler's dream - or nightmare - this season because of this inconsistency.
29. New Orleans Saints (0-2) - This team is a train wreck. They have major, unfixable issues plaguing them in the locker room and on their roster. That defense is simply pathetic. And now that Drew Brees is less than 100 percent the floodgates really could open for a disastrous season. This team has the look of a 3-13 or 4-12 group, and if you are waiting for the Saints to get it together don't hold your breath.
30. Washington Redskins (1-1) - Considering the level of expectations, the Redskins haven't played poorly in their first two games. They've been solid in the trenches against two very physical opponents. And Washington's offensive line really seems to be responding to their new running attack. I was impressed at how well they got out on pulls and sweeps and made it to the second level against St. Louis' offense. That was the real secret of their success running the ball last week.
31. Oakland Raiders (1-1) - David Carr looked outstanding last week. This kid is absolutely the real deal. It wasn't just that he guided Oakland on an 80-yard, game-winning touchdown drive and put up nearly 40 points against a Ravens defense that has been historically very good. Carr impressed me with his quick reads and with his accuracy. That guy is putting the ball exactly where it needs to be; beating defenses with throws before receivers get out of their breaks, and he truly looks completely in control of the offense. Oakland's defense is still pathetic, though, so I'm not buying into the Raiders resurgence just yet.
32. Jacksonville Jaguars (1-1) - I'd like to say that was a big win for the Jaguars last week over in-state foe Miami. But considering Miami is nothing more than mediocre, I don't think it qualifies. And beating the Fins at home sets the Jaguars up for a letdown this week going to Foxboro for their first road game of the season. Jacksonville is 3-13 ATS in their last 16 September games, and they are 1-4 ATS in their last five games after a win, so they haven't exactly handled "success" well.
Throughout the season I will have my NFL Power Rankings every Wednesday. My next ones will be released on Wednesday, Sept. 30.
Robert Ferringo has been the top football handicapper in the country the past two years, earning nearly $13,000 in total football profit with back-to-back winning seasons. Robert has tallied over $23,000 in football profit the last four years and in 2013 he hit 62.1 percent for the entire NFL season (95-58). Robert has produced an incredible 13 of 17 winning football months. Going back further he has churned out 36 of 52 winning football months and four of five winning overall seasons while hitting nearly 60 percent winners over his last 600 football picks. Also, Robert's proprietary KING College Football Betting System has posted two of three winning seasons and is 104-73 over the last three years (58.8 percent). We are offering new clients $60 in free college football picks for Robert's picks or any Advisory Board handicapper of your choosing. Get your free college football picks now!
Read more articles by Robert Ferringo