2015 NFL Power Rankings Week 4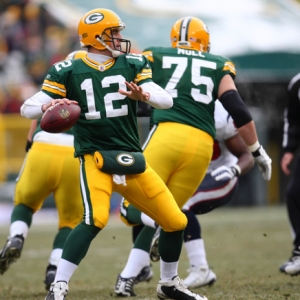 So many McCowns. So little time.
Quarterback injuries have completely altered the landscape in the NFL. Add in the usual first-month freakouts associated with unpredictably and good/bad starts by certain teams, and the National Football League betting landscape seems as chaotic as ever.
However, things aren't really that chaotic or confusing at all. And aside from a freakish amount of penalties (seriously, some of these games have been disgusting to watch) I'd say that things are just business as usual right now in the NFL.
Free $60 in Member NFL Picks No Obligation Click Here
The teams at the top of our power rankings are getting the best quarterback play. But that's no surprise as Aaron Rodgers, Tom Brady and Peyton Manning are legends. But the next tier of teams all have two things in common: first, none of them have one of the legendary quarterbacks, and two, if they can't compete with those teams throwing the ball they are winning by brute force, physicality and dominating their opponents at the line of scrimmage.
The bottom-tier teams are the bottom-tier teams. These are the usual suspects: the Jaguars, Browns, Redskins, and Rams. The rest of the bottom-feeders are teams that are either in full-blown rebuilds or squads like New Orleans and Chicago that have unsuccessfully tried to weather quarterback injuries and daunting schedules.
But the real intrigue in the NFL right now - and the primary source of that unsettling feeling of chaos - resides in the teens. The teams ranked 12 through 22 are a grab bag of inconsistency. Those are the teams that are going to boost bankrolls or break hearts over the next two months, and those are the teams that we need to take extra time and care handicapping. They are the wild ones.
Here is Doc's Sports NFL Power Rankings for Week 4:
1. Green Bay Packers (3-0) - It's really just not even fair. Aaron Rodgers is playing out of his mind right now and cannot be stopped. He is unstoppable, and thus the Packers are unstoppable. That said, I would still like to see more nasty out of this team defensively. They are still a little too "by the book," and they don't generate stops, turnovers and big plays as much as they simply sit and wait to capitalize on opposing mistakes. The Packers are 40-17 ATS in their last 57 games on grass.
2. New England Patriots (3-0) - The Patriots have 119 points in three weeks and are basically a godless killing machine. They also get two weeks to prepare for Brandon Weeden and the Cowboys. They may beat Dallas even worse than they beat Jacksonville. Also, I think that Jon Bostic trade was a steal for the Patriots. They've had good luck with Florida linebackers in recent years.
3. Arizona Cardinals (3-0) - It is amazing how much garbage time the Cardinals have already played this year. They are absolutely wrecking people and doing so with ruthless efficiency. Arizona's defense has scored more touchdowns (three) than opponents have passing touchdowns (two). And the Cardinals red zone numbers are incredible, converting 91.7 percent of their trips into touchdowns so far this year. The Cardinals are the least-penalized team in the league (17 offensive penalties), and they have a mathematically unsustainable 9.3 offensive yards per point so far this year. The Cardinals are 4-0 ATS in their last four against the Rams and 7-3 ATS in the last 10 meetings.
4. Denver Broncos (3-0) - Trent Dilfer gave a great explanation Sunday night about why it's important for Peyton Manning to go from shotgun. The whole explanation was about how Manning's aging body needs the extra rotational force from being able to throw with a decreased weight transfer. It was really good stuff. Denver's offensive line is going to get by far its biggest test to date this week with Minnesota coming to town. How the Broncos hold up against the Vikings front seven will determine if they cover the 6.5-point spread this week. Last year the Broncos were favored in a similar range (8.0 and 6.5) against NFC foes Arizona and San Francisco, respectively. They won both of those games by at least three touchdowns.
5. Seattle Seahawks (1-2) - Don't be fooled by Seattle's "dominating" 23-0 win over the Bears last week. That game was 13-0 late, and Seattle benefitted from a kickoff return for a touchdown and a blown replay call early in the game. Also, I know Kam Chancellor is just getting back, but the Seahawks secondary has been a mess. They are allowing opponents to complete 67.5 percent of their passes, and the Seahawks have yet to intercept a pass (despite facing Nick Foles and Jimmy Clausen). I'm sure that number will change with loser Matt Stafford coming to town on Monday Night Football. The Seahawks are 8-1 ATS in their last nine MNF games and an amazing 34-16 ATS in their last 50 home games.
6. Buffalo Bills (2-1) - I'm on record as saying that I love this team's nastiness. They have physically manhandled two of their three opponents, and the Bills offense is the best they've had in over a decade. The Bills have converted a whopping 83.3 percent of their red zone opportunities into touchdowns this year, mainly by forcing the ball down opponents' throats. The Bills will likely be without Sammy Watkins and LeSean McCoy this week. But their main obstacle is still likely to be overconfidence. They are facing the Big Brother of New York football with the Giants coming to town, and I think the Bills are either going to win this game by three touchdowns or lose it outright. Buffalo is 7-19 ATS after a win and 9-20 ATS after a win against the spread.
7. Cincinnati Bengals (3-0) - Ho-hum. The Bengals beat just keeps on keeping on. When this offense is healthy - and it really hasn't been at any point in the last three years - they are as good as anyone. That receiving corps (though I still think they miss Andrew Hawkins) can be tough for anyone to stop. Now Cincinnati has the situational advantage of catching the Chiefs on a short week, and the Bengals get to flex their impressive home field muscle again. The Bengals have quietly gone 17-5 ATS in their last 22 home games and have developed one of the best home-field advantages in the league.
8. Kansas City Chiefs (1-2) - I'm not going to crush these guys for losing back-to-back games to Denver and Green Bay (especially when they obviously should've beaten the Broncos). That said, Marcus Cooper should definitely throw himself off a bridge. And while Lawrence Tynes' criticism of "check down master" Alex Smith isn't exactly novel, that doesn't mean it is any less accurate. The Chiefs want to play conservatively and rely on their defense. It's a sound strategy. But they are 1-4 ATS in their last five road games and 1-5 ATS in their last six games against teams above .500. You can't win those games if you're not willing to take shots down the field.
9. Minnesota Vikings (2-1) - When we look back on this season, that Week 1 loss at San Francisco is going to look like one of the strangest results of the season. And I know it is premature, but that loss could end up being the difference between the Vikings making the playoffs or not. Minnesota looks to me like an NFC version of the Bills - absolutely nasty. The Vikings defense has pummeled Philip Rivers and Matt Stafford the last two weeks, completely shutting their offenses out while persistently punishing them in the process. Minnesota is No. 2 in the league in defensive yards per point, and now that Adrian Peterson has found his legs this offense is no joke.
10. Atlanta Falcons (3-0) - The Falcons are proving once again why the Shanahan/Kubiak offensive scheme has been one of the most successful offensive approaches in the last 20 years. Not only did it help make Denver a powerhouse and help Houston pull itself up from expansion team doldrums, but it has also produced record-breaking seasons in Baltimore (2014) and Washington (2012). And now with two top seven players at their positions in Matt Ryan and Julio Jones, the Shanahan system looks headed for another double-digit winning season. Atlanta is converting 53 percent of its third downs, and I will bet any amount of money the Falcons finish in the Top 5 in that crucial statistic this season.
11. Carolina Panthers (3-0) - On the one hand, Carolina's opponents have combined to go just 2-7 this year, and now they are facing a weak 1-2 Tampa Bay team. On the other hand, you have to give the Panthers credit for being a machine, executing their proven system and game plan, and just playing all-around sound football. Cam Newton has been one of the best players in the NFL in the opening month, and I think that Jared Allen is going to be absolutely awesome for the Panthers for the next few years. That was an amazing trade for Carolina and will pay immediate dividends.
12. Pittsburgh Steelers (2-1) - Mike Vick is going to be terrible. He has been one of the worst regular starting quarterbacks in the NFL over the past decade. I feel pretty confident that Pittsburgh's playoff dreams will be all but dead by Halloween, and this month Vick will solidify his stature as one of the all-time most overrated athletes of the early 21st century. Also, there's pretty much no way that Pittsburgh's 43.0 defensive yards per point will carry over into this week's game, so expect them to give up at least 20 to the Ravens. The 'over' is 11-4 the last 15 times they have hosted the Ravens.
13. Indianapolis Colts (1-2) - Andrew Luck has the worst quarterback rating in the NFL right now. I don't want to say "I told you so" - but I told you so! Listen, Luck is going to bounce back this year. I mean, he has T.Y. Hilton, who is amazing, and the Colts still play in the pathetic AFC South. But I have been the ONLY NFL analyst in the country that hasn't been slobbering on Luck the past four years, and I am the ONLY NFL analyst that has called him out for being a turnover-prone mess. The Colts are already -7 in turnover differential, and they are No. 32 with 30 offensive penalties already. The Colts absolutely should be 0-3 with losses to the Jets and Titans. But who do they get to face this week? That's right, the Jaguars. Again. And Indy should continue their con game by winning their 15 th straight divisional game. The Colts are 18-5 ATS against AFC South opponents, 21-7 ATS at home, and 19-7 ATS against teams below .500.
14. Philadelphia Eagles (1-2) - Yeah, that was a win. But no, that was not a good effort from the Eagles. Sam Bradford still just either doesn't know or really isn't comfortable in that offense, and he is getting zero help from Philadelphia's awful receiving corps. The Eagles already have 10 dropped passes, tied with the Jaguars and Texans for most in the league. And that, as much as anything, is why Philadelphia is converting a pathetic 24 percent on third downs. Last year they were tied for No. 6 in the NFL on third-down conversions at 44 percent, and I think the defense is going to lose its sense of humor about this stuff real soon. The road team is 12-5 ATS the Redskins series.
15. Detroit Lions (0-3) - The real Jim Caldwell - confused, incompetent dolt - is starting to shine through. He had a couple moments there for a few games in Baltimore and for a season in Detroit where he didn't look like a confused, incompetent dolt. But that is who Caldwell is. Also, Matt Stafford is a loser. Anyone that points to his stats as proof that he's not a loser is an idiot. Stafford is a slightly better version of Jay Cutler, which is to say he is about 95 percent loser and 5 percent New Republican with sunglasses dangling/sweater tied around his neck. Detroit is averaging just 45 rushing yards per game. So much for Amazing Ameer.
16. New York Jets (2-1) - The Jets are No. 1 in the NFL in defensive yards per point (21.8), and that is even after playing a game against the Eagles in which they allowed a 9.6 DYPP. I think they will bounce back this week against a flimsy Dolphins attack in London. However, keep an eye on the Revis injury situation. Antonio Cromartie has already been banged up, and if these two guys can't play - or don't play effectively - then the floodgates could open. The Jets are 24-9 ATS in their last 33 games against the Dolphins. Unfortunately for New York, this one isn't in Miami, as New York is 14-3 ATS on the road in this series. Also, the Jets really, really need Eric Decker back soon.
17. Baltimore Ravens (0-3) - Atlanta's Devonte Freeman is going to run for over 1,000 and Justin Forsett is going to run for about 600. And the reason, once again, is simple: it's scheme and system. Forsett was great in the Shanahan/Kubiak system. But "Offensive Genius" Marc Trestman apparently has no idea how to calculate the exchange rate on rushing yards from Canadian to American. And Baltimore's lack of offensive toughness - you read that right - is a big part of the reason they have converted just 33.3 percent in the red zone this year. Defensively the Ravens are chickens with their heads cut off. They kicked the can down the road on that horrific secondary the past two years, but now they are completely exposed in the back end of that D.
18. San Diego Chargers (1-2) - It really speaks to the state of the NFL right now that the Chargers have to be considered one of the mediocre, middle-tier teams despite the fact that they've been bombed each of the past two weeks. San Diego has just one offensive score in the first half in their three games. Their defense only has one sack. San Diego's defensive yards per point are a pathetic 11.7, second-worst in football. And the Chargers offense already has eight turnovers. With all that being said, look at the next five teams on this list and tell me if you think any are better than San Diego? The Chargers are now 3-11 ATS in their last 14 games.
19. Dallas Cowboys (2-1) - Atlanta made second-half adjustment to press Cowboys receivers and make Dallas beat them over the top. The Cowboys made zero adjustments, and every game I see this team play solidifies my firm belief that last year was a fever dream and the Cowboys actually went 4-12, as they should have. The Cowboys are 6-10 in games that Tony Romo has missed due to injury. That looks about right for what their overall record is going to be this season. Oh, and it was hilarious listening to Troy Aikman proclaim in the first quarter last week that "by the end of the season Dallas' defense is going to be in the Top 5 in football" and then watching the Cowboys get strafed for almost 40 points in the next three quarters. Good call Troy.
20. New York Giants (1-2) - I think the Giants stink. But this week's game in Buffalo is exactly the type of spot where the Giants have been known to sneak up on people. They are an active dog and are the big brother in New York football. The fact that this spread has dropped from 6.5 to 5.5 this week is a huge red flag that the sharp money is on the Giants, and I think that they are going to either win this game outright or lose by 24. There's no in between. New York's defense has already allowed over 1,000 passing yards (335.7 per game). And offensively they have converted just over one-quarter of their red zone attempts. The numbers all look ugly for the G-Men. But a quick scan of their schedule tells me that they have a realistic chance to be 5-4 or 6-3 in a few weeks.
21. Oakland Raiders (2-1) - Derek Carr is easily one of my favorite young quarterbacks. This kid looks awesome. He makes all kinds of throws - timing throws, stick throws, touch passes, deep touch passes, throws on the run - and does so effortlessly and accurately. That being said, why the hell are the Raiders favored this week? They are still the Raiders. Oakland is just 3-22 straight up on the road and just 7-19 ATS following a win against the spread. The Raiders are also making back-to-back road trips for early kickoffs (this one is 11 a.m. PST), and that's a tough situation for a young team that is being backed by 80 percent of the public. Be wary.
22. Houston Texans (1-2) - Houston's offensive play sheet looks like the screen from the original Tecmo Bowl. They either run off tackle right. They run off tackle left. Or they throw it to DeAndre Hopkins. That's it. That's the entire offense. Outside of their amazing defensive line there is absolutely nothing impressive about this team at all. Every other position group is below average, and Houston's game plan of boring opponents to death is only going to be so effective. Houston is just 3-10 ATS in its last 13 games following a win and 3-13 ATS in their last 16 games after covering the spread.
23. Tennessee Titans (1-2) - The fullback dive call on the two-point conversion was easily the worst play call I've seen yet this year. Stopping the run at the point is literally the only thing the Colts defense does well, and the Titans couldn't move the ball between the tackles all year. Nothing like taking the ball out of your best player's hands in the biggest play of your season. The Titans offense is the real deal, boasting a solid 12.6 OYPP and a 77 percent red zone conversion rate (better than New England and Denver). But that defense is still a mess. Their 12.0 DYPP is actually worse than last year's terrible 13.6 DYPP, and the fact is they just don't have enough guys with heart and toughness on that side of the ball.
24. Miami Dolphins (1-2) - Nd Suh wanted to dress up as Albert Haynesworth for Halloween and has really committed to the bit, taking the first two months of the season to get into character. Miami's defense is on pace for six sacks this year. Six! They had 81 sacks in their last 32 games pre-Suh but have just one sack so far this season. They are basically playing for their season - and Joe Philbin is coaching for his job - this week in London. This team literally does nothing well, though, and any success is going to be short-lived for what looks like the clear No. 4 team in the AFC East.
25. Tampa Bay Buccaneers (1-2) - There is absolutely no doubt that the Bucs should've covered against Houston last Sunday. Kicker Kyle Brindza should call up Kansas City corner Marcus Cooper and the two of them just hold hands while jumping off a bridge together. Jameis Winston hasn't had a serious implosion since Week 1 (meaning he is due). But Tampa Bay is converting a pathetic 22 percent on third down this year. A big part of that is that their 33 offensive penalties are last in the league. Part of that is leadership, and that falls on the coach and quarterback. The Bucs are 5-12 ATS in conference games and 15-36 ATS at home.
26. Chicago Bears (0-3) - Before you go thinking the Bears are the worst team in football, I would like to point out whom they've played: the Packers, the Cardinals and at Seattle (when the Seahawks were 0-2). And Chicago was still very competitive in all of those games in the second half, despite being shorthanded. However, their fire sale this week sends a bad message. Those were two terrible trades by the Bears front office, and Chicago has basically confirmed what everyone already knew: that this season is essentially an extended training camp while they sort out the roster and make plans for the future. Chicago is 7-21 ATS in its last 28 home games and 1-8 ATS in their last nine in October.
27. New Orleans Saints (0-3) - Watching this team play defense is a study in ineffectiveness. They get zero pressure - blitzing or not - and the secondary can't cover guys like Ted Ginn and Philly Brown (a practice squad guy). I have said 1,000 times that it is baffling how Rob Ryan is still employed. He is one of the worst coordinators in NFL history. Seriously. He has been a DC for 12 NFL seasons. Exactly ONE of his defenses has finished in the Top 12 in points allowed and two have finished in the top 12 in yards allowed. Yet this year's team is on pace to be his fifth to finish No. 25 or worse in yards allowed and fifth to finish No. 25 or worse in points allowed. Eight of 12 Ryan-coordinated teams will have finished the season with one of the eight worst records in the NFL.
28. San Francisco 49ers (1-2) - Yet as pathetic as the Saints defense is, there is still the 49ers. Teams are averaging 10 yards per attempt against the 49ers defense. That's not a typo. Teams are averaging a first down every time they drop back to pass against this putrid secondary. The Niners, formerly one of the most profitable teams in the NFL for bettors, are now 1-7 ATS in their last eight regular-season games and 1-5 ATS in their last six home games.
29. Cleveland Browns (1-2) - Josh McCown actually played alright against the Raiders. But I have to say that I still am surprised that Mike Pettine didn't ride the hot hand with Johnny Manziel, and now the Cleveland locker room is split because of it. Cleveland honestly has bigger problems, though. Another thorn in Pettine's side, Justin Gilbert, is likely to be forced into action this week with Joe Haden potentially missing Sunday's game with sore ribs. If I were the Chargers I would throw at Gilbert 40 times. Cleveland's execution has been horrendous, with the Browns converting just 28.6 percent of their red zone opportunities and already fumbling the ball eight times, losing five.
30. St. Louis Rams (1-2) - I know this still seems low to some people, who have been clinging to the notion of "St. Louis sleeper team" for the past several years. But those people are losers. The Rams vaunted defense - which is supposed to be the strength of this team - is allowing opponents to complete 81.6 percent of its passes against them. The Rams are 2-6 ATS in their last eight games in Arizona, and they are 25-53 ATS on the road against teams with a winning home record. The Rams are 3-7 ATS in their last 10 divisional games, making their win and cover over Seattle in Week 1 look more and more like the fluke that it was.
31. Washington Redskins (1-2) - It is back to the drawing board for Washington, which lost another starter to injury this week and just can't seem to stay healthy. Defensively, the front seven actually looks OK. But the reality is that the entire NFC East - Redskins (4), Giants (3), Cowboys (3) and Eagles (5) - have combined for just two more sacks than the NFL-leading Patriots and Rams (13 apiece). And I thought Jay Gruden was an offensive coach? Last year the Redskins offensive yards per point was a horrific 19.1, dead last in the league. So far this year it is even worse at 20.3. Though I guess because it is only second-worst that's improvement? Washington is just 5-24 ATS at home against a team with a losing road record and is 15-38 ATS against teams below .500.
32. Jacksonville Jaguars (1-2) - Why does this team still exist? The Jaguars are 0-5 ATS in their last five games against the Colts, and most of them have been hilarious embarrassments. However, the road team is 11-5 ATS in this Colts series.
Throughout the season I will have my NFL Power Rankings every Wednesday. My next ones will be released on Wednesday, Oct. 7. (Oct. 7 is also the opening night of the NHL season, and my hockey packages are available now. I have posted five of six winning NHL seasons and have been one of the top earners on the ice in the country.)
Robert Ferringo has been devastating the books so far this football season, banking six of eight winning weeks and back-to-back winning months to start the season. Robert has posted nearly $4,000 for his football clients the last two weeks alone and continues to be the top long-term earner in the nation. He was good for nearly $13,000 in profit in 2013 and 2014 and has averaged $5,600 in profit for his clients the last four years. Robert's two winning months to start this season make it 14 of 18 winning football months and an unreal 37 of 53 over the last eight years! Also, Robert's proprietary KING College Football Betting System has posted two of three winning seasons and is 104-73 over the last three years (58.8 percent). We are offering new clients $60 in free college football picks for Robert's picks or any Advisory Board handicapper of your choosing. Get your free college football picks now!
Read more articles by Robert Ferringo
---
Most Recent NFL power rankings Articles