2015 NFL Power Rankings Week 6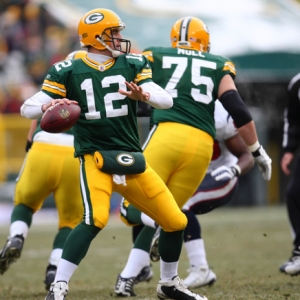 Football is a terrible sport.
Let me preface this by saying that I love football. I love watching it. I love handicapping and betting on it. I love Sundays and all the drinking, food and adrenaline that comes with it. All of the ancillary enjoyments are what has made football a pillar of our national economy. Football is a drug. And I am an addict.
But as for the game - for the actual sport - itself? Football is awful.
My wife knows absolutely nothing about football. When I say "nothing," I mean that she couldn't name more than five NFL mascots or more than three NFL quarterbacks. I am not exaggerating when I say she has never watched a football game from start to finish. The reasons for her apathy toward the sport that consumes her husband for six months (at least) of the year are varied. But the No. 1 reason is this: football just isn't fun for a newcomer to watch.
Free $60 in Member NFL Picks No Obligation Click Here
Honestly, when was the last time that you tried to explain football to someone who was unfamiliar with the sport? Basketball and soccer are self-evident, free flowing, and the constant action can draw in someone unfamiliar with the games. Baseball is slow, but that's part of the draw. And even that sport is pretty straightforward: throw the ball, hit the ball, and catch the ball.
But football is a goddamn mess. The rules are so convoluted that even people who have played the game for decades either don't know or don't understand them. No one knows what a catch is. No one knows what is or isn't a legal big hit. And the worst part about all of the rules is that you can't go five plays without a penalty flag being thrown.
Also, the replay system is a disaster. It's absolutely necessary. But I have no idea why the NFL doesn't have a dedicated official in the booth. There's no reason that I can see three televised replays within 30 seconds of a play and know what the ruling is going to be but yet it still takes 10 minutes to get the zebras on the field to make a call and get the game going.
There are a lot of other problems with football as well. The action is infrequent. Studies have shown that in a three-and-a-half hour game there is only about 18-22 minutes of actual game action. (This is my wife's biggest problem with football. It isn't the absurdly complicated rulebook it is the dearth of action.)
Football isn't going anywhere. I'm certainly not going to stop watching, and there is a massive segment of our national economy that is built on the sport. But I don't think that it is unfair to say that this sport has some major problems. And The Powers That Be will need to address some of them if they want to continue to grow the fan/paying customer base at a rate to keep up with the expanding business interests and needs.
Here is Doc's Sports NFL Power Rankings for Week 6:
1. Green Bay Packers (5-0) - There's pretty much no way that the Packers should've covered the spread against St. Louis last week, and the defense clearly wore down in the second half of the game as they were outgained by the shoddy Rams. But the fact is that the Packers are 5-0 ATS so far this regular season, and they are unstoppable at home, where they have covered the spread in 70 percent of their last 50 games in Lambeau Field (35-15 ATS). I think they are laying way too many points to San Diego this week. But at this point who wants to bet against Green Bay on its own turf? That is exactly the position that the books are trying to put bettors in.
2. New England Patriots (4-0) - The Patriots made it look easy against the Cowboys on Sunday, as they should have, and now they take their war party to Indianapolis for a game that is definitely personal for New England. Indianapolis is the team that touched off the whole "Deflategate" drama/circus this offseason with their complaints during the AFC Title Game, and the Patriots will not take mercy on this banged-up Colts group. New England is 4-0 ATS in their last four games against the Colts with an average win by 26.8 points per game. That is complete and utter domination. I don't expect New England to do that to the Colts this week. But I also don't see how Indy will stay within 10 points of the Patriots.
3. Arizona Cardinals (4-1) - You know how NFL Films does those 30-minute season recap videos for each NFL team? Well if they did one for Arizona right now the title should be "Garbage Time". The Cardinals have played more garbage time than any team in football this year, with their four wins coming by an average of 25.5 points per game. Arizona has to travel for an early start time for the second straight week. But they catch the Steelers off an emotional Monday Night Football win, so both teams are at somewhat of a disadvantage. Bruce Arians is making his return to Pittsburgh this week, and you know he wants to make a statement. The Cardinals are 21-8 ATS in their last 29 games.
4. Cincinnati Bengals (5-0) - This is one of the squarest plays on the board this week as the Bengals take their perfect record to Orchard Park. Nearly 90 percent of the betting action has come in on Cincinnati this week. However, they are in a letdown spot after that outstanding comeback against Seattle. Also, Cincinnati's last two games were at home against teams coming off Monday Night Football contests. They won't have that situational advantage here in this one.
5. Denver Broncos (5-0) - The Broncos were fortunate to escape Oakland with a win in a game in which they were clearly outplayed. They only outgained the Raiders by 12 yards and benefitted from a defensive touchdown. Denver needs to continue to stockpile wins now. Because once the weather turns Peyton Manning's sad attempts at throwing the ball more than 10 yards are going to be exposed even more. Denver has a steep reverse line movement against it this week, as over 70 percent of the betting action is on the Broncos but the spread has dropped from 6.0 to just 4.0. That said, its tough to bet against Manning and this defense, and the Broncos are 21-8 ATS in their last 29 games against teams below .500.
6. Minnesota Vikings (2-2) - The Vikings are coming back from their bye week, but they still aren't fully healthy on offense. Mike Wallace is day-to-day with a sore knee, and Charles Johnson is still probably a few weeks away from returning from his rib injury. It is time for Cordarrelle Patterson to put up or shut up this week as the de facto No. 1 receiver. The Vikings have five straight games against teams that are currently below .500 (and a combined 5-15), so if they are going to vault into the playoff hunt now is the stretch to do so. The Vikings are 6-1 ATS in their last seven home games and 8-2 ATS in their last 10 overall. They are also 12-4 ATS in their last 16 games after a loss.
7. Atlanta Falcons (5-0) - It looks like Julio Jones is going to play on Thursday for the Falcons. But he is clearly not 100 percent, and that's a huge problem heading into the New Orleans hornets nest this week. The Redskins ran over, around and through Atlanta on Sunday. A big question for Thursday's game will be how the Falcons bounce back physically. Atlanta has gone 5-0 ATS in its last five Thursday games, and they are 6-2 ATS in their last eight divisional games. Atlanta is 4-1 ATS in its last five games against the Saints, but last season they won in the Superdome for the first time in four years.
8. Buffalo Bills (3-2) - I wouldn't be so quick to dismiss the Bills simply because Tyrod Taylor may miss this week with an MCL injury. Remember: this team made a run at it last year with Kyle Orton under center. This team is still built on defense and the running game, and Buffalo may be getting back LeSean McCoy and Sammy Watkins this week. I also think this is a good spot for E.J. Manuel if he does have to play because expectations are low. He has enough experience to be able to manage the game. That said, I still think that Taylor is going to play. He didn't look hurt to me last Sunday, and I think a week of rest or treatment will have him ready to go Sunday. I expect an inspired effort from the Bills as a home underdog here this week. Buffalo is 7-21 ATS following a win.
9. Seattle Seahawks (2-3) - Last year the Seahawks started 3-3 and then rattled off nine of 10 wins en route to a playoff slot and, eventually, a spot in the Super Bowl. So these guys shouldn't be buried. Granted, they aren't the same caliber team that they were last year or in 2013. But you shouldn't jump off the bandwagon too quickly. I honestly don't think that Marshawn Lynch is going to make a difference on the offense, and I would keep rolling with Thomas Rawls, who is averaging nearly six yards per rush and has averaged 104 yards per game the past three.
10. Carolina Panthers (4-0) - I still think the Panthers are more a product of an easy schedule than a top-tier team. This is a big revenge spot for the Panthers, who just haven't been able to get over the hump against the Seahawks. Seattle beat the Panthers twice last year, including a dominating 31-17 playoff win, and Carolina has lost five straight to the Seahawks since 2010. This will be the fourth straight year they've met in the regular season, and the average score of the last three matchups is 14-9 in favor of the Seahawks. Of course, those low-scoring games could be setting up for a random, out-of-nowhere high-scoring affair in this one. So far 74 percent of the totals bets on this game have gone on the 'under', making it a rare consensus 'under' play.
11. New York Jets (3-1) - We will see what the Jets coordinators cooked up during the bye week for this quietly dangerous team. The Jets aren't getting much love in the national press despite boasting a Top 10 defense and a vastly-improved offense. However, I can't say that they are exactly underrated as they are one of the biggest favorites on the board this week against a team that plays a nearly identical brand of football. The Jets have been favored by six points or more just twice in the last four years. They are 0-6 ATS their last six times being favored by that much and they are just 2-11 ATS over the last seven years laying this much chalk.
12. Indianapolis Colts (3-2) - The Colts haven't even been close to Colts in matchups between Tom Brady and Andrew Luck. Indy is 0-4 SU and ATS, and the scores of those games have been 45-7, 42-20, 43-22 and 59-24. The Colts defense has allowed an average of 44.8 points per game. The Colts have been outstanding in the RCA Dome, going 21-9 ATS in their last 30 home games. But people are starting to catch on to what I've been saying about the Colts for three years: they can't beat good teams, and their pathetic division inflates their record. Indy is just 2-7 ATS in its last nine games against teams above .500. The underdog is 14-6 ATS in the last 20 Pats-Colts meetings.
13. New York Giants (3-2) - This is still not a good football team. But you have to give the Giants credit for finding a way to come back and beat a very game San Francisco team on Sunday night in what was a trap game. It does look like Odell Beckham Jr. is going to play against the Eagles on Monday night, but you have to wonder how effective he will be at less than 100 percent. The Giants defense is still playing way over its head. Teams can move the ball at will against this secondary, and I don't think the Giants are as tough as the numbers suggest against the run. Could this be a perfect storm for a blowout loss to the Eagles? The Giants are just 3-11 ATS in their last 14 games against Philadelphia.
14. Pittsburgh Steelers (3-2) - There is no way in hell that Pittsburgh should've won that game against San Diego on Monday night. And I love the fact that the general public is starting to buy back into Mike Vick as a capable NFL quarterback. He is still a dud and really made one lucky throw and one run against the Chargers. I will say that Pittsburgh's defense has improved by leaps and bounds compared to how they looked last year. But you have to wonder how fresh they will be after being on the field for nearly 35 minutes and 69 plays on Monday. MNF winners this year have been busts the following Sunday, and as a former co-worker used to say: "Win on Monday - lose on Sunday." The Steelers are 9-1 ATS against teams with a winning record and 7-2 ATS in their last nine games at home.
15. Tennessee Titans (1-3) - I know that I'm on an island with this one, but I think that Tennessee is a lot better than people realize. They absolutely outplayed Buffalo last week and had Indianapolis down two touchdowns in the fourth quarter the week before. This week caps a rare three-game homestand, and I just don't think that the Titans are so bad that they are going to lose all three games. The Titans receivers - especially Kendall Wright - can complain about the passing game. But they played like a bunch of pansies last week. They need to get a lot tougher and start making more plays on the ball because Marcus Mariota is legit, and that dude is putting the ball exactly where it needs to be.
16. San Diego Chargers (2-3) - Melvin Gordon has to be the least explosive starting running back in the NFL. The guy just never seems to break tackles and never seems to make people miss. His longest run this season is 27 yards, he's already lost two fumbles, and he is averaging less than four yards per carry. I have absolutely no idea why he is getting more touches than Danny Woodhead (who I think is a poor man's Darren Sproles) when it is obvious that Woodhead is the better player. San Diego is a pathetic 3-13 ATS in its last 16 regular-season games and 2-6 ATS in its last eight on the road. Fortunately, they don't have to play another 10 a.m. PST start this week though, as the game with the Packers kicks off at 1 p.m. PST.
17. Oakland Raiders (2-3) - These guys aren't going to go away. They have to be stung by back-to-back fourth quarter losses by a combined eight points. But that also shows that this team is just a couple plays away from being 4-1 and one of the biggest surprises in football. They have a lot of guys making plays and Oakland is going to be a thorn in people's sides for the rest of the season. Oakland has a bye week and two weeks to prep for a crucial early-season game with San Diego.
18. Philadelphia Eagles (2-3) - I don't care what the final score was or what Philadelphia's stats were. They still turned the ball over in the end zone twice in the first quarter of that game. Any good team would've buried the Eagles last Sunday, and don't forget that Philadelphia had a slew of situational advantages over the Saints. This team is still a Rorschach blot in that analysts can see what they want. Are the Eagles starting to click? Are they still sloppy and mistake prone? Are they overvalued? Undervalued? Who knows? Philadelphia is just 12-25 ATS in its last 37 home games and 6-16 ATS against teams above .500.
19. Chicago Bears (2-3) - I said it last week: the Bears aren't nearly as bad as everyone thinks they are. John Fox is a fantastic coach, and this team is showing a lot of grit and toughness. Chicago's 10.7 defensive yards per point is the worst in football and is indicative of some bad luck as well as allowing too many big plays. Chicago is on dangerous ground this week in Detroit as well. The betting action in this game is split nearly 50-50, and people are starting to buy into Chicago. However, the Bears are 1-5 ATS in their last six against the Lions, and they could be primed for a letdown this week while facing a team that is absolutely due for an eruption to get some frustration off its chest.
20. Cleveland Browns (2-3) - Josh McCown is proving once again that teams don't need a top-end quarterback to win games. McCown is accurate and is making good decisions, delivering the ball where it needs to go when it needs to get there. And when a quarterback is doing that and not turning it over (McCown has just one interception) then you'd be amazed at what teams can accomplish. Joe Haden is likely to miss this week's game and the Browns are still without Tashaun Gipson, severely weakening what is the strength of this defense. The Browns haven't beaten the Broncos since 1990, but they are 5-2 ATS in their last seven overall and 5-2 ATS in their last seven against a team above .500.
21. Dallas Cowboys (2-3) - Good luck with Matt Cassel. I promise you that he is not an upgrade over Brandon Weeden. Cassel is a noodle-armed loser that is going to float balls all over the field and check-down like crazy. I know the Cowboys are deluded enough to think that the defense is good enough to win games on its own. (It's not.) But Cassel is no savior.
22. Kansas City Chiefs (1-4) - Man, did I swing and miss with the Chiefs this year. They simply have not been able to overcome their feeble offensive line. And the loss of Jamal Charles is really the nail in the coffin for this team. While all the focus has been on the offensive shortcoming, the reality for this team is that the defense has come unglued. They are No. 26 in total yards allowed just one season after finishing No. 7 in that arena. The Chiefs are allowing 11 more points per game this season and simply can't get off the field on third down. The Chiefs are 1-5 ATS in their last six road games.
23. Washington Redskins (2-3) - The Redskins really have to be dragging after letting that Atlanta game get away from them. They showed impressive resilience, rallying back twice in the second half after Atlanta took the lead. Washington's talent level is still too low to be a factor for the entire season. But I love the way these guys are playing. This is a tough, physical football team, and I think that they are going to be a tough out all season long. Washington is just 5-11 ATS in its last 16 road games.
24. St. Louis Rams (2-3) - Wow, did the Rams do absolutely everything they could to not cover the spread against the Packers last week. But then again, that's what bad teams do. I still think the general public is massively overrating this team. Their "dominating defense" is 12th in yards allowed, 11th in yards per play, 18th in third down defense, and 17th in yards per point. In other words, they are mediocre defensively. Todd Gurley looks like the real deal. But he's still running behind one of the weakest lines in the NFC and is not good enough to carry this below average attack.
25. Detroit Lions (0-5) - Things have gone completely off the rails for the Lions this season. And yes, they have a massive leadership void at both the coach and quarterback position. But you also have to consider that the Lions have faced the toughest schedule in football. They have played four games against teams I have in the Top 10 and were close to getting wins against San Diego, Denver and Seattle. This team is undervalued. But at this point you have to wonder if the locker room is so toxic that they can't recover. In my opinion this team is the biggest disappointment in football. The Lions are 8-1 ATS in their last nine games after a double-digit home loss. They are 5-0 ATS in their last five games against the Bears in Detroit.
26. Baltimore Ravens (1-4) - Why are the Ravens favored this week? What about this team suggests that they should be laying points to anyone, much less as a road team that has to travel across country? The Ravens were extremely sloppy in their first West Coast trip, at Oakland, and I don't know that I expect more this week. Baltimore is hoping that Steve Smith can return this week. But he won't be 100 percent, and he'll be facing a 49ers defense that just took on Odell Beckham. The Ravens defense is allowing 49 percent conversions on third down and they have given up the eighth-most passing yards in the league.
27. San Francisco 49ers (1-4) - Hey, someone might want to cover Shane Vereen! Good god man. Look, the 49ers are not as bad as people think. They were incredibly game the past two weeks against Green Bay and New York, and they probably should be 2-3 right now. Colin Kaepernick showed signs of snapping out of his funk, and we'll see if that carries over against a weak Ravens secondary. But San Francisco's pass defense is even worse than Baltimore's, surrendering the third-most passing yards in football and yielding a stunning 8.9 yards per attempt. The 49ers are just 2-9 ATS in their last 11 games and 1-6 ATS in their last seven home games.
28. New Orleans Saints (1-4) - The Saints are getting some players back from injury and have made some personnel moves leading up to Thursday night's big game with their hated rivals, the Falcons. This game is essentially New Orleans' Super Bowl - playing on prime time with a chance to deal Atlanta its first loss. I don't expect the Saints to roll over in this one, and they should be a very live underdog. The home team is 6-1 ATS in the last seven meetings, and the underdog is 9-3 ATS in the last 12 in this series. New Orleans has to run the ball. They need to keep Atlanta's offense off the field if they want to have a chance.
29. Miami Dolphins (1-3) - Is Dan Campbell serious? This guy was a meaningless position coach two weeks ago, and now he's an NFL head coach for the first time in his career. And he's been rolling out every trite, played-out, high school football coach-caliber gimmick this week to get the Dolphins "toughened up". Miami may play with a little more edge and toughness. But do you really think the Dolphins are taking this guy seriously? And even if they are, they are basically without a defensive coordinator and trying to rally behind a guy that has absolutely no game management experience. Campbell will want to put a focus back on the running game. But that's been Miami's biggest problem the last five years: their running backs and running game are pathetic.
30. Houston Texans (1-4) - Wow, is this team bad. And the fact that anyone ever thought Ryan Mallett was ready to lead an NFL team is comical. Mallett's pouting fit on the sideline against the Colts and his decision to skip practice in the preseason after not being named the starter show that he's really just an immature dolt that has no idea what an NFL quarterback's job is. Houston has beaten the Jaguars seven of the last nine times, but they are just 1-4 ATS in the last five meetings. Houston is still an awful team. However, they have outgained four of their five opponents and have been statistical underachievers this season.
31. Tampa Bay Buccaneers (2-3) - The bye week came here at a good time for the Bucs. They are coming off a win, so they will get to enjoy that rare positive feeling for an extra seven days (before taking their next loss). But they also have a slew of injuries that have been creeping up, and they are hoping guys like Logan Mankins, Demar Dotson and John Banks will be able to return to the field next Sunday.
32. Jacksonville Jaguars (1-4) - Blake Bortles is most likely going to play this week, as if it matters. I am interested to see if (and how much) a decision on Bortles moves the spread on the Texas game. Because this is how bad things have gotten in Jacksonville: they are home underdogs to a Houston team that can't walk and chew gum at the same time. Jacksonville has alternated wins and losses at the window this season, and they have played all right at home, outgaining both Carolina and Miami while going 1-1. But the home team is just 1-7 ATS in the last eight meetings in this series.
Throughout the season I will have my NFL Power Rankings every Wednesday. My next ones will be released on Wednesday, Oct. 21.
Robert Ferringo hasrung up back-to-back winning months to start the season and is releasing an 8-Unit NFL Game of the Year on Sunday. Robert been one of the top big play football handicappers in the country this decade, hitting 65 percent of his top football plays (5.0 or higher) the last four seasons (67-36). Robert has gone 7-2 with his top plays the last month and loves this weekend's spot. He was good for nearly $13,000 in profit in 2013 and 2014 and has averaged $5,600 in profit for his clients the last four years. Robert's two winning months to start this season make it 14 of 18 winning football months and an unreal 37 of 53 over the last eight years! Also, Robert's proprietary KING College Football Betting System has posted two of three winning seasons and is 104-73 over the last three years (58.8 percent). We are offering new clients $60 in free college football picks for Robert's picks or any Advisory Board handicapper of your choosing. Get your free college football picks now!
Read more articles by Robert Ferringo
---
Most Recent NFL power rankings Articles