2015 NFL Power Rankings Week 9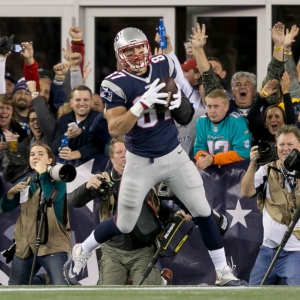 I get a lot of things wrong as a professional handicapper. It comes with the territory.
But I want to take a brief second and crow about one of the things that I have gotten absolutely right: Andrew Luck is not nearly as good as everyone has made him out to be.
I have been the only - the ONLY - NFL writer or analyst in the country over the past four years that hasn't been quick to canonize Luck as a legend in the making. Instead, I have written about how I've seen a turnover-prone quarterback that misses too many throws, floats too many balls, and has built a reputation by beating up pathetic opponents in a historically bad division.
Well, now the cat is out of the bag. And while all the bobbleheads in the betting public and mainstream media are left scratching their heads and making excuses for Luck and the Colts, I can't help but sit here and say, "I told you so!"
Let me be clear: I think that Luck is a pretty good quarterback. But he's not in my Top 10, and he is not nearly as good as everyone thinks that he is. I don't think that this season is an aberration. Just the opposite. I think his performance up to this point has been a bit of an outlier, and I think that over the next 10 years, while he goes to a few Pro Bowls and even wins some playoff games, we are going to come to realize that he has been vastly overrated.
(By everyone but me. Suckers!)
Here is Doc's Sports NFL Power Rankings for Week 9:
1. New England Patriots (7-0) - The more I watch the Patriots the more I wonder why everyone isn't mimicking their offensive style. Tom Brady doesn't hold onto the ball more than a couple seconds. Everything is short drops, quick throws, and getting rid of the ball. New England rarely takes shots down the field, and they put the pressure on opposing defenses to make every tackle and make every play. It is genius in its simplicity. The Patriots are 4-1 ATS in their last five home games and 5-1 ATS in their last six games overall. They also blasted Jacksonville by 34 points earlier in the year as a massive favorite; so don't expect them to take it easy on the Redskins.
2. Cincinnati Bengals (7-0) - I don't expect the Bengals to have much of a letdown after their big win over Pittsburgh last week. And once again they have a severe situational advantage over an opponent. Truly, their schedule has been the most tailor-made in all of football. Last week they had two weeks to prepare for the Steelers (who traveled the week before) and this week they don't have to worry about travel before their Thursday night matchup with Cleveland. Be wary: favorites of a touchdown or more are on a 4-11 ATS slide league-wide over the last month.
3. Arizona Cardinals (6-2) - The Cardinals have two weeks to prepare for their biggest game of the season: a road trip up to Seattle next Sunday night.
4. Denver Broncos (7-0) - Wow. That's all I can say about Denver's defensive effort. This defense is as good as anything that we've seen this decade. I remember noticing how dominating this pass rush was in the preseason, but I attributed it to simply overmatching underprepared opponents. But the Broncos are just overwhelming people. I wouldn't expect Vernon Davis to make an immediate impact for this offense. How many mid-season trades have really lived up to the hype? But it just sends the signal to these players that the organization is going all-in this season in an effort to win a title. Denver has a load of motivation - revenge for the playoff loss, Manning's last hurrah in Indy, etc. - and 78 percent of the public is on the Broncos this week. Denver is 13-5 ATS in its last 18 games against a below-.500 team.
5. Green Bay Packers (6-1) - Here is the net of Green Bay's last four drives against Denver: 12 plays, 10 yards and -2 points. I think that this is a big week for the Packers, who really haven't been playing well over the last month. The Packers have been outgained by 538 yards the last two weeks and outgained in their last three by an average of 183.3 yards per. Their net scoring differential in those three games is only a +2. Green Bay was also outgained in its road game at Chicago in Week 1 (by 80 yards), and this is only the fourth road trip the Packers have made this year. These guys have been taking on water for a while, and we'll see if they are as good as everyone - myself included - thinks they are.
6. Minnesota Vikings (5-2) - Hey, look, everyone is finally starting to catch up to what I have been writing about all season: this Vikings team is really, really good. They are on a 6-0 ATS run and have won their three home games by an average of 11 points per game. The Vikings are just No. 15 against the run this year, and they will have their hands full with Todd Gurley. But they are also the best rush defense that Gurley has faced; as St. Louis' last two opponents (49ers and Browns) have been ranked No. 25 and No. 32, respectively. The Vikings are 19-7 ATS in their last 26 home games and 21-8 ATS in their last 29 games overall.
7. Carolina Panthers (7-0) - It is great for Carolina that they got the win on Monday night in a game in which they dominated. But I do think that giving up those late scores and being forced into overtime has blunted Carolina's momentum a little bit. I've seen it happen a number of times in a variety of sports. Also, Aaron Rodgers is very familiar with Carolina's Cover-2 scheme. He carved up the Bears for years, even when they were dominating opposition with their version of it, and the Panthers will have to run the ball well this week if they want to get the win and stay unbeaten.
8. Seattle Seahawks (4-4) - I'm giving up on the Jimmy Graham Experiment. The guy is just not making plays. It has nothing to do with not knowing the offense or not having a rapport with Russell Wilson. Graham is just not attacking the ball and looks sluggish. Seattle is off this week as it preps for its showdown with Arizona next week.
9. Atlanta Falcons (6-2) - Look, no one is a bigger Matt Ryan fan than I am. I think he is right around the sixth-best quarterback in the NFL, give or take a spot. But, man, he really needs to stop turning the ball over. They've turned the ball over 12 times - 12! - in their last four games. Not surprisingly, they are 0-4 ATS in those four contests. The Falcons have an offensive yards per point of nearly 26 over their last three games, a massive statistical outlier that should turn around (if they can hold onto the ball). Atlanta and the Giants are the only two teams this week that are garnering at least 80 percent of the action in their game.
10. New York Jets (4-3) - Ryan Fitzpatrick was throwing passes at practice on Wednesday, and I expect to see him start on Sunday against the Jaguars. The problem is that if Fitzpatrick starts that will do one thing to the spread (likely leave the Jets around -3.5) where if loser Geno Smith draws the start the start the game will be, ironically, closer to a 'pick'.But the worst case is that Fitzpatrick starts but can't finish the game, like what happened in Oakland, and Jets backers are stuck holding the bag.
11. Pittsburgh Steelers (4-4) - Losing LeVeon Bell is a savage blow to the Steelers, but not an overwhelming one. DeAngelo Williams looked really good in his first two starts this year while Bell was serving his suspension. The Steelers should also take some solace in the fact that Big Ben looked sharp and showed no ill effects of his knee injury. The Steelers are 10-2 ATS against teams with a winning record, 8-3 ATS at home, and 10-3 ATS in their last 13 games overall. The Steelers are also 4-1 ATS in their last five games following a loss, and I'm sure the Steelers are listening very closely to all the Oakland hype heading into this week's game.
12. Oakland Raiders (4-3) - Oh, look, the rest of the world is catching up to what I've been saying in this space all season long: Derek Carr is the real deal and the Raiders are legit. Now I wonder if it is time to sell some of that Raiders stock. Nearly 60 percent of the bets this week in the Steelers game have come in on the visiting Raiders. The spread has dropped nearly two full points, despite the fact that Oakland has to travel east, off two big home wins, and play in a 10 a.m. PST start time. Oakland won at Cleveland in a similar spot this year but also lost to a weak Chicago team in the same setup a week later. The Raiders are 5-12 ATS in their last 18 games following a win and 7-19 ATS following an ATS win.
13. Buffalo Bills (3-4) - The week off has made everyone forget about what a disheveled mess the Bills have been over the last month. Tyrod Taylor is back, which is a good thing, and they should also have Karlos Williams and Seantrel Henderson back to support the offense. But Percy Harvin won't play, and they could be without a couple defensive starters as well. The home team has won five of the last seven in the Bills-Fins series, and the favorite is 7-2 ATS in the last nine.
14. New Orleans Saints (4-4) - I may have misjudged this team just a bit. The Saints defense is still pathetic. And I'll say it for the 1,000th time: I have absolutely no idea how Rex or Rob Ryan still have jobs. But the Saints are pounding the ball on the ground and Drew Brees is getting better and better with each throw. They've covered the spread in five of their last six, and this team is on a bit of a run. However, they are just 2-7 ATS in their last nine home games, and I don't know if I trust their defense enough to lay double-digits (potentially) this week against the Titans.
15. Philadelphia Eagles (3-4) - Well, we will see what ol' Chipper did with two weeks to prepare. I think that the Eagles defense will benefit from the time off after spending an absurd amount of time on the field. But I want to see how Philadelphia plans to slow down the Dallas pass rush this week, and I want to see if Sam Bradford looks any sharper after some time off. The Eagles have gone 7-1 ATS the last two Novembers, and they are 5-2 ATS in their last seven games against below-.500 opponents. The road team is 7-1 ATS in the last eight meetings in this series.
16. Miami Dolphins (3-4) - Miami held up as long as it could against the Patriots last Thursday night. But if they face a team that can slow down the rejuvenated running game the Dolphins don't have a counter punch. Their passing game is still a bit of a mess, and Ryan Tannehill is being exposed. Losing Cam Wake is a crushing blow to a defense that was just starting to put things together. The Dolphins definitely have a revenge motivation going up against Buffalo, which embarrassed them 41-14 down in South Beach back in September. But Miami is 0-6 ATS in its last six divisional games, and the Dolphins are just 3-9 ATS in their last 12 games overall.
17. Kansas City Chiefs (3-5) - How much of the Chiefs success against the Lions was due to Kansas City improving and how much of it was a direct result of Detroit being comically bad? Right now this team has to be absolutely kicking itself for blowing those two games against Denver and Chicago; theses guys really should be 5-3. The Chiefs are on a bye this week, and Andy Reid has always been great with an extra week of prep time.
18. New York Giants (4-4) - The Giants absolutely can't stop anyone. Not anyone. Not at all. Not even close. This defense is pathetic, and they've allowed an average of 31.5 points per game in their last four outings. Jason Pierre-Paul is not going to make a lick of difference, believe me. The Giants have only outgained one opponent this year, the 49ers. However, they have always been a decent road team with Tom Coughlin at the helm, and they haven't lost to the Bucs since 2003, winning the last four meetings.
19. St. Louis Rams (4-3) - Yeah, I'm still not buying into the Rams. They've beaten two bad teams the past two weeks and haven't looked impressive doing it. Last week they benefitted from a phantom facemask penalty, cancelling a huge San Francisco defensive touchdown and that play could've been a game-changer. St. Louis is No. 30 in the league in total yards, No. 28 in points scored, and No. 32 with just 179.6 passing yards per game. Yes, the Vikings have a Top 10 defense. But they have also given up almost 10 points per game more per game on the road (22.7) compared to at home (13.8).
20. Indianapolis Colts (3-5) - Just a vintage Colts backdoor B.S. cover on Monday night. Now they have to amble home and face a pissed-off, revenge minded Broncos team this week. Indianapolis beat Peyton Manning in his first game back in the RCA Dome back in 2013, winning by six despite getting outgained. The Colts also beat Manning last year in the playoffs. Now he is making perhaps his final trip back to Indianapolis, and I think that things could get ugly for the Colts, who are playing on a short week and coming off an overtime loss. Indianapolis is 19-7 ATS after a loss and 22-10 ATS at home. But they are just 2-5 ATS in their last seven games against the AFC, and they have been an automatic fade against teams that are above .500.
21. Washington Redskins (3-4) - The Redskins will benefit from having DeSean Jackson back this week against the Patriots. But it won't matter. Washington is going to run into the same problem that Miami did last week. New England can stop the run. And, like the Fins, when the Redskins can't run the ball the offense falls apart. Oh, and Washington's secondary is awful so Tom Brady should have a field day. Washington has gone 6-14 ATS in its last 20 games overall and they are just 1-4 ATS in their last five road games.
22. Dallas Cowboys (2-5) - This week is absolutely a must-win for the Cowboys if they want any hope of salvaging this season. But I think the dream is already dead. They have to play three more games without Tony Romo, and there's just no way I expect Matt Cassel to play that "well" again this week. Dallas' defense can only carry them so far. The Cowboys are 4-1 ATS in their last five against Philadelphia, and the underdog is a perfect 6-0 ATS in this series.
23. Baltimore Ravens (2-6) - It is a damn shame that that's the last we'll ever see of Steve Smith in uniform. The guy was a money player and has won me more wagers than I can remember. He'll be missed. And now Baltimore's offense, which is somehow still ranked in the top half of the league in total yards and points, is going to go from average to awful.
24. Tampa Bay Buccaneers (3-4) - What a day for Kwon Alexander on Sunday. The Bucs linebacker had two turnovers, and a third - including an 80-yard return - was called back due to penalty. That said, it is still an absolute fluke for a team to allow 500 yards of opposing offense, be outgained by 206 yards, and still win outright. The Bucs are very much an "accidental defense". That means that any stop they get is almost completely by accident or some act of stupidity by the opposing offense. Tampa Bay is just 16-38 ATS in its last 54 home games. Literally the best betting system in the NFL over the last decade has been to bet against every Florida team every time they play at home.
25. Houston Texans (3-5) - Don't look now, but this pathetic excuse for a roster is actually tied for first place in the AFC South. They have two weeks to set themselves up for a stretch run, and I think that Houston is already seeing the benefits of ejecting Ryan Mallet and his negativity out of the locker room.
26. San Diego Chargers (2-6) - Amazingly, the Chargers have actually outgained their last six opponents, and on the year they have outgained their foes by a combined 480 yards. A clear trend is emerging with this group: bet on them as an underdog and against them as a favorite. The Chargers are 0-3 ATS their last three games laying points and 2-0 ATS their last two games taking them. San Diego is 5-2 ATS in their last seven Monday Night Football games and hosted a MNF game just last month (against Pittsburgh). I have no idea how their passing game is going to survive without Keenan Allen. But I have a feeling the Phil Rivers will make due.
27. Chicago Bears (2-5) - I think that Kyle Fuller has been taking way, way too much heat for the Bears' secondary struggles. Chicago's secondary has been a clown car for the past four seasons. But people foolishly expect Fuller - who is only in his second year - to rectify that all on his own. The kid can play. Just give him some time. The Bears offense finally started to look legit now that Alshon Jeffrey was back healthy…and then they lose Matt Forte. This group just can't catch a break. I also have to give Jay Cutler credit for his gutsy touchdown run, delivering a hit on Harrison Smith, one of the biggest hitters in the league. Cutler has done that a few times this year and has at least shown that he's not playing soft at the position. (He is still not a good leader, though, and I hope the Bears move on.)
28. Cleveland Browns (2-6) -" Johnny Football" will get the nod on Thursday night as the Browns stroll into Cincinnati. That news actually forced the line one point higher as the markets clearly don't have much faith in him. Manziel might be a backdoor cover waiting to happen - I can just see him sleazing his way to two late touchdowns to turn a 24-point deficit to a 10-point loss - so I think that the best value in this game, if you are going to bet against the Browns, would be to play against them in the first half. The Browns are a perfect 5-0 ATS in their last five Thursday games, and they are 6-1 ATS in their last seven divisional games.
29. Jacksonville Jaguars (2-5) - Here is all you need to know about how horrific the AFC South is: with a win, the Jaguars could actually find themselves in first place come Monday morning. They've had two weeks to prepare for the Jets, who had to fly back from Oakland after last Sunday's loss, and the Jaguars are in the rare spot of coming off a win. Of course, the last game they played after a win they lost 51-17, so there's that. Jacksonville is 1-5 ATS in its last six games after a win, and they are 13-26 ATS when facing a team with a winning record. Let's not start printing those Jaguars playoff tickets just yet.
30. San Francisco 49ers (2-6) - Do you have any idea how bad you have to be in order to get benched for Blaine Gabbert. Blaine Gabbert!?!?! Now for the really fun part: things haven't even gotten tough for the 49ers yet. San Francisco has a bye next week - which I'm sure they will all be looking ahead to - and then they come back with games against Seattle and Arizona before playing three of four on the road following those two blowouts. Things are going to get so much uglier for this group.
31. Detroit Lions (1-7) - Wow. That's all that can be said about the Lions. These guys are completely clueless on defense, Matt Stafford is a complete and total loser, and Jim Caldwell is an incompetent as a head coach. The front office absolutely should've fired Caldwell during the bye week so they could at least attempt to build some momentum toward next year.
32. Tennessee Titans (1-6) - I will admit that Ken Whisenhunt has been in some tough situations in his last two coaching spots. But that doesn't mean that he didn't deserve to be fired. I've remarked several times that Tennessee's poor play the past two seasons really defied logic. This roster has talent on it. And every statistical indicator suggests that this team should be more competitive than it is. I don't expect to see Mariota this week. And I think that the spread in the New Orleans game will be somewhere around 10.5. It had been posted at 8.0 before being taken off the board. The Titans are just 20-39 ATS in their last 59 games overall.
Throughout the season I will have my NFL Power Rankings every Wednesday. My next ones will be released on Wednesday, Nov. 11.
Robert Ferringo was good for nearly $13,000 in profit in 2013 and 2014 and has averaged $5,600 in profit for his clients the last four years. Robert's two winning months to start this season make it 14 of 18 winning football months and an unreal 37 of 53 over the last eight years! Also, Robert's proprietary KING College Football Betting System has posted two of three winning seasons and is 104-73 over the last three years (58.8 percent). We are offering new clients $60 in free college football picks for Robert's picks or any Advisory Board handicapper of your choosing. Get your free college football picks now!
Read more articles by Robert Ferringo