Odds for the 2015 Cincinnati Bengals NFL Home Schedule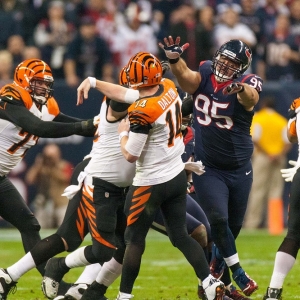 Apparently it doesn't matter whether the Bengals have a home or road playoff game -- they are going to lose it. Do you realize that Cincinnati hasn't won a postseason game since 1990? Four of those losses have been at home, the most recent in the 2013 season as a sizable favorite in frigid cold against warm-weather San Diego. I don't see how Coach Marvin Lewis survives if the Bengals don't at least win one playoff game this season. But then I didn't think he would after last season's loss in Indy, either.
Cincinnati was 5-2-1 at home last season, 4-3-1 against the spread and 5-3 "over/under." The Bengals' 2015 home schedule ranks as the third-hardest in the NFL with an opponents' 2014 winning percentage of .570. Only Oakland's and San Francisco's are harder, so it's obviously also the toughest in the AFC North.
Here's the schedule with very early (opponent) odds.
Sept. 20 -- Chargers (+3): Cincinnati opens with what should be a win in Oakland, while the Bolts host Detroit. It's never easy for those West Coast teams to play these 1 p.m. ET games, but at least San Diego gets to visit before the weather gets cold. The last meeting was that playoff game, a 27-10 Chargers win. The Bengals led by three at the half and didn't score again. Andy Dalton threw for 334 yards and a score but also two picks. Key trend: Bengals 6-3-1 ATS in past 10 as home favorite in September.
Oct. 4 -- Chiefs (+3): Cincinnati catches Kansas City at a great time as the Chiefs play Denver on a short week in Week 2 and then have to go to Green Bay on Monday night in Week 3. What will K.C. have left in the tank after facing those two heavyweights? To be fair, the Bengals do have a big one in Week 3 as well in Baltimore. It's the first meeting between the teams since 2012 and the first Kansas City visit since 2009. Key trend: Bengals 5-5 ATS in past 10 at home vs. AFC West.
Oct. 11 -- Seahawks (-2): Minor break here for the Bengals in that it's a short week for the Seahawks as they host Detroit on Monday night in Week 4. If you go by regular-season stats the past two years, you might take Andy Dalton over Russell Wilson, but the playoffs are a different story. Be fun to see A.J. Green take on that Seattle secondary. Key trend: Bengals 6-4 ATS in past 10 as a home underdog.
Nov. 5 -- Browns (+2.5): Long break between home games for Cincinnati as in Week 6 it goes to Buffalo, Week 7 is on the bye and Week 8 in Pittsburgh. Cleveland comes off a home game vs. Arizona. The Bengals were shocked at home by Cleveland last season, 24-3, the team's first home loss in the series since 2008. The Bengals were simply terrible with four turnovers and 165 total yards. Dalton was an incredibly bad 10-for-33 for 86 yards and three picks -- a rating of 2.0. Key trend: Bengals have covered only three of past 10 as home favorite in series.
Nov. 16 -- Texans (+4): First Monday night game of the season for Cincinnati. Houston comes off its bye week. The Bengals went to Houston in Week 12 last year and won 22-13. Dalton threw for 233 yards and a score. Green finished with a career-high 12 receptions for 121 yards. The Bengals didn't give up a touchdown to the Houston offense and allowed only 248 yards. Key trend: Bengals 5-4-1 ATS in past 10 at home vs. AFC South.
Nov. 29 -- Rams (+2.5): This follows a Week 11 game in Arizona for Cincinnati, while the Rams are in Baltimore the week prior. You have to like the Bengals getting a dome team such as St. Louis outside this time of year if you back Cincinnati. First meeting between the teams since 2011 and first Rams visit since 2007. Key trend: Bengals 6-4 ATS in past 10 at home vs. NFC.
Dec. 13 -- Steelers (+1): This follows a trip to Pittsburgh for the Bengals and ahead of tough road games at San Francisco and Denver. The Steelers come off a home Sunday night game vs. the Colts. Cincinnati was routed 42-21 at home by Pittsburgh in Week 14 a season ago. The Bengals were leading 21-20 in the fourth quarter when a Dalton fumble opened the floodgates. Otherwise Dalton played really well, completing 21 of 29 for 302 yards with two scores and no picks while also running for a TD. Green was a beast with 11 catches for 224 yards and a score. It was the second time in as many home games last year that the Bengals lost by 21, which hadn't previously happened since 2002. Key trend: Bengals 2-8 ATS in past 10 at home vs. Pittsburgh (favored or dog).
Jan. 3 -- Ravens (TBA): As usual, TBA for Week 17 with too many intangibles on the final Sunday for oddsmakers to hazard a guess. The Bengals are off a Monday nighter in Denver, while Baltimore is home in Week 16 vs. Pittsburgh. Cincinnati beat visiting Baltimore 27-24 in Week 8 last year. Dalton had two fourth-quarter turnovers but scored on a quarterback sneak from the 1 on fourth down with 57 seconds left. The Bengals had blown an 11-point lead. Green didn't play. Key trend: Bengals 8-2 ATS in past 10 at home in series (any line).
Doc's Sports has a great offer for new clients. You can get $60 worth of picks from any Advisory Board handicapper for any sport he handicaps. All with no obligation and no credit card needed. Claim your free picks today .
Read more articles by Alan Matthews