Odds for the 2015 Seattle Seahawks NFL Road Schedule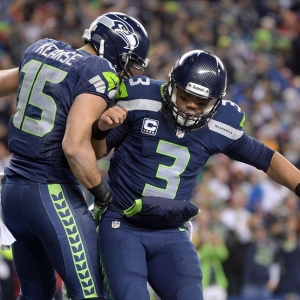 Could this be the final season of the Seattle Seahawks as an NFL powerhouse? It's possible. You have the whole Russell Wilson contract extension issue, which I think everyone thought would be done easily but now has turned a bit ugly. This guy has been maybe the most underpaid player in NFL history since he joined the NFL. His 36 wins are the most in a quarterback's first three seasons in the Super Bowl era. Wilson is the first quarterback to start two Super Bowls in his first three seasons. He is also the youngest quarterback to start two Super Bowls.
Free $60 in Member NFL Picks No Obligation Click Here
Wilson is scheduled to make just over $1.5 million this season on the final year of his three-year rookie deal. If the Seahawks don't extend him, they will likely franchise him next season, and that's only going to make things worse. But if they make Wilson the highest-paid player in the NFL, it ruins their cap now. In addition, most expect this to be the final season that running back Marshawn Lynch plays, and perhaps no running back is more important to his team's overall offensive scheme in the NFL than "Beast Mode."
I have no dog in this fight, but I rather wish that Seattle had won last season's Super Bowl because I'd like to see a team go for a three-peat in my lifetime. The Seahawks were 5-3 on the road last season, 4-4 against the spread and 4-4 "over/under." Their 2015 road schedule ranks as the hardest in the NFL with an opponents' combined 2014 winning percentage of .598. That's also harder than any team's home slate.
Here's the schedule with very early (opponent) odds.
Sept. 13 -- at Rams (+3): St. Louis is one of just two teams on Seattle's road schedule that finished under .500 last season. And I'd say the Rams were the best last-place team in football in 2014. The Seahawks were shocked in St. Louis in Week 7, 28-26, as the Rams used a few gimmick plays to their advantage. The Rams won for just the third time in 19 games against Seattle. Wilson rushed for 106 yards on seven carries and also passed for two touchdowns while going 23-for-36 for 313 yards to become the first quarterback in NFL history with 300 yards passing and 100 yards rushing in a game. I would have thought maybe a Michael Vick or Randall Cunningham did that. Seahawks win here but it will be tight. Key trend: Seahawks 0-4 ATS in past four as road favorite in series.
Sept. 20 -- at Packers (-3): Sunday nighter. Green Bay is off a Week 1 game in Chicago. This is the NFC Game of the Year, even in Week 2. The Seahawks beat the visiting Packers 36-16 last year in the season opener, and that proved crucial for home-field advantage in the playoffs. And, of course, Seattle rallied at home for a shocking 28-22 overtime win over the Packers in the NFC title game. Wilson, who wasn't very good until late in the fourth quarter, hit Jermaine Kearse for a 35-yard touchdown 3:19 into the extra period to win it. Seattle was down 19-7 with four minutes left. Seahawks lose here. Key trend: Seahawks 7-3 ATS in past 10 as road dog.
Oct. 11 -- at Bengals (+2): Short week for Seattle as it's off a Monday night home game vs. Detroit. Cincinnati is off a Week 4 home game vs. Kansas City. These teams prove you don't need to take a QB in the first round to find a good one. Seattle took Wilson in the third in 2012 and the Bengals Andy Dalton in the second in 2011. Wilson has never faced the Bengals as last meeting was 2011. First Seattle trip to Cincy in 12 years. Seahawks lose here. Key trend: Seahawks have yet to cover in six all-time games at AFC North teams.
Oct. 22 -- at 49ers (+4.5): Thursday nighter. Seattle is off a home game vs. Carolina, while San Francisco is home to Baltimore in Week 6. This was my favorite rivalry in the NFL that didn't involve the team I am passionate about, but I'm guessing it will go way down in intensity with Niners coach Jim Harbaugh gone now. Seahawks won 19-3 on a Thursday at the 49ers in Week 13 last year. The Seahawks' defense held Colin Kaepernick to a season-low 121 passing yards. For just the second time in his career -- both against Seattle -- Kaepernick had multiple interceptions (2) with no passing touchdowns. The Hawks outgained the Niners 379-164. Seahawks win here. Key trend: Seahawks 5-5 ATS in past 10 at San Francisco.
Nov. 1 -- at Cowboys (+2.5): Dallas is off a Week 7 game at the Giants; it's before Seattle's bye week. This matchup will get monster ratings. The Cowboys went into Seattle in Week 6 last season and surprised just about everyone with a 30-23 win. Seattle, which led 10-0, was outgained 401-206 and had only nine first downs. Wilson was 14-for-28 for only 126 yards and a pick and Seattle had possession for just 22:21. Seahawks win this payback game. Key trend: Seahawks 6-4 ATS in past 10 before a bye (any location).
Dec. 6 -- at Vikings (+4.5): This could be tricky for Seattle as it follows a three-game homestand, and obviously the elements will be in play at the University of Minnesota. The Vikings, the only other team with a losing record on Seattle's road schedule, come off a Week 12 game in Atlanta. First meeting since 2013, a 41-20 Seattle home win. This Vikings team is much better than that one. Seahawks win. Key trend: Seahawks 4-6 ATS in past 10 at NFC North.
Dec. 13 -- at Ravens (+1.5): Sunday nighter and a possible Super Bowl preview. Baltimore is off a Week 13 game in Miami. A Ravens-Seahawks Super Bowl is priced at +4250 at 5Dimes. Seahawks and Ravens have arguably the best two front offices in the game. Teams have only met four times overall and not since 2011. Seahawks lose. Key trend: Seahawks 4-6 ATS in past 10 road games as a favorite of 2 points or fewer.
Jan. 3 -- at Cardinals (+3.5): Normally no Week 17 lines, but 5Dimes has released a few and this is obviously one of them. Seattle is off a Week 16 home matchup with St. Louis, while Arizona is home to Green Bay the previous Sunday. If Carson Palmer is healthy all year, this game could be for the NFC West. Seahawks won 35-6 in Glendale in Week 16 last season. No Palmer then. Wilson threw for 339 yards and two scores and ran for another as Seattle had a franchise-record 596 yards. Wilson had the longest run of his career (55 yards) and matched the longest pass of his career (80). Seahawks win here if game matters. Key trend: Seahawks 4-4 ATS in eight games as road favorite in series.
Read more articles by Alan Matthews