Basic Strategy Teasers: Best Week 11 NFL Betting Options
by Chris Vasile - 11/18/2016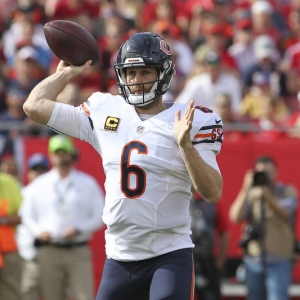 After a one-week hiatus, the Basic Strategy Teaser weekly article is back and ready to fire off some winners. When you last read this article in Week 9, the BST offered up two top-rated plays with the Dallas Cowboys and Green Bay Packers. The system only split those plays to bring its season record to 18-2. You can check the result for yourself here -Week 5,Week 6,Week 7,Week 8, and Week 9.
I won't get too much into the Week 9 result details, but what I saw from Green Bay in Week 9 certainly carried over into last week's awful defensive display against Tennessee. Yes, the absence of Clay Matthews hurts the defensive unit, but he is just one linebacker and isn't responsible for shutting down opposing teams' wide receivers. In my opinion, I feel that there are more things wrong internally with the Packers than we the public know. Whether it be coaching issues, lack of trust, or even just a general lack of talent, when we see Green Bay we are so accustomed to betting them that it has given us a bias when handicapping their games. On the other hand, Dallas is a machine that just keeps on grinding out victories. Whether it be in dominant fashion -- 35-10 over Cleveland or a last-minute 35-30 win on the road in Pittsburgh. Dak Prescott and Ezekiel Elliott are the real deals, and I can't wait until the media and everyone else stops talking about Tony Romo. His time is done in Dallas, and while he's been a half decent quarterback for the Boys, he needs to move on.
Week 11 of the NFL features some juicy matchups and the NFL's first regular-season game in Mexico since 2005. Unfortunately for those fans, they will have to deal with Brock Osweiler and the terrible Texans' offense. Good thing they are already accustomed to the potential of a dull game thanks to soccer. Another big game happens Sunday night at FedEx Field between the Green Bay Packers and Washington Redskins. The Redskins need to win this game in order to keep pace with the division-leading Cowboys, while the Packers need to prove they actually have a defense. There are a few games on the card that could produce shootouts like the Jacksonville/Detroit game and Tennessee/Indianapolis game.
In this article, I will be giving you teams that I think will be the most attractive when teasing the spread either up or down six points. This is called the "Basic Strategy Teaser". A basic strategy teaser is a two-team, six-point teaser that uses the power of NFL key numbers, which are the most common margins of victory, to move certain spreads around the three- and seven-point mark.
It's a very tricky Week 11 in the NFL, but the BST has five games that qualify for the system. I see two great spots that I will look to exploit while leaving the rest untouched.
All lines are courtesy of Mybookie.ag
Chicago Bears @ New York Giants
Six-Point Teaser: Giants -1.5
If anyone saw last week's Chicago/Tampa Bay game, you will know why this game is first on my list. Jay Cutler is absolute garbage, and the entire team has checked out mentally. Their leading receiver, Alshon Jeffery, would rather get suspended for four games than suit up and play for a lame-duck quarterback. The Bears have dropped four of their past five games and are 0-5 on the road this season. They will not only be missing Jeffery, but they will be without Pro Bowl guard Kyle Long after he suffered a severe ankle injury last week. The Bears only manage 15.7 points per game, which is second-to-last in the NFL. They now must rely on the likes of Cam Meredith, Zach Miller and Marquess Wilson to make plays. I would rather put my money on a team consisting of senior citizens.
The Giants, on the other hand, come into this game as winners of four straight and with each victory coming by single digits. They will be aiming for their first five-game winning streak since 2011. They are 4-1 at home this year and have the weapons to torch this Bears defense all over the field. They are led by Odell Beckham Jr. who leads the team with 54 catches for 773 yards and six touchdowns. He has found the end zone three times in his past two games.
The Bears are playing with no confidence on offense, and I have a hard time believing they will waltz right into MetLife Stadium and come away with a victory. Take the Giants on a teaser and get them as a small favorite.
Arizona Cardinals @ Minnesota Vikings
Spread: Cardinals +2.5
Six-Point Teaser: Cardinals +8.5
These two teams are trending in opposite directions and I want my money to stay as far away from the Vikings as possible. The Vikings suffered their fourth straight defeat last week, losing by a 26-20 score in Washington. The offense has looked out of sync since their bye week, which makes no sense to me considering that they have remained healthy on offense for the most part. They have their go-to guy Stefon Diggs in the lineup every week, but he seems to be the only one contributing to the cause. Diggs caught 13 passes for 164 yards last week, but he had no help from anyone else. The Vikings' ground game is non-existent and rushed for only 47 yards last week, something that is likely to happen again given the strength of the Arizona defense.
The Cardinals own the league's second-ranked defense in terms of yardage and are allowing just 295.2 yards per game and 17.8 points per game. Offensively the Cardinals rank seventh in total yards (382) and passing yards (280) and ninth on third-down conversation percentage (43). They are led by fantasy stud David Johnson, who turns in big performances on a weekly basis, both in the run game and passing attack. The Cardinals will simply have too many weapons for a banged-up Vikings teams to overcome, and I believe that they will pull off the upset in this matchup.
For those who like to play it safe, tease the Cardinals and get them as an underdog of more than a touchdown. Minnesota doesn't blow anyone out when they win games, so if they do happen to fluke off a win, the inflated spread has you covered.
The Rest
Buffalo Bills @ Cincinnati Bengals
Spread: Bills+2.5
Six Point Teaser: Bills +8.5
Tampa Bay Buccaneers @ Kansas City Chiefs
Spread: Chiefs -7.5
Six Point Teaser: Chiefs -1.5
Baltimore Ravens @ Dallas Cowboys
Spread: Cowboys -7.5
Six Point Teaser: Cowboys -1.5
Doc's Sports has been successfully handicapping the NFL for years - more than four decades in the business - and wants to give new clients a chance to try our service for free. Click here for the hassle-free sign up and get $60 in free NFL picks today .