How to Bet on Preseason NFL Football: Expert Handicapping and Betting Advice
by Chris Vasile - 8/9/2016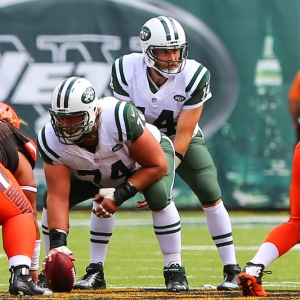 Sunday night was supposed to be a night of celebration and excitement as the 2016-17 NFL Season kicked off in the annual Hall of Fame Game. Instead of being able to watch second-, third- and fourth-string players compete for a chance at a roster spot, players and spokespeople for the NFL were reigned down on with boos. It was quite the embarrassment, and it was the first NFL game cancellation due to field conditions since 2001. Instead of wetting our collective appetites for some football action, I was left with choosing between Olympic women's beach volleyball or women's gymnastics, which left me in more hot water than the grounds-crew responsible for painting last night's field. But that is a story for another day.
Today, I am going to get you primed and ready for the upcoming Week 1 schedule of the NFL Preseason. It kicks of Thursday night with a six-game slate that features Atlanta-Washington, Tampa Bay-Philadelphia, Carolina-Baltimore, New Orleans-New England, Jacksonville-New York Jets, and Denver-Chicago. If these games were regular-season games, a couple of them would be worth watching every snap. Unfortunately, as preseason games these contests must be looked at sceptically, especially when thinking of putting your hard-earned money on any of these team's reserve and practice squad players.
Full Disclosure: Betting on the NFL preseason is the equivalent of Russian Roulette. You just never know when you are going to bite the bullet and lose your wager. Many pro bettors tend to skip it, and most of the action on these games is just for the sake of having action that isn't baseball (although some Doc's handicappers like Jason Sharpe do excellent every season with their preseason picks). However, in recent years, I have come to understand what it takes to handicap preseason contests and have fared pretty well. I am going to share with you some of the major topics to cover when trying to handicap these games. None of the spreads for Week 1 are higher than 3.5 points, which means all of these games can essentially go either way - and the coach is the No. 1reason a team wins or loses the game.
You can find great NFL Preseason Week 1 odds here courtesy our friends at Bovada.
Coaching
Believe it or not, some coaches are complete trash when it comes to coaching the boys up in the preseason. Whether it's for the lack of caring about preseason or crazy decisions like going for two to win the game or trying to execute a fourth-down-and-eight play from their own 40-yard line, coaches make all the difference between winning or losing. If you can successfully research and understand how a coach is entering said game, you could exploit the weaknesses or strengths of the team he fields. Some head coaches want their teams play in the preseason to set the tone heading into the regular season and coach like it was meaningful game. Some coaches could care less and would much rather get their team into a film study or practice session in order to coach them up to their liking.
Since 2003, Gary Kubiak (Denver Broncos) is 22-12 ATS, which is good enough for a 64.7% win rate. Pete Carroll (Seattle) checks in at 15-8 ATS, which is a 65.2% win rate. On the flip side, Cowboys head coach Jason Garrett is 7-14 ATS, followed closely by Rams head coach Jeff Fisher at 19-25 ATS.
Looking at those four head coaches, the Broncos will need their QB play to remain above average throughout the preseason since they are looking to replace Hall of Fame quarterback Peyton Manning. Jason Garrett, on the other hand, will want nothing more than to keep Tony Romo and his other starters healthy for as long as possible this season, thus probably holding back on the play calling and going extra vanilla with the gameplan. Because of that exact reason, depth charts will be your best friend during Weeks 1 and 2 of the NFL Preseason.
Depth Chart
Preseason games are won and lost with the third- and fourth-stringers. It's not rocket science to understand that the starters see limited reps and are on a shorter leash than Paris Hilton's Chihuahua. I highly recommend going team by team and familiarizing yourself with the players that will be on the field for the majority of the game. For example, look for a team with three viable quarterbacks who are looking to win a starting job, or even back up role. These teams should be able to manage the 60 minutes better than a team who has a solidified starter, with two rookies playing to back him up. The Denver Broncos are a solid example of the latter. Their QB depth chart consists of Mark Sanchez, Trevor Siemian and first-round pick Paxton Lynch. Sanchez started for the Jets earlier in his career, which means he is top of the QB list. Barring any major developments in training camp, he will be protected and it will be up to unknown Siemian and a rookie from Memphis to get the job done. Something tells me two of those QBs are not up to NFL caliber.
Also, be sure to note who is playing for a spot on the team and in which position they are battling it out for. Understanding who will win and lose your wagers will hopefully limit the damage should you decide to wager on these games.
When to Bet the Line
Make no mistakes about it, this tip carries over well into the regular season and far beyond football itself. Getting the right number at the right time is an essential part of becoming a great handicapper. I view the opening line of any game as an educated guess about both teams' player status. As soon as word breaks about an injury, a dispute, a distraction, or anything out of the team's control, the sharps adjust and the number gets bet up or down depending on the situation. Before you bet a game, make sure you get the number you think you should be laying, even after finding out how long starters will be playing or what the coach's mentality is like heading into the game. If you can get a small favorite before the coach announces his starters will play the entire first half, you will surely have the best number on the board as that number is likely to rise. Being a good bettor means being a smart bettor and knowing what will and won't affect the line.
Get free picks from any Doc's Sports handicapper - there is no obligation for this offer and no credit card required. Just sign up for an account, and you can use the $60 in free picks for any Doc's Sports Advisory Board handicapper and any sport. Click here to get started now.