2016 NFL Draft Betting Props Odds with Expert Picks and Predictions
by Raphael Esparza - 4/22/2016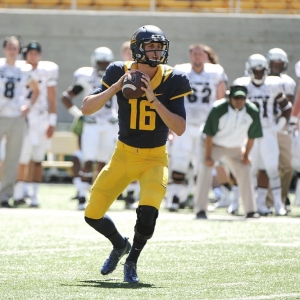 Are you already tired of the dog days of summer and need to throw down action on football? I'm talking real football not Arena Football or soccer, but NFL sports betting. I have your football fix right here!
Our friends over at MyBookie have posted odds for the 2016 NFL Draft at the Chicago's Auditorium Theatre in Chicago. The NFL Draft has made some epic news already with the Tennessee Titans trading the No. 1 pick of the 2016 draft to the Los Angeles Rams, and that pick will be a quarterback. Earlier this week the Cleveland Browns traded the No. 2 pick to the Philadelphia Eagles, and here is another team that traded a bunch of future picks for a QB.
Most football analysts seem fairly certain about those top two picks being a quarterback, but after the second pick there's lots of uncertainty and in a gambler's eye we see tons of betting value on the rest of the NFL Draft.
Here are some of the 2016 NFL Draft Betting Props at MyBookie.ag
NFL Draft - First Pick Betting Odds
Jared Goff -175
Carson Wentz +105
Laremy Tunsil 30-1
Jalen Ramsey 28-1
Myles Jack 50-1
Joey Bosa 40-1
Rest of the players over 100-1

Before the Cleveland Browns traded the No. 2 pick of the 2016 NFL Draft, I was leaning towards Carson Wentz, but the Browns traded their pick to the Philadelphia Eagles. With that trade is it almost certain that Jared Goff will go No. 1 to the Los Angeles Rams and Wentz will go to Philadelphia. No matter what happens, the first pick of the NFL Draft this Thursday will be Goff. California kid being drafted by a new California team! Actually shocked that this number isn't around -200, so jump on this short number before it climbs.
NFL Draft Position
Joey Bosa Draft Position Over 5.5 +100
Joey Bosa Draft Position Under 5.5 -130
This Draft prop is probably the hardest to predict because former Ohio State defensive star Joey Bosais predicted to be drafted between four through No. 8 pick. Some NFL experts have Bosa going fifth to the Jacksonville Jaguars or sixth to the Baltimore Ravens, so that is why this prop has great value on both sides. I don't see Bosa lasting long in the Draft Thursday night and I believe he goes to the Baltimore Ravens. So I would grab the plus-money on the 'Over 5.5 +100' before this number moves and the Ravens again get another defensive stud in the NFL Draft.
NFL Draft Position
Ezekiel Elliott Draft Position Over 8.5 -130
Ezekiek Elliott Draft Position Under 8.5 +100
Another former Ohio State player that won't last long in the green room! Ezekiel Elliott could go early like the fourth pick to the Dallas Cowboys or maybe the 10th pick to the New York Giants. I don't see Elliott lasting long and would be shocked if he is on the board when the Chicago Bears pick at 11, but my prediction is that Elliott will go to the New York Giants at 10. Here is another line that I believe is soft, so grab the -130 because I believe over the weekend this number moves.
Who Will Be Drafted First
Jalen Ramsey -140
Laremy Tunsil +110
We all know that picks Nos. 1 and 2 will be quarterbacks, but the third pick is wide open and the San Diego Chargers will be the big difference in this betting prop. I see the Chargers taking the offensive tackle from Mississippi Laremy Tunsil and with the Chargers taking Tunsil we cash this +110 prop. Tunsil has too much talent for the Chargers to pass on, and I see him making a bigger difference than Jalen Ramsey.
Who Will Be Drafted First
Josh Doctson +150
Laquon Treadwell -180

Both wide receivers will be taken in the first round, and the oddsmakers are telling us that Laquon Treadwell will be the first wideout. I agree with the oddsmakers and I see Treadwell going to the Detroit Lions at the 16th pick. Would not be shocked to see this number climb because I'm also hearing that the Oakland Raiders at 14th are also looking at Treadwell.
Total Quarterbacks Drafted in 1st Round
Over 2.5 -600
Under 2.5 +350

Really early Thursday night we will see two quarterbacks taken Nos. 1 and 2, and either Paxton Lynch or Connor Cook goes to the Denver Broncos in the last pick of the first round. Taking the over 2.5 at -600 is a bit too high for me, but it's probably one of the safest bets on the NFL Draft betting board.
Total Running Backs Drafted in 1st Round
Over 1.5 +275
Under 1.5 -400
We usually don't see many running backs taken in Round 1 of the NFL Draft, and Thursday night this trend stays true. The only way the over 1.5 hits is if Derrick Henry gets taken late in the first round maybe by Kansas City Chiefs at 29th or Carolina Panthers at 30th. I'm going to take a shot at +275 and say yes someone will take Henry late in the first round.
Total Wide Receivers Drafted in 1st Round
Over 3.5 +130
Under 3.5 -160
I'm all over the under 3.5 as Laquon Treadwell and Josh Doctson will be the first two wide receivers taken. After these two being selected it's a crapshoot, and the only other wide receiver I see taken in the first round is Will Fuller from Notre Dame. Under is the easy winner here!
Raphael Esparza is one of the top handicappers in all sports. Esparza has action all week long in NBA Playoffs, NHL Playoffs, MLB, Soccer, and Other Sports. New clients can take advantage of Doc's no-hassle $60 free picks offer and get Esparza's weekend picks. Click here for $60 worth of free picks.