NFL Office Pool Picks Week 12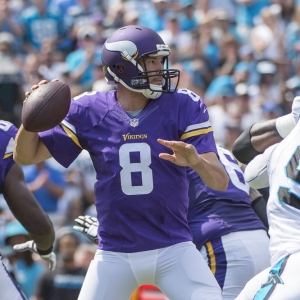 We are back to a full schedule of games - the bye weeks have come to an end. It comes at just the right time, too - we are coming off by far the best week of the season in our office pool picks. The good news, then, I guess is that there are more games to get right this week - I feel unstoppable right now. Let's not let the preamble get in the way of our success, then. Don't forget that we have three Thursday games this week due to Thanksgiving, so it will be three times worse than usual if you don't get your picks in on time:
Minnesota at Detroit: We start with a tough one. The Vikings found a bit more of their game last week than they have had in a month. I don't have a lot of faith, though - the offense still didn't provide a lot of punch. Detroit is playing well, and Matthew Stafford is in the MVP discussion. And they are at home. Take the Lions.
Washington at Dallas: At this point the Cowboys look like the best team in the league, and it doesn't seem that close. Washington is coming off a strong effort, but they are in a tough spot on the road here. Have to take the Cowboys.
Pittsburgh at Indianapolis: This game should be much better than it actually is. Both teams are saddled with issues and hard to trust right now as a result. The Colts can't protect Andrew Luck, and Pittsburgh has more talent on paper. That makes the Steelers the pick.
Tennessee at Chicago: The Bears just aren't any good right now, and now they have real issues at quarterback - even more than they already had, I mean. Tennessee is maddeningly inconsistent and was disappointing last week, but they should be able to win this one. Take the Titans.
Jacksonville at Buffalo: I am not a big fan of the Bills, but at least they have some pride and aren't completely wasting every ounce of potential that they have. I hate to trust Rex Ryan, but I have no choice. Take the Bills.
Cincinnati at Baltimore: The Ravens aren't a great team, but I like how they rallied around Joe Flacco when Ray Lewis took a ridiculous cheap shot at him. It shows that they still believe in each other. That should be enough to beat an undisciplined, horribly-coached and injury-savaged team. Take the Ravens.
Arizona at Atlanta: How bad is Carson Palmer playing right now? Bad enough that I really have no choice but to take Atlanta - and there is so much I hate about the Falcons right now that it would take me hours to write it all down. Take the Falcons.
New York Giants at Cleveland: It's Cleveland, so we don't have to think. The Browns can't protect a quarterback, and that stops them from doing anything at all. What a freaking mess. Take the Giants.
L.A. at New Orleans: Jared Goff was just plain horrible in his debut - and he had all of that time to get ready for his debut. He's not getting better in any hurry, and that is going to make it hard for the Rams here. New Orleans is far from perfect, but Drew Brees can certainly score. Take the Saints.
San Francisco at Miami: The Dolphins have figured out how not to waste opportunities finally, and they look like a decent, well-coached squad. It's an impressive turnaround from a rough start - and the last three seasons of disappointment. San Francisco, meanwhile, is a collection of walking tire fires. So bad. Take the Dolphins.
San Diego at Houston: The Texans are coming off a short week and that weird game in Mexico City on Monday. Brock Osweiler continued to show that he is a long way from good. San Diego has issues and has dealt with far too many injuries, but they can score. I'm in the mod to gamble. Take the Chargers.
Seattle at Tampa Bay: I liked Tampa Bay's win in Kansas City last week. Hard not to. The Seahawks have found their mojo over the last three weeks, though, and are the better team here by a pretty wide margin. Tampa Bay just has one win in five games at home, so Seattle's relative road woes aren't as much of a concern as they could be - and they won their last game in New England, so they are obviously capable of travel. Take the Seahawks.
Carolina at Oakland: Oakland's win on Monday wasn't as strong as it ideally would have been, but they are still in strong form and playing like a contender. Carolina has been better since their bye but still aren't as good as they need to be, and the Luke Kuechly injury could be costly. Take the Raiders.
New England at New York Jets: The Jets are a mess without clarity at the quarterback position. I mean, they just lost to the Rams in their last game. That's not easy to do - especially at 9-6. The Patriots can be vulnerable at times, but this is not one of those times. Take the Patriots.
Kansas City at Denver: These teams are tied a game behind the Raiders in the very tough AFC West. A loss here wouldn't be fatal, but it would be a very significant setback. I really don't like how the Chiefs played last week. I don't like the Broncos much, either - especially on offense. Time for another gamble - take the Chiefs.
Green Bay at Philadelphia: Philadelphia is unbeaten in four home games. They are a different squad in the land of cheese steak. Green Bay isn't any good right now no matter where they play. This game should be much tougher to pick than it is. Take the Eagles.
Read more articles by Trevor Whenham
---
Most Recent NFL Office Pool Picks