NFL Power Rankings Week 12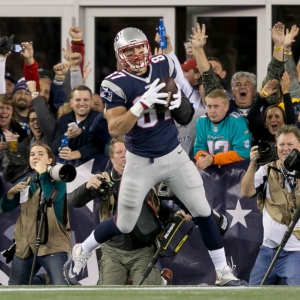 Anyone that suggests that the NFL's extra point rule, changed prior to the 2015 season, is "great" or "smart" or "exciting" is a total and complete asshole.
General media consensus the past two seasons is that moving the extra point back to the 15-yard-line rather than the 2-yard-line was a stroke of genius by NFL decision makers. But after watching a Sunday with 12 extra points either blocked or missed, can anyone actually say that this type of ineptitude is good for the game?
What a debacle.
The minute that the NFL owners gave the green light to the changes in May of 2015 I wrote that changing the extra point was a complete and total joke and absolutely ridiculous . I'm not going to rehash every point that I made, but I'll give you the Cliff's Notes as to why making the extra point more difficult is nonsense:
It was a solution in search of a problem. In over 30 years of watching football I had never, ever, heard anyone complain about the extra point.
Kickers are the least football-like players on the field and the kicking game - from field goals to extra points to punting - is the least football-like part of the game. Making it more important is (ridiculous).
Missed extra points add a layer of game strategy that NFL coaches are simply not equipped to handle. Most of these clowns don't even know how to properly manage their timeouts.
For selfish reasons, I hate the new extra point rules because it makes handicapping NFL games - in which understanding key numbers is critical - that much harder.
Last Sunday was the perfect storm of stupidity, and I am certain that extra point misses cost more people more money than any other position on the field. For good or ill, the longer extra point is here to stay. The narcissistic sociopaths that are running the league at the moment are convinced of their own infallibility. So even though they made a decision that is to the detriment of all and to the benefit of none, the fact of the matter is that they made the decision, and that is all that matters.
Might makes right. Or so they think. When the NFL finally burns to the ground and is reduced to rubble it won't be because of the extra point. It will be because of the hubris that precludes such a nonsensical, unnecessary move in the first place.
Here is Doc's Sports NFL Power Rankings for Week 12:
1. New England Patriots (8-2) - How did the Patriots lose the time of possession battle to the 49ers last week? New England ran the ball 30 times (for 171 yards) and outgained San Francisco by 150 yards overall. But the Patriots actually held the ball for one minute less. That the Pats struggled to put away the 49ers shouldn't be that alarming, though. Rain was a factor, as was travel, and San Francisco has actually been playing a bit better over the last several weeks. The Patriots are 4-1 ATS in their five games this week as a favorite of over a touchdown. They are just 11-9 ATS in their last 20 games in that role.
2. Dallas Cowboys (9-1) - I can't say enough how amazing it is that the Cowboys have covered the spread in nine straight games. This is THE public team in the NFL we are talking about! Dallas is perpetually overrated and overestimated. Yet the books have taken a beating at their hands over the past two months. Washington is one of only two teams to outgain Dallas this season. Dallas won the first meeting with a late touchdown. But this is a major rivalry series, and Washington won't be pushed around by Dallas' dominating offensive line.
3. Seattle Seahawks (7-2-1) - Over the past three games the Seahawks have managed a solid 12.9 offensive yards per point, No. 6 in the league. Prior to that they were No. 25 in the league at 16.6 OYPP, and the drop has played a major role in Seattle's recent winning streak. Their move to cut Christine Michael is also looking a little more suspect after rookie back C.J. Prosise, Michael's de facto replacement, left Sunday's game with a shoulder injury. Seattle is also beat up in the secondary, and you will need to check the status of Earl Thomas, who left last week's tilt with a hamstring injury.
4. Denver Broncos (7-3) - Last week's bye really did come at the perfect time for the defending Super Bowl Champions. The banged up Broncos were able to get Aqib Talib and Derek Wolfe back during the break, and Trevor Siemian's shoulder is reportedly as healthy as it has been all season. The home team in this series has lost three straight. But Denver has dominated the Chiefs over the past four years, winning seven of the past eight meetings. The favorite is just 3-7 ATS when these two teams square off. But Denver has gone 5-2 ATS in the last seven meetings, and they are catching the Chiefs at the perfect time.
5. Kansas City Chiefs (7-3) - The value of Alex Smith is precisely that he doesn't make stupid decisions like the one that led to his game-changing INT near the start of the fourth quarter. That was an awful play call - basically a blind throw off the play-action fake - but Smith has to know enough to airmail that throw if it was not there. And it wasn't. Also, that was some vintage Andy Reid clock mismanagement. The Chiefs, with all three timeouts, had the ball at the Tampa Bay 4-yard line with 3:40 to play. They didn't score for another 1:20! Scoring before the three-minute mark would've given them two shots at stopping the Bucs rather than just the one that they had. Smith and Reid have too much experience for that nonsense.
6. Pittsburgh Steelers (5-5) - I don't care that it worked, Mike Tomlin's decision to try for the touchdown on the final untimed down right before halftime was idiotic. The Steelers were getting the ball back after halftime. If they kicked the chip shot field goal they would've gone up two scores and taken all the momentum into halftime. Had the Steelers been stopped, though, it would've given the Browns life. Let's see if Tomlin actually has his team prepared for this Thursday's game at Indianapolis or if the Steelers plan to sleepwalk through this one just because they don't have to face Andrew Luck.
7. Atlanta Falcons (6-4) - Alex Mack is the perfect example of how underrated offensive linemen are and how a good center can have a major impact on an offense. Mack has completely stabilized what had been one of the worst offensive lines in football in Atlanta. That line was one of the major reasons Mike Smith is no longer the Falcons coach. At the same time, Mack's departure from Cleveland has left the Browns in shambles, and several Cleveland players were taking shots at the coaches and management on Sunday about the state of their line.
8. Oakland Raiders (8-2) - This offensive line is way too good to get manhandled like it did against the Texans on Monday. I know that Jadeveon Clowney was going off. But 20 rushes for just 30 yards, and two red zone failures, is kind of a red flag. Then again, the Raiders are one of several "fraud" teams whose win-loss record does not reflect their statistical performance on the season. Oakland has covered four straight. But their raw numbers are definitely giving me pause when it comes to backing them down the stretch.
9. Washington Redskins (6-3-1) - The Redskins have gone 8-1 ATS in their last nine trips down to Dallas and the road team is 5-0 ATS in the last five meetings in this series. The underdog is also an amazing 24-9 ATS in the last 33 meetings. That's a 73 percent trend dating back almost two decades. Washington is definitely good enough to go to Dallas and beat the Cowboys. But that doesn't mean that they will. They are in their own letdown situation after thrashing Green Bay on Sunday Night Football. They had to play a late game Sunday and then travel for a Thursday afternoon game, whereas Dallas is working on back-to-back home games.
10. New York Giants (7-3) - Another week, another weak win by the Giants. You can still get this team at around 30-to-1 to win the Super Bowl. When I consider how soft the NFC field appears and the fact that New York's last two championship teams were pretty mediocre during the regular season, I see a sweet value play with Eli's crew right now. The Giants always seem to play up or down to their level of competition, though, so be wary this week. New York has played five straight games either at home or at a neutral site (London). Their last two true road games - at Green Bay and at Minnesota - were pretty ugly displays.
11. New Orleans Saints (4-6) - We have established that there are a lot of NFL teams that have been worse than their records suggest. Put the Saints at the top of the list of teams whose record is much worse. Their last two losses - to last year's Super Bowl participants - have come by a total of five points and those are the third and fourth losses, respectively, by a field goal or less. New Orleans gets back-to-back home games and only two of their games (Detroit and at Atlanta in Week 17) come against teams that are above .500. This team might not be out of it yet.
12. Buffalo Bills (5-5) - This week is actually a revenge game for the Bills. Last year they went down to Jacksonville and fell behind 27-3 midway through the second quarter. They actually came all the way back, taking a 31-27 lead on a pick-six (there were three defensive touchdowns in the game) with five minutes to play, only to lose 34-31 after giving up a touchdown on the following drive. The Bills are 6-2 ATS in their last eight home games.
13. Minnesota Vikings (6-4) - The large late-week line movement in Minnesota's favor - the spread lurched from a 'pick' to -2.5 for the home team - turned out to be a major indicator in that game. The Vikings need to continue to find ways to get Cordarelle Patterson the ball in situations that aren't bubble screens or Wildcat runs. Let the man run some routes. Minnesota has revenge for their loss to the Lions three weeks ago. And the underdog is a healthy 7-3 ATS in the last 10 meetings in this series.
14. San Diego Chargers (4-6) - it is stunning to me that the Chargers were posted as favorites over Houston this week. San Diego is 2-11 SU on the road over the past two seasons, though they have gone an excellent 9-2 ATS in their last 11 away games. Is this an indicator line or simply a mistake by the books? We'll see how this one plays out. San Diego is 10-4 ATS in its last 14 games but just 7-15 ATS in its last 22 in November.
15. Baltimore Ravens (5-5) - The Ravens have lost five straight games against the Bengals, including two straight home games against Cincinnati. The favorite is actually 7-4 ATS in the last 11 in this series and the spread in this game has jumped up from Baltimore -3.0 to the Ravens -4.5, with most of that due to Cincinnati's injury issues. The Ravens are just 2-5 in their last seven games, though, and three of their wins have come against the Browns (twice) and Jaguars. The Ravens have been outgained in five of their last six games, and neither the irrational confidence by Joe Flacco or my eternal adoration of Steve Smith can convince me that this team isn't suspect.
16. Houston Texans (6-4) - Yes, the Texans absolutely got screwed by a host a blown calls on Monday in Mexico. But welcome to the NFL. And they should be more concerned about their two major defensive lapses that led directly to Oakland touchdowns in the fourth quarter. Houston has gone 4-0 ATS in its last four home games (discarding the 'push' against the Colts) and they are 5-0 ATS in their last five games against a team that is below .500.
17. Arizona Cardinals (4-5-1) - Jesus, Bruce Arians looks like he is going to have a heart attack every Sunday. But its terrifying when the guy actually has to go to the hospital, as Arians did this week, after suffering chest pains following Arizona's crippling loss in Minnesota. The mainstream media is finally coming around to what I have been saying about Carson Palmer for years: that he is a loser. Arizona has had issues going all the way back to the preseason. But Palmer's inability to lead - and avoid stunning turnovers - is the largest anchor around this team's neck.
18. Detroit Lions (6-4) - Well, you really have to put the Lions in that same Chiefs-Giants-Raiders category of teams that are just inexplicably winning games. Detroit has been outgained in six of its last seven games, yet they are 5-2 SU and ATS. They haven't won a game by more than a touchdown all season, and four of their six wins have come by either a field goal or less or in overtime. Every game they have played this year has been decided by one score. One of those wins was at Minnesota just three short weeks ago when Detroit tied the game with a 58-yard field goal and won in OT. Detroit has won three straight Thanksgiving games by a combined 119-41 score over Green Bay, Chicago and Philadelphia.
19. Miami Dolphins (6-4) - I feel like Charlie Brown lining up to try to split the uprights with this Miami-San Francisco game. The Dolphins have won five straight and are on fire right now, sweeping their West Coast road trip with comeback wins over San Diego and Los Angeles. But this is the same team that needed overtime to sneak by Cleveland as a 10-point favorite this season, and Miami is a woeful 2-10 ATS as a favorite dating back to the 2014 season. They obviously have the situational advantage, with the 49ers off a game with the Patriots and having to travel East for the early start. But caveat emptor.
20. Carolina Panthers (4-6) - Even without Luke Kuechly, I think the Panthers could be an active underdog this week out in Oakland. The Raiders are coming off an emotional win down in Mexico and their statistics are still lagging behind their actual record. Carolina is a terrible 0-8 ATS in its last eight road games. However, they are a healthy 15-7 ATS the last 22 times that they have been installed as a road underdog. They have to snap that road ATS losing streak at some point, right?
21. Philadelphia Eagles (5-5) - I am still in the minority of people that thinks this Eagles team is a fraud and that they actually stink. However, they can prove everyone else in the bobblehead media right, and me wrong, by beating a freefalling Packers squad on Monday Night Football. The Eagles are 5-1 ATS in their last six on Monday nights and 4-0 ATS at home. But if they have to play without Darren Sproles (ribs) and Ryan Matthews (knee) I have no idea how this team is going to move the ball on offense.
22. Indianapolis Colts (5-5) - I won't believe that Andrew Luck isn't playing on Thanksgiving until I see it with my own eyes. The spread in Indy's game with Pittsburgh leapt up from 3.0 to 8.5 upon the surprise news of Luck's admission into the concussion protocol. But Luck finished the game last Sunday after allegedly suffering the concussion in the first quarter. If he could play through it last week I'm not sure why he wouldn't play through the brain bruise this week with so many people's jobs and livelihoods resting in his hands, er, head. The home team is 5-2 ATS in the last seven meetings with the Steelers.
23. Tennessee Titans (5-6) - Even though the Titans will face an opposing quarterback that's either a first-time starter (Matt Barkley) or was literally picked up this week (David Fales) it is still odd to see this team in the role of road favorite. Tennessee is just 4-16 SU and 5-15 ATS in its last 20 road games and they haven't been installed as a road favorite since a 2013 game against the Jaguars. All of the plaudits for this team have been (deservedly) thrown toward the Titans offense. But this week is a chance for the Titans defense to pull its own weight against a Bears offense that has scored over 20 points just twice this year.
24. Green Bay Packers (4-6) - There is really nothing left to say about this team. They are garbage, period. The Packers have covered only twice in the seven games since their Week 4 bye, and both of those covers were purely by accident, getting the front door cover against the putrid Bears and then beating a slim number in a loss to the Falcons thanks to Dan Quinn's inability to process basic math. I know that this team is going to win another couple games the rest of this season. But right now I just can't see how.
25. Tampa Bay Buccaneers (5-5) - Third down is the money down in the NFL, and the Bucs won on Sunday because they dominated that down. Tampa converted 11 of 16 third downs (69 percent) overall and were 7 of 10 when they needed four or more yards. The Bucs defense held Kansas City to 4-for-8 on third down, but two of those pickups came on the final drive. Also, you have to give credit for much-maligned (and deservedly so) rookie kicker Robert Aguayo. On a day when the rest of the NFL's kickers lost their minds, he went 5-for-5 with his kicks, nailing four field goals and one extra point.
26. Cincinnati Bengals (3-6-1) - A.J. Green won't miss the rest of the season with a torn hamstring, but Giovanni Bernard is done for the year with a torn ACL. The Bengals are done. Cincinnati's offense was one-dimensional even with Green and Bernard. But without them they simply don't have enough to move the ball consistently and stay competitive. The Bengals are on a 1-5 overall ATS slide, and they are 0-4 ATS in their last four road games.
27. Los Angeles Rams (4-6) - Jeff Fisher is a genius. How else can you describe a guy that has been a head coach for 22 years despite just six winning seasons? And his decision to go to Jared Goff was another stroke of genius. Now if the Rams tank down the stretch he can simply say, "Hey, it was a rebuilding year with a rookie quarterback. What do you want?" What Fisher doesn't realize, though, is that he is the next chip to be played by the Rams marketing machine. His ouster at the end of this season will bring with it the promise and potential of a new coaching staff, and the Rams will dine on that for months leading into their second season in L.A. Fisher is a dead man walking.
28. New York Jets (3-7) - The Jets have had two weeks to prepare for their Super Bowl game against the rival Patriots. New York has routinely played its best game of the season against the Pats, and they are an outstanding 6-0 ATS in the last six meetings and 7-1 ATS in the last eight meetings. Three of the last eight matchups have gone to overtime, seven of the last eight have been decided by a touchdown or less, and five of the past eight have been determined by three or fewer points.
29. Jacksonville Jaguars (2-8) - Jacksonville has actually outgained its last three opponents during their five-game losing streak. Granted, the Jaguars are the masters of garbage time yards and points (their 83 fourth-quarter points represent nearly half of their 193 total points). But that's still an indicator that this team is playing better than its results. However, they are still 14-44 straight up under Gus Bradley, who will likely retire as one of the all-time worst coaches (via record) in NFL history. The Jaguars are 2-6 ATS in their last eight road games and 3-7 ATS after a loss.
30. Chicago Bears (2-8) - Alshon Jeffery was suspended last week, and now linebacker Jerrell Freeman is getting a four-game vacation for PED use. In between, Leonard Floyd, Josh Sitton and Zach Miller were all hurt in a loss against the Giants, a game in which Chicago entered without two other starting offensive linemen. Now throw Jay Cutler on the pile! The Bears stunk when they were at full strength. Now with personnel losses wreaking havoc on the roster they are downright pathetic. The silver lining is that I will probably never have to see Jay Cutler in a Bears uniform ever again.
31. San Francisco (1-9) - Early bettors had to take a fluke 'push' with the Niners-Patriots. But anyone that bet this game on Sunday either won with the Patriots or lost with San Francisco. If we count that as an ATS loss, Chip Kelly is now 2-8 ATS this season, 5-13 ATS in his last 18 games, and 10-20 ATS in his last 30 games as an NFL head coach.
32. Cleveland Browns (0-11) - I was dead certain that the Browns were going to slide in the back door by scoring on their final play of the game after that one precious second was put back on the clock. Cleveland could've used this bye week two months ago. Instead they have the bye week during a holiday week and it comes at a time when Browns players can really start to mail it in on this dreadful campaign. This Thursday you should be thankful that you are not a Cleveland Brown or a Browns fan. (And if you are either, I apologize.)
Throughout the season I will have my NFL Power Rankings every Wednesday. My next ones will be released on Wednesday, Nov. 30.
Robert Ferringo is one of the top football handicappers in the country and tallied an unrivaled $20,800 in football profit between 2011 and 2015, including his amazing 2013 NFL season in which he hit 62.1 percent (95-58). Robert has produced 15 of 23 winning football months and an amazing 38 of 58 winning football months over the past decade. Robert has hit nearly 60 percent winners over his last 750 totals picks and is the most prolific big play football handicapper in the nation, going 110-69 (62%) on all football plays rated 5.0 or higher since 2010. Also, Robert's proprietary KING College Football Betting System has posted three of four winning seasons and is 122-92 over the last three years (57.0 percent).
We are offering new clients $60 in free college football picks for Robert's picks or any Advisory Board handicapper of your choosing. Get your free college football picks now!
Read more articles by Robert Ferringo