NFL Power Rankings Week 17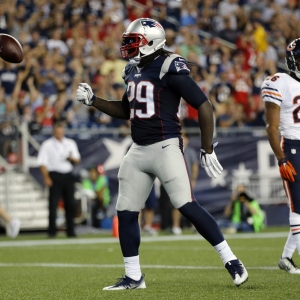 Well, this is it. A season that started with so much promise for 32 NFL teams just five months ago is in its waning moments. Some teams are gearing up for the playoffs. Others are soul-searching after things went awry. And the rest of the league is simply playing out the string, serving as stage props for the sick, unpredictable farce that is Week 17 in the NFL.
This hasn't been a particularly strange season by any stretch of the imagination. The top teams are just about the ones we expected, with few exceptions. The Patriots, Cowboys, Steelers and Seahawks were all expected to be at or near their current stature. The bottom teams are completely pathetic, with Cleveland, San Francisco, Los Angeles and Jacksonville maintaining their consistent levels of ineptitude.
And then there's the middle class of the NFL with several teams like Arizona, Carolina, Minnesota and Cincinnati left mourning a season derailed by injuries and inefficiency. While still other teams like the Chiefs, the Giants, Detroit and Miami are celebrating their successes despite the statistical and practical flaws that their teams possess. This latter group consists of the frauds of the NFL, with their win-loss records not at all indicative of their actual place in the amorphous, theoretical, platonic realism version of the league's hierarchy.
But if 2016 has taught us anything, it is that life isn't fair. People don't get what they deserve. And in regards to the NFL, as a long-time, now deceased, client used to say: "That's why they play with a funny-shaped ball."
Here is Doc's Sports NFL Power Rankings for Week 17:
1. New England Patriots (13-2) - The spread in New England's game this weekend has surged from a 6.0 open to its current level of 9.5. Miami has been New England's kryptonite. They've lost their last three trips to South Beach and are 0-4 ATS in their last four games in Miami. In fact, New England lost 20-10 down in Miami in almost an identical situation last year, entering the final game as a 10-point favorite.
2. Dallas Cowboys (13-2) - Yet again, the weird Tony Romo drama is hampering this team. By now the situation should be 1,000 percent resolved: Dak Prescott is the man. Prescott should play all of one quarter in this game and then Romo should get some snaps to shake off the rust and be ready if called upon in the postseason. Instead, I think we'll see some Prescott and then the second half could degenerate into Mark Sanchez time. Either way, my expectations for Dallas' interest level this week are low.
3. Pittsburgh Steelers (10-5) - The Steelers will be resting Big Ben, LeVeon Bell and Antonio Brown (along with Maurkice Pouncey) this weekend against the Browns. Those players are apparently "only" worth five points on the spread, though, as Pittsburgh remains a six-point favorite after opening at -11.0. As bad as Cleveland is, that number is still surprising considering the Steelers have essentially waved the white flag on this one. After all, we've seen the mess that is Landry Jones.
4. Kansas City Chiefs (11-4) - Kansas City is one of the few playoff-bound teams that I expect a max effort from this week. If the Chiefs can scrounge up a win at San Diego and Oakland loses then Kansas City will have earned a first-round bye. The Chiefs are on a 4-1 ATS rush and they have beaten the Chargers five straight times. The road team in this series is 6-1 ATS and the Chiefs have taken the cash in four of five trips out to San Diego.
5. Seattle Seahawks (9-5-1) - The Seahawks have an advantage this weekend. They get to wait and see if Atlanta wins its early game against New Orleans, which would lock the Falcons into the No. 2 seed. But if Atlanta loses then Seattle will be playing for a bye and a home game when they take on lowly San Francisco in their afternoon kickoff. I expect the spread on this game to move at least two points on Sunday depending on how that Falcons game goes
6. Oakland Raiders (12-3) - My father and brother are lifelong, diehard Raiders fans. After 14 years of outright irrelevance and futility they were as excited about this team as I've ever seen them. They were the first people I thought of when I saw Derek Carr wriggling around on the ground. Carr's broken leg is just an incomprehensibly cruel twist of fate for this exciting young team. And it has deprived us of what would've been one of the most entertaining teams to watch in the postseason.
7. New York Giants (10-5) - If you are looking for a team that may bench all of its starters and just mail it in for Week 17, take a look at the Giants. New York knows it will have to play in the Wild Card Round next week and they cannot improve their seed at all. The Giants need to keep their star defenders healthy, they have older guys like Eli Manning and Victor Cruz that could use time off, and they have a Ferrari in OBJ that I wouldn't think they would risk.
8. Atlanta Falcons (10-5) - The Falcons-Saints game should be the most entertaining of the weekend. This is one of the biggest rivalries in football and these two teams hate one another. The Falcons still have a chance to lock up the No. 2 seed and earn a crucial bye week for Julio Jones' foot to heal. They are going to max out. But the Saints aren't going to roll over. Atlanta is still just 4-9 ATS in its last 13 home games. But even though the road team has won four of the last six in this series outright, the home team is 7-3 ATS in the last 10 meetings between the Falcons and Saints.
9. Washington Redskins (8-6-1) - There is a reverse line movement in the Giants-Redskins game this weekend, with Washington taking about 30 percent of the action but the spread moving from -7 to -8 in this one. The Redskins haven't had a ton of success against New York (2-5 ATS) and the favorite has been a dud in this series (3-9 ATS). But given Washington's motivational edge - they absolutely have to win to get into the postseason - it is hard not to lean on the Skins this week.
10. Miami Dolphins (10-5) - Matt Moore has been too loose with the ball in his last two starts and probably should've had three interceptions last week in Buffalo. His accuracy obviously wanes in the cold weather. That could be a problem if Miami has to travel to Pittsburgh next week in the Wild Card Round. That said, Moore (along with Colt McCoy) is one of the best backups in the league. I'm not surprised at all that he has guided to the Fins to three straight wins. And as long as Miami continues to run the ball as well as they have they could be OK. They've won nine of their past 10 games and few teams will enter the postseason with as much momentum. The home team in the Patriots series is 9-0 ATS.
12. Baltimore Ravens (8-7) - Games like the one that the Ravens and Bengals have to play - a sad-off between two teams nursing a lot of regrets right now - are why Week 17 is the worst. Who knows which one of these teams is going to come to play? Though I do know that the Ravens, who are underdogs, are the better, healthier team coming into this one. This game is all about Baltimore's motivation level after losing out on the playoffs in the final seconds last week. Do they care about this game at all? Baltimore is 8-0 ATS in division games but just 1-5 ATS on the road.
13. Green Bay Packers (9-6) - Sorry, but I'm still not buying. Green Bay has won five straight games. But only one of those wins, against suddenly-shaky Seattle, has come against a good team. Also, the Packers have been outgained in two of their last three wins and barely outgained wretched Chicago and awkward Houston. The Packers do have the edge in this Detroit series, though. The Packers are 8-3 ATS in their last 11 meetings and the favorite is 8-1 ATS the last nine times these two have squared off.
14. Denver Broncos (8-7) - Denver's performance on third downs this year both on offense (34 percent conversions) and on defense (37 percent) were almost identical to last year's numbers (35 percent offense; 35 percent defense). What people are overlooking about this team is that the Broncos had a really thin margin for error this season. Last year they only outscored opponents by an average of 3.7 points per game, No. 10 in the league.
11. Detroit Lions (9-5) - Can you believe that this team could get a first-round bye? These guys haven't beaten anyone and have been scumming out close wins all season. But if the Lions beat the Packers and Atlanta and Seattle lose then they are in business. Now, a more likely scenario is that the Lions miss the playoffs. But the fact that they are even in the mix for the No. 2 seed shows how razor-thin the margin for error is in the NFL. The home team is 6-2 ATS in the last eight Packers-Lions games and Detroit lost at home last December thanks to a Hail Mary pass on the game's final play.
15. Tennessee Titans (8-7) - Had Marcus Mariota been healthy, this week would've been a great spot for Tennessee. Even without the division title on the line I think this young team would've wanted to make a statement against rival Houston, who will likely be resting starters this week. But there's just no way that I can back Matt Cassel, a guy that should've been out of the league years ago. The Titans are still just 13-35 ATS in their last 48 divisional games and 13-36 ATS in their last 49 games overall.
16. Buffalo Bills (7-8) - I absolutely loathe Rex Ryan. But I still think the Bills made a mistake in firing him. And I have no clue why they decided to fire Ryan just days before the final game of the season. That makes zero sense. I think the final nail in Ryan's coffin was his decision to punt in overtime last week. The Bills had the ball at their own 41-yard-line but were facing just a 4th-and-2 with an offense that had been decimating the Dolphins all day. The Bills had to win the game to keep any hope of the playoffs alive. And for all the bravado and big-swinging-dick machismo that Ryan tries to exude, that was a pretty cowardly (and flagrantly wrong) decision to make with the season, literally, on the line.
17. New Orleans Saints (7-8) - With four losses by a field goal or less - including brutal losses thanks to two-point conversions against them with less than a minute less versus both Oakland and Denver - this whole season will end as a big "what if" for the Saints. The underdog is 6-0 ATS in the Falcons series and New Orleans does have a revenge motivation for a loss earlier in the year. New Orleans is 8-2 ATS in its last 10 league games and 9-3 ATS in their last 12 games overall. The Saints are 35-17 ATS against teams above .500 but just 5-14 ATS in their last 19 games in Week 17.
18. Arizona Cardinals (6-8-1) - With three losses by four points or less - and a tie throw in there - this whole season will end as a big "what if" for the Cardinals. I still think that Arizona needs to go get a new quarterback this offseason. I don't think that turnover-prone Jay Cutler or fragile Tony Romo would be great fits. But I do think that Arizona, which boasted a Top 10 offense and a Top 10 defense this season, will be a prime bounce-back candidate next season.
19. Houston Texans (9-6) - Gross. This is a gross football team. I will give credit where credit is due with their defense, which finished No. 1 in football. But the Texans will make the playoffs - where I'm certain another embarrassment awaits them - despite just two wins against teams over .500.
20. Tampa Bay Buccaneers (8-7) - The Doug Martin fiasco is kind of a red flag. Even if Tampa Bay didn't make the playoffs this was still one of the best seasons the Bucs have had in a decade. But closing the year with back-to-back losses (if they fall this week) and then losing Martin after some behind-the-scenes drama won't allow the team to take much positivity or momentum into the offseason.
21. Carolina Panthers (6-9) - The Panthers are 100 percent making the right move by holding out Luke Kuechly this week. But just because Carolina is sitting their star middle linebacker again that doesn't mean they will roll over for the Bucs. Carolina had beaten Tampa Bay six straight times before losing the first meeting, 17-14, and the Panthers are 4-1 ATS in their last five trips to Tampa. The road team is 4-1 ATS in this series but Carolina is 0-5 ATS against NFC South rivals this year.
22. Indianapolis Colts (7-8) - Yet another dud, turnover-prone performance in a big game from Andrew Luck. And after listening to hot take after hot take this week, it seems like the mainstream media is finally starting to catch on to the fact that Luck is not nearly as good as people think he is. If you eliminate his numbers against teams in this pathetic division then Luck has barely been an average NFL quarterback. But hey, he'll throw for four touchdowns against the Jags this weekend and "shut up all the haters". Or something.
23. Cincinnati Bengals (5-9-1) - With all the skill position players that the Bengals have on the shelf right now I seriously wonder why they are even playing Andy Dalton. Why would they risk their starting quarterback - especially after last week's rash of QB-related injuries - in a meaningless game?
24. Minnesota Vikings (7-8) - What a weird story that Terence Newman mutiny is. And I am really surprised the Zimmer and the Vikings didn't simply cut the 14-year veteran on Monday. I think that would've sent exactly the message and made exactly the statement that Zimmer needed to heading into the offseason. The Vikings were a really good team derailed by injuries this season. But how can Zimmer keep a guy that he can't trust and who flagrantly undermined his authority? Cutting him in February will look weak. They should've shown Newman the door this week.
25. Philadelphia Eagles (6-9) - Even though Dallas has said that it is not going to roll over in Week 17, the Eagles have seen the majority of the money bet in the Philly-Dallas game and the line has moved five full points from the Eagles +1.0 to -4.0. The last two games between these teams have gone to overtime and the underdog is 7-3 ATS in the last 10. The Eagles played hard against the Giants last week and would love to end their season on a positive note. But Philadelphia is still just 2-7 SU in its last nine games and has own just once since mid-November. They might not have a say in this one if Dallas really does play to win.
26. San Diego Chargers (5-10) - This question is becoming an annual one: will this be the Chargers' final game in San Diego? Do the fans even care? Will San Diego fans boo the Chargers? Will they cheer and support this team as it goes for a somewhat hollow upset? Do the Chargers even have enough healthy bodies around Phil Rivers to put up a fight? How you answer those questions will determine how you bet this game.
27. Chicago Bears (3-12) - I take back all the nice things that I had said about Matt Barkley. Five-interception days can happen. But it was how Barkley threw the interceptions - throwing into triple coverage, airmailing wide-open receivers by 20 yards, flailing off his back foot - that is the red flag. Three of Barkley's interceptions came on first down and all five were on either first or second down.
28. Jacksonville Jaguars (3-12) - With any luck the Jaguars will win again this week against the dazed Colts and then go out and make an overreaction hire to retain Doug Marrone as the head coach full time. Regardless, I don't think that anyone will make the "Jacksonville is a sleeper team!" mistake with this clown car of a franchise again any time soon.
29. Los Angeles Rams (4-11) - I think I've seen enough to know that Jared Goff will never be a successful NFL quarterback. I know that seems like a snap-judgment evaluation of a guy that has played in only six games and thrown less than 200 passes. But I wasn't high on Goff even before I saw him work in at this level. Now having watched him closely over the past two weeks I feel confident predicting a Tim Couch-level bust grade for Goff.
30. New York Jets (4-11) - You just know that there is a lot more than meets the eye in the Sheldon Richardson-Brandon Marshall feud. And the fact that two of the most talented and vocal guys in the locker room, who happen t play on opposite sides of the ball, are having a pubic spat is a pretty good indicator that this team has come unglued and that these guys will be mailing it in this week against the Bills. The Jets have now los six of seven games, and over the last four weeks they have been outscored 49-143. That is a team that has quit.
31. San Francisco (2-13) - It's pretty sad that the 49ers needed a late two-point conversion to beat the lowly Rams. And it is pathetic that the Rams are the only team the 49ers have beaten in their last 19 games. There is no way that Trent Baalke should be retained. When your team features Colin Kaepernick and Blaine Gabbert slinging passes to Jeremy Kerley and Rod Streater then it's pretty clear that you have no idea what you're doing. Seriously: Kerley is San Francisco's leading receiver this season.
32. Cleveland Browns (1-14) - They won! Those with the stones to get on the Browns, either with the six points or on the +260 moneyline, were rewarded for their daring. I'm going to spend the offseason doing whatever I can to push the Cutler-to-Cleveland rumor. Those two deserve one another and the marriage would produce a cash cow almost as fat as Bob Griffin's one year in the Factory of Sadness. Most people would love not to pin Cleveland's 3-12 ATS season on Griffin, who was injured most of the year. But that's the point: he's so bad and so fragile that this was really the only way this season was going to go whether Griffin was directly taking snaps or not. It would be more of the same (maybe 5-11 ATS) with Cutler under center next year. Please let that happen.
Robert Ferringo is one of the top football handicappers in the country and tallied an unrivaled $20,800 in football profit between 2011 and 2015, including his amazing 2013 NFL season in which he hit 62.1 percent (95-58). Robert has produced 15 of 23 winning football months and an amazing 38 of 58 winning football months over the past decade. Robert has hit nearly 60 percent winners over his last 750 totals picks and is the most prolific big play football handicapper in the nation, going 110-69 (62%) on all football plays rated 5.0 or higher since 2010. Also, Robert's proprietary KING College Football Betting System has posted three of four winning seasons and is 122-92 over the last three years (57.0 percent).
We are offering new clients $60 in free college football picks for Robert's picks or any Advisory Board handicapper of your choosing. Get your free college football picks now!
Read more articles by Robert Ferringo