Will the Real Odell Beckham Jr. Please Stand Up?
by Mike Davis - 10/6/2016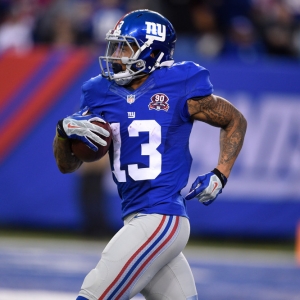 Have you ever had the dream where you are standing in front of your high school classroom completely naked? Everything is there for the world to see and you are scurrying to cover it up. It's something that has happened to many of us during REM sleep; it's happening to Odell Cornelious Beckham Jr. in real life.
Beckham was born in Baton Rouge, Louisiana, on November 5, 1992. He is the son of a former LSU football player and a former LSU track star. Athleticism was born into this young man, and he has used it to become one of the premier players in the National Football League. He stormed onto the NFL scene in 2014 after being selected 12th overall by the New York Giants. Despite missing the first four games of his rookie campaign with a hamstring injury, he set numerous franchise records that season. A star was being born right before our eyes, and that star exploded onto the scene during a Sunday Night Football game against the Cowboys in late November. He made a miraculous, one-handed grab that many have called the greatest catch of all time. What has transpired since that night is where this story begins.
All human beings have a comfort zone, and most of us don't feel good outside of our comfort zone. After that heralded catch on that November night in 2014, Odell found himself outside of his comfort zone. He basked in it. He did what all of us would have done; he enjoyed it. After all, he was the talk of the town in the biggest sports city in America. He had children wanting to be like him and grown men standing in line for his autograph. His on-field performance was living up to the hype, and life was good. Although this wasn't the role he had anticipated and even though he was a bit out of his comfort zone, Beckham was living it up with no regrets. And who can blame him? I certainly don't.
There is something about Beckham that makes him a likeable fella. Just this past weekend he was seen shaking the hands of every service member on the field after the National Anthem. That says a lot about this young man and the way he was raised. It shows what is truly in his heart and the man he really is. His performance and actions on the field after that National Anthem show a young man who is now uncomfortable with the spotlight that was thrust upon him after his remarkable catch just two short years ago. He is the kid standing in front of the classroom without clothing.
In week 15 of the 2015 NFL season, Beckham and the Giants took on Josh Norman and the Panthers. This was the beginning of the unraveling of "the new Beckham". Keep in mind, he was no longer a rookie making great plays; he was now the darling of the league and it was a position he seemed comfortable with at the time. Norman took Beckham to task that day and the two of them played dirty, physical football for long periods during the game. Odell made a nasty run at Norman at the completion of one play and you could see he wasn't comfortable in the situation. At the time, many believed he was just upset about losing or having his manhood challenged. However, it's pretty clear to me now that it was much more than that. Here was a man cast into a spotlight that he really didn't desire. He cherished it when times were good but the minute times became tough, he wilted. Like many of us, Beckham does not like seeing his shortcomings exposed for the entire world to see. Remember the dream about you standing in front of the classroom exposed? That is what Beckham is experiencing right now.
Odell faced Norman most recently in Week 3 of this season, and the results were similar. Beckham did have nice numbers in the game as he caught 7 balls for 121 yards, but it was Norman and the Redskins who came away with the victory. He had a run-in with a kicking net and he was seen with tears coming down his face. And once again, it was Beckham who was cast in a negative manner.
After the tremendous gesture following the National Anthem this past Monday night, Beckham had the worst game of his career when he was held to 3 catches and 23 yards against Xavier Rhodes and the Minnesota Vikings. He said earlier this week that he wasn't having fun anymore. No, he isn't. He is in a spotlight he didn't crave and his imperfections are being discovered.

The media is trying to portray him as a crybaby adolescent, and perhaps some of that is warranted. However, I see someone who is trapped in a distressed persona he didn't create or desire. Many people look up to football players and athletes and they consider them heroes of sorts. This is just one example that proves that these guys are just people like the rest of us. In the end, that's what draws us closer. I believe Odell should go back to being the original Odell. Don't sweat the media, don't be intimidated by other players, and don't be afraid to fail. That's what made you great, Odell; you weren't afraid to fail. Get back to that way of thinking and go have some fun, Eli and the Giants really need you and your fans miss you -- the real you.
Mike Davis expects a huge weekend for football this week. He will have six 4-Unit plays on the board for college and NFL, and he thinks there is a great chance he can go 5-1 or better. If you are a first-time client you can get $60 worth or Mike Davis picks for free this weekend by clicking here.