Basic Strategy Teasers: Best Week 4 NFL Betting Options
by Chris Vasile - 9/29/2017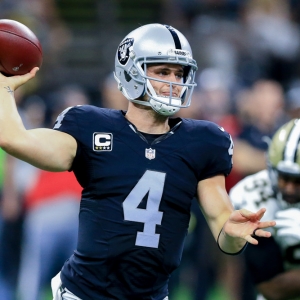 Every single week in the NFL there are one or two games that bettors circle and claim to be a "trap game". For those who don't know what a "trap game" is, let me explain. A "trap game" is a game in which the "better team"plays a tough game one week, faces a bad opponent the next week and then takes on a good opponent the following week. Let's use last night's Chicago/Green Bay game as an example. Many expert handicappers claimed the Packers were in a bad spot last night and that the line of Packers -7.5 could be a potential trap. The Pack were coming off a hard-fought OT win last week against Cincinnati, had to play the Bears on short rest and then they travel to Dallas next week -- not to mention the Packers are pretty banged up on both sides of the ball. Yesterday was supposed to be the "trap game", and once again many handicappers got too cute with their plays, thinking Chicago actually had a chance.
Last night's game boiled down to one thing - the quarterback matchup. Aaron Rodgers at home versus Mike Glennon on the road. I mean really, did anyone actually think that Glennon was good enough to beat the Steelers and Packers in back-to-back weeks? I certainly did not as I had the Packers as my survivor play and can now peacefully enjoy the Sunday slate. Last night was also a prime opportunity to tease the Packers down from -7.5 to -1.5 in a six-point teaser. But I digress. Let's move on and focus on the upcoming matchups instead of focusing on yesterday's news.
The Sunday slate gets underway in London once again this week as the New Orleans Saints take on the Miami Dolphins. The Saints are currently three-point favorites , with the total set at 50.5. I believe this week may be the hardest week to handicap so far this season as there are several tough games with a few spreads that make you scratch your head. Personally, I'm looking forward to watching the Detroit/Minnesota game to see if Case Keenum can play like Tom Brady for the second week in a row. I also think the Monday night game between the Washington Redskins and Kansas City Chiefs will be closer than the seven-point spread indicates, and I expect a lot of points.
From a betting perspective, we were unable to cash our "Basic Strategy Teaser" for Week 3 thanks to the annual "terrible road performance by the Steelers". Not sure how they lost to that Bears team considering how bad they looked last night. This brings the record to 2-1 +0.6-Units.
There are currently four games that fall within the "Basic Strategy Teaser" outline. If this is your first time reading, you can find the requirements and how to play a BST here . In a nutshell, you need two teams in order to build out a six-point teaser, and I always tell readers to shop around for the best possible line.
Over the next several months, I will be offering you a "Best Bet" six-point teaser as well as any alternative options to consider playing.
Best Six-Point Teaser for Week 4. Lines courtesy of 5Dimes
Oakland +8.5 & Arizona-1.5 (-110)
Risk: $100 to win $83.33
Synopsis: Oakland is currently getting 2.5 points on the road at Denver, and Arizona is laying 7.5 points at home to San Francisco. By combing these two teams and utilizing a six-point teaser, the end result would be a ticket that looks like the above.
But enough about logistics, let's get down to the football business.
I watched every single snap of last week's Monday night game between Dallas and Arizona and I can honestly say that the Cardinals were very unlucky to lose that game. They were moving the ball with relative ease until Phil Dawson missed a chip-shot field goal. After that moment, the Cowboys made an adjustment and the Cardinals' offense never got rolling again. That's what good teams do, though; they make adjustments for the betterment of the team. Fortunately for Cardinals' fans, the team they face this week isn't a very good football team despite a good showing on Thursday night of last week.
The Niners are still in a precarious position despite drafting well and stocking up several draft picks in the offseason. They employ Brian Hoyer as their starting quarterback, which leads me to believe Colin Kaepernick should be in the NFL regardless of he kneels, stands, sits or does jumping jacks during the anthem. Hoyer is a terrible quarterback, and it doesn't help that he is surrounded by one, maybe two, talented players. Running back Carlos Hyde has had a nice start to the season, accumulating 253 rushing yards and two touchdowns, but the receiving corps leaves much to be desired.
The Cardinals have a pair of solid shut-down corners, so it's going to be on Hoyer to make sound decisions with the football and play turnover free (I doubt he can do this) or continuously hand the ball off to Hyde against an eight-man box. Neither of these scenarios make me want to trust the Niners in this spot.
By utilizing a six-point teaser, we can get the Cardinals, who will be desperate for a win to keep pace in the division, at less than a field goal. Sign me up.
The second leg of my six-point two-team teaser is going to be the Oakland Raiders. Just like Monday night's game, I watched every single snap of Oakland's Sunday night debacle in Washington. I'd like to make an excuse for them as to why they were as poor as they were, but I have nothing. Which is why I am expecting a bounce-back performance in this crucial AFC West matchup.
If I had to choose either the Raiders' or Broncos' offense to drive 80 yards down the field and score a touchdown to save mankind, I would certainly trust the Raiders with that task. They simply have the better QB and more offensive talent than the Broncos do. I understand that the Broncos defense is as good as it gets, but they just allowed the Buffalo Bills (of all teams) to put up 26 points. I see no reason why the Raiders can't do the same. I also know that Denver has a solid home-field advantage, but the Raiders are used to playing there and thus won't be fazed by the moment.
Aside from the blowout of the Cowboys in Week 2, the Broncos don't blow anyone out, which is why taking as many points as you can get in this matchup is the safest play.
Alternative Options: Miami +2.5 to Miami +8.5 or New York Giants +2.5 to +8.5.
The reason I am telling you to avoid using these two teams is simple. Jay Cutler on the road and the Giants' offensive (literally) line. If you think that Cutler will miraculously become good again and out-gun Drew Brees in a game that features two bad defenses, I will gladly take that bet. Furthermore, if you think the Bucs are as bad as they looked last week against Minnesota and that the Giants' season isn't already over, I will also take that bet. Despite falling inside the BST parameters, I would recommend avoiding these two options.
Doc's Sports has been successfully handicapping the NFL for years - more than four decades in the business - and wants to give new clients a chance to try our service for free. Click here for the hassle-free sign up and get $60 in free NFL picks today . Also, get three handicappers for the price of one when you sign up for a full-season football package! Click Here for details . Get free NFL betting picks weekly on Doc's Sports free football picks page .