Expert NFL Picks: Most Interception Props Odds and Betting Predictions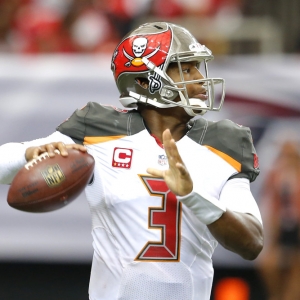 There are all sorts of statistical categories that any quarterback would love to lead the league in. Interceptions, of course, are not one of them. There is no way to spin an interception into a positive in any way. It stalls your offense and makes your defense work too hard. You are just begging your opponent to beat you when you throw a lot of interceptions. So, obviously we need to find a way to make some money by figuring out who will be the unfortunate guy to top this category. The odds from BetOnline suggest that it's a crowded race:
Free $60 in Member NFL Picks No Obligation Click Here
Blake Bortles, Jacksonville (+550): I don't actually think Bortles deserves to be among the favorites here. For starters, both he and his team were truly awful last year, and he still had only 16 interceptions, which was five off the league lead. The year before he did lead the league, but with 18, which wouldn't have been enough to lead last year. The Jaguars made a desperately-needed coaching change last year, and new coach Doug Marrone has now had his chance to influence this team. He has a solid offensive staff to work with Bortles, and new QB coach Scott Milanovich could be an excellent fit. Bortles has been disappointing, but the raw tools are there, and he has plenty of talent to work with around him - including Leonard Fournette, who adds a comforting new dimension to the offense. And the team wasn't as bad as their record last year indicated and should be much improved this year as a result. If Bortles is ever going to take a step forward then this is the time, and if the team were more worried about him not being capable of doing so then they would have someone other than Chad Henne backing him up. I'm not saying Bortles will turn into Brady all of a sudden, but it feels like there is a decent chance that he takes a step forward this year. I don't like this play
Philip Rivers, L.A. Chargers (+550): Last year was the second time Rivers has led the league in interceptions in three years, and he is often right in the mix. It's who he is - he throws for a lot of yards, completes a lot of passes, and throws a healthy number of touchdowns, but it comes at the cost of more mistakes than is ideal. Old dogs don't learn new tricks, and Rivers is 35. It's hard to imagine him suddenly protecting the ball more. He's a solid bet at this price.
Eli Manning, New York Giants (+550): Manning is certainly capable of topping this category - he has done it three times, including in 2013 when he absolutely ran away from the crowd with 27 picks. He has been much better since then, and he doesn't seem in threat of blowing up like that again. There is a major factor to consider, though - he will turn 37 at the end of this year. He's not getting any younger, and he could easily hit a wall. His numbers have already shown signs of decline - his yards per attempt fell below the key number of seven last season, and his TD production dipped significantly from the two prior years. If he has another step back then he could be right in the mix. I like this bet not quite as much as Rivers, but I do more than Bortles.
Jameis Winston, Tampa Bay (+550): Winston climbed from 15 to 18 interceptions in his first two seasons, so it's not surprising he is on this list. I'm not convinced that he belongs, though. In his third year he should be poised for a step forward as things slow down and he gains even more comfort. It's possible that Winston settles into a Rivers style of performance - so much done well, but at a cost. I'm not willing to accept that that is who he is at this point, though, so I don't see any significant value in this bet just yet. Or maybe I'm just too much of an optimist.
Jared Goff, L.A. Rams (+600): Now here's a serious contender at the right place. In limited action last year he had seven interceptions in seven games. He had two picks in three different games, too, which suggests that he does things that opposing teams can exploit consistently. He is going to face a lot of pressure as a starter this year, and he is going to be given plenty of opportunities to keep playing - whether he earns it or not. I'm not convinced that he is either ready or very good, and that will certainly help in this category. He's a solid bet.
Drew Brees, New Orleans (+1600): When you throw for 5,000 yards and a pile of touchdowns every year you are going to throw some interceptions. It's inevitable. Brees led the league in 2012 and has been near the lead several other times. He also turns 39 during the playoffs this year, so age could be a factor. He's not the favorite, but the price reflects that. I see nice value here.
Doc's Sports is offering new clients free NFL picks from any handicapper on our Advisory Board. This special offer does not require a credit card, and you will never have to deal with a salesman. Click here to get your free $60 NFL picks credit today . Also, get three handicappers for the price of one when you sign up for a full-season football package! Click Here for details . Get free NFL betting picks weekly on Doc's Sports free football picks page .
Read more articles by Trevor Whenham