Jimmy Garoppolo Trade Impact for San Francisco 49ers and New England Patriots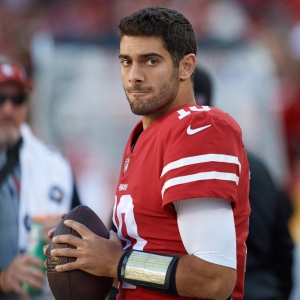 After all the talk over the last year or two, we finally have had a Jimmy Garoppolo trade. Two things came to mind. First, in a league so devoid of passable QB talent right now it seems like the Niners got a serious bargain for a well-groomed guy with some playing experience and the world's best mentor. You aren't going to pick a guy with that upside and relatively low risk in the second round very often, so San Francisco has to be happy. Second, I love having John Lynch in the league. Not only is the new GM doing a surprisingly good job, but by letting it be known publicly that he first tried to trade for Tom Brady before settling for his backup he proves that he is a rare bright light of excitement in a league that increasingly lacks it. And third, it showed the shortcomings of the salary cap system. New England has a 40-year-old QB, so they know they will need a new guy sooner or later. They can't afford or justify paying their backup more than their starter when their starter is a living legend, though, and that is what they would likely have had to do if Garoppolo forced the issue because they would have had to franchise him to keep him around. So, by doing things right and grooming a backup better than many team's starter they are ultimately punished. We don't need to feel sorry for the Patriots, though.
Free $60 in Member MLB Picks No Obligation Click Here
What is interesting to look here is what this deal means for bettors. Here are five factors to consider:
New system: Garoppolo only knows the New England way of doing things, and there isn't any cross-pollination here. Kyle Shanahan has never spent time under the umbrella of Belichick. He is his own offensive coordinator, and none of his offensive staff comes from New England, either. This system will look and feel quite different than what he is used to, and we have no way of knowing how well he can adapt to that because we have never seen him do it before. I think Garoppolo is more talented than Brock Osweiler, but remember how good he looked before he was forced to learn a new system - and he had an offseason to adapt.
Shanahan: Garoppolo has been playing for the best coach in football - by a wide margin. Now he is moving on to play for the most promising young coach in the league. There are obvious growing pains - the team wouldn't be winless if there weren't. And hopefully sooner rather than later he will realize that a coach who is his own coordinator has an idiot in charge of his offense. But the upside is huge for Shanahan, and there are certainly many worse places Garoppolo could have wound up - like if the Browns weren't totally incompetent and had traded for him.
Public perception: Like any backup quarterback, the public likely has an overly generous view of his capabilities and immediate potential. Remember when Matt Cassel was going to be the next Joe Montana? Garoppolo is talented, and he's well schooled and has played well when needed, but he hasn't even thrown 100 career passes yet. He has five career touchdown passes - Deshaun Watson already has that many in a single game. I'm optimistic and like the spot he is in, but we can't get ahead of ourselves and assume he is going to be anything before he proves what he is. If he was ready to jump out of the gate and be the savior, he wouldn't be backing up a team with the QB situation the Niners have.
Schedule: Starting against the Giants this week would have made sense in a lot of ways - the Giants are at least as hopeless as the Niners and more so in many ways. Following that game, though, the Niners have a bye, so it makes sense that they wait and give him another week to get ready. He'll be starting after the Niners have been eliminated from the playoffs, which eases the pressure a little - though this team was out of the playoffs before the season started. The problem, though, is that the last six games don't offer any real stinkers - every team that Garoppolo could face is at least a little bit competitive. Garoppolo needs reps, and playing him is absolutely the right move, but this may not be the schedule to truly see what he is capable of. Again, patience is going to be the key here.
Patriots backup: As interesting as Garoppolo in San Francisco is, the reality of Brian Hoyer in New England is just as interesting. Hoyer is no superstar, but he is very competent, he knows the New England system, and he has plenty of experience. If Brady were to be hurt the chances of an overreaction from the public would be very high. Hoyer could offer is some value if called upon.
Ready to bet on some NFL winners this year? Doc's Sports wants to help you get started by giving you $60 worth of picks completely free. No obligation. No salespeople to deal with. You don't even need to give us a credit card number. Click here to get started and get your free picks in minutes . Also, get three handicappers for the price of one when you sign up for a full-season football package! Click Here for details . Get free NFL betting picks weekly on Doc's Sports free football picks page .
Read more articles by Trevor Whenham