NFL Office Pool Picks Week 14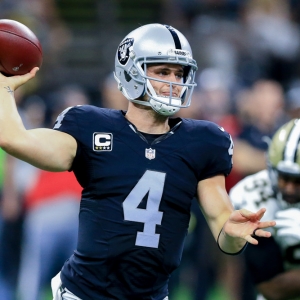 Last week was a very interesting week of the NFL season. Aside perhaps from Seattle dominating Philadelphia like they did, there wasn't a result on the schedule that was truly surprising. There were games that you could have gone either way with, but for the first time in a long time none that you looked at and thought that there was no way you could have gotten that right. That's a good feeling, and hopefully one that repeats itself. This week we are going heavily on the road teams, so here's hoping that the hotels are comfortable and the flights are smooth:
Free $60 in Member MLB Picks No Obligation Click Here
New Orleans at Atlanta: I have refused to believe in the Falcons at any point this year. It looked like that wasn't going to go particularly well for me for a couple of weeks, but they have remembered who they are again. They are going to be in trouble here. New Orleans continues to surprise and will have far more than Atlanta can handle. Take the Saints.
Indianapolis at Buffalo: It has been a very rocky year for both of these teams, and they are facing long looks in the mirror over the winter for both. Buffalo has been somewhat better, though, and has somewhat less work to do. And they are at home. Take the Bills.
Chicago at Cincinnati: That Monday Night game the Bengals played against the Steelers was disgusting - the hardest game to watch that I have seen in a long time. Football doesn't need to be that violent to be good. It will be tough for them to bounce back and deal with those injuries on a short break. I don't love Chicago by any means, but I have to gamble. Take the Bears.
Green Bay at Cleveland: Cleveland is still Cleveland, right? They are still terrible at football, right? They still don't have a QB, right? Josh Gordon provided a bit of a spark last week, but that's not enough here - even against a very flawed team right now. Take the Packers.
Oakland at Kansas City: This is a battle for at least a share of first place in the most pathetic division race there is this year. Kansas City is a freaking disaster right now, and Oakland is on a bit of a run. The Raiders get the nod, but not a comfortable one because they are on the road and are far from great right now.
Dallas at New York Giants: The Giants cleaned house, and Eli gets his starting job back. But it likely won't matter - or at least we can't trust that it will. I struggle to get a finger on the pulse of this Dallas team - they were dominant last time out while looking awful the time before - but they have more than enough tools to dominate here. Take the Cowboys.
Detroit at Tampa Bay: I've long given up trying to figure out either team this year. I had a lot of faith in both of them heading into the season, and I obviously shouldn't have. There are lots of reasons to hate both of these teams right now, but we can't pick two losers. Take the Bucs solely because they are at home.
Minnesota at Carolina: Minnesota got a break when the Eagles lost last week to give up their one-game lead in the conference. Now they have a chance to earn another statement win to prove that they are legitimately deserving of the top seed - or at least the bye. Take the Vikings.
San Francisco at Houston: Tom Savage hasn't been quite as bad lately as he was when he first became the starter. But he's still Tom Savage, and I am feeling like gambling as a result. Jimmy Garoppolo was mostly strong in his first start, and the team will build off that confidence. Take the Niners.
New York Jets at Denver: What a horrible game. The Jets are completely uninspiring and a long way from good. But Denver has lost eight in a row and is totally self-destructing. This game should be totally unwatchable, but for the eighth time already this week we'll go with the road team. Take the Jets.
Tennessee at Arizona: Tennessee is leading their division while having a -16 point differential. That perfectly explains where they are at as a team. Flawed, and unable to do what they should be doing. Yet they are still in better shape - by far - than Arizona right now. Another road team. Take the Titans.
Washington at L.A. Chargers: The Chargers don't have fans, but they are asserting themselves as the best team in the AFC West - for what that's worth - and are on a roll with three straight wins. Washington is troubled, and they just can't protect their QB. Maybe their approach is to kill Kirk Cousins so they have an excuse to avoid paying him. Take the Chargers.
Philadelphia at L.A. Rams: This is an incredibly interesting game - not just the best of the week but the best in several weeks. The Eagles suffered a setback against Seattle, and now they face a bigger test. There are countless storylines here, but the battle of top QBs of last year's draft is far from the least compelling. This could go any way and it wouldn't be a surprise, but I'll take the Rams by a narrow margin.
Seattle at Jacksonville: Here's another interesting one. Seattle had a statement win last week to all but lock down a playoff spot, but now they need to keep winning to try to earn more than just a ticket to the dance. Jacksonville's defense is stout, though, and will give Seattle issues. Take the Jaguars.
Baltimore at Pittsburgh: Pittsburgh got beaten up in that Monday night game we have already discussed, but I still can't use that as an excuse to take the Ravens. The gap between these two teams is just too big. Take the Steelers.
New England at Miami: New England . By a whole lot. Obviously. Not even a contest - even with Gronk suspended.
One of the many benefits Doc's Sports offers is a wide range of NFL handicappers to choose from. How about $60 worth of free picks so you can try out those handicappers and find what works for you? No obligation. Just click here to sign up . Also, get three handicappers for the price of one when you sign up for a full-season football package! Click Here for details . Get free NFL betting picks weekly on Doc's Sports free football picks page .
Read more articles by Trevor Whenham
---
Most Recent NFL Office Pool Pick Articles