2017 Oakland Raiders Home Schedule Odds with Expert Picks and Predictions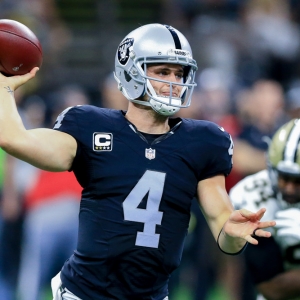 Could this be the final season for the Raiders in Oakland?
Back in March, the NFL owners voted 31-1 - only Miami's Stephen Ross voted against - to allow the Raiders to move to Las Vegas even though that's a much smaller market. However, that new stadium in Sin City won't be ready for the Raiders until 2020. (Talk about the best NFL road trip for any fan base playing the Raiders!)
Thus owner Mark Davis is hoping to keep his team in Oakland through the 2019 season. That might not be his call. Needless to say, many Raiders fans in the city are ticked off and so is the Oakland-Alameda County Coliseum Authority, which runs the dump of a stadium the Raiders plan to play in over the next three seasons. More than one city council member has said he does not want the team to play in Oakland while it builds its new stadium in Las Vegas. That would be awkward. The Raiders already have sent emails to citizens of Las Vegas: "Dear Season Ticket Member, Continue your place in Raiders history. Be the first to secure your refundable $100 deposit for the Las Vegas Stadium."
The team has lease options in Oakland for this year and next, but Davis - who will pay $3 million per year in rent -- is on record saying his team won't stay if it isn't being supported. So it's not impossible that if there's a ton of bad will this year that the Raiders could move to, say, San Antonio for 2018 & 19. That city was hoping to lure the Raiders as well and has an open building in the Alamodome. I'm not predicting this, I'm just saying it's possible.
If the Raiders were terrible, then there likely would be thousands of empty seats at their games. But on paper, they look like the primary challenger to New England in the AFC (all due respect to Pittsburgh). Does any team in the league have a better mix of a franchise quarterback (Derek Carr) and franchise defensive player (Khalil Mack)? I don't think so.
The team got Carr some potential receiving help this offseason in WR Cordarrelle Patterson and tight end Jared Cook. I'm not sold on the running game, though, after losing Latavius Murray to Minnesota. How much will Oakland native Marshawn Lynch have left in the tank at age 31? If he's 2014 Lynch with Seattle, the Raiders can get to the Super Bowl (I'm aware some advanced stats said the 2016 Raiders were very overrated). If he's 2015 Lynch, I don't think so. Maybe the year off rejuvenates him. It sure did for Adrian Peterson in 2015 after he missed all but one game the previous year.
Oakland was 6-2 at home last season, 4-4 against the spread and 6-2 "over/under." The Raiders host (including one home game in Mexico City) four playoff teams in 2017: Kansas City, New England, NY Giants and Dallas. It's much harder than their road slate. Overall, Oakland has the fourth-toughest schedule in the NFL with an opponents' combined 2016 winning percentage of .564. Good news: it's still third-easiest in the division. BetOnline lists the Raiders' win total at 9.5, with the under a -125 favorite. I projected a 5-3 road mark and will go the same at home so go over that total. Yes, this club could be better than last year but finish with a worse record. Odds listed for the home team.
Sept. 17 vs. Jets (-8.5): Oakland off a Week 1 trip to Tennessee with a dreaded 1 p.m. ET start. This should be a cakewalk, and it better be a win with two tough road games up next. Carr has six career touchdowns passes and no interceptions in two matchups vs. the Jets. Oakland won the last meeting 34-20 at home in 2015. Key NFL betting trend: Raiders are 6-4 ATS in past 10 as home favorite of at least 7.5 points (last happened in 2010).
Oct. 8 vs. Ravens (-4.5): Raiders are in Denver the previous Sunday. These teams have played two down-to-the wire games the past two years, both won by the Raiders. It was 28-27 in Week 4 in Baltimore last year. Carr had four TD passes, the last to Michael Crabtree with 2:12 left. He caught three of those scoring passes overall. Oakland had only 261 yards. Key betting trend: Raiders 6-3-1 ATS in past 10 at home vs. AFC North.
Oct. 15 vs. Chargers (-8): The Raiders have swept the season series the past two years for the time since the 2001-02 seasons. It was 34-31 at home in Week 5 last year. Carr threw a go-ahead 21-yard touchdown pass to Crabtree on a fourth-and-2 late in the third quarter. The Raiders were outgained 351-300 but forced four turnovers. Key betting trend: Raiders 2-8 ATS in past 10 as home favorite in series.
Oct. 19 vs. Chiefs (-3): Thursday night. Coach Jack Del Rio is 0-4 vs. Kansas City since taking over in Oakland. The Chiefs won 26-10 in the Bay Area in Week 6 last year. Car threw for 225 yards with a TD and a pick as the Raiders turned it over twice while not forcing a giveaway and allowing the Chiefs 406 yards. Key betting trend: Raiders 3-7 ATS in past 10 as home favorite in series (last in 2012).
Nov. 19 vs. Patriots (+1.5): Mexico City. Oakland out of its bye, and this clearly could have home-field playoff implications. This is probably the one game on the schedule the Raiders wish they did have at home. Could also be a changing-of-the-guard type game. The Pats have won four in a row in this series, last 16-9 in 2014. Key betting trend: Raiders 5-5 ATS in past 10 after bye week (any location).
Nov. 26 vs. Broncos (-3): Interesting tidbit -- Mack has earned AFC Defensive Player of the Week honors two of the past three times he's played the Broncos. Oakland beat visiting Denver 30-20 in Week 9 a season ago. Murray ran for 114 yards and three touchdowns. Mack had two sacks, a forced fumble and a fumble recovery. Key trend: Raiders 5-5 ATS in past 10 as home favorite in series.
Dec. 3 vs. Giants (-3): This will be the Giants' final trip to Oakland. The Raiders haven't won in this series since 2001. Right now, Raiders fans, if I said Carr would have Eli Manning's regular-season career (so not counting those two Super Bowl rings), would you take it? Key betting trend: Raiders 3-7 ATS in past 10 at home vs. NFC East.
Dec. 17 vs. Cowboys (pick'em): Sunday night. Raiders off a Week 14 trip to Kansas City. Assuming both teams are good, I believe this will be the highest-rated and most-wagered regular-season game of 2017. These two franchises are incredibly popular. No way NBC is flexing out of this one. Again, noting what I said above, this has the potential to be the Raiders' final home game in Oakland. Key betting trend: Raiders have been in a pick'em game six times on record at any location and are 4-2 ATS (were last year at Bucs and won 30-24).
This is simple. We want to give you $60 worth of free NFL picks - the same ones that our member's get. No strings attached. No obligations. Just a simple form to fill out, and you are all set. Click here to get started today . Also, get three handicappers for the price of one when you sign up for a full-season football package! Click Here for details . Get free NFL betting picks weekly on Doc's Sports free football picks page .
Read more articles by Alan Matthews