Cleveland Browns Need to Draft Barkley With No. 1 Pick in NFL Draft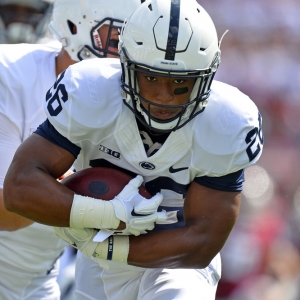 "Never underestimate the predictability of stupidity."
- Bullet Tooth Tony, Snatch
The Cleveland Browns have been the most fascinating team in football so far this offseason. They have made several high-profile trades and signings. And with two of the top four picks in the NFL Draft they are in a position to restructure and redirect what has been one of the most incompetent franchises in sports.
However, you can just see it coming. Like Wile E. Coyote heading for the cliff, you just know that the Browns are going to screw this up.
The first round of the 2018 NFL Draft takes place on Thursday, April 26. The second and third rounds will be held on Friday, and the remainder of the selections will be made on Saturday, April 28. This year's draft is being held at AT&T Stadium in Arlington, Texas, the home of the Cowboys.
The Browns are coming off one of the worst seasons in NFL history, a humiliating 0-16 campaign that capped one of the worst two-year stretches in sports history. In fact, the Browns are just 4-44 over the last three years and have been outscored by an average of 10.8 points per game!
However, due to several shockingly competent maneuvers, the Browns currently find themselves in a position where they can be eager and excited for the future rather than simply stuck lamenting their shockingly horrible recent past.
Cleveland has restocked its offense with the additions of quarterback Tyrod Taylor, running back Carlos Hyde and receiver Jarvis Landry. They also resigned wideout Josh Gordon and added offensive lineman Donald Stephenson (to offset the loss of retired tackle Joe Thomas). Throw in some tinkering on defense and with their overall roster depth and the Browns get thumbs up for their offseason.
And now they have two selections in the first round, including the No. 1 overall pick, and two picks in the second round, giving them four of the top 35 selections in this year's draft. Cleveland is on the verge of a massive roster overhaul that could vault them into - dare I say it - potential playoff competition as quickly as next season.
In my opinion, Cleveland's draft strategy should be obvious. They should draft Saquon Barkley with the No. 1 overall pick. Yes, they have Carlos Hyde. But Barkley is a physical freak and one of the best running back prospects to enter the draft this century. Barkley is an updated Adrian Peterson. And if you have a chance to draft Adrian Peterson you take it and don't look back.
With Cleveland's second selection, they could draft a quarterback. But I think that a better solution would be to take the best offensive lineman available. Who are the two best players that the Browns have drafted in the first round since their return to Cleveland in 1999? That would be offensive tackle Joe Thomas and center Alex Mack. The bust rate for Top 10 offensive linemen is much lower than for quarterbacks. And with that youth injection the overhaul of their offense would be complete.
Grab Barkley and either Notre Dame guard Quenton Nelson or Irish tackle Mike McGlinchey in the first round. Then use the two second round picks on the defensive side of the ball. Done and done.
There are some other paths that Cleveland could take. They could try to trade their second No. 1 pick for more selections in next year's draft. That would be savvy. Also, they could grab Barkley and then take Roquan Smith, the best linebacker in the draft, at No. 4 overall and inject some more talent into their young defense. Or they could follow the path of teams like the Cowboys and Eagles, investing heavily in the offensive line by taking both Nelson and McGlinchey.
Any of these scenarios would be major wins for the Browns and would have them ready to compete for the postseason next year.
But nope -- the Browns will take a quarterback. Because they are idiots.
I want to reiterate: the Browns already have a Pro Bowler under center! Tyrod Taylor made the Pro Bowl in 2015. And despite the institutional incompetence of the Buffalo Bills, Taylor was able to drag that team to playoffs for the first time in nearly 20 years this January. Now he could do the same thing with another of the NFL's other perpetual losers.
Taylor is a smart, athletic, experienced quarterback that doesn't turn the ball over. He has a career passer rating of 91.2 and has made the Pro Bowl. He can make plays with his arm and his legs. And, most importantly, he has a team-friendly contract that will allow them to spend money elsewhere.
Cleveland has it in its mind that they have to use this opportunity to draft a potential "franchise quarterback". Roughly two of every three first-round quarterbacks taken in the first round over the last 20 years have been massive busts. And the Browns themselves have taken four QBs in the first round sine 1999: Tim Couch, Brady Quinn, Brandon Weeden and Johnny Manziel.
So why should the Browns court failure again? Especially when there is no clear-cut, sure-thing consensus No. 1 quarterback on the board?
I will give the Browns credit for this: if they do draft a quarterback they are at least smart enough to let him sit and learn. I am consistently dumbfounded by the prevailing NFL attitude toward first-round quarterbacks, which suggests that they need to play right away. That's absurd for a variety of reasons, which I will get into in another article. But at the very least Cleveland seems intent on drafting someone and letting them learn as Taylor's apprentice for at least a year or two. That is a path, by the way, that Tom Brady, Drew Brees, Aaron Rodgers and Philip Rivers all followed, just to name a few.
But there is also a reason that the first-round draft picks that have had the most success over the last 20 years - the Eli Mannings, the Ben Roethlisbergers, the Aaron Rodgers, etc. - have done so well. And that reason is that the Browns didn't pick them! I'm only half-kidding. Those players were all drafted to be franchise players. But they were also drafted into competent franchises with winning track records and smart, capable, talented people around them in the huddle and in the front office.
Over that same span the list of first-round failures - the Joey Harringtons, the Jason Campbells, the JaMarcus Russells and the Mark Sanchezs - were a group of guys that never really had a chance to succeed. Their careers were over before they began. They were in over their heads as rookies. And they were thrown into situations with terrible teammates, horrible coaches and unstable front offices and asked to compensate for all of their franchises' shortcomings. Needless to say, it never worked. Because the idea of a quarterback-savior is a myth.
Look, the Browns have spent the last two seasons being historically bad. And they've done so all in the service of clearing the decks and setting their franchise up on a solid foundation for the future. It has been a smart, well-executed plan to this point. And with a couple hits in this draft and the next, the Browns, dare I say, have actually opened themselves up a solid three-year window to compete for the playoffs.
In today's NFL a three-year playoff window is about all anyone can hope for. And when you are the Browns and you have been to the postseason just once in the last two decades then a three-year window must look like the Louvre.
Yet, in the end the Browns are going to follow the herd and succumb to traditional, played-out NFL "wisdom". They are going to forgo drafting the best player available. They are going to forgo the tried and true method of building a team in the trenches. They are going to blow this golden opportunity that they have set themselves. They are going to make the same mistake that loser franchises have been making for decades, scratching at lottery tickets and hoping to hit on the mythical quarterback-savior.
And several years from now when it doesn't work out they will be right back in this spot - picking No. 1 overall after another putrid season - and wondering how it all went wrong.
But that's why they are the Browns.
Doc's Sports is offering $60 worth of member's picks absolutely free - no obligation, no sales people - you don't even have to enter credit card information. You can use this $60 credit any way you please for any handicapper and any sport on Doc's Sports list of expert sports handicappers. Get $60 worth of premium members' picks free .
Read more articles by Robert Ferringo