NFL Power Rankings Preseason Edition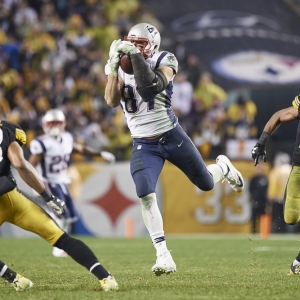 Hope is for the tourists and coke fiends.
I don't deal in Hope. I deal in information. Information always has been and always will be hard currency in the gambling game. In this Dark Era of Fake News, that currency can be hard to find, and people can find themselves vacillating between an information overload and information void. No one knows what is going on. No one knows what the Rules are anymore. And no one knows what dangers are lurking around the corner of the next snap.
Yes, as we prepare for another six-month long gambling voyage, Hope is in short supply. As it should be. Any veneer of public decency has been pulled back, and in 2018 it is very clearly every man for himself. But rather than lament these inescapable facts, you need to embrace them. And embrace the instincts that will be required not to survive another brutal and brilliant NFL betting season, but to dominate it.
The tribes have assembled. The war drums are beating. Synchronized pain and the Violence of our national pastime have once again been unleashed upon the populace. Our great warriors have begun the ritual of another 21-week death march toward Super Sunday. And we, as willing and accepting participants, are ready to wage war on the ruthless gods of Football and Gambling.
You don't need to pick a side. You are your own team. The universe is indifferent to your suffering. And in this trial by fire there is only one goal: complete and total victory in the form of cold, hard cash and the unyielding certainty and power that comes from winning.
Hope is for the weak. We are not here to hope that things work out. We are here to inflict our will upon The Fates and to emerge from the darkness with tales of victory and the scars of accomplishment. I am here to help.
We are here for glory. And glory we shall have.
Below are my Preseason NFL Power Rankings. This is a brief sketch of how I see the teams heading into the beginning of the season. Once the regular season begins I'll release these rankings every Tuesday until the end of the season, and this is your go-to place for an NFL betting perspective on the league landscape.
I have included the Las Vegas season win total for each team. And next week I will be providing free football picks on those win totals for every squad.
(And if you are interested in predictions on college football season win totals - CLICK HERE .)
Here is Doc's Sports NFL Preseason Power Rankings:
1. New England Patriots (11.5) - Is it me or are the Patriots undervalued coming into the season? A lot of people are selling this team based on an offseason of "turmoil". But haven't the Patriots had to deal with "turmoil" every offseason for the past few years? Do they still have Bill Belichick? Still have Tom Brady? Still play in the AFC East? Then they are going to the playoffs and likely dominating the AFC.
2. Minnesota Vikings (10.5) - Anyone that doesn't think Kirk Cousins is a major upgrade at quarterback is nuts. He will improve their vertical passing game immensely, which will in turn help boost the rushing game into the Top 5. I'll be shocked if the Vikings don't win their division this year.
3. Philadelphia Eagles (10.5) - Over the course of the last 20 years the defending NFC champions posted a better record the following season just four times. The 16 teams that posted the same or worse record saw their win total drop by an average of 4.2 wins during that time. And only once (2013-14 Seahawks) has there been a repeat NFC champ.
4. Los Angeles Rams (10.5) - You should always be wary of betting on the team that "won the offseason". That so rarely works out. The Rams went just 3-3 last year against playoff teams. And two of those wins came against the Jaguars and the Titans. The Rams definitely won't sneak up on anyone this year.
5. Atlanta Falcons (9.5) - The people around this team are all saying the right things about offensive coordinator Steve Sarkisian. Then the Falcons go and get shut out in their preseason opener. Honestly, when was the last time this guy was the architect of a truly operational offense?
6. Pittsburgh Steelers (10.5) - A giant red flag for this team is that they surpassed their Pythagorean Win Total by 2.5 games last year, meaning they were closer to a 10-win team than a 13-win team. Their insane 8-2 regular-season record in games decided by six points or less - and 5-1 mark in games decided by three points or less - is unsustainable.
7. Green Bay Packers (9.5) - You would think this franchise would have a shred of self-reflection after being exposed last year. Aaron Rodgers has absolutely carried this team for a decade, and they still just haven't given him anything to work with. Their skill players and the defense are both still below average, so once again this team will only go as far as Rodgers can carry them.
8. Kansas City Chiefs (8.5) - Since going 5-11 in his rookie season, coach Andy Reid has won 62 percent of his games (178-109). He's had only one losing season in the last 18 years. He's coached Brett Favre, Donovan McNabb and Alex Smith. So if Reid thinks going with Pat Mahomes is the right call then I am going to give him the benefit of the doubt.
9. New Orleans Saints (9.5) - I think that this season win total is a little high for the Saints. They have a favorable schedule to open the season. And I think that will lead to them being overvalued when the slate picks up in late October. But they have minimal depth, and any injuries can send this team sideways in a hurry.
10. Baltimore Ravens (8.5) - I love the sense of urgency that I feel from this team. John Harbaugh is coaching for his job. Joe Flacco, who is finally healthy, is playing for his job. And the entire organization is trying to get back to the postseason in Ozzie Newsome's final year.
11. Houston Texans (8.5) - This ranking may seem high. And it's not just about the return of Deshaun Watson (which is huge). There are a ton of statistical indicators that suggest a bounce-back season from Houston. And if they can survive playing three of their first four games on the road then these guys can do some damage.
12. Carolina Panthers (8.5) - This is too high for the Panthers. I am not as bully on this team as the ranking suggests. But they play only three games against 2017 playoff teams in the first 13 weeks of the season.
13. Jacksonville Jaguars (9.5) - This ranking is based solely out of respect for Jacksonville's defense, which, if it avoids the injury bug, should again be a Top 10 unit. The Jaguars are also rock solid on the offensive line. But if they don't generate 33 turnovers or a plus-10 turnover differential again this year then this group is extremely vulnerable.
14. Cincinnati Bengals (7.5) - Rag on Marvin Lewis all you want. He's a pretty easy target. But he's never had three straight losing seasons. Injuries and turnovers crippled this group last year. If they can avoid both this season then they have a schedule that sets them up for success. Over a nine-week period in the middle of the season the Bengals play just two road games (with one bye).
15. Washington Redskins (7.5) - All Alex Smith does is win games. That's it. I think I'm a little higher on this team than the market, and I see some sleeper potential. I really wish they hadn't cut Orlando Scandrick, a physical veteran. If they can shake off an early season injury bug then I think the Redskins can be a factor in the East.
16. Dallas Cowboys (8.5) - I see meltdown potential in this team. And while a lot of bobbleheads are predicting playoffs for the Boys, I am leaning more toward a 7-9 or 6-10 debacle. Their defensive back seven is awful. And if they have any injuries along the offensive line then I think their attack will fall apart.
17. Los Angeles Chargers (9.5) - Momentum doesn't carry over from year to year. So just because San Diego finished last season on a 9-3 run doesn't mean they will pick up where they left off. Also, has any team in the league had worse injury luck the past three years? These guys just can't catch a break.
18. Detroit Lions (7.5) - I don't think Matt Patricia has any idea what he is doing. The Bill Belichick coaching tree has produced nothing but rancid fruit. And there is nothing about Patricia that makes me think he'll be any better.
19. Oakland Raiders (8.5) - It is easy to mock Jon Gruden. But there is something to be said for employing an old-school football mindset. Gruden and the front office are thinking short term, bringing in a bunch of veterans this offseason. But when you've been as bad as Oakland has the past 20 years, thinking short term might not be a bad thing.
20. Seattle Seahawks (7.5) - The window for Seattle as a Super Bowl threat is clearly closed. And after six straight winning years I think the Seahawks have the potential to bottom out. Not only is the roster flimsy, but I have zero confidence in OC Brian Schottenheimer, who is on his fifth team in eight years, or DC Ken Norton Jr., who was a joke in Oakland.
21. Denver Broncos (7.5) - Denver has been a model of consistency and one of the premier franchises in the NFL over the course of the past 40 years. Last season was just their seventh losing season since 1976, and they haven't had back-to-back losing years once in that time. But Case Keenum? Seriously? He should help with their disastrous minus-17 turnover differential but not much else.
22. San Francisco 49ers (7.5) - This is going to be one of the more overvalued teams in the NFL this year. They appear to be Everybody's Sleeper Team, much like Tampa Bay and Oakland were last year. Those two teams combined to go just 11-21 SU and 12-20 ATS last year. The Niners are still at least a year away.
23. Tennessee Titans (8.0) - I know Mike Mularkey wasn't a great coach. But I still can't see the logic in firing a guy that led this franchise to back-to-back winning seasons for the first time in a decade and its first playoff win since 2002 and then replacing him with a guy in his first head coaching job at any level. I am a serious Mike Vrabel skeptic, and I think he's in over his head.
24. Indianapolis Colts (7.5) - I know you can't tell much from one preseason game. But Indianapolis looks bound and determined to get the ball out of Andrew Luck's hands as quickly as possible. Not only will that help protect their damaged franchise quarterback, but it should lead to more ball control to help protect their overmatched defense.
25. New York Giants (7.5) - I said two years ago that Eli Manning was done. I still believe that. And I don't feel like he's a good fit in Pat Shurmur and Mike Shula's offensive scheme. The Giants have a brutal opening schedule, so their learning curve is going to be steep. They'll be better than last year. But not by much.
26. New York Jets (6.0) - The Jets massively outplayed their talent level last year. And I think they quietly had a good offseason. The AFC East is still a train wreck. So right now I think the Jets might actually be the second-best team in that division.
27. Miami Dolphins (6.5) - Adam Gase and the Dolphins are looking to play fast - really fast - on offense this season. But all that is going to do is expose their lack of depth on defense. This has also been the second-most penalized team in the NFL this year, so it's just about time to declare that Gase isn't meant to be a head coach.
28. Arizona Cardinals (6.5) - Steve Wilks hiring - one year after Sean McDermott's hiring in Buffalo - makes me think that the Cover-2 is going to be making a comeback. On the surface there's plenty of talent on the roster. But the defense is still adjusting to the new scheme. And once David Johnson gets hurt again this offense is going to have the same issues it did last year.
29. Cleveland Browns (6.0) - I still believe that if the Browns had taken Saquon Barkley and Quenton Nelson - and if they had been able to land Dez Bryant - that this would've been a 10-win team this season. This group is vastly improved. But 1-31 is still 1-31, and they can't move up in the rankings until they, you know, win a game.
30. Tampa Bay Buccaneers (6.5) - I'd like to point out again that I definitively called Jameis Winston a scumbag the day he was drafted and predicted that he would be a bust. This team has enough playmakers to spring an upset or two, but they won't be consistent enough to be a factor in a loaded NFC South.
31. Buffalo Bills (5.5) - It almost doesn't matter who is under center for the Bills. Not that any of these quarterbacks are any good anyway. But with one of the league's worst offensive lines, the Bills will again struggle to move the ball after finishing No. 29 in the league in total offense.
32. Chicago Bears (6.5) - These guys really are building from scratch. They have no receivers. Their offensive line is substandard. Their quarterback is a nobody. And even a strong scheme on the defensive side of the ball can't make up for a lack of talent. It's going to be another long year in the Windy City.
Throughout the season I will have my NFL Power Rankings every Tuesday. My next ones will be released on Tuesday, Sept. 4.
Robert Ferringo has been the top football handicapper in the country the past seven years, earning nearly $28,000 in total football profit. He has also posted seven of nine winning seasons (including back-to-back winning years) and produced 26 of 41 winning football months and an amazing 45 of 70 winning football months over the past decade. Robert has eight of 10 winning NFL preseasons and he is at nearly 60 percent winners over his last 900 totals picks. Also, Robert's proprietary KING College Football Betting System has posted three of five winning seasons. Robert is looking for a third straight winning football year and wants more profit this fall. SIGN UP HERE TODAY AND TAKE ADVANTAGE OF OUR 3-FOR-1 FOOTBALL SPECIALS!
We are offering new clients $60 in free NFL football picks for Robert's picks or any Advisory Board handicapper of your choosing. Get your free NFL football picks now!
Read more articles by Robert Ferringo