NFL Power Rankings Week 4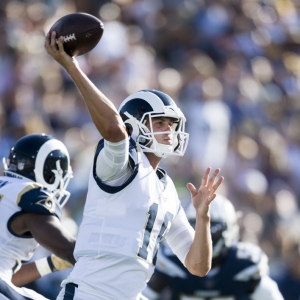 September has flown by, and after this week the first quarter of the NFL season will be in the books. Some teams are flying high, either meeting their lofty preseason expectations (Rams) or blowing their projections out of the water (Dolphins) altogether. But just like you would be foolish to call a game after the first quarter, you would be foolish to think that there aren't dozens of twists and turns, ups and downs, and wins and losses remaining in this season. Stay frosty.
Below are my NFL Power Rankings for Week 4. This is your go-to place for an NFL betting perspective and an overview of the league landscape. Check back for these rankings every Tuesday until the end of the season.
Here is Doc's Sports NFL Power Rankings:
1. Los Angeles Rams (3-0) - The Rams are only 1-4 ATS in their last five Thursday night games, and they are 0-5 ATS in their last five games against the Vikings. The Rams will also be playing without Marcus Peters and Aqib Talib, their two best cornerbacks.
2. Kansas City Chiefs (3-0) - Somehow, despite averaging nearly 40 points per game and winning all three games relatively comfortably, the Chiefs have been outgained in each of their three games this season. That's usually a regression indicator. But I don't know too many people rushing to the window to bet against this team.
3. Minnesota Vikings (2-1) - That was a quintessential letdown/look-ahead spot for the Vikings after their big game with the Packers and before their huge meeting with the Rams. And they got steamrolled in a game that I'm willing to say bounced about 80 percent of people from their eliminator pools.
4. Philadelphia Eagles (2-1) - Carson Wentz was sharp for the Eagles, but Philadelphia's offense still has not been very efficient. They are at 17.3 yards per point, No. 22 in the NFL. Last year they were at 13.0, No. 3 in the league. The Eagles are 10-4 ATS against teams above .500 and they are 13-6 ATS in their last 19 games overall.
5. Jacksonville Jaguars (2-1) - I can't believe that I actually thought that Blake Bortles may have turned a corner to performing like an actual NFL-caliber quarterback. That guy is such a massive loser, and I really can't believe that the Jaguars are going to waste a loaded roster backing this clown. They are an impossible team to bet on or against.
6. Baltimore Ravens (2-1) - I know that Baltimore (32.3 points per game) and Pittsburgh (29.3 points per game) have been ringing up points. But this week's 51.0 total seems absurdly high. The previous high was a 48-point total back in 2014 in a game the Steelers won 43-23.
7. New England Patriots (1-2) - Yes, it is absolutely time to worry about this team. Last Sunday was one of the worst games I've ever seen a Bill Belichick-coached team play. The Patriots have been outgained by a combined 383 yards and outscored by a combined 27 points over the last two weeks.
8. Atlanta Falcons (1-2) - The Falcons just lost their second starting safety for the year with Ricardo Allen going down last Sunday. It is absurd that they wouldn't immediately sign Eric Reid, and if that isn't proof that he is now being blackballed then I don't know what is.
9. Cincinnati Bengals (2-1) - It should be obvious to the Bengals that John Ross is a bust. They kept trying to force him the ball on Sunday and every other time that they did ended in a disaster, with two of Andy Dalton's interceptions coming on forced throws to Ross. He didn't even attempt to compete for either of those balls, and that's a big reason why the Bengals lost in Carolina.
10. Pittsburgh Steelers (1-1-1) - One win doesn't gloss over all the drama and issues that the Steelers have been dealing with. But a Sunday night win over the Ravens would go a long way to building some momentum for this group. The Steelers have won three straight over the Ravens, but they are 0-4 ATS at home against Baltimore and 1-6 ATS in the last seven meetings.
11. New Orleans Saints (2-1) - I know the Saints were able to steal a win from Atlanta last Sunday and should feel good about being 2-1. But their defense is horrendous. Just horrendous. They can't stop anyone, which is going to make it awful hard to lay points with this group. New Orleans is 5-1 ATS in their last six games against the Giants, and they are 15-5 ATS in their last 20 road games.
12. Carolina Panthers (2-1) - I feel like this early-season bye week is coming at the right time for Carolina, which has several banged-up players - especially along the offensive line - that could use the extra time to heal.
13. Green Bay Packers (1-1-1) - These guys probably should be 0-3 right now, yet they are still 10-point home favorites against the Bills. Are they just that overvalued or do the books have that little respect for Buffalo? Green Bay is just 2-5 ATS at home and they are just 1-5 ATS in their last six games overall.
14. Denver Broncos (2-1) - The Broncos are 0-3 ATS in their three regular-season games and, including the preseason, they are 2-7 ATS in their last nine games dating back to last season. The Broncos have lost five straight games to the Chiefs, both SU and ATS, and I don't know that this is the time for them to snap that streak.
15. Tampa Bay Buccaneers (2-1) - I have said it several times before but will say it again so that the record is very clear: I have no idea how Chris Conte still has a job in the NFL. He is one of the league's worst players, at any position, and he was embarrassed for about the 253rd time on Monday night. The guy is a loser.
16. Washington Redskins (2-1) - Adrian Peterson leads the league in yards after contact (175) and has been trucking people in the running game this year. If Washington's offensive line gets going - they have been below average to this point despite a lot of talent - then this offense could really take off.
17. Miami Dolphins (3-0) - There is still a lot of room on this bandwagon. And I actually think that this team is going to be a moneymaker all season long. However, their 21.8 defensive yards per point, which is second in the NFL behind the Rams, is unsustainable. The visitor in this Patriots series is 1-11 ATS and Miami is 0-6 ATS in its last six trips to Foxboro.
18. Chicago Bears (2-1) - That was an uninspired effort from the Bears on Sunday at Arizona, and there is no way that I would be in a rush to lay points with this team. They have the benefit of catching the Bucs on a short week. But the Bears lost 29-7 at Tampa Bay last year and 36-10 against the Bucs in 2016.
19. Indianapolis Colts (1-2) - There was some big early money coming in against the Colts this week. The spread on that game plummeted from 3.0 to 1.5 overnight and is still dropping despite the fact that two-thirds of the bets in this game are coming down on Indy. The Colts are 7-3 SU in the last 10 meetings and they are 30-11 ATS in their last 41 games against a team that is below .500.
20. Seattle Seahawks (1-2) - It was a must-win game for the Seahawks on Sunday, and they got what they needed. But I am still not high on this team at all, and I have no interest in laying points on the road with them. Seattle is just 2-6 ATS in its last eight divisional games. Seattle is 5-0 ATS in their last six trips to Arizona.
21. Tennessee Titans (2-1) - Much like the Houston game, the Titans beat the Jaguars by simply being slightly more competent than their opponent. The Titans offense was awful. And I give no credit to their defense because Blake Bortles was missing wide-open receivers all game long. The Titans are just 18-40 ATS in their last 58 games after a win.
22. Cleveland Browns (1-1-1) - I know that Baker Mayfield is getting all the love right now. And deservedly so, he looked great on Thursday night. But how about Denzel Ward? This rookie has been one of the best defensive players in football through three games and has singlehandedly accounted for four turnovers. He is balling out.
23. Los Angeles Chargers (1-2) - I said it clearly this preseason: I never understood any of the hype surrounding this team . They have shown me absolutely nothing through three weeks, and I still think this is one of the most overrated and overvalued teams in the NFL. San Diego is a horrific 9-21 ATS in their last 30 home games.
24. San Francisco 49ers (1-2) - C.J. Beathard is going to be a complete and total debacle. This guy is not even close to being a competent NFL-caliber quarterback, even in Mike Shanahan's quarterback-friendly offense. I'll be stunned if he turns the ball over fewer than two times against the Chargers on Sunday.
25. Dallas Cowboys (1-2) - People are piling on Dak Prescott right now. But I don't think enough attention is being paid to the fact that this is one of the worst rosters in the NFL. They have one of the five worst collections of receivers, secondary players and linebackers in the league. You can't be that bad at that many position groups and still expect to compete.
26. Detroit Lions (1-2) - I feel like wild and wacky things always seem to happen when the Lions and Cowboys meet up. Three of the last four meetings have been decided by four points or less, and the underdog is 5-2 ATS in this series.
27. New York Giants (1-2) - Saquon Barkley is on pace for nearly 1,900 yards from scrimmage and 10 touchdowns. The guy is a beast. And his third-down grab late in the game, elevating over Zach Cunningham to snag the ball and still having the wherewithal to get his feet in bounds, is the type of special play that only elite players can make.
28. New York Jets (1-2) - The Jets looked terrified to have Sam Darnold throw the ball more than five yards down the field against the Browns. And their fears were rationalized on the final two drives when he threw two comical interceptions on the only drives that he was actually looking down the field.
29. Houston Texans (0-3) - Wait, so Deshaun Watson isn't going to win the MVP? The numbers say that Watson played well against the Giants, racking up 385 yards. But anyone that actually watched that game saw him missing throws and exhibiting questionable decision-making. He has a long way to go. The Texans are now 0-8 ATS in their last eight regular-season games.
30. Oakland Raiders (0-3) - Jon Gruden has been outcoached in the second half of all three games thus far, and the Raiders have been outscored 37-3 in the fourth quarter of their three losses. Oakland has outscored its opponents 35-17 in the first half of each game while being outscored 64-17 after halftime.
31. Buffalo Bills (1-2) - Since 2003, teams that were posted as underdogs of 16 points or higher were 0-23 straight up. No NFL underdog of 16 or more had won a game outright in over 40 years and Buffalo's win over the Vikings was the third biggest upset in NFL history.
32. Arizona Cardinals (0-3) - To this point Steve Wilks has done absolutely nothing to make me think he has any idea how to be a head coach in the NFL. I have absolutely no idea what would make this guy think that putting in Josh Rosen - a rookie who has never seen a regular-season snap - on the team's final drive was a good idea. The Cardinals are dead last in the NFL in points, point differential, first downs and third down conversions. And I don't think it will get any better with a rookie starter.
Throughout the season I will have my NFL Power Rankings every Tuesday. My next ones will be released on Tuesday, Oct. 2.
Robert Ferringo has been the top football handicapper in the country the past seven years, earning nearly $28,000 in total football profit. He has also posted seven of nine winning seasons (including back-to-back winning years) and produced 26 of 41 winning football months and an amazing 45 of 70 winning football months over the past decade. Robert has eight of 10 winning NFL preseasons and he is at nearly 60 percent winners over his last 900 totals picks. Also, Robert's proprietary KING College Football Betting System has posted three of five winning seasons. Robert is looking for a third straight winning football year and wants more profit this fall. SIGN UP HERE TODAY AND TAKE ADVANTAGE OF OUR 3-FOR-1 FOOTBALL SPECIALS!
We are offering new clients $60 in free NFL football picks for Robert's picks or any Advisory Board handicapper of your choosing. Get your free NFL football picks now!
Read more articles by Robert Ferringo
---
Most Recent NFL power rankings