NFL Power Rankings Week 5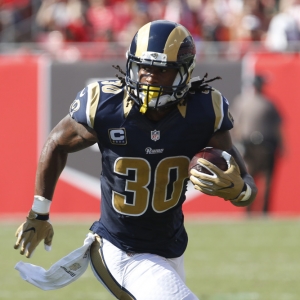 No more ties.
The NFL absolutely has to do something about its overtime rules. Because right now the whole setup is ridiculous. And the constant specter of ties is taking some of the fun out of what should be exciting late-game scenarios.
Three more games went to overtime this week, and several others (Seattle-Arizona, Kansas City-Denver, Cincinnati-Atlanta) were on the verge. Fortunately, there were no ties this week. But the only reason that was the case was a comically-bad decision by Frank Reich in the Houston-Indianapolis game. Had that game ended as it should have it would've marked three ties in four weeks.
Since the NFL introduced sudden death rules into overtime in 1974 there had not been more than two ties in any one season. That's more than 40 seasons without a third tie, and we almost hit that mark before the end of September.
The NFL absolutely should go back to sudden death for regular-season games. If they want to keep the current format, with each team getting the ball at least one time, barring a touchdown, for the playoffs, then I'm fine with that. It's not unprecedented for sports to alter their overtime rules for the postseason (see: hockey). But in the regular season these games should have a winner and a loser, and I don't see how anyone can complain about sudden death after given 60 regulation minutes to win or lose.
Further, shortening the overtime to 10 minutes AND giving each team a possession is completely contradictory. If shortening the game to 10 minutes was in effect for player safety, then why not keep the sudden death rules?
Like most things with the NFL these days, it is frustrating and nonsensical. There is no chance that the NFL would change the rules in season. But it is a pretty easy call to predict that this will be a record-setting season for the wrong reasons and that the tie fiasco will come up at some other point through the season.
Here is Doc's Sports NFL Power Rankings:
1. Los Angeles Rams (4-0) - Teams coming off a Thursday night game have been almost as bad as teams coming off a Monday Night Football outing. You would think that the extra time to prepare would be a benefit. Thursday night winners are 0-3 SU and ATS so far this season.
2. Kansas City Chiefs (4-0) - They are 4-0 with four wins over teams that I don't have going to the playoffs. They are an offensive force. But it is going to be difficult to trust this team laying a lot of points with a defense that cannot tackle at all. They are easily one of the worst defenses in the NFL, and that is going to catch up with them at some point.
3. Jacksonville Jaguars (3-1) - I feel like Kansas City is a great matchup for Jacksonville. The Jaguars physical offense should be able to ram the ball down the Chiefs' throats, and their defense should avoid giving up a lot of the big plays to their small, speedy receivers. The question, as always, is how much do you trust Blake Bortles on the road? Jacksonville is on an 8-2 ATS run and is 10-4 ATS in their last 14 road games.
4. Baltimore Ravens (3-1) - There are a lot of impressive things about this team. But to me the most impressive is that they are winning games without the benefit of the comically large amount of turnovers they generated last year (34). Baltimore is dead even on turnover differential, meaning their defense is talented enough to get stops without having to rely on fluke plays.
5. New England Patriots (2-2) - The Patriots are 8-2 ATS in their last 10 games against a team with a losing record and they are 21-7 ATS in their last 28 conference games. New England is 34-15 ATS at home, and they are 30-12 ATS in their last 42 games overall. The Pats are also 4-1 ATS in their last five games against the Colts.
6. Minnesota Vikings (1-2-1) - I'm not going to panic with this team because they played really well against the Rams. That was a tough situation, and the Vikings looked like one of the best teams in the NFL. The Rams were just that much better. Perhaps some panic, and a revenge motivation, will bring out their best this week in Philadelphia.
7. Philadelphia Eagles (2-2) - What the hell were the Eagles doing on fourth-and-10 on Tennessee's final drive? They basically dropped seven guys into a weird zone/prevent defense that allowed Marcus Mariotta to make a simple 12-yard throw to extend that drive. That play, more than any other on that fateful drive, sealed Philadelphia's fate.
8. New Orleans Saints (3-1) - Look for increased red zone execution this week with the Saints playing at home. They also get Mark Ingram back, so this New Orleans offense somehow just got better. The Saints are 43-20 ATS against teams with winning records but they are just 1-4 ATS in their last five home games and just 1-5 ATS in their last six Monday Night Football games.
9. Cincinnati Bengals (3-1) - Wow. Stealing a win like that, on the road in the final seconds against a quality opponent, is a massive boost. The Bengals are 7-0 ATS in their last seven conference games and they are 5-1 ATS in their last six games overall.
10. Carolina Panthers (2-1) - The brilliance about the Eric Reid signing is not just that the Panthers stole a Pro Bowl safety for a pittance. No, the brilliance was that by taking Reid off the market they kept him away from rival Atlanta, who is in desperate need of secondary help.
11. Green Bay Packers (2-1-1) - Despite the public pouring their money into the Packers this week - no team in the NFL has taken a higher percentage of bets early in the week - this team has to be considered a pretty soft road favorite. That said, the chalk is 20-7 ATS in the last 27 meetings between these two teams.
12. Chicago Bears (3-1) - I'm not going to get too excited about Chicago's offensive output against the Bucs. That was a terrible defense playing on a short week. The bigger picture is that with four of their next six games at home and six of the next eight against teams currently with a losing record, the Bears are going to be major players in the NFC all season long.
13. Tennessee Titans (3-1) - No, I'm still not buying this team. They are No. 26 in total offense and No. 16 in total defense. They are 3-0 in games decided by three points, and they are two plays away from being 1-3. I hope they blow out the pathetic Bills this week. Because then the hype train will be full steam ahead into Tennessee's most difficult stretch of the season.
14. Atlanta Falcons (1-3) - I thought Dan Quinn was a defensive-minded coach? The Falcons always seem to outperform their expectations on the road. But they are 1-4 ATS in their last five road games and 1-5 ATS in their last six games on grass.
15. Pittsburgh Steelers (1-2-1) - We are seeing the beginning of the end of Big Ben. I know all quarterbacks nowadays talk about playing to 40. But most of them can't. Roethlisberger is missing open receivers, throwing horrible interceptions, and is not as nimble or as strong in the pocket. The guy is crumbling, and the guys around him aren't good enough to make up the difference.
16. Denver Broncos (2-2) - That sideline throw to Demaryius Thomas on Denver's final drive should haunt Case Keenum the rest of this season. Thomas was wide open for what would've been a game-winning score. If Keenum ever wants to move past "journeyman" to the realm of "franchise quarterback", he has to make that throw.
17. Washington Redskins (2-1) - I am very interested to see what the Redskins are going to have to offer this week. Are they the team that overwhelmed the Cardinals and Packers or the team that rolled over for the Colts? The Redskins are just 7-19 ATS on Monday Night Football, and they are just 2-8 ATS following a bye week.
18. Miami Dolphins (3-1) - I'm not selling all of my Dolphins stock just yet. I still think that this team has enough weapons on offense to make some noise. They have played really well against the Bengals in recent seasons, winning three of the last four meetings. The Dolphins are 7-3 SU in the series dating back to 1990, 5-2 ATS in the last seven meetings and 4-1 ATS in their last five trips to Cincinnati.
19. Cleveland Browns (1-2-1) - Yes, Baker Mayfield was responsible for four turnovers on Sunday. But his receivers absolutely killed him with drops. And had the officials not screwed the Browns late then everyone would be talking about a team that was 2-1-1 and that should be 4-0. Cleveland is just 6-17 ATS in its last 23 home games and 16-35 ATS in its last 51 games overall.
20. Los Angeles Chargers (2-2) - Derwin James is an absolute player, and he has been by far the Chargers' best defender. However, this group is still No. 31 in the NFL with a 12.8 opponents' yards per point. That is a massive drop from last year's admittedly unrealistic 19.3 DYPP and is the biggest reason why this team can't be trusted laying points.
21. Tampa Bay Buccaneers (2-2) - Do the Bucs actually think that Jameis Winston would've performed better against Chicago's dominating defense last week? I think the Bucs are making mistakes, both short-term and long-term, by turning back to Winston, a proven loser.
22. Dallas Cowboys (2-2) - Dak Prescott continues to be a worse version of Alex Smith. And I don't mean that as a compliment. It took a superhuman effort from Ezekiel Elliott for the Cowboys to beat a below-average Detroit team. And if the Cowboys are counting on that every week then this will remain a team to bet against.
23. Seattle Seahawks (2-2) - Seattle beat the Cowboys despite being outgained and then beat the Cardinals despite being outplayed. Seattle is just 2-5 ATS in its last seven home games and, including the preseason, 2-7 ATS in their last nine games.
24. Detroit Lions (1-3) - Kenny Golladay has been absolutely outstanding this season for the Lions. The fact that he is on pace for 100 catches and 1,300 yards does not do justice to the difficulty and clutch nature of these grabs that he's making.
25. Houston Texans (1-3) - Deshaun Watson absolutely has to stop turning the ball over. He is on pace for 26 turnovers through his first 16 games, and that is not going to cut it as this team tries to dig out of a hole.
26. New York Jets (1-3) - The public is, predictably, all over the Broncos this week in their trip to New York. But the Jets are in a great spot here. They are catching Denver on a short week after an emotional loss to a division rival. The fact that the Jets are posted as favorites should be a major red flag.
27. San Francisco 49ers (1-3) - C.J. Beathard played like Joe Montana last Sunday. I can't give him enough credit for the toughness he showed last week because the Chargers were crushing him. San Fran could be down three offensive linemen, three receivers and two secondary starters after that bone-crushing game last Sunday.
28. Oakland Raiders (1-3) - Derek Carr has to quit floating so many balls. I love a nice touch pass as much as the next guy. But Carr is just lofting balls into the air when he should be putting same pace on it. Also, this team absolutely maxed out last Sunday against a weak Cleveland team. And it still took a miracle to get a win. This roster is just too average with too many replacement-level guys.
29. Indianapolis Colts (1-3) - Put me in the massive category of people that think Frank Reich's decision to go for it on fourth down was ridiculous. If they had already been at the 50-yard-line and a first down would virtually assure a field goal attempt then I can see it. But there were only 24 seconds left. Even if Indianapolis had gotten the first down they still would've needed like three more things to happen just for the chance to kick a 50-yard field goal. The Colt are 13-3 ATS in their last 16 Thursday night games.
30. New York Giants (1-3) - I said all offseason that Eli Manning was a horrible fit with Pat Shurmur's offense. And it has become clear to everyone what has been glaringly obvious to me the last three seasons: Manning sucks and he should not be a starter in the NFL right now. The shame is that the Giants have enough other pieces, and favorable schedule, to be competitive. But they will not overcome their horrible quarterback and weak scheme.
31. Buffalo Bills (1-3) - The Bills have played 16 quarters of football this year. In four of them, the final two (garbage time) of the Chargers game and the first two (fluke time) of the Vikings game, they outscored their opponents 41-3. In the other 12 they have been outscored 103-9. You tell me which is the outlier.
32. Arizona Cardinals (0-4) - I was not as encouraged about Josh Rosen's first start as everyone else. I have read several glowing, overflowing reviews of his first effort. But he was slow in his decision-making, he made too many contested throws, and the numbers (15-for-27 for 180 yards) kind of speak for themselves. He has a long way to go and essentially no help to speak of.
Throughout the season I will have my NFL Power Rankings every Tuesday. My next ones will be released on Tuesday, Oct. 9.
Robert Ferringo has been the top football handicapper in the country the past seven years, earning nearly $28,000 in total football profit. He has also posted seven of nine winning seasons (including back-to-back winning years) and produced 26 of 41 winning football months and an amazing 45 of 70 winning football months over the past decade. Robert has eight of 10 winning NFL preseasons and he is at nearly 60 percent winners over his last 900 totals picks. Also, Robert's proprietary KING College Football Betting System has posted three of five winning seasons. Robert is looking for a third straight winning football year and wants more profit this fall. SIGN UP HERE TODAY AND TAKE ADVANTAGE OF OUR 3-FOR-1 FOOTBALL SPECIALS!
We are offering new clients $60 in free NFL football picks for Robert's picks or any Advisory Board handicapper of your choosing. Get your free NFL football picks now!
Read more articles by Robert Ferringo
---
Most Recent NFL power rankings