NFL Power Rankings Week 8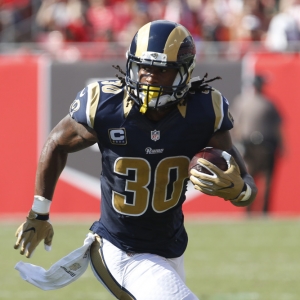 If you watched the Monday Night Football game between Atlanta and the New York Giants, you were treated to a moment, late in that game, where the Old School met the New School. And the results, as often is the case when previous firmly-held beliefs are challenged, were both uncomfortable and hilarious.
The moment in question was New York's decision to go for a two-point conversion after scoring to cut Atlanta's lead to 20-12 with just over seven minutes remaining in the game. Conventional wisdom suggests kicking an extra point to cut the lead to seven, with the ultimate goal to get the ball back, score another touchdown, and send the game to overtime after another extra point.
Giants coach Pat Shurmur originally sent out his extra point team. But after a brief replay review of the touchdown Shurmur correctly realized that the math in that instance favors going for two. The reason that this was the right decision has to do with some basic probabilities and game theory. It can get a little fuzzy. But predictive analytics have run the numbers, and there are a lot of detailed articles available online that break down the math behind Shurmur's decision.
I'm not here to weigh in on one side or the other; the numbers are the numbers. And just because the Giants failed that doesn't mean Shurmur was wrong to play the odds. But my interest is in how advanced analytics will impact betting numbers and results moving forward. We are already seeing some impact with teams going for it on fourth down more than every before. Not coincidentally, the average margin of victory in the NFL this year is at its lowest number in more than 70 years.
When the NFL decided to move the extra point back several years ago, I wrote about how awful this was for me, as a gambler, because it took a difficult thing and made it even more difficult. Now I would be winning and losing games because of extra points, of all things. (And that was the case last week when one of my largest wagers, on Baltimore, was submarined when Justin Tucker missed an extra point for the first time in 223 attempts.) It sucks. And I hate it. But now things are getting even trickier. Soon enough, more coaches are going to realize little mathematical tricks like the one that Shurmur pulled in the Giants game and start going for two-point conversions more aggressively. And will that have an impact on the power of key numbers in the NFL ? Will underdogs begin to cover the spread more based on late-game scoring outbursts fueled by two-point conversions?
These are just some of the questions that were going through my head as I watched the Monday Night Football announcers incredulously try to rationalize Shurmur's decision. They didn't get it. They didn't get it at all, and they have no idea about the math behind the two-point gambit. However, as the pro game continues to evolve, I suppose that within a year or two Shurmur's decision will be automatic and standard accepted practice. And I am interested to see what, if any, impact that will have on bettors like myself and our weekly wagers.
Here is Doc's Sports NFL Power Rankings:
1. Los Angeles Rams (7-0) - The Rams are finally back home after a three-game road spell. The favorite in the Packers series is 9-0 ATS, but the Rams are 0-5 ATS in their last five cracks at Green Bay.
2. New England Patriots (5-2) - The Patriots are 16-5 ATS in their last 21 games in Buffalo, and they are 5-1 ATS in the last six meetings with the Bills. The road team is 19-7 ATS in that series. But the Patriots are just 1-4 ATS in their last five games on Monday Night Football.
3. Kansas City Chiefs (6-1) - Kansas City just continues to amaze. They have gone 11-1 ATS in their last 12 games, and they are 6-1 ATS in their last seven home games. The Chiefs are dominating the AFC West, going 21-7 ATS in their last 28 divisional games. Kansas City is 20-8 ATS in their last 28 games against AFC opponents. Kansas City has covered six straight games against the Broncos.
4. New Orleans Saints (5-1) - This should be an emotional revenge game for the Saints this week as they return the site of their stunning playoff meltdown against Minnesota. That playoff game is the last time that Drew Brees has thrown an interception, and his six consecutive INT-free games to start the year is a career best.
5. Minnesota Vikings (4-2-1) - The Vikings actually beat the Saints twice last year, once in Week 1 and then again in the playoffs. They outgained them by nearly 200 total yards in those games, and Minnesota is a solid 7-4 ATS in the last 11 meetings in this series. The favorite is 4-1 ATS in the last five and 6-3 ATS in the last nine meetings between these teams.
6. Los Angeles Chargers (5-2) - This defense is a little too over reliant on turnovers. When they face a good offense, they really struggle to get off the field and can easily get pushed around. That's really going to limit what this group's ceiling is.
7. Pittsburgh Steelers (3-2-1) - Will the real Steelers please stand up? Pittsburgh has been horrendous after a week off, going 0-5 ATS after a bye. They are also just 1-7 ATS at home and 1-5 ATS in their last six divisional games. Trust this team at your own risk.
8. Baltimore Ravens (4-3) - Brutal loss for the Ravens, blowing a 10-point, fourth quarter lead at home last week. I was stunned to see this team installed as a road favorite against an equally hard-hitting Carolina team this week. I can definitely see the Ravens having a little bit of a hangover/letdown from that Saints game.
9. Carolina Panthers (4-2) - Maybe if Cam Newton hadn't been so terrible in the first three quarters he wouldn't have had to be so good in the fourth. I think Carolina will be one of the most heavily-bet underdogs on the board this week. They are already taking nearly 60 percent of the action, yet the line continues to move against them. This is a dangerous spread.
10. Philadelphia Eagles (3-4) - I can't justify putting the Eagles this high on the list. But at the same time, I still think they would be favored against (and likely beat) any of the next five or six teams in these rankings. The Eagles have been outgained in five of their seven games, though, including three straight, and nothing will come easy this week against an equally-desperate Jaguars team in London.
11. Washington Redskins (4-2) - An ugly win is still a win. But now the Redskins have to avoid a letdown after their big win over Dallas and go on the road and take care of business against a lackluster Giants team. The Redskins are just 3-7 ATS in their last 10 games against the Giants and just 1-4 ATS in their last five trips to the Meadowlands.
12. Chicago Bears (3-3) - Am I just missing something that everyone else is seeing with Mitch Trubisky? I think this guy is terrible. He is a very questionable decision-maker that is not nearly accurate enough with his throws, and I see his floor somewhere around Blake Bortles 2.0 and his ceiling as a poor man's Joe Flacco. This team is still overrated as a result of their weak quarterback play.
13. Green Bay Packers (3-2-1) - The Packers haven't been a regular-season underdog of more than a touchdown with Aaron Rodgers at quarterback since 2010. The last time they were catching more than seven points with Rodgers at the helm was the 2014 NFC playoffs at Seattle in a game they should've won outright. Green Bay is 3-0 ATS as an underdog of 7.0 or more with Rodgers at quarterback.
14. Detroit Lions (3-3) - I don't know if there has been a more erratic team in the NFL this year, and it is tough to wrap your arms around this group. Regardless, they are on a 5-0 ATS run and they have won three of their last four games outright. Depending on how things shake out, they could actually find themselves atop the NFC North by Sunday's end.
15. Denver Broncos (3-4) - It doesn't make any sense that Philip Lindsay is not this team's featured back. He is not even in the Top 20 in the league in rushing attempts. But when you watch Denver's No. 8 rushing offense work, it is easy to see that this kid is special. Feed him the ball! Denver is just 2-11 ATS in its last 13 road games and 7-19 ATS in conference play.
16. Miami Dolphins (4-3) - Interesting situation with the Miami receivers. DeVante Parker was a surprise scratch on Sunday. His agent went off on Miami coach Adam Gase, calling him "incompetent". Now Albert Wilson and Kenny Stills are both hurt and unlikely to play Thursday, meaning that Parker will be thrust into a featured role. This bears watching with this combustible Miami locker room.
17. Dallas Cowboys (3-4) - It is hilarious that people are just now coming to the conclusion that Jason Garrett is a loser. This guy is straight from the Wade Phillips coaching tree, and the list of Cowboys collapses and last-second choke jobs under Garrett's watch are too many too count. I love him, though. I hope then never get rid of Garrett, so I can keep cleaning up betting against him and The Boys.
18. Seattle Seahawks (3-3) - Teams coming off a bye weeks and Thursday night games have struggled mightily this season. It will be interesting to see how the Seahawks handle going back on the road after playing in London two weeks ago. Seattle is just 2-6 ATS after a win and 1-4 ATS after a win by 14 or more.
19. Tennessee Titans (3-4) - Mike Vrabel was right to play for the win and go for two in the final seconds against San Diego. However, he absolutely should've called a running play on one of their two shots at the two-point conversion. The Titans had been stuffing the ball down San Diego's throat all day, and the Titans are supposed to be a power football team. Marcus Mariotta had been on point all game. But at that juncture they should've just kept things simple.
20. Cincinnati Bengals (4-3) - The Bengals have been outscored by 19 total points this year, and they are being outgained by an average of nearly 100 yards per game. They have the stats of a 2-5 team, not a 4-3 squad, and these guys are fool's gold. They are, however, 5-2 ATS at home and facing a Bucs team that has been decimated by injury on defense.
21. Houston Texans (4-3) - Deshaun Watson had to take a bus home from Jacksonville this week so as not to aggravate his ribs and lungs. Does that sound sustainable to you? He is getting demolished. And I don't know if I trust this offense enough to cover a 7.5-point spread on Thursday. Houston is 0-5 ATS at home, 2-10 ATS in their last 12 and 5-12 ATS following a win.
22. Jacksonville Jaguars (3-4) - LOL Blake Bortles. There's really nothing else to say about these losers.
23. Atlanta Falcons (3-4) - Giorgio Tavecchio absolutely bailed out Dan Quinn on Monday. Quinn, whose poor game management has been an issue since he became a head coach and actually cost the Falcons a Super Bowl, absolutely should've gone for it on 4th-and-2 rather than attempt a 56-yard field goal. Just another extraordinarily questionable late game call from a coach that I would not trust one bit.
24. Tampa Bay Buccaneers (3-3) - Losing Pro Bowl linebacker Kwon Alexander for the season is a major blow to what was already one of the worst defenses in football. Tampa Bay's stop unit played inspired ball on Sunday. But I have felt that their problem has been talent - especially at defensive end and safety - not scheme. They don't have enough depth to withstand the rash of injuries they are taking on this side of the ball.
25. New York Jets (3-4) - Sam Darnold had success against Denver's horrific run defense (No. 32 at the time) and Indianapolis' terrible pass defense (No. 31 at the time). But when faced with a real, live, actual Top 10-caliber NFL defense (Minnesota), the rookie looked like he was in way over his head. I expect more erratic play this week against the Bears defense.
26. Indianapolis Colts (2-5) - The Colt's are an outstanding 31-13 ATS against teams with losing records. They do a great job of beating up their fellow doormats. But Indianapolis is also just 2-7 ATS after a win, and I'm not sure about backing them as a road favorite against anyone.
27. Cleveland Browns (2-4-1) - Hue Jackson might be careful about so forcefully reminding everyone that "he's the coach". When your team is 3-35 in its last 38 games you might be better off playing the "it's a team effort" card. Cleveland's offense has been a wreck when it comes to finishing drives. But Jackson still shouldn't be publicly calling out his coordinators.
28. San Francisco 49ers (1-6) - Five turnovers doomed the 49ers in their first meeting with Arizona. San Francisco outgained the Cardinals by 240 yards in that game but lost by 10 points. The road team is 5-0 ATS in the last five meetings, San Francisco is 9-3 ATS in their last 12 games in Arizona, and the underdog is 7-3 ATS in the last 10 meetings between these teams.
29. Oakland Raiders (1-5) - That was a solid trade for Amari Cooper. The Raiders now have five - FIVE - first-round draft picks in the next two drafts. Oakland wasn't winning a Super Bowl this year anyway. So now they have an outstanding foundation to build on through the draft. I am still skeptical of Jon Gruden. But I think Oakland has made some solid personnel moves.
30. New York Giants (1-6) - Eli Manning doesn't understand the scheme that his team is running, he missed a handful of easy throws, and he can't improvise or do anything out of the pocket. But the most damning thing about Manning is how pathetic he is (and has been) at very basic game management issues. New York blew their clock and game management at the end of both halves, and that cost them dearly.
31. Buffalo Bills (2-5) - This team's quarterback situation is a complete and total embarrassment. And now Buffalo has to scrape itself off the mat and go into this week's Monday Night Football game with New England backing Derek Anderson. Do you think anyone in that Bills locker room thinks that they have a realistic shot of winning on Monday with Anderson, who has only been with the team three weeks, under center?
32. Arizona Cardinals (1-6) - Your team has to be pretty pathetic to be worse than the Giants and the Bills. But here we are. Arizona has somehow beaten San Francisco seven straight times, including a 28-18 win on the road on Oct. 8.
Throughout the season I will have my NFL Power Rankings every Tuesday. My next ones will be released on Tuesday, Oct. 30.
Robert Ferringo has been the top football handicapper in the country the past seven years, earning nearly $28,000 in total football profit. He has also posted seven of nine winning seasons (including back-to-back winning years) and produced 26 of 41 winning football months and an amazing 45 of 71 winning football months over the past decade. Robert has is at nearly 60 percent winners over his last 900 totals picks. Also, Robert's proprietary KING College Football Betting System has posted three of five winning seasons. Robert is looking for a third straight winning football year and wants more profit this fall. SIGN UP HERE TODAY AND TAKE ADVANTAGE OF OUR 3-FOR-1 FOOTBALL SPECIALS!
We are offering new clients $60 in free NFL football picks for Robert's picks or any Advisory Board handicapper of your choosing. Get your free NFL football picks now!
Read more articles by Robert Ferringo
---
Most Recent NFL power rankings