NFL Power Rankings Week 9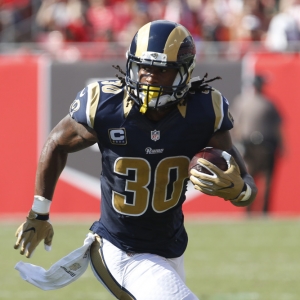 The increase in aggression that we've seen out of coaches on Sundays - with a league-wide increase in fourth down and two-point conversion attempts - is starting to spread to NFL front offices.
The NFL trade deadline is this week. And rumors have been swirling about some significant deals, potentially involving Pro Bowl players. However, if you're looking for a league-wide shakeup, like we see annually at the MLB and NBA trade deadlines, I wouldn't hold your breath.
Everything about the NFL is set up to restrict player movement. From the fifth-year option to the franchise tag to the restricted/unrestricted free agent designation to the salary cap, teams really have unparalleled control over professional football players. We can argue all day about the labor theory behind these structural realities. But one of the things that can't be argued is that it is very difficult for players to switch teams midseason and have a meaningful impact.
The synchronization required for NFL offenses and defenses is unique to the sport. Basketball and baseball both have such strong individual components (and fewer players on the field) that it is a lot easier for players to switch teams and play well right away. But for football players, they need to learn new systems, new schemes, new terminology, new coaches, and they need to get on the same page with their new teammates. And they have to do it on the fly.
So, don't expect a major shakeup across the league this week, despite what all the Hot Take Artists in the bobblehead media chatter about this week. Blockbuster deals in season are rare. Teams are who they are. There's a very clear top tier and very clear bottom tier in the league, with a fat middle class. I don't see anything happening over the next several days that will upset the established order. And my advice is to temper any expectations on immediate returns for any deals that do go through.
Here is Doc's Sports NFL Power Rankings:
1. Los Angeles Rams (8-0) - Todd Gurley's (wise) decision to hit the ground with a minute left, ensuring a win for the Rams, rather than take an easy touchdown, was a killer for some bettors! The line closed at 7.5 in that game, meaning the Rams would've covered if Gurley had walked in. It also cost anyone that used the Rams in a teaser early in the week (when the spread was 9.5) and it kept the game from going 'over'. Brutal!
2. New England Patriots (6-2) - I can understand the wisdom of using Corderelle Patterson as a running back. He can be a breakaway guy and can do some good things with the ball in his hands. But should he really be getting more rushes than James White? The Patriots are now 36-16 ATS in their last 52 games and 35-15 ATS in their last 50 home games.
3. Kansas City Chiefs (7-1) - The Chiefs skill players (deservedly) get a ton of love for Kansas City's offensive exploits. But how about that offensive line? Kansas City is dealing with injuries at center and guard (they were down to their third-string center) and still allowed just two sacks to Von Miller and the Broncos pass rush.
4. New Orleans Saints (6-1) - This is actually the third year in a row that the Rams and Saints are going to meet. Last season New Orleans lost 26-20 in a game that was never really that close. Two years ago, the Saints demolished the Jeff Fisher-led Rams 49-21 in New Orleans. The home team has won five straight in this series dating back to 2010.
5. Pittsburgh Steelers (4-2-1) - Ben Roethlisberger has a broken finger on his left (non-throwing) hand. Don't let that fool you; Big Ben is one of the biggest drama queen quarterbacks in the NFL. He is always ailing from some mysterious ailment yet is always out there on Sunday making some plays.
6. Carolina Panthers (5-2) - The Panthers are 8-2 SU and 7-3 ATS in their last 10 games against the Bucs, including a sweep last year. These guys are becoming dominant at home, going 7-2 ATS in their last nine home games, and this group is quietly becoming one of the best teams in football.
7. Los Angeles Chargers (5-2) - I don't expect to see Joey Bosa again this week for the Chargers. Although they could definitely use the monster linebacker against a Seattle team that is going to try to run the ball down their throats. The Chargers are just 3-8 ATS in their last 11 games after a bye week and are just 3-8 ATS in their last 11 games against a team that is over .500.
8. Minnesota Vikings (4-3-1) - Minnesota has lost three of its last four against the Lions, and the home team is just 1-5 in the last six meetings. The favorite is just 4-10 ATS in the last 14 between these division rivals. Despite last week's lackluster effort in primetime against the red-hot Saints, the Vikings are still 35-16 ATS at home and 46-22 ATS in their last 68 games overall.
9. Washington Redskins (5-2) - Weird: an Alex Smith-led team has a winning record and is in first place. It's not rocket science. And Smith was a huge reason why the Redskins 'over' 7.0 wins was my largest NFL futures bet of the season. All Smith does is win, everywhere he goes. The guy likely will never win a Super Bowl. But his regular season win-loss numbers will go down as some of the best in league history.
9. Philadelphia Eagles (4-4) - Injuries are really taking their toll on the Eagles, and they desperately needed this bye week to get healthy. The secondary and the offensive line are both a bit of a mess right now. Also, that was a great get to pickup Golden Tate.
10. Baltimore Ravens (4-4) - Despite the seeming parity between the Steelers and Ravens - every game seems to be decided by three points - the fact is that Baltimore has kind of owned Pittsburgh at the window over the past several years. Baltimore is 8-2 ATS in the last 10 meetings and is on a 7-1 ATS run in this series.
11. Chicago Bears (4-3) - I wouldn't expect to see Khalil Mack or Allen Robinson again this week in Buffalo. After the Bears take on the Bills this Sunday, they then have to play three divisional games in a span of 11 days. The Bears are just 6-13 ATS on the road and just 4-10 ATS following a win.
12. Seattle Seahawks (4-3) - Football can be a real simple game. Run the ball and play good defense and you are going to win a lot more than you lose. That's what the Seahawks have been doing for the past four weeks, rushing 145 times for 692 yards. That is a hearty 4.8 yards per carry, and they are beating teams into submission.
13. Green Bay Packers (3-3-1) - Ty Montgomery deserves absolutely every bit of criticism that he has gotten this week. I have been saying for years (and have written about it here) that if I were an NFL special teams coach I would have my players fair catch every punt and take a touchback on every kickoff. When you watch an NFL game, the number of things that can potentially go wrong - penalties, turnovers, injuries, running backwards - far outweighs the potential benefits (the rare big return). There's just no upside. Take the free yards and be done with it.
14. Denver Broncos (3-5) - The emergence of Cortland Sutton, who is a beast, has made Demaryius Thomas expendable. The Broncos have to continue to get the ball in Sutton and Philip Lindsay's hands as much as possible.
15. Dallas Cowboys (3-4) - Dallas has alternated wins and losses every week this season, neither winning nor losing two in a row once this season. Dallas is 4-9 ATS in their last 13 Monday Night Football games, but they are 13-6 ATS in their last 19 games after a bye week.
16. Detroit Lions (3-4) - I can't believe that the Lions would trade Golden Tate, who is one of the most underrated receivers in football. Yes, he is in the final year of his contract. But why wouldn't you sign that guy to another deal? He is still fantastically productive and is one of the most clutch receivers in football. This move makes no sense, especially for a team that is absolutely in the thick of their divisional race. What kind of impact with this trade have on the Detroit locker room?
17. Tennessee Titans (3-4) - The Titans are just 11-23 ATS in their last 34 road games and they are just 9-27 ATS in their last 36 games against a team with a losing record. Tennessee doesn't play on Monday nights very often, but they are 6-0 ATS in their last six Monday Night Football games.
18. Houston Texans (5-3) - Houston appears to be responding swiftly to Will Fuller's season-ending knee injury. As of Tuesday, reports have them pursuing Demaryius Thomas from Denver. I think Thomas is a bit overrated. But he would be a nice compliment to the otherworldly DeAndre Hopkins.
19. Cincinnati Bengals (5-3) - The 3,582 yards allowed by the Bengals through the first eight games of the season the second-most allowed through the first half of a season by any team in the Super Bowl Era. They are on pace to break the NFL record for the worst total defense in history.
21. Jacksonville Jaguars (3-5) - Jacksonville's demise this season really comes down to three things. First, they were never that good to begin with. Second, their red zone execution has gone from touchdowns on 69 percent of their red zone drives (No. 1) to 41.2 percent of their red zone drives (No. 30). Third, they are No. 30 in turnover differential (-11) this season after being No. 5 last year (+10).
22. Atlanta Falcons (3-4) - For all of the flack that Steve Sarkisian has gotten as the Falcons offensive coordinator, Atlanta has actually made mammoth strides in their red zone efficiency in Sark's second season. Atlanta converted just 49.2 percent of their red zone opportunities into touchdowns last season. That's up to 69.6 percent this year.
23. Indianapolis Colts (3-5) - Don't sleep on this team. They are young and they are definitely a bit undermanned. But Andrew Luck is starting to find a groove, and this offense has averaged 34.2 points per game in their last five games. The Colts return from this week's bye with three straight home games and five of their next seven game in Indianapolis. I think they can go on a run.
24. Miami Dolphins (4-4) - The Dolphins really have a unique scheme when it comes to playing defense. Instead of actually covering receivers down the field, they just leave guys wide open and hope the opposing quarterbacks miss the throws. It's not at all effective. But it sure is different. Do not expect any improvement from a group that's been torched for 33.4 points per game over their last five games.
25. Tampa Bay Buccaneers (3-4) - Jameis Winston has 54 interceptions and 21 fumbles in 49 career games as an NFL quarterback. That is an average - AVERAGE - of nearly two turnovers per game!
26. Cleveland Browns (2-5-1) - What a dysfunctional mess. Nothing like drafting your alleged "franchise quarterback" and then firing both his head coach and offensive coordinator halfway through his rookie season. These guys are unreal.
27. New York Jets (3-5) - In the three games since Isaiah Crowell rushed for a franchise-record 219 yards (versus Denver), the entire Jets team has combined to rush for just 235 yards total. That's not how you help out a struggling rookie quarterback.
28. Oakland Raiders (1-6) - Oakland and San Francisco's combined 2-13 record heading into their Thursday night game makes this one of the worst primetime matchups, this late in the season, in this young century. The Raiders are 2-8 ATS in their last 10 road games but 9-4 ATS after a double-digit home loss.
29. Arizona Cardinals (2-6) - I know a lot of people are oohing and ahing about Josh Rosen's game-winning drive against the 49ers. But facing one of the worst defenses in football, one that could not generate any pressure on Rosen at all, the Cardinals quarterback still barely completed over 50 percent of his passes and had just 252 yards, with most of that coming in desperation time during their comeback.
30. San Francisco 49ers (1-7) - Let's not forget that the 49ers had a rock solid, Pro Bowl-caliber center in Daniel Kilgore that they traded this offseason. That's all I could think about while watching C.J. Beathard scramble to recover Erik Magnuson's comically bad snap to deny them a chance at a game-tying field goal.
31. New York Giants (1-7) - The reason that the Giants are in this situation right now is because they let Tom Coughlin go. They should have moved him up to the front office immediately after he was done coaching, let him pick his successor, and ensure some cohesion within this organization. Instead, this group is an absolute rudderless disaster. And there is no way that Pat Shurmur is the guy that is going to fix it.
32. Buffalo Bills (2-6) - I had the over/under on number of fan deaths in Buffalo at 2.5 for their Monday Night Football game against the Patriots. But by all accounts, it was just the usual dildo-laden pit of misery for Bills fans on MNF as they watched their team held below 14 points for the fifth straight game.
Throughout the season I will have my NFL Power Rankings every Tuesday. My next ones will be released on Tuesday, Nov. 6.
Robert Ferringo has been the top football handicapper in the country the past seven years, earning nearly $28,000 in total football profit. He has also posted seven of nine winning seasons (including back-to-back winning years) and produced 26 of 41 winning football months and an amazing 45 of 71 winning football months over the past decade. Robert has is at nearly 60 percent winners over his last 900 totals picks. Also, Robert's proprietary KING College Football Betting System has posted three of five winning seasons. Robert is looking for a third straight winning football year and wants more profit this fall. SIGN UP HERE TODAY AND TAKE ADVANTAGE OF OUR 3-FOR-1 FOOTBALL SPECIALS!
We are offering new clients $60 in free NFL football picks for Robert's picks or any Advisory Board handicapper of your choosing. Get your free NFL football picks now!
Read more articles by Robert Ferringo
---
Most Recent NFL power rankings