NFL Confidence Pool Picks Week 7: Expert Pick'em Predictions No Point Spread
by Chris Vasile - 10/16/2019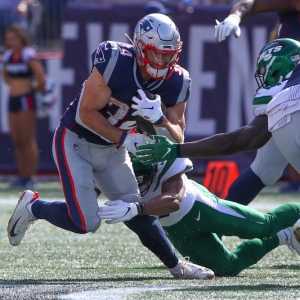 For the entire season, I'll be breaking down the game list and ranking each game from most confident to least confident. No point spread is involved with these Week 7 NFL predictions , so you can also use them for your Survivor Pool picks each week. We will be back for Week 8 next week with a full slate of NFL Confidence Pool picks.
Week 7 Confidence List (my selection listed first)
Buffalo vs Miami - I never thought the day would come when I would be asking myself if laying 17 points with the Buffalo Bills is the smart play or not. We know what we are going to get from the Dolphins, and that's a miserable performance and their seventh straight loss. But what are we to expect from the Bills? Defensively, they are going to be solid and should score at least one defensive touchdown. But offensively? Well, that's a whole different story. Thankfully in this article, we only have to win straight up, so at least I know the Bills are good enough to do that.
Related: Matt's Week 7 NFL Survivor Pool Picks Ranked in Order of Confidence
San Francisco vs Washington - It's time to start taking the 49ers seriously. They have a solid defensive unit, and they have an offense that is predicated on running the football and taking shots downfield. Jimmy Garappolo is 12-2 as a starter, and the 49ers Super Bowl odds have plummeted down to 8-1. The Niners should have no issues beating a Washington team that struggled to get by Miami and has absolutely no offensive urgency or potency whatsoever.
New England at New York Jets - Once again, any bet against the Jets is a good bet. This week we get the pleasure of backing New England on the road at MetLife Stadium. Please don't mistake the Jets for a good team as their win against Dallas last week had more to do with the ineptness of the Cowboys than anything the Jets did. Sure, they have Sam Darnold back, but I will still take a 42-year old Brady over him any day of the week. Patriots win by 10. Like they always do.
Green Bay vs Oakland - If there was ever a 5-1 team that you would look at and go "hmm," the Packers would be it. Outside of their dominant performance against the Cowboys, the Packers have looked brutal, and no team outside of the Eagles could take advantage of it. Now they get to take on the Raiders for their fifth home game in six weeks, while the Raiders travel across the country after their bye week and three straight road games (at Minnesota, at Indy, at London). This is a brutal spot for the Raiders. And despite the Packers being down to their third and fourth receiving options, the Packers should win this game going away.
Kansas City at Denver - This Thursday night game should be a rather interesting one from the perspective of a neutral fan. On one side of the coin, you have Patrick Mahomes and the high-powered Chiefs offense. And on the other side, you have a much more balanced attack with the Broncos. The Chiefs have to be pissed off that they let two very winnable home games slip away in back to back weeks. Now they have to travel to Denver and pay in altitude for their first meeting with the Broncos. The Chiefs are the better team, and we believe this is a "right the ship" kind of game for them. The Broncos won't be able to keep up offensively, so the Chiefs win this game easily.
Arizona at New York Giants - I've been really impressed with the way Arizona has come together these last two weeks and won close games vs Atlanta and Cincinnati. The Cardinals are showing fight, and Kyler Murray is showing signs of maturity as the weeks go on. Now they get to take on a Giants team who has no offense to speak off and a rookie quarterback in Daniel Jones who has come crashing back down to earth after a blazing two starts. I'll take the team with the positive momentum in this game, and that's the Cardinals.
Minnesota at Detroit - The Lions were flat out screwed last week by terrible officiating. Unfortunately, they won't get any sympathy from their next opponent, Minnesota, who is coming off an impressive win versus the Eagles. This is a huge divisional game, and we give the edge to the Vikings based on the better overall defense and an offense that has been clicking for the last two weeks. This is one of those games where Kirk Cousins needs to play his best (again) and if he doesn't, the naysayers will come out of the woodwork once again. The Lions are rattled, and we don't see them bouncing back to win this game.
Houston at Indianapolis - This game could go one of two ways, and I'm not prepared to bet on either of them happening. The first way this game could go is the Texans could fall flat on their face after going into Arrowhead and beating the Chiefs. I don't want to call this a "letdown" spot as this is a division game and these games are extremely important, but it sure as heck seems like it could be a flat spot for Houston. On the other side of the coin, Indy comes into this game well-rested off their bye and has had an extra week to prep for how to contain Deshaun Watson. If the Texans play well, they will blow out the Colts. If the Texans come out flat, Indy will get the win. This game will not see any of my money, but I'll take the Texans offense over the Colts offense if I had to.
Cincinnati vs Jacksonville - I don't believe the Bengals can get any worse than they already are. They've been competitive the last two games but ultimately don't have any finishing poise in them to close out ball games. Now they get to take on a Jags team who is reeling, losers of two straight and they finally traded their star cornerback out of town. This should be a "get right" game for the Jags offensively, but we'll side with the home Bengals to finally put it all together and win one for the city.
Chicago vs New Orleans - This game has a bit of a weird feel to it. For starters, we don't know if Trubisky is going to be back under center for the Bears. However, they do come off a bye week, and extra snaps for Chase Daniel doesn't hurt the cause. The Saints come into this game off an ugly win versus the Jaguars and have now won four straight with Teddy Bridgewater under center. The Saints have a few injury issues to deal with of their own as Alvin Kamara is dealing with a high-ankle injury, and his status is uncertain. I won't be betting this one, but if I did, I'd side with the team with extra rest and the better defense.
Dallas vs Philadelphia - These two teams may be the most overrated in all of football. Just when you think they are hitting their peak, they come crashing down to earth. I'll take the home team Cowboys in this game only because they are at home and because Vegas says they would be a half-point favorite on a neutral field. I'm not betting on this game with my money, though.
LA Chargers at Tennessee - Both of these teams got flat out embarrassed last week in different fashions. The Titans went on the road to Denver, where they were shut out and Mariota was benched. The Chargers lost at "home" in front of a packed Steelers crowd to a fourth-string quarterback. Both teams have issues, but we'll take the team starting their preferred QB over the team that's starting the backup.
Seattle vs Baltimore - This game should be one of the best of the week as two teams who are a combined 9-3 hook up in Seattle. We know what both teams like to do, and that's run the football. Therefore, with the clock continuously running, the under might be worth a look, especially at the current total of 50.5. I'll side with the home team straight up as we simply trust Wilson over Jackson at this point.
LA Rams at Atlanta - If Jalen Ramsey can play quarterback, the Rams may have won the trade with the Jaguars. Unfortunately, he can't and so the Rams offense will continue to sputter along thanks to Jared Goff. The only good thing about the Rams this week is that they play the hapless Falcons, who have all but packed up shop and are playing out the string. Rams win, but no interest in betting this game.