NFL Power Rankings Week 16
by Robert Ferringo - 12/17/2019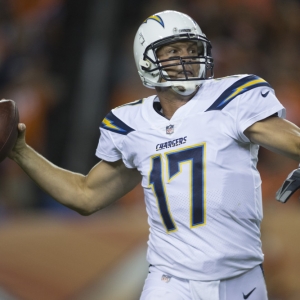 The Los Angeles Chargers won 11 games last year and entered this season as a Super Bowl sleeper pick. Two weeks ago, they were mathematically eliminated from the postseason.
How did they respond? They responded with a complete no-show last week at home against Minnesota. The Chargers turned the ball over seven times and slept their way through their worst blowout loss (39-10) in several years.
That's the tricky part about handicapping the NFL in late December. It is almost guesswork to try to predict how teams are going to approach these games, mentally, when their ultimate goal - a playoff spot and potential Super Bowl run - is no longer attainable. Without physically spending time in each and every one of the 32 locker rooms in the league, it is nearly impossible to accurately assess which teams are going to quit and which teams are going to continue to fight.
There are just two weeks left in the NFL regular season. That means 32 games remain before the postseason. It also means that a majority of the remaining games will feature teams with no playoff aspirations. And even some of the games with playoff teams will feature teams that are resting starters for the postseason.
I wish I had some definitive tips for discerning who is going to come to play and who isn't over these next two weeks. I don't. I've been doing this a long time and have a certain feel for handicapping these situations. But it's not something I can teach. My best advice, though, is to start at the top. The coaches set the tempo in the locker room. And strong leaders and good coaches will keep their teams prepared and playing hard.
Here is Doc's Sports NFL Power Rankings:
1. Baltimore Ravens (12-2) - This is a revenge game for the Ravens for one of the biggest surprise results of the season, a 40-25 Week 5 home loss to the Browns. However, the one weak spot for Baltimore has been their performance against their division. The Ravens are just 1-7 ATS in their last eight games against the AFC North. That said, the road team in the Browns series is 15-5 ATS, and Baltimore is 9-2 ATS in its last 11 games in Cleveland.
2. New Orleans Saints (11-3) - If Drew Brees plays like that, no one is going to beat the Saints. It wasn't all giggles for New Orleans on Monday, though, as Pro Bowl guard Larry Warford may miss significant time with a knee injury. The Saints will try to avoid a letdown this week on the road at Tennessee. New Orleans is 10-3 ATS as a road favorite and 25-8 ATS on the road overall.
3. San Francisco 49ers (11-3) - I don't know that the 49ers realize how much they may have screwed themselves with that loss to Atlanta. The difference between a Wild Card slot and a bye week and home game is mammoth. San Francisco is 6-2 ATS in its last eight games against the Rams. But they are just 7-19 ATS in their last 26 games as a home favorite.
4. New England Patriots (11-3) - A majority of the early week action in the Patriots game against Buffalo this week is actually coming in on the Bills. Everyone is off the New England bandwagon. However, it can't be understated how much the Patriots have absolutely dominated Buffalo over the last 20 years. New England is 40-20 ATS as a home favorite, and they are 43-20 ATS in their last 63 games in Foxboro.
5. Kansas City Chiefs (10-4) - I can't undersell what a stark in-season turnaround we've seen with the Chiefs defense this year. It is insane how much better this team is now compared to early in the year. The Chiefs have allowed just 11.3 points over their last four games, with all four going 'under', and they are now in the Top 10 in points allowed. Kansas City is 21-8 ATS on the road, and they are on a 4-0 ATS run.
6. Seattle Seahawks (11-3) - Absolutely brutal backdoor push for the Seahawks last week in Carolina, with Seattle blowing a 30-10 lead in the last five minutes and failing to beat the spread. It doesn't seem like a big deal. But that No. 29-ranked pass defense is a glaring Achilles heel for this team. The Seahawks will have to be careful about not looking past Arizona to their huge finale against the 49ers. Be wary.
7. Minnesota Vikings (10-4) - Here we go again. This is another prime-time situation for Kirk Cousins to try to prove himself. Cousins has been on fire the past month and has been very good this season. Cousins has a 111.1 passer rating with 25 touchdowns to just five interceptions. However, we all know he is going to be judged by how he fares in games like this week's Monday Night Football duel with Aaron Rodgers with the playoffs on the line.
8. Green Bay Packers (11-3) - Aaron Rodgers is 12-8-1 in his career in starts against Minnesota, throwing for 5,259 yards, 24 touchdowns and six interceptions. The Packers are 4-0 in divisional games this season, winning those four by an average of 4.3 points per game. Green Bay is just 1-4 ATS in their last five games in Minnesota and the road team is 1-6 ATS in the last seven meetings.
9. Buffalo Bills (10-4) - I will admit that Buffalo has kind of won me over with their toughness, defense, and scrappy play. And this team could be good enough to win a single playoff game. But that's as far as they are going. If Dallas doesn't make the playoffs, then it is likely that Buffalo will not have a single win in the regular season against a team that made the playoffs. The Bills are 8-0 ATS in their last eight road games and 7-1 ATS in their last eight games as an underdog.
10. Los Angeles Rams (8-6) - That was an absolute embarrassment on Sunday in Dallas. I think the Rams are just running on fumes. They have been in Scramble Mode for so long this season that I think it is finally catching up to them. The Rams are 7-2 ATS in their last nine road games and they are 5-1 ATS in their last six divisional games, with the lone ATS loss coming at home to the 49ers.
11. Houston Texans (9-5) - Credit where credit is due; the Texans played great in one of their biggest games of the season. Special teams, an area that hasn't been a particular strength for this team, came up big. The blocked field goal and the stop on the fake punt were two huge plays in that game, both saving points and giving the Texans momentum.
12. Tennessee Titans (8-6) - In theory, this week's game is a really good spot for the Titans. They are at home, hosting a dome team coming outdoors off a short week, and facing an opponent in a letdown spot after their record-setting win on Monday Night Football. However, I have to wonder what the vibe of this Titans team will be after having their four-game winning streak snapped with such a heartbreaking loss.
13. Chicago Bears (7-7) - What the hell was Jesper Horsted doing? Chicago absolutely should've scored a touchdown on the final play, a multiple-lateral, desperation attempt to tie the game. Horsted had Allen Robinson - Chicago's best offensive player - wide open for a pitch, and there is no doubt that Robinson would've scored and set up a two-point conversion attempt. Instead, Horsted held onto the ball and essentially ended the game. He should never live that play down.
14. Los Angeles Chargers (5-9) - The Chargers didn't even show up last week. Will they this week? They are facing an in-state rival and a Raiders team that is in a letdown spot of its own. The favorite is just 5-16 ATS in the last 21 meetings in this series, and the home team is just 3-7 ATS. The Chargers are just 3-7 ATS the last 10 times that they have hosted Oakland.
15. Tampa Bay Buccaneers (7-7) - Will the Bucs have enough healthy bodies to compete this Saturday against the Texans? Mike Evans and Chris Godwin are both likely out, and Scotty Miller has been put on IR. Expect heavy tight end usage, though. If the Bucs watched any tape of the Denver-Houston game from two weeks ago, they would know that they can pound the Texans with O.J. Howard and Cameron Brate.
16. Pittsburgh Steelers (8-6) - I think that Pittsburgh's bubble burst with that home loss to the Bills on Sunday night. Pittsburgh still has the inside track to a playoff berth. But they've been playing over their heads for so long that you have to wonder when they will simply run out of gas.
17. Indianapolis Colts (6-8) - That was ugly. The Colts got absolutely manhandled by the Saints on Monday night and were barely competitive. Jacoby Brissett has significantly regressed as this season has gone on, and he has been exposed a bit. I am a fan of Brissett. But I think its clear he is not a long-term solution at starting quarterback for this team.
18. Dallas Cowboys (7-7) - I'm not buying it. I'm not going to ignore the debacle that the Cowboys have been over the past month and jump onto the already packed Cowboys bandwagon. I will be rooting for Dallas to win this week, though. I can't think of anything better than Dallas making the playoffs so that we can bet against them and clean up yet again.
19. Philadelphia Eagles (7-7) - Miles Sanders has given this Eagles offense a much-needed shot in the arm. If Philadelphia is smart, they will try to grind down the Cowboys this week by running Sanders about 30 times. The weather in Philadelphia is going to be around 40 degrees on Sunday, and I don't think the Cowboys are up for a game in the elements. The underdog in the Cowboys series is just 1-7 ATS, and the Eagles are just 1-6 ATS at home against Dallas.
20. Denver Broncos (5-9) - Four of Denver's last five games have been on the road, and all four have been against teams that are headed to the playoffs. Denver has won three of its last four home games, with the lone loss coming against the Chiefs. Denver is 7-3 ATS in its last 10 games and has shown major signs of improvement. But the $1,000,000 question remains: how motivated will this team be just playing out the string?
21. Atlanta Falcons (5-9) - I've said it before, and I will say it again: the worst thing that could happen to the Falcons is that they play well enough down the stretch that they decide to keep Dan Quinn. The Falcons are just 2-5 ATS as a home favorite and just 1-4 ATS as a favorite overall. Atlanta is also just 1-4 ATS against teams with a losing record. And their maddening ability to play up and down to their competition is a hallmark of a poorly-coached team.
22. Cleveland Browns (6-8) - The Browns have actually had some success against the Ravens recently. They've won two of the last three meetings over the past two seasons and are 3-0 ATS. Cleveland has actually outgained Baltimore in six of the last nine meetings. And over the last five seasons, the Ravens have only beaten the Browns by more than 10 points twice (in nine games).
23. Oakland Raiders (6-8) - Yes, the Raiders got screwed near the end of their final home game when the officials claimed Derek Carr slid out of bounds when he was clearly still in bounds just before the two-minute warning. However, why did Carr even make the call that close? He had the first down. Why not just slide forward and keep the clock running? That's now an 0-5 ATS slide for a Raiders team that is completely out of gas.
24. Carolina Panthers (5-9) - Only true masochists will be plumbing the Panthers-Colts game for value this weekend. Both teams are just playing out the string on lost seasons. Carolina is just 1-4 ATS in its last five games as an underdog, and they are 2-8 ATS against teams with a losing record. I still think that Carolina has all but quit on this season since the firing of Ron Rivera.
25. New York Jets (5-9) - If you are looking for silver linings for the Jets, they have managed to score 21 or more points in five of their last six games while averaging 25.2 points per game. That is over a touchdown more than their full-season average, which ranks No. 28 in the league. This team will be hard pressed to find 21 points this week against a dominating Steelers defense, though.
26. Jacksonville Jaguars (5-9) - I thought that was an interesting tidbit about NFLPA grievances and the Jaguars. It does shine some light into the locker room in Jacksonville. And when you consider how much this team has underachieved the last two seasons, you start to understand why. It was likely that Doug Marrone and Tom Coughlin are gone at the end of this year anyway. This report likely seals the deal.
27. Arizona Cardinals (4-9-1) - Arizona was finally able to flex a little bit on offense last week against a feeble Browns defense. I don't know if that will be the case this week against the Seahawks on the road. This is Arizona's first road game in a month, and they have averaged only 20.7 points per game on the road in their last three away games. Arizona is 6-1 ATS in its last seven road games and 10-4 ATS as an underdog. The dog is 8-1 ATS in the Cardinals series, and the road team is 9-1 ATS in the last 10 meetings.
28. Detroit Lions (3-10-1) - I suppose it is generous to say that a positive from Detroit's loss to Tampa Bay is that the Lions battled back in the second half after falling behind 24-3 to make it a game (24-17) for a minute. I suppose an optimist can say that was a sign that the Lions didn't quit. But not me. I have been saying it for weeks: I think the Lions hate Matt Patricia, and I think that they have quit on their coach and on this season. They are 1-8 ATS in their last nine games and 0-4 ATS in their last four road games.
29. Miami Dolphins (3-11) - Isn't it interesting that Brian Flores, much like Detroit's Matt Patricia, suddenly becomes incompetent at coaching and coordinating defense the minute he leaves Bill Belichick's side? Miami has allowed 31.1 points per game, and four of their last five opponents have scored at least 30 points. Even with their horrible offense, the Dolphins are a dead red 'over' bet right now.
30. Washington Redskins (3-11) - Just horrendous luck for Redskins backers last week, with Philadelphia scoring two touchdowns in the final 26 seconds to run the score to 37-27 and to deal Washington a horrible ATS loss. The scoop-and-score touchdown on the final play of the game (from 47 yards out) is the only thing between the Redskins and a four-game ATS winning streak. The Skins should've covered against Buffalo on Nov. 3 as well. And if they had, they would be 7-1 ATS in their last eight games.
31. New York Giants (3-11) - Eli Manning is still a loser (he had two more interceptions on Sunday) and still not an NFL-caliber starter. But he is 2-0 ATS in his last two starts. The Giants are 3-1 ATS in their last four games overall and they are 3-1 ATS in their last four games against the Redskins.
32. Cincinnati Bengals (1-13) - I know he doesn't have anything to work with on the receiving side, but Andy Dalton's four interceptions were all horrible throws. It is as if he's giving up and accepting the fact that most of the NFL sees him as a backup quarterback. The Bengals are just 2-6 ATS in their last eight games and 1-4 ATS against teams below .500. They are 8-3 ATS in their last 11 road games, though.
Robert Ferringo has been the top football handicapper in the country the past nine years, earning nearly $40,000 in total football profit (average profit: +$4,400). He has also posted 7 of 9 winning seasons (including three straight winning years) and produced an amazing 50 of 76 winning football months over the past 12 years. Robert has eight of 10 winning NFL preseasons and he is at nearly 60 percent winners over his last 1,000 totals picks. Also, Robert's proprietary KING College Football Betting System has posted three of five winning seasons. Robert is looking for a fourth straight winning football year and wants more profit this fall. SIGN UP HERE TODAY AND TAKE ADVANTAGE OF OUR 3-FOR-1 FOOTBALL SPECIALS!
We are offering new clients $60 in free college football picks for Robert's picks or any Advisory Board handicapper of your choosing. Get your free college football picks now!