NFL Power Rankings Week 3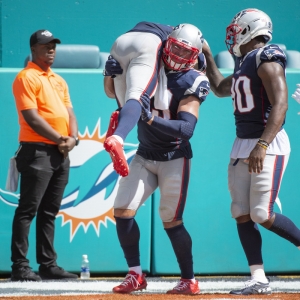 Never forget that football is a war of attrition. It is battle. Football is sport. And it reflects the realities of nature. Football is two male rams smashing horns. It is two rhinos fighting for territory or male lions wrestling for command of the pride. It's primal and brutal.
Injuries are a major plot device in the story of every NFL season. They have had major impacts on the tenor and direction of every professional football season that I've ever witnessed. So last week's biggest personnel losses shouldn't have come as a surprise. Injuries in football are a certainty. The only questions are who and when.
Ben Roethlisberger. Drew Brees. Aaron Donald. Alshon Jeffery. Cam Newton. Joe Staley. MVPs. Pro Bowlers. Foundations of their teams. All hurt. Most of them will miss at least some time, and others appear destined to play at a reduced level for at least a portion of this season.
Each week the NFL landscape changes thanks to the final scores on the field. The wins and losses shape the ultimate narrative of any given season. But injuries always have and always will play as big of a role in determining who wins and who loses as anything in the sport. You can't handicap injuries. You can only hope to withstand them.
Here is Doc's Sports NFL Power Rankings:
1. New England Patriots (2-0) - It still blows my mind how many professionals actually bet against these guys last week. The same can be said this week. Even with a spread of over three touchdowns, there is simply no way I would throw money down against this group right now. You shouldn't either.
2. Kansas City Chiefs (2-0) - The Chiefs needed overtime to beat the Ravens last December in Arrowhead. This is a tough matchup for Kansas City, with the physicality of the Ravens in stark contrast to the speed of K.C. The Chiefs are 9-0 ATS in their last nine September games and 18-8 ATS after a win. They are just 2-5 ATS in their last seven home games.
3. Los Angeles Rams (2-0) - Aaron Donald got banged up against the Saints last week and is listed as questionable. But by all accounts, he is going to be fine and will play this week in Cleveland. Clay Matthews has two sacks in two weeks and has recaptured some of his explosiveness. He could be a serious difference-maker for this team and a potential steal in free agency.
4. Baltimore Ravens (2-0) - Lamar Jackson looks extremely confident running Greg Roman's offense, and he is a perfect fit. They are doing a lot of misdirection stuff, and he is completing 72 percent of his passes through two games, with seven touchdowns to zero interceptions. He's had to run the ball only 19 times. And his scrambling and designed runs really were the difference in the Arizona game.
5. Dallas Cowboys (2-0) - Right now no bet against the Dolphins is a bad bet. However, have you seen anything from the Cowboys in the Jason Garrett Era that would make you trust them as 21-point favorites? Me neither.
6. New Orleans Saints (1-1) - Drew Brees is going to be out at least six weeks with his thumb injury. However, bettors shouldn't overreact to his absence even though oddsmakers will. New Orleans is stacked on both sides of the ball and really does have an excellent roster. Teddy Bridgewater is no pushover, and Taysom Hill will be a factor as well. Throw in Sean Payton, and the Saints are still formidable. As we've seen with the Colts (2-0 ATS), just because a team loses its star quarterback that doesn't mean they lose all betting value.
7. Philadelphia Eagles (1-1) - Over the course of the last 18 games, the Eagles have been held scoreless in the first quarter 12 times. Last week was also the sixth straight road game in which the Eagles failed to score a touchdown in the first quarter. They are dealing with a cluster injury problem on offense and will have to lean on their defense and running game this week against the Lions.
8. Minnesota Vikings (1-1) - Kirk Cousins had two fumbles and two interceptions, including the jaw-dropping one in the end zone in the final minutes. However, he was hardly the only Viking to make a potentially game-changing mistake. Adam Thielen had a touchdown-canceling pass interference penalty, and Stefon Diggs had an unsportsmanlike conduct penalty that erased any hope of the Vikings going for a two-point conversion to cut the lead to 21-18.
9. Seattle Seahawks (2-0) - I'm done betting on or against this team. I don't know what it is about the Seahawks, but I just cannot get in sync with this team. I'm like that with the Brewers in MLB betting and with USC in college football. There are some teams that I just think I will never quite figure out. The Seahawks are 8-2 ATS in their last 10 conference games and 11-4 ATS in their last 15 games overall.
10. Green Bay Packers (2-0) - It is not rocket science why the Packers have gotten off to a better start this season. It isn't Aaron Rodgers. It isn't Matt LaFleur. It is the fact that Green Bay finally upgraded the talent level on the roster this past offense. Their free agent additions, particularly on defense, have transformed what this team is capable of.
11. Chicago Bears (1-1) - Nothing the Bears have done in the first two weeks makes me feel confident in them as a road favorite on Monday. The Bears have gone 4-1 ATS in their last five Monday Night Football games. They are 11-4 ATS against teams in the NFC and 9-3 ATS against teams with a losing record.
12. Houston Texans (1-1) - In Week 1, Deshaun Watson was getting blasted because the Texans offense showed a dumbfounding refusal to throw any quick passes and Watson was taking five- and seven-step drops every time he set back to throw. In Week 2, Watson took a slew of unnecessary hits because he refused to get rid of the ball. It just goes to show that there are a bunch of issues with Houston's passing game, and Watson could be in serious trouble against the Chargers' elite pass rushers this week.
13. Tennessee Titans (1-1) - The Titans are 3-for-20 on third down through two games. If that isn't on the quarterback, I don't know what is. The Titans are 4-0 ATS in their last four games against the Jaguars. But they are just 1-4 ATS in their last five divisional games and just 21-47 ATS in conference play over the last nine years.
14. Los Angeles Chargers (1-1) - A lot of people are trashing Kirk Cousins for his ridiculous interception late in the game against Green Bay. But Philip Rivers' interception with 1:10 to play in a 13-10 loss has to rival Cousins' throw for sheer stupidity. Rivers heaved the ball into clear double-coverage - when he had two underneath receivers open - and was picked off by Pro Bowler Darius Slay. Beyond that INT in the end zone, the Chargers fumbled the ball at the one and had two other touchdowns called back due to turnovers.
15. Atlanta Falcons (1-1) - Matt Ryan has been uncharacteristically sloppy with the football through two weeks. He has to keep his cool and stop turning the ball over. Things aren't going to get any easier for Ryan as the Falcons deal with several injuries and issues along the offensive line. The Falcons are just 3-9 ATS after a win and 1-5 ATS in their last six road games.
16. Pittsburgh Steelers (0-2) - I don't think that we will ever see Ben Roethlisberger suit up for the Steelers again. That means that in the course of 18 months, the Steelers went from Super Bowl favorites with a Ben-Bell-Brown triumvirate to a team in last place in the AFC North and none of those three players still on the roster. The Steelers are 1-10 ATS in their last 11 games on the West Coast.
17. Indianapolis Colts (1-1) - One of my sportsbooks cancelled about $3,000 worth of futures bets that I had placed on the Colts before the season started once Andrew Luck retired. I was pissed off at first. After watching this team play the last two weeks, I'm almost relieved. These guys are just a tough, well-coached, well-rounded squad. This week marks just the seventh meeting between the Colts and Falcons since 1990 and just the 10th meeting since 1970! That makes this one of the least-played matchups in the NFL over the last 50 years.
18. Cleveland Browns (0-1) - Is it me, or does Baker Mayfield kind of stink? He has the best pair of receivers in the NFL. And those guys make all kinds of amazing plays for him. But Mayfield misses way, way too many throws. And he is always high with the ball, meaning that when he misses he is just begging to be intercepted. I think that people may have been premature in crowning this guy as The Next Big Thing among the young quarterbacks. I am not impressed.
19. Buffalo Bills (2-0) - Josh Allen has gotten infinitely more accurate on short and intermediate throws. And the across-the-body throw he made to Dawson Knox last week was incredible. However, Allen is objectively awful at throwing the ball deep. I know he has a canon of an arm. But he isn't even close when he takes shots down the field, repeatedly missing receivers by 10 or 15 yards. The Bills are 9-4 ATS in their last 13 games against the Bengals, but the favorite is just 2-6 ATS in this series.
20. San Francisco 49ers (2-0) - Credit where credit is due. I am not a fan of Kyle Shanahan as a head coach. However, he really had the 49ers ready to play last Sunday. They were energized and prepared schematically, and you could tell that they were doing things offensively and defensively that the Bengals were not prepared for. The 49ers are just 7-16 ATS in their last 23 home games. If they are going to be a legit player in the NFC West this year, they have to reclaim a home-field advantage.
21. Carolina Panthers (0-2) - I was speaking with a Carolina Panthers season ticket holder last week, and he floated the idea that it is better than 50-50 that Cam Newton retires at the end of this season. He is clearly not the same player that he was in his younger years. And if the 0-2 Panthers don't make the playoffs, then it is likely that Ron Rivera will be let go. Luke Kuechly is always one concussion away from never playing again as well, meaning that there could be major, massive changes coming to Charlotte. Newton appears to be out this week at Arizona.
22. Oakland Raiders (1-1) - It is like I always say: win on Monday, lose on Sunday. The Raiders looked competent in their Week 1 win on MNF over the Broncos. But they reverted back to form last week against the Chiefs, blowing a 10-0 lead. The Raiders won't play another home game until November, and the next five games will all be played with 10 a.m. PST kickoffs, a death knell for West Coast teams travelling east.
23. Detroit Lions (1-0-1) - Not many people are noticing, because the Lions are a chore to watch, but Kenny Golladay is a beast, and he is becoming a star. Matt Stafford is still way too haphazard throwing the ball downfield. But Golladay has bailed him out time and time again through the first two weeks. The Lions are just 3-7 ATS in their last 10 conference games and just 1-4 ATS in their last five games in Philadelphia.
24. Jacksonville Jaguars (0-2) - I thought Doug Marrone made the right call by going for two and the win at the end of the Houston game. The Jaguars were battered and bruised. And they were just two yards away from sending the Texans to a 0-2 start. The Jaguars are now 4-10 ATS in their last 14 games and they are 2-6 ATS in their last eight divisional games. Jacksonville is 3-7 ATS in its last 10 Thursday games.
25. Denver Broncos (0-2) - The Broncos are now 0-2 for the first time since 1999. All of the talk coming out of their loss to Chicago was about the terrible roughing the passer call on the final drive. However, they still gave up a 25-yard completion in the middle of the field to set up Chicago's game winning field goal. The Broncos don't have a sack or a turnover in two games. How is that possible with a defensive mastermind like Vic Fangio and all the talent available on the Broncos roster?
26. Tampa Bay Buccaneers (1-1) - Tampa Bay better soak in the sights at home this week. After this Sunday's home game against the Giants, they don't play in Tampa again until Nov. 10. The Bucs have seven of their next nine games away from home. Be wary: it is rare in the NFL for a team to be a touchdown underdog one week and then serve as a touchdown favorite the following week. The home team is 0-6 ATS in the series with the Giants, and Tampa is just 2-7 ATS in their last nine games against New York.
27. Arizona Cardinals (0-1-1) - These guys are going to be dangerous all season long. They aren't any good. And I don't like Kliff Kingsbury's long-term prospects at all. However, their boom-or-bust offensive approach is going to cause some people some problems. These guys really could be 2-0 SU right now despite getting outgained by 180 yards. They will have to settle for being 2-0 ATS.
28. Washington Redskins (0-2) - How is Greg Manusky still employed? He has been a defensive coordinator for 12 years with four different teams. His teams have finished in the Top 10 in scoring defense just twice while being in the Bottom 10 four times. He has never had a team finish in the Top 10 in yards allowed and has been ranked 20th or worse five times. The Redskins are No. 29 in points allowed and No. 30 in yards allowed through two weeks, giving up 63 points and 910 yards.
29. New York Giants (0-2) - The Giants finally realized what I have been saying for four years: Eli Manning sucks and shouldn't be starting. But while Manning was A problem, he wasn't THE problem for this team. THE problem is that the roster is terrible outside four or five guys. Daniel Jones can't fix a comical defense, depleted receiving corps, shaky offensive line, bad special teams or an overmatched coaching staff. But good luck Dan.
30. New York Jets (0-2) - That was truly awful. I don't care that they didn't have Same Darnold. The Steelers and Saints both lost their starting quarterbacks during their games last week and their offenses still looked competent. The Jets, on the other hand, looked like a high school team. Spoiler alert: Adam Gase isn't the answer. The Jets are 1-7 ATS in divisional games, and they are just 2-5 ATS on the road.
31. Cincinnati Bengals (0-2) - Offensively, the Bengals scheme is fine. They are aggressive and appear prepared to throw the ball a ton this season. However, they weren't ready to play in their home opener. The Bengals were outplayed in all three phases last week. And that underrated home-field advantage that they have enjoyed the past decade is clearly gone as the crowd is completely disinterested in this team. The Bengals are 5-0 ATS on the road and 7-3 ATS after a double-digit loss at home.
32. Miami Dolphins (0-2) - Brian Flores is a sucker. He was an assistant coach excited to take on his first head-coaching gig. So, he sold out and took the job in Miami as the Dolphins rebuild. But Flores was too dumb to realize that he is just the placeholder during the tanking period. In three years, when Miami has rebuilt its roster and is ready to compete again, Flores will have a 6-42 record as a head coach (with a potential 0-16 season around his neck). Flores will be a sacrificial lamb. Then the front office will bring in a big-name coach to really punch up the excitement and hype. And Flores will then never be able to get another head coaching job because no one is going to be able to justify to its fan base why they hired a guy that's won 12 percent of his games. I hope Flores likes coaching in the Sun Belt, because that's where he is headed.
Robert Ferringo has been the top football handicapper in the country the past nine years, earning nearly $40,000 in total football profit (average profit: +$4,400). He has also posted 7 of 9 winning seasons (including three straight winning years) and produced an amazing 50 of 76 winning football months over the past 12 years. Robert has eight of 10 winning NFL preseasons and he is at nearly 60 percent winners over his last 1,000 totals picks. Also, Robert's proprietary KING College Football Betting System has posted three of five winning seasons. Robert is looking for a fourth straight winning football year and wants more profit this fall. SIGN UP HERE TODAY AND TAKE ADVANTAGE OF OUR 3-FOR-1 FOOTBALL SPECIALS!
We are offering new clients $60 in free college football picks for Robert's picks or any Advisory Board handicapper of your choosing. Get your free college football picks now!
Read more articles by Robert Ferringo