NFL Power Rankings Week 10
by Robert Ferringo - 11/9/2021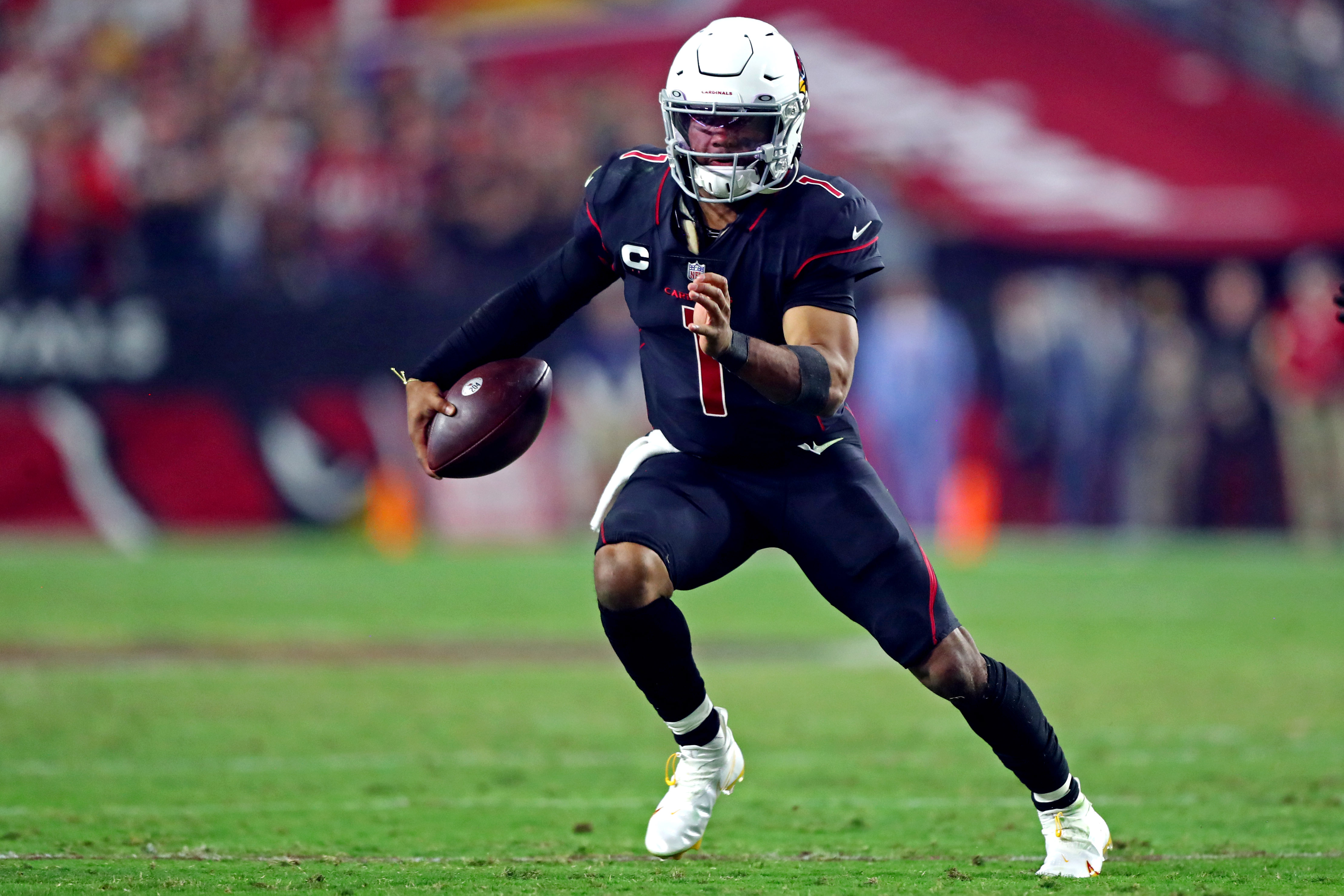 One of the biggest themes of last week was the confirmation and verification of a gambling truism: always bet on teams that lose a star player.
We see this all the time across all sports. When a team loses a star player to trade, injury, suspension, or some other malady, you always want to bet on those teams in their next game. It is counterintuitive. But it is effective.
Look at last weekend in the NFL:
Green Bay loses its galaxy-brained narcissistic quarterback, Aaron Rodgers, and then covers the spread in a close loss to Kansas City.
Tennessee loses its hero running back, Derrick Henry, to injury and then covers the spread in a blowout win at Los Angeles.
Cleveland dumps malcontent wide receiver Odell Beckham and then covers the spread in a blowout win at Cincinnati.
Denver trades franchise cornerstone Von Miller and then goes on to dominate Dallas and cover the spread.
Arizona loses star quarterback Kyler Murray to an ankle injury and then goes on to cover the spread in an easy win at San Francisco.
This isn't a one-off. This kind of thing happens all the time in a variety of sports.
There are two opposing forces that create value for bettors in these situations. The first is that the public overreacts to the news of the star player's absence. The sportsbooks and oddsmaker know this. They anticipate it. So, they skew the spread to stay ahead of the expected betting patterns. That right there creates betting value.
The second thing is most intangible and is more psychological. The players on the team that just lost a star or lost its best player tend to raise their level of play. These guys play with desperation and focused intensity, leading to a better effort on the field (or the court, or the diamond, or the pitch, etc.). There is always a short-term bump in performance with these teams. Eventually, the loss of the key player catches up to them. But in the immediate aftermath, there is an "all hands on deck" mentality that usually generates a solid effort.
I hear bobbleheads talking about "betting against the public" all the time. Most people say that phrase to make it sound like they know what they are talking about. But this gambling truism – bet on a team that loses its best player or a star player – is the perfect example. It is difficult. It seems illogical. But I've seen it too many times over too many years in too many sports to doubt that it is 100 percent true.
Doc's Sports offers NFL expert picks for every game on our NFL predictions page.
Here is Doc's Sports NFL Power Rankings:
1. Arizona Cardinals (8-1) – I have said, in this very spot, for years, that I felt Colt McCoy was the one of the best backup quarterbacks in the NFL and that he probably should be starting for someone (if he could ever stay healthy). The Cardinals are No. 1 in the NFL in point differential, and are the best team in the best division in football. Hence, they move up to the top spot.
2. Tampa Bay Buccaneers (6-2) – We will see if the Bucs can avoid suffering from the same bye week rust that has afflicted so many teams this year. Fortunately for them, that rust may go both ways, as Washington is coming off a week of rest as well. WFT is 0-4 ATS after a week of rest, and Tampa Bay is just 3-3 ATS after a week off.
3. Baltimore Ravens (6-2) – Lamar Jackson is now an outstanding 12-0 straight up in his career against NFC opponents, passing for 28 touchdowns against just five interceptions. His two interceptions last week were sloppy, but Jackson led the Ravens to 500 total yards and 36 first downs in their OT win over Minnesota, an effort that should vault him into the MVP discussion.
4. Tennessee Titans (7-2) – Right now the Titans are the hottest team in the NFL. They've covered five straight, and seven of eight, and have wins over Buffalo, Kansas City, Indianapolis and the Rams in the last 21 days. So, is it a red flag that they are only -3.0 at home against the Saints? I know one thing: Tennessee's 10.1 offensive yards per point over the last three weeks is completely unsustainable.
5. Green Bay Packers (7-2) – It's been a fun week watching the pointed mockery of Aaron Rodgers' galactic stupidity. You lied. Just admit you lied. Be honest now. But once he started throwing out imbecilic buzz words like "woke mob" and "cancel culture," it became obvious that we're dealing with a giant piss baby.
6. Los Angeles Rams (7-2) – It should be concerning to all the Rams Super Bowl bandwagoners that Los Angeles completely and absolutely shrunk in the face of Tennessee's physicality. The Rams got pushed around and looked soft. They are now 0-3 ATS in their last three games, and I am still firmly on record as saying that this team isn't as good as everyone thinks it is.
7. Dallas Cowboys (6-2) – This week is a revenge game for Dan Quinn. His extensive knowledge of the Falcons personnel should give Dallas an advantage heading into this week. The Cowboys are 0-4 ATS in their last four games after a double-digit loss at home and they are just 1-4 ATS in their last five games against Matt Ryan.
8. Buffalo Bills (5-3) – I'm not going to rake the Bills for losing to the Jaguars. It happens. Teams have wasted games. However, what is worrisome is that Buffalo looked like trash in the first half against Miami at home last week. They have looked pretty awful, as a matter of fact, for seven of the last eight quarters they have played. That offensive line is simply not Super Bowl caliber and is a massive issue moving forward for this group.
9. Cleveland Browns (5-4) – There is some sharp action that is hammering the Browns this week in New England. The feeling is that Cleveland is obviously a much better team without Beckham and that now the Browns are prepared to perform like the team that everyone expected to see at the beginning of the season. The Browns are 5-1 ATS on the road and 4-1 ATS as an underdog. But they are just 7-15 ATS against AFC opponents and 12-30 ATS against teams that are over .500.
10. New Orleans Saints (5-3) – The Saints are 36-16 ATS in their last 52 road games and 36-17 ATS in their last 53 games as an underdog. However, the Saints are just 2-7 ATS against teams that are above .500.
11. Las Vegas Raiders (5-3) – I do think that Las Vegas can bounce back quickly from last week's loss. They were in a horrible situation last week, dealing with the Henry Ruggs situation and then having to fly across the country for an early start. I also think the Raiders were looking ahead to this week's clash with the Chiefs, and I expect them to come to play.
12. Los Angeles Chargers (5-3) – I know that I had the Chargers in the Top 10 last week and have dropped them several spots even though they picked up a hard-fought road win. However, Los Angeles has been outscored on the season. And the more I watch their defense, the less impressed I actually am with it. The Chargers are just 18-39 ATS in their last 57 home games.
13. Pittsburgh Steelers (5-3) – Here is another team that has a winning record despite being outscored on the season. That's generally a red flag that a team is going to be overvalued. Teams that have won on Monday Night Football have dominated this year in their games the following Sunday, going 8-0 SU and 7-1 ATS in the last eight opportunities.
14. Indianapolis Colts (4-5) – The Colts are No. 1 in the NFL this year with 20 turnovers forced on defense. It is tough to have a losing record when you are +10 in turnover differential, but here we are. The Colts are also just 1-5 ATS in their last six home games against the Jaguars, and the favorite in this series is just 1-5 ATS as well.
15. Kansas City Chiefs (5-4) – More sloppiness. Travis Kelce has had two awful games in a row. Just awful. If it weren't for a superhuman effort by Tyreek Hill, this team would probably be 2-7 right now. The dumb penalties, bad drops and missed opportunities just continue to pile up for this mediocre squad, and they are now 1-10 ATS in their last 11 conference games and 5-17 ATS in their last 22 games overall.
16. New England Patriots (5-4) – The Patriots bandwagon is starting to fill back up. This despite the fact that they don't run or throw the ball with any consistency at all. The public might be buying into the Pats – almost out of muscle memory – but their spread against the Browns this week has already been dropping all week.
17. Cincinnati Bengals (5-4) – Ja'Marr Chase has been phenomenal for the Bengals this year. However, I chastised this team for taking Chase instead of an offensive lineman in the draft, and last week was the perfect example of why. Chase was a want. Solid offensive line play in front of Joe Burrow was a need.
18. Minnesota Vikings (3-5) – Last week 10 teams posted an offensive yards per point number of 13.8 or lower. Nine of them won. The one loser? Yup, the Vikings. The underdog is 7-2 ATS in Minnesota's last nine games overall, and the Vikings are 7-3 ATS the last 10 times they have been posted as a dog.
19. Chicago Bears (3-6) – Justin Fields just continues to get pummeled behind Chicago's ramshackle offensive line. He is absolutely going to get injured. I think he's also starting to pick up some bad habits (like happy feet). Fields and the Bears get two weeks to rest but then have to play another physical beast of a team when Baltimore comes to town.
20. Denver Broncos (5-4) – This team simply cannot catch a break on the injury front. Their offensive line has been absolutely crippled, and they could be down as many as four starting linemen this week. Their early week injury report had 22 names on it! The Broncos are just 4-11 ATS in their last 15 games as a home favorite, and I'd be wary of betting on any team coming off an outright win as a double-digit underdog.
21. San Francisco 49ers (3-5) – Kyle Shanahan is the Peter Principal poster boy. He will likely be an excellent offensive coordinator for the rest of his career. But he has proven to be an incompetent as a head coach. Last week's no-show against a wounded Cardinals team was inexcusable. The underdog has covered four straight in the Rams series, and San Francisco is 8-3 ATS in its last 11 against Los Angeles.
22. Carolina Panthers (4-5) – Who did the Panthers think they were getting? How am I the only person that is not shocked that Sam Darnold has sucked in Carolina? He's always been a turnover machine and has never shown me any high-end potential. I at least give Matt Rhule credit for not mincing words when discussing Darnold's pathetic effort last week in the postgame press conference.
23. Seattle Seahawks (3-5) – I don't understand the Odell Beckham to Seattle rumors. Can Beckham play defense or play on the offensive line? No? Then the Seahawks don't need him. Seattle already has a Pro Bowl receiver that they can't get the ball to (Tyler Lockett), so they don't need another one. Pete Carroll is just 4-4 ATS in his last eight games after a bye week.
24. Philadelphia Eagles (3-6) – The Eagles have run the ball 85 times for 412 yards and six touchdowns over the past two weeks. I think if the Eagles stick with that formula, they will be a scrappy underdog over the second half of the season. Keep pounding the rock. The Eagles are 3-8 ATS on the road and 2-5 ATS as a road underdog.
25. Atlanta Falcons (4-4) – If you recall, last year Atlanta leapt out to a 20-0 lead against the Cowboys in Dallas. They went on to perform one of the all-time great regular season collapses, blowing a 15-point lead in the final five minutes (thanks in part to a wild onside kick) and losing 40-39 on the final play of the game. We'll see if the Falcons are as prepared for the rematch.
26. New York Giants (3-6) – The Giants have two weeks to rest up and get ready for the second half of the season. I'm really interested to see what this offense is going to look like when they finally get all their weapons back healthy. They have gone 'under' in four straight games, but I feel like a breakout might be coming.
27. Washington Football Team (2-6) – This game is a rematch of last January's playoff meeting between Washington and Tampa Bay. WFT was game in that meeting, losing 31-23 as a 10-point underdog.
28. Miami Dolphins (2-7) – Miami's defense continues to start games strong and then completely collapse as the games wear on. They have allowed only 13 total points in the first quarter over their last five games. They have allowed 54 points in the fourth quarter of those games.
29. Jacksonville Jaguars (2-6) – The Colts are the one team in the league that the Jaguars have had success against. Jacksonville is an absolutely jaw-dropping 11-1 ATS in the last 12 games against Indianapolis and the Jaguars have some – gasp – momentum heading into this week's contest.
30. New York Jets (2-6) – It's not a great sign when your starting quarterback goes down and then your offense starts averaging 230 more yards and 20 more points with your backup in. But that's what New York has done the last two weeks without rookie Zach Wilson. The Jets are just 5-16 ATS in their last 21 divisional games, but they are 12-3 ATS at home against teams that are over .500.
31. Detroit Lions (0-8) – The Lions have a situational advantage this week when they head to Pittsburgh. Detroit has had two weeks to rest and prepare and now they are facing a team that is coming off a Monday Night Football game. Surprisingly, Detroit has taken a majority of the action in early week betting this week against the Steelers, and that number has shown a steady trend downward.
32. Houston Texans (1-8) – I have been a long-time Tyrod Taylor defender, and I think that the guy is an underrated quarterback. However, he played about as poorly as a quarterback can play last week. He had three interceptions and had a fourth called back by a penalty that was one of the worst "throws" I've ever seen. In all the Texans and Dolphins combined for nine – NINE – turnovers in what was one of the most horrifying games of the season.
Robert Ferringo has been one of the best football handicappers in the country and for a full decade from 2010-2019 he banked over +$40,000 in football profit. Robert has produced four of five winning seasons (and 8 of 11) and has produced an amazing 55 of 85 winning football months over the past 13 years. Robert has 9 of 11 winning NFL preseasons and he is at nearly 60 percent winners over his last 1,000 totals picks. Also, Robert's proprietary KING College Football Betting System is back and Robert expects a MONSTER football season. Robert is looking for another winning football year and wants more profit this fall. SIGN UP HERE TODAY AND TAKE ADVANTAGE OF OUR 3-FOR-1 FOOTBALL SPECIALS!
Get NFL picks on every single game, or if you want our very best bet premium picks by the experts, sign up for your free $60 account with a guarantee.