NFL Power Rankings Week 15
by Robert Ferringo - 12/14/2021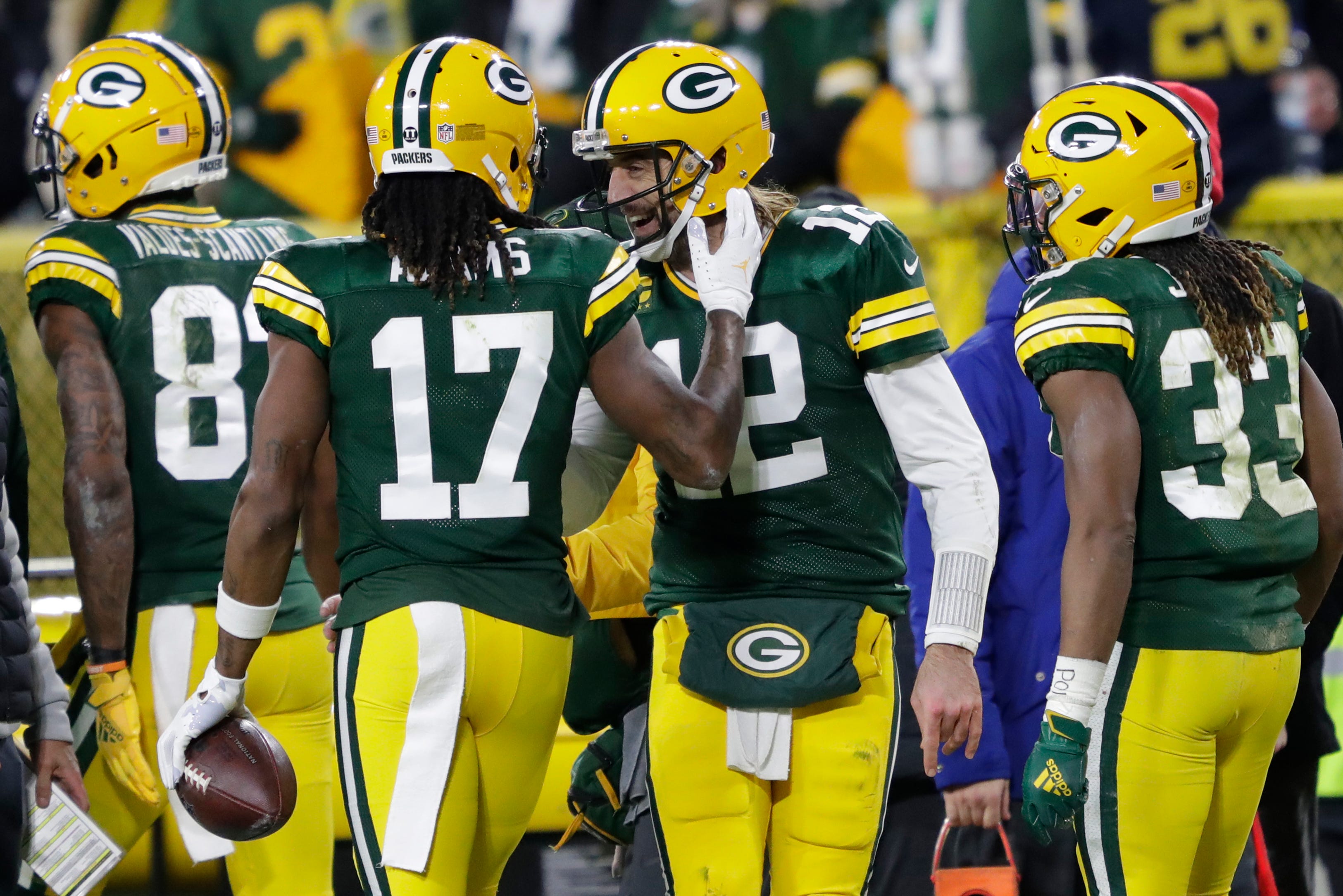 Sometimes in life, being successful doesn't mean seizing the moment or claiming victory because of your amazing talent.
No, sometimes being successful is the direct result of simply not being a screw-up.
Simply not making unforced errors and just not messing up is actually a pretty valuable skill in life. And in the NFL, that is the difference between cashing tickets and breaking bankrolls.
Turnovers and penalties are two of the most important statistics in the NFL. Sometimes teams don't have to be better than their opponents to win games (and cover spreads); they just need to make fewer mistakes. We see that every week. And a quick look at one of the most impactful NFL betting statistics there is – turnover differential – paints a pretty clear picture.
Here are the top six teams in the NFL by turnover differential:
Indianapolis (+13) = 9-4 Against The Spread
Green Bay (+12) = 11-2 ATS
Arizona (+10) = 9-4 ATS
New England (+10) = 9-4 ATS
Dallas (+9) = 10-3 ATS
Tampa Bay (+9) = 7-6 ATS
Combined 2021 ATS record: 55-23 ATS (70.5 percent)
Now here are the bottom six teams in the NFL by turnover differential:
Jacksonville (-19) = 4-9 ATS
N.Y. Jets (-16) = 3-10 ATS
Chicago (-11) = 4-9 ATS
Baltimore (-9) = 5-7 ATS
Carolina (-8) = 5-8 ATS
Combined 2021 ATS record: 21-43 ATS (32.8 percent)
It's not rocket science. Terrible, loser teams are going to do the idiotic things that terrible, loser teams do. And the teams that avoid mistakes are going to win games, cover spread, and stack cash.
Doc's Sports offers free NFL picks for every game on our NFL predictions page.
Here is Doc's Sports NFL Power Rankings:
1. Green Bay Packers (10-3) – At no point in Sunday night's game against Chicago was anyone on Green Bay even remotely panicked. You could tell that the Packers knew no matter what happened – and I don't think anyone expected 27 points out of the Bears in the first half – everyone on Green Bay's sideline knew they weren't going to lose that game. The Packers are now 43-9 straight up in their last 52 regular season games.
2. Tampa Bay Buccaneers (10-3) – Tom Brady's 33-3 straight up mark against the Buffalo Bills is one of the most amazing statistics I can recall seeing in any team sport. Brady does have to be a lot more careful and judicious running the ball, though. He took some shots on Sunday that I'm sure Bruce Arians couldn't have been thrilled about.
3. Kansas City Chiefs (9-4) – It looks like the pendulum is swinging back the other way with this team. After a season's worth of games as one of worst bets in the NFL (3-14 against the spread), the Chiefs have covered the number in four straight. Kansas City is 7-2 ATS in its last nine road games against the Chargers, and the visitor is 15-5 ATS in the last 20 in this series.
4. Arizona Cardinals (10-3) – Why was Kliff Kingsbury outthinking the room on Monday? Oh, right: because he's a terrible coach. James Connor was Arizona's best offensive player, by far, yet Kingsbury insisted on trying to throw the ball in the red zone. The result was two turnovers inside the 20 (and another touchdown that came on 4th down) and another deflating, high-profile home loss to an NFC contender.
5. New England Patriots (9-4) – The Patriots are 6-1 ATS in their last seven games after a bye week. They are also 42-21 ATS in their last 63 games as an underdog and enter this week's game at Indianapolis on a seven-game ATS winning streak. Bet against Bill Belichick at your own peril.
6. Los Angeles Rams (9-4) – Cooper Kupp is a god.
7. Baltimore Ravens (8-5) – John Harbaugh can try to explain his decision to go for a two-point conversion when his team was down 15 in the fourth quarter. But the reality is that he screwed it up and that was an indefensible position to take. The fact that he can't admit it shows just what stubborn egomaniacs NFL head coaches really are.
8. Tennessee Titans (9-4) – Tennessee's game at Pittsburgh this week should be a rock fight. But in a matchup of physical teams, the numbers suggest this one won't be a contest. Tennessee is No. 5 in rushing offense and No. 2 in the NFL in rushing defense. Pittsburgh is No. 30 in defending the run and No. 28 in the league running the ball on offense. If this one is decided in the trenches, it will be all Titans.
9. Indianapolis Colts (7-6) – I was stunned to see the massive line movement in the Patriots-Colts game. Indy opened as a 2.5-point underdog but is now a 2.5-point favorite, despite over 65 percent of the bets coming in on New England. That is a major red flag in this one.
10. Dallas Cowboys (9-4) – Forget about slumps: Dallas has won and covered the spread in back-to-back games, both of which came on the road against top defenses. Dallas has averaged nearly 30 points per game over its last three, and they haven't had the full complement of receivers together (and healthy) in a month. I think that Dak Prescott is fine.
11. Buffalo Bills (7-6) – Anyone that has been reading this space over the last two years knows that I have been ragging on the Bills for being soft on the offensive line and for their inability to run the football. I'm just glad the rest of the world finally caught up to those facts. The Bills are 5-1 ATS in their last six games after a loss, and I think that they will be perfect teaser material this week against the Panthers.
12. Cincinnati Bengals (7-6) – Joe Burrow is 8-3 ATS in his career after a loss, and the Bengals are going to be playing with total desperation this week as they try to avoid a third straight defeat. I was surprised to see the Bengals not posted as the token 3.0-point underdog this week in Denver. But the Bengals are 4-1 ATS on the road, and the underdog is 8-2 ATS in this series.
13. Los Angeles Chargers (8-5) – I know that everyone was guffawing over Justin Herbert's 63-yard touchdown pass to Jalen Guyton on Sunday. And deservedly so: she was a beaut. But I thought his 36-yard dart to Josh Palmer in the third quarter was maybe even more impressive. Regardless, this guy absolutely has the goods.
14. San Francisco 49ers (7-6) – Robbie Gould was 21-for-21 in his last 21 field goal attempts in the final five minutes of a game in which the field goal would've either tied the score or put his team in the league. He was, that is, until his 47-yarder at the buzzer flailed wide right. San Francisco is just 16-35 ATS as a home favorite and just 4-10 ATS in its last 14 home games.
15. Cleveland Browns (7-6) – Baker Mayfield is a loser and a punk, but he was also 100 percent correct that Cleveland got way too conservative and basically let Baltimore back into the game. The Ravens secondary was decimated. Cleveland should've thrown the ball 45 times, should've taken more shots down the field, and should've gone for the jugular when they were ahead 24-3. The fact that they didn't tells you everything you need to know about how much confidence they have in Mayfield.
16. Philadelphia Eagles (6-7) – I was surprised by the spike in the spread of this Week's WFT-Eagles game. That number opened at 3.5 and has been bet up to 5.0 by heavy action on Philadelphia. There is no quarterback controversy: Jalen Hurts will start. But the Eagles are just 3-7 ATS after a bye week and 2-5 ATS as a favorite, so this team definitely has something to prove.
17. Miami Dolphins (6-7) – I said it last week: the late season bye came at absolutely the wrong time for the red-hot Dolphins. They did not want anything to break their momentum, and we'll see how sharp they are in the first quarter against the Jets. Miami is 10-1 ATS in its last 11 meetings against New York and 5-0 ATS in this series at home. The Dolphins are also 6-0 ATS in their last six games out of a bye week.
18. Pittsburgh Steelers (6-6-1) – I honestly thought that the most embarrassing moment of Chase Claypool's month was going to be when he suggested that the Steelers should play music at practice, which was summarily shut down by head coach Mike Tomlin. Then Claypool upped the idiot ante by celebrating a first-down during the final 30 seconds of Pittsburgh's loss to Minnesota last Thursday. This kid is a physical beast. But man, he has got to grow up.
19. Minnesota Vikings (6-7) – The Vikings did absolutely everything they could to snatch defeat from the jaws of victory (again). But Dalvin Cook simply wouldn't let them lose, so now we have to endure another round of "Minnesota is better than its record" stories. The Vikings are 3-12 ATS in their last 15 Monday Night Football Games, and they are 2-9 ATS in their last 11 games as a favorite.
20. New Orleans Saints (6-7) – The Saints have won six of their last seven games against Tampa Bay, both SU and ATS. They are not scared of this Bucs team and are 3-0 SU and ATS against Tom Brady in his two seasons in Tampa.
21. Denver Broncos (7-6) – Denver has to keep running the ball. It will be a lot tougher this week against Cincinnati's No. 4 rush defense, and the Broncos won't enjoy the bus-sized holes they were ploughing through last week. But it is critical that Denver continue to try to shorten games and overpower teams with their one-two combo of Javonte Williams and Melvin Ingram. Denver is No. 3 in the NFL with 34.3 rushing attempts per game over its last three, and they are 2-1 ATS in those games.
22. Washington Football Team (6-7) – Washington is just 8-20 ATS in its last 28 games after a loss, and they have to avoid their usual post-Cowboys letdown this week in Philadelphia. Injuries are really creeping up on this Washington roster. And if they are missing Terry McLaurin (concussion), and if Taylor Heinicke isn't 100 percent, I don't know how this team is going to move the ball through the air.
23. Las Vegas Raiders (6-7) – I've been saying it for weeks: this team is emotionally exhausted. Now they have to pick themselves up off the mat after a 40-point loss, travel to a cold weather climate on a short week and face a rugged opponent. Not great. The Raiders are 1-5 SU and ATS in their last six games, and their average margin of loss ATS in those five defeats is 16.5 points.
24. Atlanta Falcons (6-7) – Somehow this team has managed to keep itself relevant into December, which is a minor miracle and perhaps a good omen for Arthur Smith's potential in Atlanta. The public is all over the 49ers this week, but I would be wary of giving a savvy veteran quarterback like Matt Ryan too many points. The Falcons are 5-1 ATS on the road, and the underdog is 5-2 ATS in this series.
25. Seattle Seahawks (5-8) – Don't get too excited: it was the Texans. The Seahawks are 15-6 ATS as an underdog and 11-4 ATS as a road dog. However, they are just 4-9 ATS in their last 13 road games and 2-7 ATS in their last nine games in Los Angeles. The Seahawks are 3-11 ATS after a win, and this is still just not the same caliber team we've seen in Seattle over the last decade.
26. Carolina Panthers (5-8) – Wait: so Cam Newton isn't the savior of the franchise? There's a reason you guys let him go in the first place: he's awful! Newton has now been benched five times in his last 14 starts with the Panthers and Patriots, and he has lost 11 straight games as Carolina's starting quarterback.
27. Chicago Bears (4-9) – It's looking like it will be around 25 degrees at kickoff in Chicago's Monday Night Football matchup with Minnesota. The home team is an outstanding 25-12 ATS in the last 37 games in this series, and the Bears are 6-2 ATS in their last eight against the Vikings overall.
28. New York Giants (4-9) – The Giants defense had very quietly started to play very well prior to last week's debacle in Los Angeles. Prior to that 37-point outburst, New York's defense had been ranked in the Top 5 for the previous six weeks. That, along with their putrid offense, is a big part of the reason this team is 1-7 against the total in its last eight games.
29. Detroit Lions (1-11-1) – I almost didn't believe this stat when I heard it, but it is true: the Lions have given up points – either a touchdown or a field goal – on 100 percent of their opponents' red zone drives this year. That's incredible. They have given up a touchdown on 74.4 percent of opponents' red zone drives and have yet to get a stop in the shadow of their own goal line.
30. Jacksonville Jaguars (2-11) – Seriously: how the hell do you not score a single point in an NFL football game when absolutely everything in the rules is set up to encourage scoring?
31. New York Jets (3-10) – Don't think about it, just do it; bet against this team every week. Every. Single. Week. New York is now 2-7 ATS in its last nine games, and in three of their last five games they missed the spready by 10 or more points. So, they aren't barely losing games ATS – they aren't even close. New York is 7-19 ATS in divisional games and 16-36 ATS on the road.
32. Houston Texans (2-11) – There were serious, not-at-all-ironic headlines this week suggesting that Houston quarterback Davis Mills is "headed in the right direction" or could "thrive" down the stretch. Are you kidding me? Davis Mills is not an NFL-caliber quarterback (at least not right now he isn't), and I find it comical that anyone who has watched him play this year thinks otherwise.
Robert Ferringo has been one of the best football handicappers in the country and for a full decade from 2010-2019 he banked over +$40,000 in football profit. Robert has produced four of five winning seasons (and 8 of 11) and has produced an amazing 55 of 85 winning football months over the past 13 years. Robert has 9 of 11 winning NFL preseasons and he is at nearly 60 percent winners over his last 1,000 totals picks. Also, Robert's proprietary KING College Football Betting System is back and Robert expects a MONSTER football season. Robert is looking for another winning football year and wants more profit this fall. SIGN UP HERE TODAY AND TAKE ADVANTAGE OF OUR 3-FOR-1 FOOTBALL SPECIALS!
Get NFL picks on every single game, or if you want our very best bet premium picks by the experts, sign up for your free $60 account with a guarantee.