NFL Power Rankings Week 9
by Robert Ferringo - 11/2/2021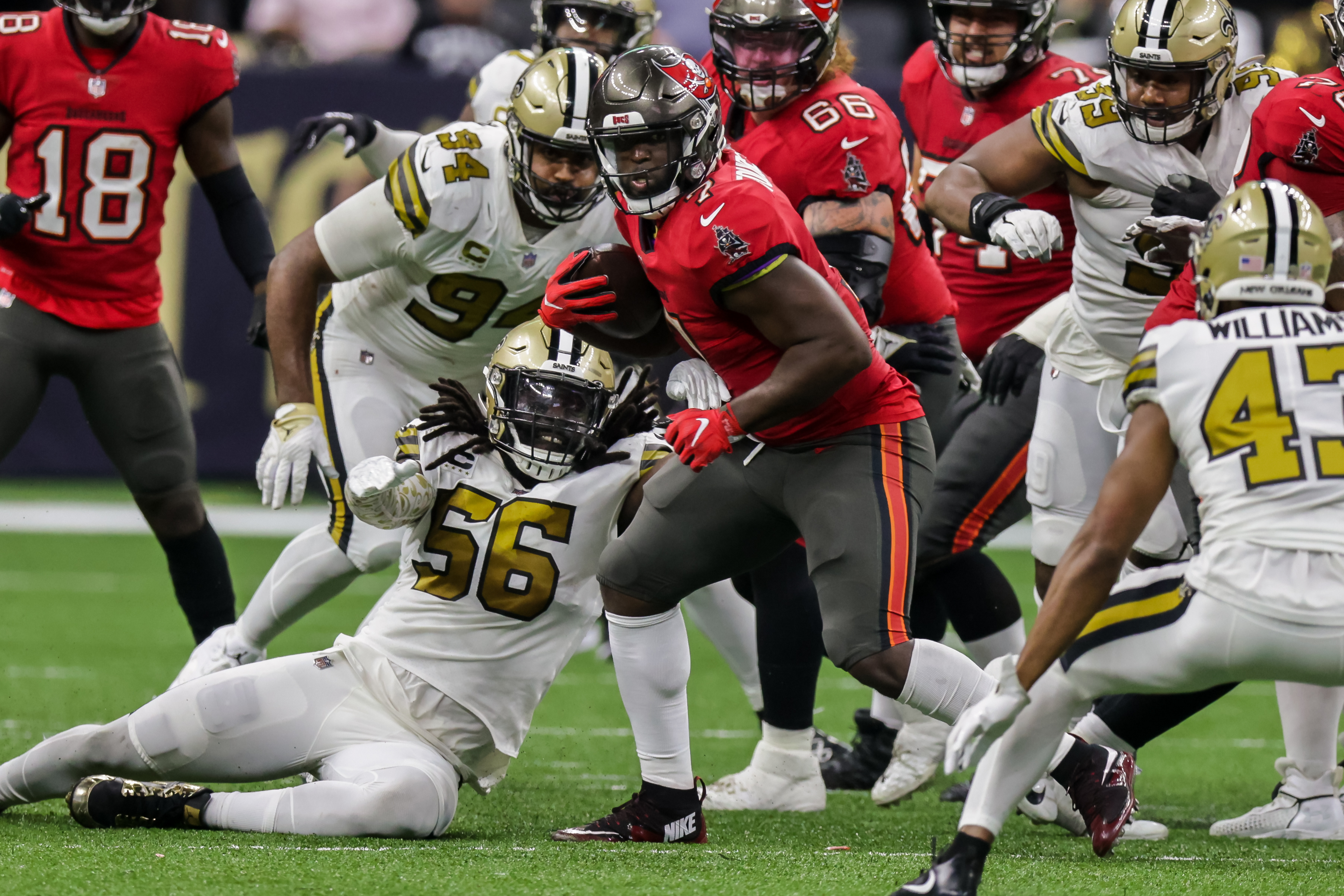 I have long said that betting on NFL teams coming off a bye week is one of the most overused and overrated handicapping angles. The assumption is that with an extra week of time and preparation, teams coming off a bye week will be extra ready to play and therefore have a big advantage over their opponents.
Wrong.
I could do a 10-page paper on bye week influence against the spread. But let me keep this simple and straightforward. First, the bye week is only an advantage if the coaching staff is capable of taking advantage of that extra time. Second, teams coming off a bye week are usually rusty and take a quarter or two to get back into the rhythm. Three, sportsbooks usually overcompensate on the lines for teams off a bye week because they know that square bettors want to use this angle.
Last week was yet another example of how overrated the bye week can be. Someone was bound to cover the spread in the Dallas-Minnesota game since both teams were coming off a week of rest. Pittsburgh was able to cover the spread against a banged-up Cleveland team, but the Steelers scored just 15 points and were far from dominant. Buffalo also looked terrible in the first half against Miami after a week off. Were it not for the Dolphins throwing up all over themselves, the Bills might have been in a hole too big to overcome.
Finally, the Chargers looked slow and soft after a week off against New England, losing outright as a healthy home favorite after their bye week. And Jacksonville was an absolute no show against Seattle after two weeks off.
Those six teams with extra rest combined to go just 3-3 ATS last week. So, this isn't an angle that we can blindly bet against. However, I did just want to point out that too many people overvalue the gambling utility of a bye week. I honestly think it gets players out of rhythm and can hurt teams in the short term just as much as it helps them in the long-term.
And because I know that you are wondering, this week Baltimore and Las Vegas will be coming off a week of rest. Detroit, Seattle, Tampa Bay and Washington each have the week off and will be back next weekend.
Doc's Sports offers NFL expert picks for every game on our NFL predictions page.
Here is Doc's Sports NFL Power Rankings:
1. Tampa Bay Buccaneers (6-2) – I am probably one of the only NFL writers and analysts that still has Tampa Bay as the best team in the NFL. That's fine. Last week's loss to the Saints was a bit fluky. And when the Bucs have their full complement of offensive weapons (they are still without Antonio Brown and Rob Gronkowski), there isn't any team in the league I would take ahead of them.
2. Arizona Cardinals (7-1) – It absolutely sucks that J.J. Watt is out for the year. You could absolutely see the impact he was making on this defense, and I'm sure he was a force in the locker room. I'm not going to bang the Cardinals for losing last week, either, considering they were one A.J. Green miscue away from winning that game outright. The Cardinals are 7-1 ATS in their last eight games against the 49ers, and they are 5-0 ATS in their last five trips to San Francisco.
3. Buffalo Bills (5-2) – If I'm a Bills fan, I would be absolutely terrified about developments in the St. Louis relocation lawsuit against the NFL. The league could reportedly be facing a multibillion-dollar settlement if they lose that case. It wouldn't surprise me if the NFL tried to head that off by offering St. Louis another team. Since the league is unlikely to expand to an unwieldy 33-team format, I could see someone relocating. Given Buffalo's stadium issues, the Bills would be a prime target. Give me 10-to-1 odds and I would put a dime on the Bills moving to St. Louis within five years. Remember where you heard it first!
4. Green Bay Packers (7-1) – Brady is the greatest quarterback of all time. No one is arguing that. However, Tom Brady could not have won that game last Thursday night – and Aaron Rodgers did. There might not have been three quarterbacks in history, other than Rodgers, that could've guided that hodgepodge Packers team to victory.
5. Los Angeles Rams (7-1) – I have said it for years: DeSean Jackson is one of the most overrated football players in my lifetime. The guy is a glorified No. 3 receiver. After back-to-back weeks as a double-digit favorite, the Rams are stepping up in class this week against the Titans. Los Angeles is just 2-5 ATS after a win, although they are 7-3 ATS against a team that is over .500.
6. Dallas Cowboys (6-1) – I would expect Dak Prescott to be back under center this weekend. The Cowboys waited until the last possible second last week to announce Rush as the starter. But the fact that Prescott was that close to playing makes me think that he'll be good to go. Then again, given how important he is to this franchise, the Cowboys might be better served keeping him out another week.
7. Baltimore Ravens (5-2) – Despite what I said in my opening, John Harbaugh has been excellent with an extra week to prepare. The Ravens are 10-4 ATS after a bye week and should be rested and ready to go this weekend. Baltimore is 5-2 ATS in its last seven home games and 4-1 ATS after a loss. They have had to stew about that Bengals blowout for two weeks and should be in a foul mood when they take the field Sunday.
8. Tennessee Titans (6-2) – You have to be really, really mentally tough to face this Titans team. Tennessee is the chippiest, dirtiest team in football. They are constantly irritating their opponents and they make it very hard for opposing teams to stay focused on execution. The loss of Derrick Henry can't be overstated. But we have seen teams rally without a star player in the short term before, and I wouldn't be surprised to see the Titans max out this week in Los Angeles.
9. New Orleans Saints (5-2) – So much for "Win on Monday, lose on Sunday." After New Orleans' victory last week, MNF victors are now 7-0 straight up the following Sunday. Sean Payton was masterful last week. Now he will have to work his magic this week to help his guys handle the emotions and avoid the letdown this week against Atlanta.
10. Los Angeles Chargers (4-3) – This defense is capable of making some big plays (sacks and turnovers). However, they really aren't that good otherwise, and they got pushed around again last week by the Patriots. The Chargers are No. 25 in the league in time of possession, and last week they had the ball for 11 fewer minutes than the Patriots. This defense has to find a way to get off the field.
11. Cincinnati Bengals (5-3) – The helmet-to-helmet call late in the game was clearly atrocious and was the worst, most impactful blown call of the weekend. However, the Bengals also got screwed when the Jets were awarded a touchdown by replay right before the half. Regardless, that was an absolute implosion in New York, and we will see how this young team bounces back.
12. Las Vegas Raiders (5-2) – Absolutely tragic story about Henry Ruggs, who is being charged with a DUI that resulted in death. It is still absolutely insane to me that players and coaches drive drunk when they have every resource available to them – limos, personal drivers, ride sharing apps – so that this exact thing doesn't happen. Ruggs is not the victim here.
13. Kansas City Chiefs (4-4) – We've seen this before. Right now the Chiefs look like a carbon copy of the 2002-2006 Rams. The Greatest Show on Turf won a Super Bowl and lost a Super Bowl within a three-year stretch. And in the five years after that, despite monumental talent, they humped the dog to four straight underachieving seasons. That is exactly what K.C. looks like right now.
14. Cleveland Browns (4-4) – It should not be that shocking that Cleveland is underachieving this year. Remember: this team actually got outscored last season! They were massive Pythagorean overachievers in last year's weird COVID year. Now they are coming back to earth. So, if you are sitting around waiting for this team to suddenly "turn it on," you are just begging to have your money stolen.
15. Pittsburgh Steelers (4-3) – Don't look now, but with home games against the wayward Bears and the atrocious Lions, the Steelers have a great chance to get to 6-3 and in the mix in the AFC North. The Steelers have played 'under' in six of their last seven games. So has Chicago. So don't be surprised to see the total in this game drop from its current 40.0 to around 38.5 by kickoff on Monday.
16. Indianapolis Colts (3-5) – That was an absolute gut punch loss against the Titans. I don't know if it works for or against the Colts that they have a quick turnaround with a Thursday night game. We are going to find out something about Frank Reich as a coach, though, with how prepared his team is – physically and mentally – as a 10.5-point favorite against the Jets this week.
17. New England Patriots (4-4) – The Patriots are just 1-4 ATS in their last five games after a win, 2-10 ATS following a win ATS and just 1-4 ATS as a road favorite. So, I don't know how quickly we want to jump back on the bandwagon with this group. Bill Belichick has always been great in the underdog role. But dressing up as a road favorite this week, in a second straight road game after a trip to the West Coast, seems like a tough spot for the Pats.
18. Minnesota Vikings (3-4) – Seriously, that's pathetic. Losing at home in primetime to Cooper Rush is absolutely pathetic. I don't know how this team is going to respond this week playing on the road, with an early kickoff, against a rested opponent, in a clear letdown spot for the Vikings. Minnesota is 3-11 ATS in its last 14 games but 40-18 ATS in their last 58 games after a loss.
19. San Francisco 49ers (3-4) – I think it is going to be fascinating to see how this 49ers team plays this week with its back against the wall. They were able to snap their losing streak last week in Chicago. Now they are hosting the division-leading Cardinals, a team that has absolutely owned San Francisco in recent years. We are not quite in must-win territory. But this one feels like a game the 49ers have to have if they want to stay in the playoff hunt.
20. Chicago Bears (3-5) – You can't cap 14-play drives with field goals. The Bears are No. 26 in the league in red zone offense this year. They showed some aggressiveness last week between the 20's. But as soon as this team got into the red zone, any and all creativity went out the window and the offense flopped. The Bears are on a 3-7 ATS slide overall, and they are a woeful 1-7 ATS as an underdog.
21. Denver Broncos (4-4) – Words cannot describe the complete and total ineptitude of Denver's final two drives while trying to close out Washington last week. The Von Miller trade sends a clear signal to this locker room that the front office is packing it in for the season. It might take a few weeks, but come December I think that attitude is going to filter down into the locker room and this group will start mailing it in.
22. Carolina Panthers (4-4) – The Panthers won in Atlanta, but there wasn't much to get excited about. This is a poor football team that doesn't do anything particularly well on either side of the ball. The line movement on this week's game – from an open of 2.5 to a current of 4.0 – suggests pessimism about Sam Darnold's status. I don't think he's going to play; he got absolutely rocked by Foye Oluokun, and I wouldn't be surprised if he missed a couple weeks.
23. Seattle Seahawks (3-5) – Let's not get too excited: it was the Jaguars. Seattle has a bye week to prepare for a trip to Green Bay.
24. Philadelphia Eagles (3-5) – It kind of defies logic, but the Eagles have been one of the best red zone offenses in football this year. They have converted a league-best 83.3 percent of their trips inside the 20 into touchdowns over the last three weeks, and they are No. 4 in the NFL on the season at a 72.4 percent conversion rate.
25. Atlanta Falcons (3-4) – I have been trying to tell people: this team is not good. I know they won a couple games in a row and had some people convinced that Atlanta was ready to turn the corner. But this roster is among the worst in football, and their rookie head coach is having growing pains. The Falcons are just 1-6 ATS in their last seven against the rival Saints, and Atlanta is just 3-7 ATS in its last 10 trips to New Orleans.
26. New York Giants (2-6) – New York's incompetence and ineffectiveness in the red zone is 100 percent a result of having the worst offensive line in football. Until they get that cleaned up, this team has zero chance of advancing as a team. New York is just 7-21 ATS in its last 21 home games and 5-16 ATS as a home underdog.
27. Washington Football Team (2-6) – People are acting like Washington is some kind of massive disappointment this year. I think it is easy to forget how historically bad the NFC East was last year. So WFT's playoff appearance wasn't some building block as much as it was a fluke in the system. Washington started last season 2-6 as well, but I don't see anything about this year's group that suggests a late season turnaround.
28. Miami Dolphins (1-7) – I think that Mike Gesicki's reactions on Sunday kind of summed up the Dolphins' season. With even baseline competence, the Fins could've stolen a win from a listless Bills team. But the idiotic mental errors that are plaguing this team belie something cancerous underneath the surface.
29. New York Jets (2-5) – Mike White is just another example of my longstanding belief that first-year quarterbacks have no business starting in the NFL. Let them sit for a year. Let them learn and adjust to the speed of the pro game. Starting a guy with some miles on him – White has played professionally since 2018 – makes your team more competitive and your young quarterback's maturation more productive. It's a win-win.
30. Detroit Lions (0-7) – The Lions are currently paying out +450 at Draft Kings if they do, in fact, go 0-17. Now, I think they will steal a win somewhere by pure force of Dan Campbell's will. However, this roster is so pathetic that I think there is better than an 18 percent chance (which the current odds reflect) that the Lions go winless.
31. Jacksonville Jaguars (1-6) – Urban Meyer's decision not to go for two after his team cut Seattle's lead to 24-6 was egregious. That just shows a guy that has no clue what he is doing and isn't even the slightest in tune with time and score. If Jacksonville is smart, they will pull the plug on the Meyer Experiment the second this season ends.
32. Houston Texans (1-7) – Brandin Cooks' reaction to Mark Ingram's trade last week was really a harbinger of things to come in the second half of the year for these losers. Houston isn't even pretending to be competitive right now and is mailing it in on the season. That attitude has filtered down to the players, so I would expect things to get worse before they get better here.
Robert Ferringo has been one of the best football handicappers in the country and for a full decade from 2010-2019 he banked over +$40,000 in football profit. Robert has produced four of five winning seasons (and 8 of 11) and has produced an amazing 55 of 85 winning football months over the past 13 years. Robert has 9 of 11 winning NFL preseasons and he is at nearly 60 percent winners over his last 1,000 totals picks. Also, Robert's proprietary KING College Football Betting System is back and Robert expects a MONSTER football season. Robert is looking for another winning football year and wants more profit this fall. SIGN UP HERE TODAY AND TAKE ADVANTAGE OF OUR 3-FOR-1 FOOTBALL SPECIALS!
Get NFL picks on every single game, or if you want our very best bet premium picks by the experts, sign up for your free $60 account with a guarantee.