2010-11 NFL Predictions
by Robert Ferringo - 9/1/2010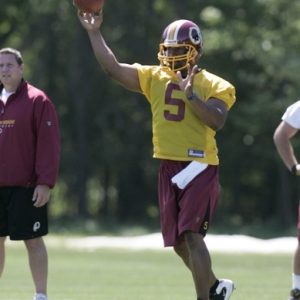 Of all of the NFL Predictions that I will make this year this may be the easiest one: there will be a lot of broken hearts and busted bank rolls this year in the realm of professional football betting.
Each season professional NFL handicappers like my colleagues and I gear up for the six-month gauntlet that is the professional football betting season. We make our living on the strength and profitability of our NFL predictions, as the NFL season is the marquee battleground in the annual wager war that goes on between bettors and bookies throughout this great nation. But the road to riches is littered with the decaying carcasses and shattered dreams of many men whose NFL picks, plays and predictions met a horrific and unfortunate end. Fickle Fate tests. NFL profits beckon the soul. Brutal is the path.
But have no fear. Analyzing spreads and odds is not like trying to read tea leaves or some other method of divination. The season has already been played. The winners and losers already determined. We, as bettors, are simply trying to uncover Truth and find the correct answers that have already laid themselves out in the ether.
As such, below are six random 2010 NFL Predictions for the upcoming season. These NFL predictions aren't "winners" per se (you have to pay for that type of enlightenment!) as much as they are small guides, arrows on the path, which may be able to help you turn a profit this football season. Enjoy.
No. 1: Donovan McNabb will end the season with more wins than Kevin Kolb.
The McNabb trade was the biggest single personnel move of the NFL offseason and marked a significant shift in the NFC East. And from what I've seen this preseason we're looking at two teams headed on completely different paths this year.
Philadelphia looks as vulnerable as it has in more than a decade. Kevin Kolb is displaying some serious happy feet and he will experience some growing pains this year as he learns to handle running an NFL offense. Philadelphia has some of the best young talent in the league. But right now it's way too young and way too unproven to be expected to hold up over the course of a 17-week season. Coach Andy Reid is a proven winner, but Kolb isn't. And in the highly competitive NFC East the margin for error is razor thin.
McNabb has already been hobbled by injury this preseason and there are some doubts about his readiness for the season opener. I have zero doubts. He is a gamer and will continue to give the Redskins a lift with his poise, his confidence, his reputation and his ability to make plays in the passing game. All of those attributes have been missing around D.C. for a while. Add in Mike Shanahan's proven systems and a defense that has been in the Top 10 in yards allowed in five of the last six years and the Skins have a ready-to-compete club that I think can make some noise
No. 2: Bay Area Teams Will Get Close…r To Their Former Glory
Two of the big "buzz" teams in the NFL right now are Oakland and San Francisco. And as a handicapper I can say that I'm excited about 1) the direction that these clubs are headed and 2) their earning potential. Both clubs are quickly developing tough, rugged, hit-or-be-hit approaches. They are looking forward to improved quarterback play behind massive offensive lines and in the case of San Francisco they are excited about a bumper crop of skill players.
That said, I don't know if either is ready to take that Next Step and join their respective conferences' elite. Their coaches are still a little green for my taste. And while I love the approach that each takes there are questions about their game management skills. Also, the quarterback play will be better but it is still not elite. They also will have to topple more established teams within the division (two-time defending division winner Arizona in the NFC and four-time defending division champ San Diego in the AFC). Neither Oakland nor San Francisco has had a winning record since 2002. One of them may get there this year but I wouldn't be a making plan for playoff games just yet. That would be next year.
No. 3: At Least One Coach Will Get The Axe Before The End Of The Year
There are just too many coaches on the hot seat for all of them to "go lame" this year. Lovie Smith should have his bags packed in Chicago and I'll make the NFL prediction that he'll be the first to go. Jack Del Rio (Jacksonville) and John Fox (Carolina) also look like they are at the end of their respective tenures, but I think that both coaches have built up enough goodwill with their organizations where they will be able to coach out the season, barring total anarchy. Eric Mangini is another guy with one foot out the door, but Browns president Mike Holmgren seems like he's a bit too pragmatic to cut Mangini loose in the middle of the year.
No. 4: The Bottom Feeders Won't Be AS Horrific
The NFL is a league that touts its parity. In fact, that's a cornerstone of why they have the best product of any professional sports league. However, over the last two years we've seen a growing disparity between the top and bottom tier teams, expressed most clearly by point differential and the number of teams with 12 or more losses.
Last year there were five teams that slogged through a year with 12 or more losses, which was actually down from six bottom feeders in 2008 and 2007. However, in the seven seasons prior to that there was just an average of four "terrible" teams per year. Also, there have been three teams with 13 or more losses in each of the last two years. The last time that happened (back-to-back seasons with three teams with 13 or more losses) there was an average of almost two "terrible" teams for the next six years.
Further, between 2000 and 2006 there was an average of 5.3 teams with a point differential of -100 or more for the entire season. However, in the last three years there have been eight, six and seven just wretched, overmatched teams in the NFL. Also, between 2001 and 2007 there was never a season with more than three teams that finished the year with a point differential of -150 or higher and there was just one team with a point differential of -200 or higher during that stretch. Yet, over the last two seasons there have been eight total teams at -150 or higher and four teams that were outscored on the season by 200 or more points.
Again, the disparity between the middle and the bottom of the league has been growing. But as I look at the weaker sisters in the NFL this year – teams like the Lions, Chiefs and Rams – I see two things that should help close the gap, at least for this season. The first is a more favorable schedule, with the two worst divisions in the NFL (AFC and NFC West) playing each other. The second is genuine improvement on the rosters. Teams like the Rams aren't ready to challenge for the division but they will be much more competitive this season.
No. 5: Six 2009 Playoff Teams Will Be Home For The Holidays
Over the last 10 years only 46 of 108 playoff teams have made it back to the postseason the following year. That's just a 42.6 repeat rate and it means that several of the teams with high expectations this year are going to severely disappoint fans and bettors over the next four months.
The NFC has been particularly brutal, with just 20 of 54 teams (37 percent) making a return trip to the postseason. That's bad news for the Saints, Vikings, Cowboys, Cardinals, Packers and Eagles. I can tell you right now that I doubt very highly that the Cardinals or Eagles will be playing playoff football this January. But I am also willing to say that one of the preseason Super Bowl favorites out of the NFC – either the Vikings, Cowboys or Packers – will fall on their faces.
In the AFC, the Colts, Chargers, Patriots, Bengals Jets and Ravens are on the chopping block. The Chargers and Colts have been virtual locks to make the postseason. Indianapolis has been in the playoffs an amazing eight consecutive seasons which, when you consider the odds of making it in just back-to-back seasons, is further testament to the greatness of Peyton Manning. The Chargers have made the postseason in five of six seasons and the Patriots have played meaningful ball in seven of the last nine years. So that all stacks the odds against the Bengals, Jets and Ravens, who don't have nearly the pedigree. I can't fully predict which of the six won't make it, but I will certainly be watching for early cracks in the armor.
No. 6: Scoring Will Go Down…Slightly
Last year there was an average of 42.9 points per game scored, which was actually down from an all-time high of 44.05 in 2008. But that is still up from the five-year average of 41.79 between 2002 and 2006. We saw a bump in 2007 and 2008, due in part to some rule changes and elite passing games entering a different stratosphere. But it's still the NFL, and it is a league full of ebbs and flows. And after three years of watching top-tier passing attacks dictate the tone and tempo of the sport I think that we'll see defenses dig in and reclaim some ground, as well as teams focusing more on ball-control game plans to keep higher scoring opponents off the field. Finally, with the change in position of the umpire (the most overblown story of the preseason) and the new illegal snap rule, some juice will be taken out of no-huddle and hurry-up attack.
There is generally an inverse relationship between preseason scoring and regular season scoring. Meaning that the highest scoring preseasons (like 2003 and 2005) have yielded the lowest-scoring regular seasons in the last decade. Well, with one game remaining in the 2010 preseason we've already seen more points (40.53) than any preseason since the realignment. I think that's going to help inflate totals and I think we'll see a lower output this year. Further, we had, nationwide, a pretty mild winter last year. I don't think we'll be as lucky this December, so look for more weather-influenced games late in the year.
Carpe diem. And good luck.
Robert Ferringo is a writer and a professional college football and NFL handicapper for Doc's Sports. Last year he brought home +62.5 Units for his clients for NFL picks and he is regarded as one of the top totals players in the sport. He guarantees a winning football season this year or he will work for free until you turn a profit. You can sign up for his college football and NFL picks and get more information here.