NFL Basic Strategy Teasers: Best Options for Week 2
by George Monroy - 9/11/2013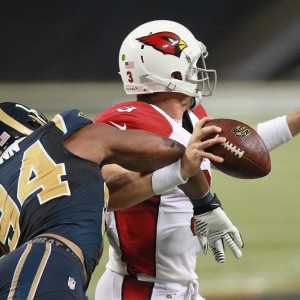 Week 1 of the NFL season opened with a bang. Peyton Manning performed like the best version of Peyton Manning we have ever seen, the San Francisco 49ers and Green Bay Packers traded blows like heavyweight boxers, and Robert Griffin III looked rusty and the Philadelphia Eagles' offense looked great. And on top of all that, basic strategy teasers went 2-1, with the one teaser that was most likely to lose actually losing. Remember that basic strategy teasers are a specific type of wager that moves the spread past the strongest NFL key numbers of three and seven. In general, the teasers are positive expected-value plays and provide the bettor a statistical edge over the house.
This week there are seven basic strategy teasers to choose from, all of which are solid propositions to wager on. Let's take a closer look at each and figure out which are the best and worst teasers to bet on this week.
San Francisco 49ers at Seattle Seahawks
Original spread: 49ers +2.5 (5Dimes)
Six-point teaser: 49ers +8.5
San Francisco being teased up to 8.5 points feels like the strongest teaser of the week. The 49ers may be the best team in the league, and they will at minimum be competitive against a division rival and Jim Harbaugh's arch nemesis, Pete Carroll. Seattle didn't look great last week and struggled to beat the Carolina Panthers, 12-7. The Seahawks are a Super Bowl contender but will have a difficult time beating the 49ers by more than 8.5 points. Take San Francisco and the extra six points.
Dallas Cowboys at Kansas City Chiefs
Original spread: Dallas +2.5 (5Dimes)
Six-point teaser: Dallas +8.5
The Kansas City Chiefs are an actual favorite to win a football game—how things have changed. The Chiefs looked very good during their beat down of the Jacksonville Jaguars last week and will probably have a decent (for them) 6-10 or 7-9 type of season. But expecting the Chiefs to beat the Cowboys by more than a touchdown is wishful thinking at best. Dallas played a very solid game against the New York Giants last week. And even if that momentum does not continue into next week, the team will, at minimum, stay within a touchdown. Dallas plus the 8.5 points feels like a very solid wager to make.
St. Louis Rams at Atlanta Falcons
Original spread: Falcons -7.5 (5Dimes)
Six-point teaser: Falcons -1.5
Atlanta did not look particularly impressive last week against the New Orleans Saints, but the team still has all the pieces in place to have an excellent season. The Falcons will be looking to bounce back and get their first win of the season. The team might not cover the original spread, but winning by more than 1.5 points seems very reasonable.
Miami Dolphins at Indianapolis Colts
Original spread: Dolphins +2.5 (WagerWeb)
Six-point teaser: Dolphins +8.5
The Colts could not cover a 10-point spread against the Oakland Raiders and will probably have a difficult time covering an 8.5-point spread against the Dolphins. Miami moved the ball well during last week's 13-point victory over the Cleveland Browns and may be a team that has a more dynamic offense than most people expect. Miami should be able to keep this game close.
Washington Redskins at Green Bay Packers
Original spread: Packers -7.5 (BookMaker)
Six-point teaser: Packers -1.5
Robert Griffin III looked extremely rusty after returning from his knee injury. The Redskins' offense was out of sync as well, and the team's struggles might continue into the second week of the season. Green Bay will be looking to put up a bunch of points and get its first win of the season.
San Diego Chargers at Philadelphia Eagles
Original spread: Eagles -7.5 (WagerWeb)
Six-point teaser: Eagles -1.5
The Eagles offense, while not perfect, looked very interesting and may be a scary force by midseason. However, Philadelphia has not been known as a reliable or consistent team over the last couple of seasons and could easily come out with a clunker next week. This is a teaser that the Eagles could very easily lose.
Detroit Lions at Arizona Cardinals
Original spread: Cardinals +1.5 (BookMaker)
Six-point teaser: Cardinals +7.5
Receiving more than a touchdown worth of points at home is a powerful play to wager on. The Cardinals could easily cover this spread, especially since Carson Palmer may be the surprise comeback of the season. However, it would not be shocking at all to see the Lions run away with this game.
Conclusion
There are no horrible teasers on the schedule this week, and it would be no surprise if all most covered. However, the weakest of the bunch seems to be the Eagles beating the Chargers by 1.5 points and the Cardinals staying within 7.5 points of the Lions. The best idea for betting on basic strategy teasers is to make a few different wagers on the strongest teasers and stay away from the weak ones. Remember to bet wisely, and may the spread be with you.
You can get free NFL picks everywhere. What you can't usually get though, is free access to top-quality picks from expert handicappers - the same picks that member's happily pay for. Doc's Sports wants to give you $60 worth of NFL picks absolutely free. No obligation - just click here.
Read more articles by George Monroy