2014 AFC North Predictions with Odds and NFL Betting Picks
by Robert Ferringo - 7/31/2014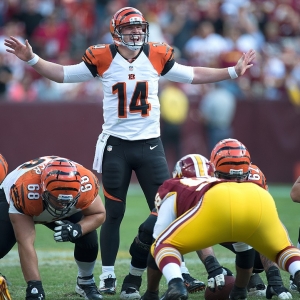 At a time when the rest of the NFL is still going pass-wacky and soft, it's nice to see that the AFC North remembers its roots.
Cincinnati, Pittsburgh, Cleveland and Baltimore comprise one of the most rugged, physical and violent divisions in all of football. As such, it is also the most competitive division in the AFC and the one grouping without a clear-cut favorite heading into the season.
According to Sportsbook.ag , the Bengals boast the longest odds of any divisional favorite at +200. Both Pittsburgh (+210) and Baltimore (+300) are viable alternatives, and even bottom-feeder Cleveland is in the mix at +650. No other division has that level of parity, and the North should be a battle all season long.
Here is my NFL AFC North predictions and NFL betting odds for 2014:
Cincinnati Bengals Predictions
2013 Record: 10-6 (4-4 home, 6-2 road)
2013 Against the Spread: 9-6-1 ATS, 6-10 vs. Total
2013 Rankings: 10th offense (8th pass, 18th rush); 3rd defense (5th pass, 5th rush)
2014 Odds: 35/1 to win SB, 14/1 to win AFC, 2/1 to win AFC North, 9.0 wins O/U
Offense: Last season the Bengals boasted a Top-10 total and scoring offense for just the third time in the last 15 years, vaulting from No. 12 to No. 6 in scoring and from No. 22 to No. 10 in yards. The arrow seems to be pointing up. But the Bengals lost offensive coordinator Jay Gruden to the Redskins, and after a playoff meltdown they enter the season with a sour taste in regards to quarterback Andy Dalton.
Dalton is who he is. He will never be a Top-10 quarterback. But postseason games aside, he doesn't do a lot to lose games for this Bengals squad. He has a premier wideout in A.J. Green and benefits from a team philosophy that emphasizes the run.
Cincinnati had some depth peeled away in the offseason. They lost two starting offensive linemen and slot receiver Andrew Hawkins. But the Bengals are banking on the continued development of their young skill players. And if they can max out some of that talent then the Bengals should continue to wield an underrated attack.
Tyler Eifert, Marvin Jones, Mohamed Sanu and Giovani Bernard are four players with a combined six years' experience between them. Each has shown serious potential. If new OC Hue Jackson can tap into that then the Bengals could be explosive. And Dalton will be completely out of excuses if the can't take the next step.
Defense: Marvin Lewis made his bones on this side of the ball back in Baltimore. And he has now established a similar year-in, year-out defensive philosophy of domination. The Bengals are one of the most physical teams in the AFC and are one of the few rosters that could hold up in the powerful NFC. Like the offense, they have had some players poached. But the core of this group is still intact.
Cincinnati is concrete at the point of attack. And they should be even better this year with the return of Geno Atkins from an ACL tear. The Bengals lost their best pass rusher (Michael Johnson) but are hoping the next man up can stand in and perform.
The Bengals have gotten young and thin in the linebacking corps. They are one or two injuries away from having serious problems, and only two guys on the roster have more than two years' experience.
This secondary is loaded. It is absolutely loaded and is one of the underrated keys to Cincinnati's three straight playoff berths. And the Bengals added to their strength in the draft with No. 1 pick Darqueze Dennard, although he won't see the field much if the starters stay healthy. Their top four corners share 26 years of NFL service, and there is talent, depth and experience.
Skinny: There really isn't a weakness on this Bengals roster, and in a lot of ways Dalton is a microcosm of where this franchise sits: really good but not elite. Outside of Green and Atkins there aren't a lot of elite performers in Cincinnati. But every Sunday they trot out one of the best overall 53-man rosters in the league.
And the scary part is that there is still a lot of room left to grow for this team. Hell, even Dalton is only entering his fourth season; it is not as if he is some eighth-year journeyman that is bilking the franchise with false hope. These guys have improved their win total three straight years and they are positioned to rule this division for the next several years. Who ever thought we'd be saying that about the Bungles?
These guys are legit. And if you had Tom Brady or Peyton Manning working with this roster they would be a clear AFC favorite. Unfortunately, they still have Dalton. But there will be a lot of wins against the spread before his next playoff flop. And that's good enough for me. As long as the Bengals stay healthy and hold up down a stretch that sees them play five of seven games on the road then this team should be back in the postseason.
Baltimore Ravens Predictions
2013 Record: 10-6 (6-2 home, 4-4 road)
2013 Against the Spread: 6-9-1 ATS; 9-7 vs. Total
2013 Rankings: 29th offense (18th pass, 30th rush); 11th defense (12th pass, 11th rush)
2014 Odds: 40/1 to win SB, 20/1 to win AFC, 3/1 to win AFC North, 8.5 wins O/U
Offense: Baltimore plummeted to No. 25 in the league in scoring offense and No. 29 in total offense last year, and they still lack a true identity on this side of the ball.
Although he is paid like a top-tier quarterback, Joe Flacco is not good enough to compensate for a lack of talented skill players. Flacco is a byproduct of his teammates rather than a catalyst for them. I don't think that is going to change.
The Ravens made a tremendous maneuver to get receiver Steve Smith. The 14-year veteran still has gas in the tank and plays with the type of toughness and arrogance that will fit right in with this organization. He can also help guide young wideouts like Marlon Brown and Torrey Smith.
I won't even address the Ray Rice situation. He is clearly a scumbag who got off light. He has also hit that running back wall and may not be an NFL-caliber back for much longer. The Ravens really need Bernard Pierce to seize on the potential he showed during the 2012-13 Super Bowl run.
Defense: The Ravens defense has been dominating for 15 years. However, some cracks in the façade have started to show. Baltimore finished outside the Top 10 in points and yards in each of the last two seasons. They haven't done that since 1997-98. Was that a blip on the radar or a sign of things to come?
Baltimore is not short on experience. Chris Canty, Haloti Ngata, Elvis Dumervil, Daryl Smith and Terrell Suggs all have at least eight years of service time to their names. And they are all serious players. Their job now is not just to perform but also to school the young guys supporting and backing them up.
The Ravens lacked swagger and team speed last year. They got pushed around in the running game and gave up a host of big plays. It remains to be seen whether the issue is coaching, scheme or the fact that they may just be too experienced on that side of the ball. Whatever it is, this will be a key storyline for the season.
Skinny: If I've said it once I've said it 1,000 times: Ozzie Newsome is one of the best general managers in NFL history. And as long as he is stacking this roster with talent the Ravens are going to be a team to reckon with. I'm not high on their coach. I am not smitten with their quarterback. I think they have a lot of angry athletes and aging stars. They are good enough to play with and beat any single team in the NFL in any venue. But I don't know that they are disciplined enough to be a real threat to win the AFC.
Baltimore actually overachieved to get to eight wins last year. And that 8-8 record was the second straight season the Ravens have seen their win total decrease. Who is this team in the post-Ray Lewis/Ed Reed Era? I think they're still figuring that out. But whoever they are, I don't see this team as a Super Bowl contender.
Pittsburgh Steelers Predictions
2013 Record: 8-8 (5-3 home, 3-5 road)
2013 Against the Spread: 6-9-1 ATS, 7-9 vs. Total
2013 Rankings: 19th offense (12th pass, 28th rush); 13th overall (8th pass, 21st rush)
2014 Odds: 20/1 to win SB, 13/1 to win AFC, 2.1/1 to win AFC North, 8.5 wins O/U
Offense: Big Ben is still the sun, and the rest of the Steelers offense revolves around the hulking signal caller. That includes offensive coordinator Todd Haley. The friction between those two was obvious last year. Perhaps the second go-round will be smoother. And the Steelers need those two guys to be on the same page for this group to improve last year's substandard rankings.
For the second straight season the Steelers lost their best receiver, and three of their top four pass catchers from 2012 have moved on. Pitt did add polished Lance Moore, and rookie Dri Archer offers some intrigue as a gadget back. But beyond Pro Bowler Antonio Brown and aging Heath Miller, the Steelers are trying to get thing going with bit players instead of big ballers.
A pathetic offensive line has been the main problem on this side of the ball for five years. Roethlisberger has compensated for a lot of their issues. But they need to start seeing some return on their investment after using several top draft picks to address the position the last several offseasons.
The line needs to get it together. If they can do that then the Steelers can get back to pounding opponents in the running game. And they can let Big Ben do his thing in the passing attack without as much fear of him getting injured. It all starts up front for Pittsburgh. And their season will be determined by how well the line plays.
Defense: Coordinator Dick LeBeau enters his 42nd season as an NFL coach and his 16th season guiding the Steelers defense. Pittsburgh maintains its base 3-4 defense – without a lot of the gadgets and gizmos that a lot of "hybrid" schemes employ these days. Don't get me wrong: LeBeau has plenty of tricks up his sleeve. And although the Steelers slid outside the Top 10 in total defense for the first time in 14 years, I believe the driving force behind that slip was lack of talent rather than a faulty approach.
The Steelers don't have half the linebacker depth they enjoyed just five years ago. They also don't get the same intangibles out of the defensive line that some departed Steelers brought to the table. Finally, Pittsburgh's perpetually mediocre secondary is still over reliant on damaged safety Troy Polamalu. Polamalu is an all-time great. And he can still play. But when he goes down this house of cards may fall.
This is perhaps the shallowest pool of talent we've seen in Pittsburgh in some time. They have not bolstered the roster with any sexy free agent pickups or trades. But now they are lacking the big playmakers, heavy hitters and game changers that have defined this side of the ball for almost four decades. Until they get that back, this unit probably maxes out at pretty good.
Skinny: Pittsburgh is still in a bit of trouble. They have not done a good job of managing the salary cap, and they definitely have not done a good job of filling production and leadership positions that were previously held by established veteran players. This team just doesn't have the talent that it has over the past decade.
Mike Tomlin is a Super Bowl-winning coach entering his eighth season. And he does so as just the third coach in the franchise's last 45 years. But if the Steelers miss the playoffs again this year it will mark just the second time since 1989 that they would've stayed home in January for three straight seasons.
Pittsburgh may not even be as good as they were last year when they went 8-8. But the schedule is much more manageable and I don't think that a nine-win season would require a superhuman effort.
Cleveland Browns Predictions
2013 Record: 5-11 (4-4 home, 1-7 road)
2013 Against the Spread: 8-7-1 ATS, 6-10 vs. Total
2013 Rankings: 17th offense (11th pass, 27th rush); 9th defense (7th pass, 18th rush)
2014 Odds: 70/1 to win SB, 30/1 to win AFC, 6.5/1 to win AFC North, 6.5 wins O/U
Offense: I can tell you this much: no one has been this interested in the Browns offense in 20 years! The buzz is about the addition of Johnny Manziel and the seasonal subtraction of Josh Gordon. But there is a lot more at play with a group that hasn't finished better than No. 24 in scoring in over six years and has only finished in the Top 18 one time in 16 years.
The biggest addition is not Manziel. New offensive coordinator Kyle Shanahan brings a proven system to Ohio. Shanahan is a bit of a loser and is a horrible, horrible in-game manager. But he runs his father's system. And it's the same system that has cranked out Top 10 total yardage seasons with Denver, Houston and Washington for over 20 years.
Let's be clear: Brian Hoyer is a much better quarterback than Manziel is right now. Anyone that disputes that is a moron. And if you want to know what happens to teams that take unprepared, in-over-their-head rookie quarterbacks and throws them into the fire, just look at teams like the Bills, Jets, Jaguars, Titans, Dolphins, and, well, Cleveland, who have gone through it with Brady Quinn, Colt McCoy and Brandon Weeden recently.
Ben Tate was brought in because he knows the zone-blocking scheme. The running game should improve. Tight end Jordan Cameron looks like the real deal. But Cleveland is going to have to piece together its receiving corps. If they can do that then I expect Cleveland to be a Top-15 offense. And while that may not sound like much, it is something they've done just once since 1995.
Defense: The Browns quietly sported a defense that finished No. 9 in yards allowed and No. 7 against the pass. That was made all the more impressive by the fact that they received zero help from the offense. The Browns scuttled outstanding coordinator Ray Horton, but they are going to continue building on his shift from a 4-3 base to a 3-4.
Head coach Mike Pettine will run multiple fronts but will stick with a 3-4. He'll let his handpicked DC Jim O'Neil make the calls. But Pettine is going to stress situational defense and endurance for a unit that crashed late last year.
Cleveland swapped hard-hitting safety T.J. Ward with hard-hitting safety Donte Whitner. Corner Joe Haden is one of the best in the game, and the team spent its top draft pick on corner Justin Gilbert. They are solid in the back.
The Browns are also strong up front. They have heft across the defensive line; especially tackle Phil Taylor. And they added inside linebacker Karlos Dansby to bolster a linebacking group that lacks impact players. If the defense improves it will be because the linebackers get better.
Skinny: This is an interesting team. But not because of Manziel. In fact, that spoiled baby is probably the least interesting thing about this team . I'm curious how Mike Pettine and Kyle Shanahan will guide their respective units. And I'm curious how the offense will compensate for the loss of Gordon.
I think the Browns could be a solid team against the spread this year. They have some potential if they take to Shanahan's system and if the defense can improve on last year's statistically aberrant yards per point number.
The problem is Manziel. He has this team in the spotlight now. And there are all kinds of media pressure to thrust him into the starting lineup. If that happens, I'll bet against the Browns every week. But if Cleveland can do the smart thing for once and just stick with Hoyer (and if they stay healthy) then I think Cleveland can be a thorn in the side of a lot of opponents this year.
For more of Robert Ferringo's articles CLICK HERE.
Robert Ferringo was the top football handicapper in the country last year, earning nearly $8,000 in total football profit in 2014-14 and posting one of the best seasons in America. He hit 62.1 percent for the entire NFL season (95-58) and was amazing down the stretch, closing with 11 of 14 winning NFL weeks and 12 of 15 overall winning football weeks. Robert has posted 3 of 4 winning football seasons, 6 of 7 winning NFL seasons, 30 of 44 winning football months, and 6 of 7 winning NFL preseasons. Also, Robert's proprietary KING College Football Betting System posted another winning season (now 2-for-2) and is 83-58 over the last two years (58.9 percent).
We are offering new clients $60 in free college football picks for Robert's picks or any Advisory Board handicapper of your choosing. Get your free college football picks now! Also, get three handicappers for the price of one when you sign up for a full-season football package! Click Here for details.
Read more articles by Robert Ferringo