2014 NFC East Predictions with Odds and NFL Betting Picks
by Robert Ferringo - 8/4/2014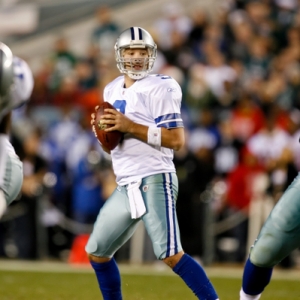 If you need further proof of the mainstream sports media's East Coast Bias, look no further than the NFC East.
The NFC East has been a puddle of mediocrity over the last two seasons and has sent just one representative to the NFC Championship Game over the last five years. The East has experienced back-to-back worst-to-first finishes. They've had just two teams in the last three years win double-digit games, and it has been four years since a team has won more than 10 contests.
Yet, the East teams continue to clog up the airwaves with primetime games and glowing coverage even though none of the four franchises seems to be a legitimate title contender.
Public betting perception follows media attention. So it should be no surprise that East teams have covered the spread in just 32 of their last 80 nondivisional games. And as we enter the 2014 season I see four teams with a lot more hype than heart. But we'll have to wait and see if anyone in the bobblehead media takes notice.
Here are my 2014-15 NFC East predictions with betting odds and NFL picks:
Philadelphia Eagles Predictions
2013 Record: 10-6 (4-4 home, 6-2 road)
2013 Against the Spread: 8-8 ATS, 9-7 vs. Total
2013 Rankings: 2nd offense (9th pass, 1st rush); 29th defense (32nd pass, 10th rush)
2014 Odds: 28/1 to win SB, 15/1 to win NFC, 1.2/1 to win NFC East, 9.0 wins O/U
Offense: The hurry-up offense is taking the NFL by storm, and Philadelphia's hyperdrive attack is at the eye of that tempest. Chip Kelly wasted no time adapting to the NFL, and the Eagles finished No. 2 in total yardage and No. 4 in scoring despite the fact that last year at this time no one had any idea of what they were doing.
Nick Foles was astounding last year, throwing 27 touchdowns and just two interceptions. It was one of the most efficient seasons the NFL has ever seen. Foles can go a little haywire in the red zone, however, and Philly's red zone scoring offense was mediocre last season.
LeSean McCoy is one of the best running backs in football and dominated last year. Philadelphia acquired the incomparable Darren Sproles, and defensive coordinators will have nightmare's trying to contain those two jitterbug backs. Philadelphia will have to find some power to the running game, though, as the very talented offensive line is athletic rather than bulky.
Philadelphia cut bait with overrated wideout DeSean Jackson. But now they are relying heavily on Jeremy Maclin returning from ACL surgery and on rookie Jordan Matthews. Racist Riley Cooper is coming off a potent season, but he's not a No. 1-caliber receiver.
Defense: Defensive coordinator Bill Davis has 23 years of experience in the NFL yet still seems like he doesn't know what he's doing rather often. The Eagles defense was lost against most of the good quarterbacks that it faced, relying instead on the offense to put game pressure on the opposition.
The Eagles defense has outstanding talent in the back seven. Their linebackers are outstanding, led by DeMeco Ryans and Trent Cole. The secondary is also of good quality, and the Eagles upgraded at safety with former Saint Malcolm Jenkins. Corners Cary Williams and Brandon Boykin can be game-changers.
The problems for Philadelphia are on the front line. Because Philadelphia uses some 3-4 and some 4-3 defenses, they are stuck with a lot of guys that can play one or the other, but not both. Philadelphia was No. 29 in total yards allowed last year and was routinely pushed around at the point of attack.
Also, the Eagles defense gets crushed by the fact that the offense was No. 32 in the NFL in time of possession, controlling the ball just 26 minutes per game.
Skinny: I missed the mark with Philadelphia last season because I didn't see Foles coming. Had they stuck with Mike Vick I think the Eagles would've sputtered to a six-win season. But Foles and McCoy played out of their minds, and teams were left scrambling to catch up with Kelly's unique brand of offense.
The common logic is that Philadelphia can only improve this year after having a full season of experience in Kelly's system . And that I buy. However, the Eagles benefitted from several statistical anomalies last year, and they could be hit with a regression this season. Philly's late-season hot streak coincided with a soft, home-game-laden schedule, and opponents have had a full year to scheme and game plan for Kelly's brand of wizardry.
The Eagles have had just six losing seasons in the last 26 years. So even if they do back slide it shouldn't be too far. But from a gambling perspective I think that any improvement will be negated by the heightened expectations this team faces. They weren't great at the window last season. And if their Week 1 spread is any indication - they are 11-point favorites over Jacksonville - there might not be a lot of value here.
New York Giants Predictions
2013 Record: 7-9 (4-4 home, 3-5 road)
2013 Against the Spread: 7-9 ATS; 7-9 vs. Total
2013 Rankings: 28th offense (19th pass, 29th rush); 8th defense (10th pass, 14th rush)
2014 Odds: 45/1 to win SB, 26/1 to win NFC, 3/1 to win NFC East, 8.0 wins O/U
Offense: The Giants are installing an entirely new offense after seven years of Kevin Gilbride's system. Ben McAdoo, formerly of Green Bay, is going to install his version of the West Coast offense in New York. The focus will be on more of a short passing attack that requires timing and accuracy.
The problem with this plan is that Eli Manning's weakness happens to be accuracy and consistency. Manning was an absolute train wreck last season, completing just 57.5 percent of his passes and throwing a whopping 27 interceptions. He has averaged 26 touchdowns but also 21 interceptions over the past four years and will be leaving his comfort zone to learn McAdoo's schemes.
Manning doesn't have much to work with this year in terms of skill players. Hakeem Nicks left for the Colts, leaving Victor Cruz as the only proven receiving option. The Giants have no tight ends, and their running back situation now that David Wilson is done is tenuous at best.
New York is hoping that improved play from an overhauled offensive line will help gloss over the problems with the skill positions. The Giants have an experienced crop of linemen to choose from along the line. But cohesion, chemistry and performance are still question marks a team that converted just 32.7 percent on third down last year, No. 30 in the NFL.
Defense: Jon Beason's impact on this defense was amazing last year, and he is somehow one of the most underrated linebackers in football. I always felt he was a poor man's Patrick Willis, and the Giants are hoping for continued health from a guy that played just five games in 2011 and 2012 combined.
The Giants secondary underwent a massive facelift this offseason, and now I feel they posses one of the top groups in football. Dominique Rodgers-Cromartie was brought in to be the No. 1 corner, while Prince Amukamara, Walter Thurmond and a pair of Chicago cast-offs (Zack Bowman and Trumaine McBride) give the G-Men a lot of options.
The Giants front four is solid. But they need to be better than that in a division with three very mobile, capable opposing quarterbacks. One of the most important players on this defense is Jason Pierre-Paul, who the Giants are counting on for double-digit sacks.
Skinny: It is really tough to predict how things will shake out for the Giants this year. And it is starting to feel like a last stand for coach Tom Coughlin, who is entering his 11th season at the helm. If the Giants miss the postseason for a third straight season - and for the fifth time in the last six years - then I think major changes will follow.
How will Manning play? Who will run the ball? How will the offensive and defensive lines shake out? How will the G-Men handle a brutal four-game stretch in November against Indianapolis, at Seattle, San Francisco and Dallas? There are a lot more questions than answers for this group.
But one thing I've learned is that New York generally performs well when expectations are the lowest. If the defense can creep back into the Top 10 it will buy the offense some time to catch up. And New York will only threaten the playoffs if they can revert back to their traditional ground-and-pound ways.
Washington Redskins Predictions
2013 Record: 3-13 (2-6 home, 1-7 road)
2013 Against the Spread: 5-11 ATS, 8-8 vs. Total
2013 Rankings: 9th offense (16th pass, 5th rush); 18th defense (20th pass, 17th rush)
2014 Odds: 65/1 to win SB, 30/1 to win NFC, 4/1 to win NFC East, 7.5 wins O/U
Offense: Bob Griffin suffered a sophomore slump last season thanks in large part to his bulky knee following offseason surgery and a rushed recovery. Griffin's mechanics were out of whack, and the result was spotty accuracy and 5.5 lost points on his completion percentage. Griffin is learning an entirely new offense this offseason, and he will have to try to avoid the seemingly ceaseless drama that has plagued his first three seasons.
Griffin has some toys to play with on offense. If they can stay healthy. Newly-acquired DeSean Jackson brings some explosiveness to a receiving corps that had been lacking it. Pierre Garcon is coming off a career year, and there is a bevy of other veteran pass-catchers lining up behind him. Alfred Morris has been dynamite in his first two seasons as well, though he'll have to adjust to a new scheme after two years in the Shanahans' RB-friendly approach.
Washington's offensive line bears watching. They seemed to collapse under pressure last year. Jay Gruden favors a power blocking scheme and would rather have big bodies rather than the current Redskins' more athletic group. How the line reacts to the new approach will be just as important as how the skill players digest it.
Defense: The offense garners most of the hype and drama in this locker room. But if the Redskins are going to make any progress as an organization it is going to have to come from this side of the ball. Washington hasn't had a scoring defense in the Top 20 in five years, and they need that streak to end.
Washington has a very sturdy front seven. They are mammoth along the front of their 3-4 defense. And new addition Jason Hatcher can bring some pass rush ability to a group comprised of steady pluggers. The Redskins linebackers have to replace team heart-and-soul London Fletcher. But if Brian Orakpo and Ryan Kerrigan can stay healthy they can generate pressure from the perimeter as well.
So it all falls on the secondary. Washington has been awful at creating turnovers, and they don't have many playmakers on defense. The secondary, which is populated by a lot of past-their-prime veterans, bears a lot of responsibility. I don't like any of Washington's corners. And their only real offseason move was to add 12-year vet Ryan Clark. If these guys can't round into form it will reverberate through the rest of the team.
Skinny: It was obvious to everyone that the Redskins were primed for an implosion heading into last season. They have cleaned house and have a different vibe with rookie coach Jay Gruden at the helm. And that makes Washington a bit of an X-Factor in this division and in this conference.
Washington has been fodder in the East for most of the last 20 years, making the postseason just four times. They have beaten their Las Vegas Season Win Total just one time in the past five years and are generally unreliable. But they have a very favorable schedule, crossing over with the feeble AFC South, and the Redskins are toiling in one of the most unsteady divisions in football.
The Redskins weren't as good as they played in 2012 when they won 10 games and took the division. But they also weren't as bad as they looked last year during that ugly three-win campaign. This is a dangerous team heading into September. And I suspect they will find a way to get over .500 and stay in the mix into December.
Dallas Cowboys Predictions
2013 Record: 8-8 (5-3 home, 3-5 road)
2013 Against the Spread: 9-7 ATS, 9-7 vs. Total
2013 Rankings: 16th offense (14th pass, 24th rush); 32nd defense (30th pass, 27nd rush)
2014 Odds: 70/1 to win SB, 30/1 to win NFC, 4.5/1 to win NFC East, 8.0 wins O/U
Offense: I don't know many teams that wouldn't be excited to have the level of talent that Dallas does on offense. They were No. 5 in the league in scoring last year but still decided to bring in a new offensive coordinator, pulling Scott Linehan away from Detroit.
Tony Romo is Tony Romo. There is no doubt that he is an excellent, Pro Bowl-caliber quarterback that is capable of almost singlehandedly keeping the Cowboys competitive against top competition. But there is also no denying that he is a massive, massive loser who will routinely screw things up in the clutch or otherwise do something to cost his team a game that they shouldn't have lost.
Dez Bryant is one of the five best receivers in football. And when he's healthy DeMarco Murray is a legit No. 1 running back. Dallas has invested wisely in the offensive line and turned it from a weakness into a strength. And Jason Witten continues to slay defenses by slicing through the seams. Also, keep an eye on crafty slot man Cole Beasley.
In all, this group of starters has no real weakness. However, depth is nonexistent. If Bryant, Witten or Murray gets hurt then the offense will fall apart. There are also no viable backups for the five starting linemen. And Tony Romo is coming off his second back surgery at age 34.
Defense: The Cowboys defense was the worst in football last year, allowing the most yards in football while surrendering 30 or more points seven times and 45 or more points three times. Dallas lost its three best defensive players in the offseason, and one of its few other NFL-caliber starters, Anthony Spencer, is coming back from offseason surgery. Needless to say, new DC Rod Marinelli has his work cut out for him.
Last year the Cowboys blitzed an average of roughly 10 times per game. Those aggressive play calls yielded just nine sacks and one interception. That is pathetic. And if Dallas wants to improve its defense they need to find ways to generate more big plays, especially when they sell out on the blitz.
The problem is that there is nowhere to turn for answers. Salary cap penalties and an abundance of dead money on the books kept Dallas of bolstering its roster. They will be almost totally reliant on journeymen, cast-offs and lightly-regarded young players to patch this group together. It could result in a better defense just because there is nowhere to go but up. But this will not be a good unit.
Skinny: "Never underestimate the reliability of stupidity." That Bullet-Tooth Tony gem is one of my favorite lines and fits the Cowboys to perfection. Dallas enters another season overly optimistic while shockingly unprepared. The defense is a mess, the offense is a house of cards just two injuries away from collapse, and there seems to be an abject cluelessness about how far away from being a contender this team is.
One of the key subplots to this team will be the status of Jason Garrett. Coordinators Bill Callahan, Scott Linehan and Rod Marinelli are all former head coaches. You know they are all salivating at the prospect of usurping control of this team if Garrett were to be held accountable. There is a strange, dark power dynamic at work behind the scenes with this staff, and we could see the results on the field.
Dallas also has one of the most difficult schedules in the NFC. A trip to London and three Monday/Thursday games will wreak havoc on their workflow. It is not unreasonable that Dallas could start the season 2-5, and their post-bye schedule is absolutely ruthless. This organization is a powder keg. And the schedule is a blowtorch.
For more of Robert Ferringo's articles CLICK HERE.
Robert Ferringo was the top football handicapper in the country last year, earning nearly $8,000 in total football profit in 2014-14 and posting one of the best seasons in America. He hit 62.1 percent for the entire NFL season (95-58) and was amazing down the stretch, closing with 11 of 14 winning NFL weeks and 12 of 15 overall winning football weeks. Robert has posted 3 of 4 winning football seasons, 6 of 7 winning NFL seasons, 30 of 44 winning football months, and 6 of 7 winning NFL preseasons. Also, Robert's proprietary KING College Football Betting System posted another winning season (now 2-for-2) and is 83-58 over the last two years (58.9 percent).
We are offering new clients $60 in free college football picks for Robert's picks or any Advisory Board handicapper of your choosing. Get your free college football picks now!
Read more articles by Robert Ferringo