2015 NFL Power Rankings Week 12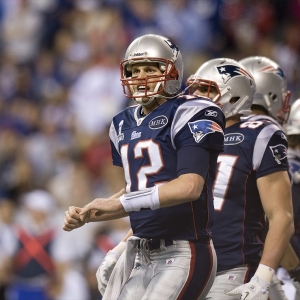 Let's get Elias or EPN Stats and Information on this one: when was the last time that the Browns, Raiders and Jaguars were all favored on the same weekend?
I'm guessing never. But I don't know if anything serves as a better sign of the fact that the NFL has been terrible this year than that. Combined with the fact that there won't be enough .500 or better college football teams to fill out all the bowl games and facts are facts: there is a lot of awful, ugly football being played in this country right now at all levels. The sport is a disaster, and this has been the least-entertaining season in recent memory.
But I'm not going to focus on the negative. Thanksgiving is my favorite holiday of the year, by far, and I have plenty to be thankful for. So with that in mind, here isan abridged version of Doc's Sports NFL Power Rankings for Week 12:
1. New England Patriots (10-0) - That Patriots' odds are currently 4-to-1 to go undefeated in the regular season. Those are amazingly low odds considering how difficult that feat actually is. If they beat the Broncos this week - playing on the road, off a Monday night win, at altitude, against another physical defense - then there is nothing to stop the Pats from going 16-0. Denver was able to overwhelm Aaron Rodgers at Mile High. But the Pats defense is much better than Green Bay's, and I can see that being the equalizer this week.
2. Arizona Cardinals (8-2) - The Cardinals will go to the Super Bowl - if Carson Palmer can hold on to the damn ball! He nearly had another game-changing fumble Sunday night, coughing it up at the Cincinnati eight-yard line. Fortunately, the Cardinals recovered. But outside of the Monday night game against Baltimore, Palmer has turned the ball over at least twice in his last four outings. That's just too much, and it is why Arizona is not covering spreads despite their statistical domination. He simply has to be more conscious of taking care of the ball when he gets pressured. And if the Cardinals come up short in the NFC I can guarantee it will be the direct result of a Palmer boner.
3. Cincinnati Bengals (8-2) - Last Sunday was a costly defeat for the Bengals, who lost cornerback Darqueze Dennard for the season. Pac-Man Jones is also down with a foot injury. The secondary is the main strength of this defense, and they are losing bodies rapidly. There is rain and cold in the forecast for this Sunday's game with the Rams, which could make it difficult for the Bengals offense to execute. The Bengals are 18-6 ATS in their last 24 home games and a robust 8-1-1 ATS so far this season, making them the most profitable team in the AFC so far this year.
4. Carolina Panthers (10-0) - Carolina is crushing people's souls on a weekly basis. This team is executing at an amazingly high level. But they are currently +600 to go undefeated, and I actually made a $200 bet at -900 that they would lose a game in the regular season. Hey, if someone wants to give me free money I'm going to take it. Carolina plays four of its next five games on the road, and the two home games are against dangerous divisional opponents. I will be surprised if they don't lose at least two of their final six games after winning 15 straight regular season contests.
5. Minnesota Vikings (7-3) - It's going to be interesting to see how the Vikings respond to some adversity thrown their way. Their eight-game ATS streak has been snapped, as has their five-game SU winning streak. But if you look at the raw numbers from the Packers game it was much closer than the final score suggested. Penalties were killer, as was AP's second-half fumble, and I expect these guys to play a much tighter game this Sunday. The Vikings topped the Falcons 41-28 at home last year and physically manhandled Atlanta in that one.
6. Denver Broncos (8-2) - I really don't have much to say about Denver that others in the bobblehead media haven't already beaten to death. The Broncos are obviously better off with Brock Osweiler under center. Period. If Manning could embrace the role of mentor and pseudo-coach and help the kid out then the Broncos could return to being viable contenders in the AFC. But I don't think he will do that. Osweiler simply has to avoid dangerous and ill-advised throws and he, and the Denver offense, will be fine. With that defense Denver simply has to avoid turning the ball over and they can beat anyone.
7. Green Bay Packers (7-3) - Do you realize that Green Bay is not ranked in the Top 20 in either total offense or total defense? Was last Sunday a one-week aberration or did that jar something loose with the Packers? They are also back in the warm embrace of Lambeau, and the Packers get just their second home game in six weeks on Thanksgiving. Green Bay has absolutely and completely dominated their rivals over the last 20 years. The Packers are 23-8 ATS in their last 31 meetings with the Bears and are 6-2 ATS in their last eight home games against Chicago.
8. Buffalo Bills (5-5) - There is no number on this game because of Tyrod Taylor's shoulder. I think that he is going to play. But he can't throw the ball down the field, and the Bills aren't going to out-grind the Chiefs in this one. I think that if Taylor starts the spread in this game will be around 5.0 and if he doesn't I expect Kansas City to be favored by at least a touchdown. The Bills have had a lot of success against Kansas City in the past decade, going 6-2 ATS in the last eight meetings. But they have lost at home to the Chiefs each of the past two seasons. It is a shame that this team is going to miss the postseason. They are much better than their record suggests.
9. Pittsburgh Steelers (6-4) - I would expect a heavy dose of Heath Miller this week. The Seahawks have really struggled to defend tight ends this year, despite their No. 2 pass defense. The Steelers offense is going to live and die with Big Ben and the passing game, meaning it is strength against strength. Whoever gets the better of that matchup will cover the spread this week. Pittsburgh is 5-1 ATS in its last six road games, and they are 4-1 ATS this season when posted as an underdog. Pittsburgh is on a nice 10-4 ATS run overall, which is difficult for such a public team to accomplish.
10. Seattle Seahawks (5-5) - Jesus, keep giving the ball to Thomas Rawls man. That kid is a bowling ball. Also, his ability to catch the ball out of the backfield is critical and is a dimension that Seattle hasn't had with Marshawn Lynch. The Seahawks continue to toy with bettors' emotions, again looking like a true Super Bowl contender with their dominating effort last week. But that was against the 49ers. Can the Seahawks still blow out good teams? Seattle is just 2-5 ATS in its last seven home games and 3-9 ATS in their last 12 games overall.
11. Kansas City Chiefs (5-5) - This is actually the eighth straight season in which the Chiefs have played the Bills. The home team has been a disaster, though, going just 2-5 straight up when these two teams play. The Chiefs haven't hosted the Bills since 2011. But the Bils have won three of their last four trips to Arrowhead, and the average score in those wins was 36-16. The Chiefs are riding a four-game ATS winning streak by a combined score of 130-39.
12. Atlanta Falcons (6-4) - I have defended Matt Ryan to the death. I still think he is one of the five or six best quarterbacks in the NFL. But at this point even I have to question what the hell he is doing. Even if D'Qwell Jackson hadn't intercepted Ryan for that game-changing pick six, the receiver Ryan was throwing to wasn't even close to being open. The Falcons are now 0-6 ATS in their last six games despite the fact that they have outgained five of their six opponents. Ryan will also be facing by far the best defense he's gone up against when the Vikings come to town, and this offense is just not working at all.
13. Indianapolis Colts (5-5) - I have to be about 2-46 in my last 48 bets on or against the Colts. I need to just stay the hell away from this team. It is ridiculous that they won at Atlanta on Sunday. Ridiculous. This is not a good team at all, on either side of the ball. The public obviously thinks so too. Just 30 percent of the betting this week is on the Colts over the Bucs despite the fact that Indianapolis is 23-9 ATS in its last 32 home games. The Colts are on a nice 5-1 ATS rush, but apparently everyone would rather get down on The Next Big Thing (Tampa) than The Previous Big Thing (Indy).
14. Chicago Bears (4-6) - Chicago's score in their first meeting with the Packers was really misleading. The Bears outgained Green Bay by 80 yards and really shut down the Packers attack. That game was 17-16 early in the fourth quarter, and red zone failures made all the difference in Week 1. Chicago is much more stable and in tune with their systems now than they were in that game. The road team has gone 5-1 ATS in the last six in this series.
15. New York Giants (5-5) - Teams coming off a bye week is a really overrated betting angle in the NFL. And Tom Coughlin is a perfect example. The guy is probably a Hall of Fame coach, but the Giants are just 5-6 ATS after a week of rest. I would like to think that this would be a bit different, though, because this next six weeks is Coughlin's last hurrah. If this team doesn't get to the playoffs then I think Coughlin is gone. The Giants have been known for making some serious late-season pushes in the past, and if they are going to salvage anything from this season it will have to start this week. They are 5-0 ATS in their last five games against the Redskins, and the 'under' is 6-2 in the last eight meetings.
16. Dallas Cowboys (3-7) - Anyone else think it is kind of a red flag that a 3-7 team is favored over a 10-0 team? Anyone? Just me? Dallas isn't going to be able to run the ball against the Panthers on Thursday, so this game is going to come down to Tony Romo making plays. Talent trumps the Cover-2 scheme. And Dallas has enough individual talent to make plays down the field and put points on the board. The bigger questions will be about the Dallas defense. Can they (or anyone) hold up to the pounding that the Carolina offense inflicts? The Cowboys defense has posted just a 13.2 defensive yards per point mark at home, sixth worst in the league.
17. Tampa Bay Buccaneers (5-5) - I wrote during the preseason that Doug Martin looked awesome and was poised for a monster season. He hasn't let me down, and the guy is going to end up with over 1,600 rushing yards. Tampa Bay's resurgence in the second half of the season is due in large part to the fact that Jameis Winston isn't turning the ball over. He only has two interceptions in his last six games. If he continues to value the ball then Tampa's raw offensive talent and Lovie's sound defensive scheme will absolutely keep these guys in the playoff hunt. What I worry about is that the Bucs are the new Raiders. Remember how three weeks ago everyone was piling on Oakland's bandwagon and since then the Raiders have gone in the ATS tank? I think the same thing could happen to Tampa as the Hype Machine goes into overdrive.
18. Houston Texans (5-5) - I seriously have no idea why teams aren't quadruple-teaming DeAndre Hopkins. It is amazing to me. The Jets thought that they could just stick rapidly aging Darrelle Revis on Hopkins and Revis would shut him down. But Hopkins owned Revis, and that was a clear mistake by New York. Hopkins is on pace for 125 catches, and there is absolutely no way that you would've guessed that the Texans own the No. 6 passing offense in football. Houston's defense has turned things around, allowing just 9.7 points per game over their last three games after surrendering 28 per game in the previous seven.
19. New York Jets (5-5) - As I have pointed out repeatedly, the Jets have one of the oldest rosters in the NFL, so their late-season swoon shouldn't be that surprising. Injuries to key players are starting to creep up, and this team is simply getting worn down.
20. Oakland Raiders (4-6) - I've chuckled the last few weeks as every bobblehead media member in football piled onto the Raiders bandwagon. This team was never going to the playoffs. They are a very competitive 6-10 team, and it was clear that their depth issues on defense and limitations on that side of the ball would never allow them to do much more than that. But Oakland has been installed as a road favorite yet again this week, and the public is lining up to throw down on the Raiders. Around 75 percent of all betting action in the Titans game is going on the Raiders, and the public could be setting itself up to get smoked again.
21. Philadelphia Eagles (4-6) - Mark Sanchez and Thanksgiving humiliation go together like pumpkin pie and whipped cream. I really hope he starts again on Thursday so we can be treated to him missing open receivers and threatening to turn the ball over on every Philadelphia possession. People are starting to point the finger at the Eagles defense after the Bucs strafed them for 45 points. But the fact is that the Eagles defense is exhausted, and they are starting to mail it in out of pure frustration for their pathetic offense. They are on the field an NFL-high 34 minutes per game, and the Eagles time of possession differential has actually been worse over the last month (from minus-8:39 to minus-9:22). These guys are spent.
22. Miami Dolphins (4-6) - The road team has won seven straight in the Jets-Dolphins series, going 6-1 ATS in the process. In fact, Miami is 6-2 ATS in its last seven trips up to New York, and that has included some late season, cold-weather games. (The forecast for Sunday is 49 degrees.) Miami is just 9-25 ATS in its last 34 games against the Jets, though, and I don't think that the Dolphins offensive players are going to be too keen on being called out by interim coach Dan Campbell this week. In four wins the Dolphins have run the ball 27.8 times for an average of 150.3 yards per game. In their six losses they've averaged just 65.7 rushing yards on 16 attempts.
23. St. Louis Rams (4-6) - Forget the NFL's "concussion spotter", what the hell was Jeff Fisher watching when Case Keenum was concussed and why wasn't he screaming for an injury timeout? The Rams have lost three straight and four of their last six. And their last two wins came against with big situational advantages against Cleveland and San Francisco. I've been saying it all season: the Rams stink. I'm not backing away from that belief now. All that said, I don't think I'd be in a hurry to load up against the Rams in Cincinnati this week. Something about that line is fishy, and the books are practically begging people to take the Bengals in that one. That might be a stay-away game for me.
24. New Orleans Saints (4-6) - We are going to find out how much of New Orleans' defensive issues were atrocious coaching and how much is lack of talent. Ryan was notorious for his blitz-crazed scheme. But according to published reports, New Orleans ranked just No. 24 this year in number of blitzes. I expect them to send a lot of guys at T.J. Yates on Sunday
25. Washington Redskins (4-6) - It has been all or nothing with the Redskins over the past month. Only one of their last five games has been decided by less than two touchdowns, and that was the wild Tampa Bay game in which the Skins were down 24-0. These guys are kind of a disaster, and right now they look like they are running on fumes. The underdog is 7-2 ATS in the Giants series, and Washington will be looking to avenge five straight losses to the G-Men.
26. Jacksonville Jaguars (4-6) - I'm already mentally cashing my 2016 futures ticket on the 'under' against the Jaguars. They've got a great shot to beat underwhelming San Diego this week, and Jacksonville is a solid four-point favorite this week. A win and some help would actually draw them even with the Texans and Colts in the AFC South race. And that right there tells you all you need to know about the NFL in 2015. The Jaguars have won three of four outright and are 4-0 ATS in their last four games. They also have three of their next four games at home and face only one team with a winning record - sagging Atlanta -the rest of the way. Don't be fooled though; this is still an awful team.
27. Detroit Lions (3-7) - I'm amazed at the two-week turnaround of the Detroit defense. They've allowed just 97 rushing yards on 39 carries the past two games after allowing an obscene 206 yards to Kansas City over in London. Where did that come from? The Detroit offense is still a joke, though, and they have scored over 20 points exactly one time in their last nine games. I thought coming out of the preseason that this attack would be a Top 10 unit with ease, and Detroit's offensive failure is, to me, one of the biggest surprises in the NFC this season. Detroit is just 4-10 ATS in its last 14 games overall, and they are just 3-8 ATS as Thanksgiving Day hosts.
28. Baltimore Ravens (2-8) - This is easily the most hard-luck team in the NFL this year. Joe Flacco was the only thing keeping them out of the abyss. And even he couldn't avoid the injury wave that has ravaged this roster. Matt Schaub, who is basically Matt Cassel with a quicker release, will be the first Ravens starter other than Flacco since 2007. The Ravens couldn't beat the Browns at home, with Flacco, this year, so I am not sure how they are going to get the job done without him and on the road. Baltimore is 4-0 ATS in its last four Monday Night Football games.
29. Tennessee Titans (2-8) - Just a horrible beat for Titans backers on Thursday. I thought Tennessee was clearly the better team in that game, and they were beating the number easily for the first 57 minutes. But then a 63-yard punt return, a touchdown, a fumble, and an extra point in about 1:30 of game action sunk this team again. I still contest that this team is much better than its records. But they are painful to watch and hapless Mike Mularkey is not going to turn anything around down the stretch. The Titans are now 19-39 ATS in their last 58 games and 6-18 ATS in their last 24 home games. They are also 2-13 ATS against teams with a losing record.
30. San Francisco 49ers (3-7) - I'm stunned that the 49ers were better prepared coming out of their bye week. And yes, I'm being sarcastic. I'll be interested to see if San Francisco puts up a fight this week against Arizona before they start mailing it in the rest of the season. Their 20.7 offensive yards per point is by far the worst mark in the NFL. But what is most surprising is that they are actually getting worse, posting a 22.6 YPP mark in their past three games. The 49ers are on a 4-12 ATS slide, and they are just 7-19 ATS in their last 26 divisional games. San Francisco is just 3-7 ATS in its last 10 home games.
31. Cleveland Browns (2-8) - I just don't even know what to say about this dumpster fire. Mike Pettine is so obviously over his head, and he has completely and totally botched his quarterback situation. That being said, I'm glad that Josh McCown is starting this week. I think the Browns have a better chance of winning with the veteran under center. But how is Manziel's benching going to play in the locker room? And the fact is that this franchise needs to find out if the little sprite can play or not.
32. San Diego Chargers (2-8) - Speaking of mailing it in, this team is completely off the rails. You can't throw it all at Mike McCoy though. Injuries have devastated the roster, and the relocation issues lingering around this franchise have created a dark cloud. I bet right about now Phil Rivers is wishing he had forced his way out of town back in April. San Diego has to travel across country for an early start this week, and that could be too much for a team that is ready to throw in the towel. The Chargers are now on a 5-16 ATS slide, and they are a putrid 3-13 ATS in their last 16 conference games.
Throughout the season I will have my NFL Power Rankings every Wednesday. My next ones will be released on Wednesday, Dec. 2.
Robert Ferringo was good for nearly $13,000 in profit in 2013 and 2014 and has averaged $5,600 in profit for his clients the last four years. Robert's two winning months to start this season make it 14 of 19 winning football months and an unreal 37 of 54 over the last eight years! Also, Robert's proprietary KING College Football Betting System has posted two of three winning seasons and is 104-73 over the last three years (58.8 percent). We are offering new clients $60 in free college football picks for Robert's picks or any Advisory Board handicapper of your choosing. Get your free college football picks now!
Read more articles by Robert Ferringo