2015 NFL Power Rankings Week 13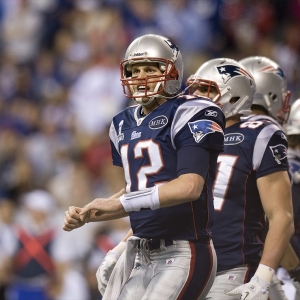 Playoff football is here.
I know there are still five weeks left in the regular season, but from here on out nearly half of all games each week will feature games with major playoff implications. This week just two games - Jags-Titans and Ravens-Miami - feature "dead-money" teams that are just playing out the string. Parity has created opportunity. But don't mistake playoff hopes for actual playoff potential.
This time of year momentum is the most important commodity in football. Certain teams are steaming toward the finish line while others are just about at the point where they can start mailing it in.
The hottest teams in football right now; Carolina (7-1 against the spread), Minnesota (9-1 ATS), Kansas City (5-0 ATS), Houston (4-0 ATS), Indianapolis (6-1 ATS), Chicago (4-0 ATS), and Cincinnati (9-1 ATS); have all been cash cows for backers.
Green Bay (1-5 ATS), Atlanta (0-7 ATS), St. Louis (0-4 ATS), Cleveland (0-5 ATS), and Miami (1-4 ATS) have been the money-burners.
I can't remember a season with as many active streaks, both positive and negative, paying out to bettors. Normally you'll have a couple hot and cold teams at any given time. But I don't know that I've ever seen a campaign that has been such a nightmare for regression bettors.
But hey, every season is different. Some seasons are killer for favorites. Others are underdog years. Some years we have several massive, double-digit favorites each week to contend with. Others you see crazy outlier trends in over/unders. But at the end of the day there's not point in trying to make sense of it; just strap in and ride the wave.
Here are Doc's Sports NFL Power Rankings for Week 13:
1. New England Patriots (10-1) - If you made a list of the Top 10 non-quarterbacks that teams could least afford to lose I would have to say that Rob Gronkowski has to be in the Top 3, if not No. 1. How are the Patriots going to score without him? The Patriots practiced with the Eagles last year in the preseason. That seems like a small thing. But it eliminates any of the novelty of Philadelphia's offense, and the Patriots front seven will be ready to smother that feeble stretch run play that comprises one of only about three running plays the Eagles have in their playbook.
2. Arizona Cardinals (9-2) - This week is a revenge game for the Cardinals, who lost despite outgaining and outplaying the Rams in the first meeting. Arizona had to settle for five field goals in that game and were just 1-for-5 in the red zone. They also lost the turnover battle by three and still lost by just two points. Arizona is really getting beaten up. Besides losing Chris Johnson they are getting awful thin along the defensive line.
3. Cincinnati Bengals (9-2) - The Bengals have beaten the Browns by a combined score of 61-10 in the last two meetings, and Cincinnati completely and utterly dominated Cleveland in the first meeting just a month ago. But the Bengals are a ridiculous 9-1-1 against the spread this year. There's just no way that is going to continue. There have been just 12 teams over the last five seasons to cover the spread in 11 or more games, and the season high is 12 ATS wins, accomplished four times in five years. The books - and league parity - will eventually catch up with the Bengals, but will it be this week?
4. Carolina Panthers (11-0) - The guys over at fivethirtyeight.com had an interesting article about the Panthers. They posit the theory that Carolina is the worst 11-0 team of the 12 to reach that mark in NFL history. It isn't meant to be a slight; only a dozen teams have ever even gotten this far. But some of the things that they touch on are what I've been saying about Carolina - and why I haven't had them in my top three - all season long. Their weak competition is my main gripe. But there is also the fact that they just don't have that much top-end talent.
5. Denver Broncos (9-2) - I feel vindicated about what I said last week suggesting that anyone that thinks the Broncos are better off with Peyton Manning over Brock Osweiler is high. Osweiler is out there making NFL-caliber throws - deep throws, throws in traffic, throws on the run - that Manning simply isn't physically capable of making any more. With Denver's defense and running game, they simply need good quarterbacking, not great, and Osweiler gives it to them.
6. Minnesota Vikings (8-3) - Road wins are never easy to come by, so we can't dismiss Minnesota's manhandling of Atlanta. But this week is a different animal with the defending NFC champions coming to town. It should be right around freezing in Minnesota this weekend, but there isn't wind or snow in the forecast. That's big, because I don't know Ted Bridgewater is going to fare in the elements. Also, I don't like the Vikings talent or style of play. But they are underdogs this week in part because last week's win was just their second this year against a team that currently has a winning record. Also, like Cincinnati, I am starting to wonder just how much track is left in front of this money train.
7. Green Bay Packers (7-4) - Aaron Rodgers called out his teammates publicly this week, suggesting that some of the younger players haven't been preparing like they should. Rodgers can point fingers all he wants. But the reality is that he has been awful for the last month. Rodgers has completed over 60 percent of his passes just once in his last six games. His 60.5-percent completion rate is his lowest since he's been a starter, and Rodgers is missing a lot of throws. The Packers have lost three of their last four games against the Lions, and they haven't been particularly good in the Motor City, averaging just 14.2 points per game in their last five trips to Detroit.
8. Seattle Seahawks (6-5) - Rusty Wilson's one season up in Wisconsin in college could pay some dividends for him this week as I think Wilson is more acclimated to playing in the cold than Bridgewater. Seattle is just 1-3 ATS in its last four road games, 1-5 ATS against a team with a winning record, and just 3-7 ATS in their last 10 conference games. But they are 14-3 ATS in December, and they know they absolutely need this game. Some books still haven't moved the line off a 'pick' in this game, but I expect the Seahawks to get the public's backing (they are at 60 percent of the action right now) and the line could move to 1.5 or 2 by kickoff.
9. Kansas City Chiefs (6-5) - Sometimes it is just best to ride the hot team and not think twice about it. That's basically where we are at with the Chiefs, who have won and covered five straight. They have dominated each of those opponents as well, and I think Oakland will be the worst team that Kansas City has played (outside of San Diego) over the last 10 weeks. The Chiefs are 9-3 ATS in their last 12 games in Oakland, and the road team has been an automatic play in this series at 18-6 ATS.
10. Pittsburgh Steelers (6-5) - There is no spread on this week's Colts game just yet as the books wait to see if Big Ben will be under center. You can pretty much guarantee that Roethlisberger is going to play for the Steelers this week since this game has major playoff implications. I expect the spread to be around 6.0 when it is announced that he'll be under center. The Steelers beat the Colts 51-34 last season, and they racked up 639 total yards in that game. Pittsburgh has actually only lost to the Colts twice in the last 20 years. Pittsburgh is 10-3 ATS in its last 13 games against a team with a winning record, and they are 7-3 ATS after a loss.
11. Buffalo Bills (5-6) - The Bills were so desperate for a Savior for this franchise that they made a deal with The Doofus, Rex Ryan. Now they are on the hook for four more years of this clown, who has botched challenges, wasted timeouts, and fielded one of the sloppiest, most-penalized and least-disciplined teams in football. Ryan has wasted one of the most talented rosters in the NFL. And so much for being a "defensive guru". Last year Buffalo averaged 3.4 sacks per game. This year? They are down to just 1.5 per game. I said at the beginning of the season that it was a massive mistake to convert a great 4-3 defense to the 3-4, and the results speak for themselves.
12. Indianapolis Colts (6-5) - I know that Matt Hasselbeck is getting all of the love in Indy, but last week was another vintage game from T.Y. Hilton, who had two more scores and looks like he is finally fully healthy. The Steelers don't have anyone that can cover Hilton, and I would expect him to have a monster game Sunday night. The Colts are on a 4-0 ATS rush (and 6-1 ATS in their last seven), but they have been outgained in nine of their last 10 games and are consistently losing the stats battle. I haven't been able to make heads or tails of the Colts the past couple years. But I can't help feeling that the bottom is going to fall out on this group at any time.
13. Chicago Bears (5-6) - There is no way that I thought that I'd be ranking the Bears this high at any point this season. They are definite overachievers. And the best part is that they are actually improving. This week is another pseudo-revenge game for the coaching staff as defensive coordinator Vic Fangio will be going up against his old mates. These are the situations in which I worry about Jay Cutler. He has been a pathetic quarterback as a favorite in his career. Also, Chicago is just 3-11 straight up in their last 14 home games (including 1-4 this year). The Bears No. 29-ranked rush defense will face a stiff test from a San Francisco team determined to run the ball.
14. Tampa Bay Buccaneers (5-6) - A big reason for Tampa Bay's second-half surge has been increased efficiency in the red zone. That makes sense, given Doug Martin's running and their monsters at receiver. Tampa Bay has converted 75 percent of its red zone chances over the last month, raising their conversion rate to 50 percent on the season. The Bucs won at Atlanta earlier this year, in overtime, despite being outgained by over 200 yards.
15. Houston Texans (6-5) - The Texans and Bills have played a couple of head-knockers over the past three seasons, with Houston winning both games at home. Fortunately for Houston, the game-time temperature looks like it will be above 50 degrees on Sunday. Houston's front seven has become a dominant force, and the Texans are averaging three sacks per game over their last three and are allowing just 64.7 rushing yards per game. They should be able to smother what has been a really uneven Bills offense this week. The Texans are just 6-15 ATS in the game after they cover the spread, but they are on a 4-0 ATS run and are 6-2 ATS against a team with a record below .500.
16. New York Jets (6-5) - This is an absolutely monster game for the Jets. Not only can they give their own playoff hopes a massive jolt but they can also drive a stake through their in-state rivals. I was surprised to see the line in this game jump so quickly from a 'pick' to the Jets at -2.5. Are the books simply baiting square money on the Jets or was that sharp money pushing the number up? Only 44 percent of the wagers in this game have come down on the Jets. The Jets and Giants play every year in the preseason. But regular-season meetings are rare. The G-Men have not lost to the Jets since 1993, and they are 5-0 ATS in the last five meetings.
17. Oakland Raiders (5-6) - The secret sauce of Oakland's success this year has two key ingredients: the incredible play of Derek Carr and the fact that Oakland has caught the teams they have beaten in advantageous situations. The Tennessee game was the first in which Oakland won against an opponent that wasn't facing either a major travel disadvantage (Baltimore) or a horrible letdown spot (Chargers, Jets). The Raiders are just 5-13 ATS after a win, and it looks like the public is jumping off the Oakland bandwagon, with just 33 percent of the wagers in this game coming down on the home underdog.
18. New York Giants (5-6) - That was a pathetic effort from this awful team last week in a game that they absolutely had to have. The Giants had two weeks to prepare and looked lost against a bad Washington team. But that's the Giants: you always bet against them when they are expected to play well and you bet on them when they are expected to lose. So I guess that means they are the play against the Jets this week! The Giants were down three offensive line starters last week, and it showed, as Eli Manning was rattled all game long. It won't be any easier against the Jets front seven this week, but New York could have center Weston Richburg and tackle Justin Pugh back for this one. That is something we absolutely will monitor as the week progresses.
19. Washington Redskins (5-6) - I know that the Redskins have a little mojo right now after winning two of three and dominating the Giants last week. But they haven't won back-to-back games all season, and they have been outgained in five of their last seven. Washington is 8-2 ATS in their last 10 games against their hated rivals, but they have only been favored once in the last 12 meetings.
20. Detroit Lions (4-7) - The Lions rush defense is allowing just 55.7 yards per game over the last three weeks, which is less than half of their season average of 112.5 per game. The offense has finally shown signs of life as well. A big part of that is that Matt Stafford has stopped turning the ball over, throwing just one interception in the last three games and just four in his last six. Compare that to eight picks in his first five games and you can see why Detroit is on an upswing. The Lions simply gave away too many games in the first month of the season to be considered a playoff threat any more. But that doesn't mean that they can't finish strong.
21. Atlanta Falcons (6-5) - I hate to keep beating a dead horse, but Matt Ryan now has seven red zone turnovers this year. That number, seven, is equal to the number of ATS losses in a row that the Falcons have logged. Atlanta has also gone 'under' in seven straight games. I know people are waiting for the team that dominated September to show up. But the reality is that September was an aberration. This is still the same crappy roster and weakly-constructed team that we saw flop through last year. The coaching hasn't been very good at all, either, and I don't see a bottom for this group.
22. Philadelphia Eagles (4-7) - It is really simple: the Eagles won't win a single game with Mark Sanchez at quarterback. He, obviously, isn't the only problem, though, and they are not starting an NFL-caliber back seven on defense now, either. It looks like this team is ready to throw in the towel on the season. The Eagles are 7-18 ATS in their last 25 games against teams with winning records.
23. Miami Dolphins (4-7) - Do you trust the Dolphins laying points to anyone? Me neither! Miami is hosting what is basically the Ravens practice squad this week, and it wouldn't surprise me if the Fins lost by 20 again. Miami has been pathetic in this situation, going 13-38 ATS when they are at home against a team that is below .500. They are 1-6 ATS in their last seven home games overall. There is rain in the forecast this Sunday, which should neutralize any advantage that Miami might have had in the passing game.
24. St. Louis Rams (4-7) - The pass rush was supposed to be the great hammer of this defense. But the Rams have generated just three sacks the last three weeks, down from nearly three per game over their first eight games of the season. The good news for Rams backers this week - wherever they may be - is that the underdog is 6-2 ATS in the last eight meetings in this series. The bad news is that other than that fluke first win at Arizona, the only teams St. Louis have beaten are Cleveland and San Francisco. The off-field maneuvering of St. Louis' owner to leave town ASAP can't be helping morale in the locker room or in the stands (see: San Diego), and this is yet another team that is in a clear free fall (0-4 SU and ATS).
25. New Orleans Saints (4-7) - The Saints were overwhelmed in Houston last week and have been outscored 71-20 in their last two games. They certainly didn't show anything last week that would make anyone think they are capable of knocking off unbeaten Carolina, and less than 20 percent of the bets coming in on this game are on the side of the home underdog. There was a time when the thought of Sean Payton and Drew Brees catching a touchdown at home would be unthinkable. New Orleans did cover as 10-point road underdogs in Carolina this year. They blew 10-0 and 16-10 leads in that one. The Saints are just 2-5 straight up in their last seven against the Panthers, though, and I don't think that New Orleans is nearly tough enough - mentally or physically - to hang with Carolina.
26. Baltimore Ravens (3-8) - I do feel bad for the Ravens because of all the injury issues that they have dealt with this season. But their wins have all been ridiculous this season. There is no way that they should've beaten the Browns on Monday - just Baltimore's second ATS win this year - and the Ravens could have a letdown in Miami this weekend. They are just 3-10 ATS in their last 13 Sunday games after a Monday Night Football showing. Baltimore has beaten the Dolphins in each of the past two seasons, including an easy 28-13 win at Miami last December. The Ravens have beaten Miami five straight times, including four wins in South Beach, and they are 5-0 ATS in those games.
27. San Francisco 49ers (3-8) - This is a pure letdown spot for the Niners, who are coming off back-to-back emotional games against their hated division rivals. Now they have to travel east for an early PST start and play in the cold weather. None of this sets up well for San Francisco. The 49ers are 5-12 ATS in their last 17 games overall and just 1-6 ATS in their last seven road games.
28. San Diego Chargers (3-8) - That was a nice road win for Mike McCoy, who needs all he can get to keep his job. I think it is grossly unfair to blame McCoy for this Chargers season, and San Diego has actually overachieved, relative to its talent, during his tenure. However, a closer examination of San Diego's season tells me that they really could be winless. Their wins over Detroit and Cleveland were flukes. (Although, admittedly, they did outplay Pittsburgh, Green Bay and Baltimore.) The Chargers have been outgained by an average of 115 yards per game in their last three and have lost four straight on their home turf.
29. Dallas Cowboys (3-8) - Yup, it's over. And the worst goddamn part of this season for Dallas is that it is exactly what I predicted for them - terrible coaching, blown games, comically inflated expectations, the specter of season-crushing Romo injury - last year. I missed a huge futures ticket last season only to watch the Cowboys play exactly as I expected the next year. Jesus absolutely hates me.
30. Jacksonville Jaguars (4-7) - And that, my friends, is why the Jaguars should never be favored - ever - and why anyone that put money down on Jacksonville in that role last week is an idiot. The Jaguars were outplayed by Tennessee two weeks ago but managed to scum out a victory. I don't trust them to do it again, even if the Jaguars are 8-1-1 ATS in their last 10 games against the Titans.
31. Tennessee Titans (2-9) - I give up with this team. The Titans defy any type of statistical logic. Half of their last eight losses have been by less than a field goal. The last two have come in the final seconds, and in five games this year they've blown leads in the last 21 minutes. Turnovers have crippled this team. But I think that they are catching the Jaguars in a good spot here. The Titans have revenge, and also I think Jacksonville, which had the fleetest of postseason aspirations crushed last Sunday, is in a little bit of a letdown spot.
32. Cleveland Browns (2-9) - Yup, I lost my biggest play of the weekend on the "kick six" play to end the Cleveland game, and that is as absolutely brutal as a beat can get. It still wasn't as bad as Cleveland not beating the total against Pittsburgh in their previous game, but still tragically comical. The only thing left is for me to lose a big play when an extra point gets blocked and returned for a defensive score. When that happens I get to yell "Bingo!".
Throughout the season I will have my NFL Power Rankings every Wednesday. My next ones will be released on Wednesday, Dec. 9.
Robert Ferringo has posted back-to-back winning football weeks and has a 7-Unit KING System College Football Game of the Year this weekend. Robert was good for nearly $13,000 in profit in 2013 and 2014 and has averaged $5,600 in profit for his clients the last four years. Robert has posted 37 of 56 winning football months over the last eight years! Also, Robert's proprietary KING College Football Betting System has posted two of three winning seasons and is 104-73 over the last three years (58.8 percent). We are offering new clients $60 in free college football picks for Robert's picks or any Advisory Board handicapper of your choosing. Get your free college football picks now!
Read more articles by Robert Ferringo