2016 Green Bay Packers Home Schedule Odds and Picks with Win Total Predictions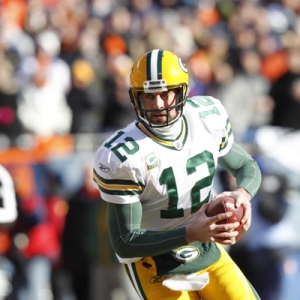 Was there a bigger season-ending injury last August than the one suffered by Green Bay No. 1 receiver Jordy Nelson? I can't think of one.
The Packers were 12-4 in 2014 and NFC North champions for a fourth straight season. They probably should have reached the Super Bowl but gagged late in the NFC Championship Game in Seattle and lost in overtime. Nelson was easily Aaron Rodgers' top target that year, catching 98 passes for 1,519 yards and 13 touchdowns in earning first-team All-Pro honors. He and Randall Cobb were the NFL's best receiving duo. Rodgers won his second NFL MVP Award that year and the Packers led the NFL in scoring at 30.4 ppg.
Without Nelson last year, Rodgers had one of his worst seasons with his numbers all down across the board. The Packers thought they had enough depth around Cobb, but no one truly stepped up. Green Bay slipped to 10-6 and second in the NFC North. The Pack were middle of the pack in scoring at 23.0 points per game and a shocking 25th in pass yards.
Thus, that 's why I'd worry a bit about the news on Nelson this week. The good news is that he's not having a problem with that surgically-repaired right knee but some tendonitis in the left knee. The Packers already have placed him on the PUP list and I doubt you see him in any preseason games, although Nelson says he expects to play Week 1. Certainly monitor that injury going forward as it could change plenty, but for this story I'll assume Nelson will be OK if not a bit rusty at first.
Nelson will be Green Bay's biggest addition as the team rarely makes a bit splash in free agency but instead likes to re-sign its own guys. The Pack did sign former Rams tight end Jared Cook, and I think he could have a nice role after having a few solid seasons in a St. Louis offense with lousy QB play. Cook averaged 12.3 yards per catch last season, which would be an upgrade on the 8.8 the Packers got from Richard Rodgers in 2015. Although Cook is dealing with a foot injury right now and on PUP.
Green Bay was 5-3 at home last season (8-0 there with Nelson in 2014), 4-4 against the spread and a shocking 1-7 "over/under." The Packers host three 2015 playoff teams this season, and they are the team's final three home games. I project a 6-2 record. Green Bay has a wins total of 10.5 on BetOnline, with the over a -175 favorite. I think a healthy Packers team can go 12-4. Overall, the Packers' schedule ranks as the easiest in the NFL with an opponents' combined 2015 winning percentage of just .457. Odds listed below for the home team.
Sept. 25 vs. Lions (-8.5): Not totally impossible the Packers are 0-2 entering this game as they visit hugely improved Jacksonville in Week 1 and then open the Vikings' new stadium on Sunday night in Week 3. This is also ahead of Green Bay's bye week, which is way too early than teams would prefer. Detroit is off what should be a win in its home opener in Week 2 vs. Tennessee. The Lions ruined Survivor Pools everywhere in Week 10 last year with an 18-16 upset in Lambeau, ending a 24-game road losing streak in the series. Mason Crosby missed a 52-yard field goal as time expired after the Packers recovered an onside kick. On the Packers' TD right before that onside kick, Rodgers had his 2-point conversion pass knocked down. Key trend: Pack 5-4-1 ATS in past 10 as home favorite of at least 7 points in series.
Oct. 9 vs. Giants (-8): Sunday night game and Green Bay comes off its bye. New York is on a short week after visiting Minnesota on Monday in Week 4. New Giants head coach Ben McAdoo spent eight years as an assistant under Mike McCarthy in Green Bay before leaving in 2013 to become the Giants' offensive coordinator. The Pack have lost three straight in the series, including playoffs. Key trend: Pack 3-6-1 ATS in past 10 after a bye (any location).
Oct. 16 vs. Cowboys (-6): Dallas is off a home game vs. Cincinnati in Week 5 and ahead of its bye. The Packers had no trouble with the visiting Cowboys last season in Week 14, winning 28-7 against Matt Cassel. Eddie Lacy ran for 124 yards and a TD and James Starks rushed for a score and caught one. Key trend: Pack have covered three straight at home in series.
Oct. 20 vs. Bears (-9): Thursday night game. Chicago off a Week 6 home game vs. Jacksonville. On Thanksgiving night last year, the Bears won a 17-13 surprise at Lambeau on the night the Packers honored Brett Favre. The Pack couldn't convert on fourth-and-goal from the Chicago 8 with 22 seconds left. Rodgers was 22-for-43 for 202 yards with a TD and a pick and was outplayed by Jay Cutler for, like, the first time ever. Key trend: Pack 4-6 ATS in past 10 as home favorite of at least 7 points in series.
Nov. 6 vs. Colts (-6): Green Bay off a trip to Atlanta the previous Sunday and ahead of a three-game road trip. Indianapolis is home to Kansas City in Week 8 and ahead of its bye. The Pack lost to Andrew Luck in the only other meeting in October 2012 in Indianapolis, 30-27. Key trend: Pack 2-4 ATS at home vs. AFC South teams.
Dec. 4 vs. Texans (-7): Green Bay on a short week as it's in Philadelphia on Monday in Week 12. Houston hosts San Diego the previous Sunday. This will be the first game at Lambeau for Texans star J.J. Watt, a Wisconsin native. You know he's going to be fired up for that. Key trend: Pack 8-2 ATS in past 10 as a December home favorite of at least 7 points.
Dec. 11 vs. Seahawks (-2): Bit of an advantage for the Packers in that Seattle comes off a Sunday night showdown against Carolina in Week 13. Green Bay beat the visiting Seahawks 27-17 in Week 2 last year. Jayrone Elliott had a crucial interception of a Russell Wilson pass with 6:50 left and that led to the clinching field goal. Rodgers was 25-for-33 for 249 yards and two scores. Key trend: Pack 6-4 ATS in past 10 as home favorite vs. anyone of 2.5 points or fewer.
Dec. 24 vs. Vikings (-4.5): Pack are off a trip to Chicago the previous Sunday. Minnesota is home to Indianapolis the previous Sunday. The Packers lost 20-13 at home to the Vikings in the de facto NFC North title game last year in Week 17. The Packers outgained the Vikings by 108 yards but had two crucial turnovers, one returned for a Vikings TD for a 20-3 lead. Key trend: Pack 4-6 ATS in past 10 as home favorite of at least 4 points in series.
Doc's Sports has been handicapping the NFL since before every single player currently in the league was born. That's experience. You can get that experience on your side absolutely free. Doc's wants to give you $60 worth of free NFL picks - the same ones that members get. No obligation. Click here to get started today.
Read more articles by Alan Matthews