NFL Power Rankings Week 14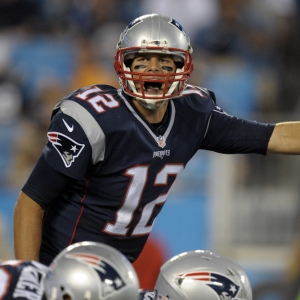 Last week's opening included a blind list of the best quarterbacks of the most recent generation. My baseline was guys with at least 130 starts. (I made an exception for Matt Stafford and his 105 starts just because his numbers were so intriguing. And because I like even-numbered lists.)
Your homework was to rank them based on your own subjective weighting of which statistics were, actually, the most important. (If you didn't get a chance, the blind list without the names is here.)
The stats, in order are: Completion Percentage, Avg. Pass Yards Per Game, Avg. TD Per Game to Avg. INT Per Game, QB Rating, and Team Winning Percentage. These are obviously the most important stats and I preferred to do the game averages versus career totals because I feel like averages provide a more apples-to-apples comparison.
Well, here are the quarterbacks, with my own rankings:
C. 63.8%, 259.4; 1.9 to 0.9; 97.0, (.772) - Tom Brady
L. 65.3%; 270.5; 2.0 to 1.1; 96.5 (.702) - Peyton Manning
I. 64.9%, 257.8; 2.1 to 0.9; 103.3, (.656) - Aaron Rodgers
A. 66.5%, 282.7; 2.0 to 1.3; 96.3, (.569) - Drew Brees
F. 64.1%, 253.4; 1.6 to 1.2; 94.2, (.661) - Ben Roethlisberger
J. 65.3%, 229.2; 1.7 to 1.0; 97.1, (.614) - Tony Romo
D. 64.6%, 264.7; 1.7 to 1.1; 92.6, (.588) - Matt Ryan
B. 64.7%, 254.8; 1.7 to 1.2; 95.3, (.564) - Philip Rivers
K. 61.4%, 277.8; 1.8 to 1.3; 87.0 (.460) - Matt Stafford
E. 61.0%, 234.3; 1.3 to 1.2; 84.1, (.611) - Joe Flacco
G. 59.6%, 240.6; 1.6 to 1.5; 83.7, (.536) - Eli Manning
H. 62.0%, 233.4; 1.5 to 1.4; 85.7, (.493) - Jay Cutler
In the end I went with Brady No. 1 overall because his numbers were very comparable to Manning and Rodgers with one exception: winning percentage.
I think that a look at the raw numbers, without the emotional preconceptions that obfuscate any discussion about quarterbacks, is enlightening. And a look at these statistics really painted an interesting portrait of who the best of the best really are.
This whole exercise was born out of an ongoing argument I have with a delusional Giants-fan friend of mine who thinks that Eli Manning is a no-doubt Hall of Famer. I have no doubts that Eli will join his brother in Canton. However, there is absolutely, positively no way in hell that Eli Manning is one of the best quarterbacks of all-time and there is no way that he deserves to be in the HOF. His inclusion will be born of a type of professional elitism and nepotism - no one wants to tell Peyton's goofy younger brother that he can't play - not unlike the type you see in businesses all across the country.
But my friend, in his blind ranking, actually had Eli ranked 12th! And the main crux of my argument against Manning's perceived "greatness" is pretty simple: never, at any point, has any rational analysts believed that Eli Manning was one of the best five or six quarterbacks of his generation. Good? Yes. But no one would ever dare put him in the same stratosphere as guys like Brady, Peyton, Rodgers or Brees. And even guys like Big Ben, Tony Romo, Matt Ryan and Phil Rivers have better numbers; With the exception of Roethlisberger, the others simply had the misfortune of not playing with a Giants defense that could help them to two Super Bowls.
Here is Doc's Sports NFL Power Rankings for Week 14:
1. New England Patriots (10-2) - Since Tom Brady's first career start in September of 2001 the New England Patriots have only had a three-game ATS losing streak four times. Brady and Co. avoided making it a fifth three-game ATS losing streak by handling the hapless Rams last week. The Patriots have not been a good bet in December the past five years. But they are 5-2 ATS in their last seven Monday Night Football games and a solid 10-4 ATS in their last 14 home games.
2. Dallas Cowboys (11-1) - I will admit that one of the biggest surprises of my quarterback ranking exercise was just how good Tony Romo has been, statistically, compared to his peers. I would never have ranked Romo that high on any generic list because, in my eyes, Romo is a born loser who has constantly and consistently flopped in high-pressure situations. In fact, Dallas' game against Minnesota was the perfect example of a game that they would've lost with Romo at quarterback. Some ill-timed interception would've turned that game around in Minnesota's favor and Dallas would've simply shrugged it off. But Dak Prescott is like a bigger Russell Wilson and the guy just makes winning plays.
3. Seattle Seahawks (8-3-1) - Seattle's Rivalry Month continues this week with a trip to Green Bay. Last week Seattle dominated Carolina, a team that has been a defining foil in Seattle's NFC dynasty throughout this decade. Next up are the Packers. This will be Seattle's fifth meeting with Green Bay since 2012 and their fourth matchup in the past three seasons. Seattle has taken three of the four meetings, but they actually blew a fourth quarter lead in a 27-17 defeat in Green Bay last September. The loss of Earl Thomas may not kill Seattle this week. But that is a crippling blow moving forward.
4. Oakland Raiders (10-2) - OK, never mind. I have been resisting the Oakland resurgence for weeks because their wins have been the result of last-second good fortune. But the Raiders were overwhelming in the second half against Buffalo. The Raiders offense is so good that it is surprising when they have a drive that doesn't end in points. They've averaged 32.2 points per game in their last six and the 'over' is now 8-1 in Oakland's last nine games (six straight games have gone 'over'). I will admit that I was wrong about this group, who is now on a 5-1 ATS run (7-3 ATS L10).
5. Pittsburgh Steelers (7-5) - I know the score showed an easy two-touchdown win over the Giants last week. But that really wasn't all that inspiring of an effort from Pittsburgh. Their win was more about the Giants' failings and mistakes (as well as some shady officiating) than it was about Pittsburgh picking up steam. The Steelers will have to avoid a letdown this week against a desperate Buffalo team. But the Steelers have absolutely dominated this series, going 9-1 SU and ATS against the Bills dating back 1993.
6. Kansas City Chiefs (9-3) - The Chiefs have certainly had Oakland's number, beating the Raiders four straight times and in six of the last seven meetings. The Chiefs are 5-2 ATS in their last seven games against the Raiders, including their dominating 26-10 effort on Oct. 16. The Chiefs are one of just two teams (shockingly, Tennessee is the other) to hold Oakland below 27 points this year. Be wary, though: the home team is just 6-21 ATS in the last 27 Raiders-Chiefs games.
7. Denver Broncos (8-4) - I have to say that I am a bit surprised to see Denver posted as an underdog this week in their trip to Tennessee. But Paxton Lynch looked terrible last week in Jacksonville and the Broncos have been outgained in four of their past five games. (Ironically they lost the one game that they dominated their opponent, losing at home to Kansas City despite outgaining the Chiefs by 161 yards.) Denver is 5-0 ATS in its last five games against the Titans dating back to 2004.
8. Atlanta Falcons (7-5) - Dan Quinn! I have written about it time and time again: the man cannot do basic math! Quinn has proven himself comically inept at the simple task of deciding when to take the points or go for it and when to attempt two-point conversions. The irony of Atlanta's crippling loss last week was that Quinn was right to go for the two-point conversion on the eventual game-winning play (Eric Berry's return). However, the Falcons wouldn't have been in that situation if they had simply played things straight, kicking a short field goal and kicking an extra point when the opportunities presented themselves earlier in the second half. This guy really has no idea what he is doing.
9. Baltimore Ravens (7-5) - Well Baltimore, show us what you've got. The Ravens have won four of five games and they are keeping pace with Pittsburgh in the AFC North. It hasn't always been pretty, though, and anyone that's watched this Ravens team this year will tell you that they are shaky as hell on both sides of the ball. But Baltimore has regained its tough-guy mentality, regained its dominating home-field advantage, and regained its status among playoff-caliber teams in a stacked AFC. Now they need to show us that they can compete with the best. The Ravens are 3-4 SU (which is actually good considering that they have been underdogs in each game) against the Patriots since 2010. The underdog is 6-1 ATS in the last seven meetings.
10. Washington Redskins (6-5-1) - I'm not going to crush the Redskins for losing out in Arizona last week. If anything I was really encouraged by what I saw from this group. They really could've won that game in what was a horrible spot for Washington. The Redskins have beaten the Eagles four straight times and they are a healthy 7-2 ATS in their last nine against Philadelphia. This is Washington's third consecutive road game, though, and their fifth away game in seven weeks. Washington's last road win came back on Oct. 9 at Baltimore and they have dumped four straight since then.
11. New York Giants (8-4) - Red zone efficiency determined New York's first meeting with the Cowboys. The Giants scored three touchdowns in three trips inside the 20 in Week 1 while the Cowboys had to settle for two field goals on their three red zone efforts. The Giants defense took a blow this week when Jason Pierre-Paul was put out for the year. Finally, maybe someone should tell Odell Beckham that he might get more calls from the officials if he weren't such a dickhead. The Giants are 4-0 ATS in their last four games against Dallas and four of the last six games against the Cowboys have been determined by a field goal or less. Only two of the last 10 Giants-Cowboys games have been decided by more than a touchdown.
12. Arizona Cardinals (5-6-1) - I didn't mind Bruce Arians' decision to go for it on fourth down from his own 34-yard-line with less than four minutes to play. Even if the Cardinals had been stopped, Arians was figuring that as long as the Arizona defense held - which is what a punt would've been predicated on - at worst he holds Washington to a field goal to put Arizona down two points, and the Cards would've had one more chance with less than two minutes left to get into field goal range. With the season on the line, I liked Arians' gusto and I still think this team is going to be a tough out down the stretch. The Cards are just 1-5 ATS in their last six road games and 1-6 ATS after a win.
13. Detroit Lions (8-4) - I'm sorry, but no. Do not let anyone try to convince you that Detroit is an actual contender in the NFC or that this is actually a good team. Yes, I will admit that their defense is putting up great numbers. But even last week's effort against New Orleans was more about Drew Brees making some horrible decisions (and getting unlucky) than it was about Detroit dictating anything defensively. Detroit has exactly one win against a team currently above .500 and that is barely-above-.500 Washington in a game that the Lions were thoroughly outplayed. But hey, Detroit is 7-1 ATS and in the driver's seat for the playoffs, so that is all that counts.
14. San Diego Chargers (5-7) - I will still say that no quarterback in the NFL has done more with less this year than Philip Rivers. However, his interceptions last week were just horrific. His first turned a 14-10 lead into a 17-14 deficit in the third quarter and his second was just kind of a lazy jump ball pass in a 28-21 game with just three minutes left. The Chargers are 10-1 ATS after a loss and 10-2 ATS in their last 12 road games. This is their first 1 p.m. EST kickoff since Week 1 as their road games at Atlanta and at Indianapolis were both 4 p.m. kickoffs.
15. Buffalo Bills (6-6) - I figured that Buffalo would be able to run the ball down Oakland's throat last week, which they did effectively for three quarters. I was not expecting the Bills defense to crumple like a dry leaf in a child's hand during the second half, though. It is tough to know what this team's psyche is heading into this week's game against the Steelers. But Buffalo is just 12-26 ATS at home against a team with a winning road record and the Bills are just 1-5 ATS in their last six games overall.
16. Tampa Bay Buccaneers (7-5) - Yeah, Jesus, I don't know how it happened either. The Bucs went from hapless to hopeful in the matter of a month, and there is nothing fluky about what they have been doing. Tampa Bay is 5-2 SU in its last seven games and one of the losses was to Oakland in overtime. The Bucs have wins over Top 10 teams like Kansas City and Seattle and right now they are sizzling on both sides of the ball. Jameis Winston is getting most of the love. But no one is talking about Doug Martin and what a difference maker this guy is. His numbers have been pretty weak the past month. But that's because Tampa's line stinks. And without him they couldn't run the ball at all. Martin's value goes beyond the numbers, and I think he has a big day against New Orleans.
17. Miami Dolphins (7-5) - Is all the momentum from Miami's six-game winning streak gone? We will find out this week. Miami is another one of the many teams - Kansas City, New York, and Detroit all come to mind - whose record is anomalous to their actual statistics. Miami has been outgained in seven of its past 10 games and four of its last five. They have the No. 25 offense and No. 25 defense in football and they've been outgained and outscored on the year. Yet here they are in the thick of the AFC hunt. Miami is 5-12 ATS at home and 9-21 ATS after a loss of 14 or more points. The Dolphins are 3-10 ATS against teams with a losing record.
18. Tennessee Titans (6-6) - The Titans' 3-7 ATS record over their last 10 games, despite going 5-5, is bizarre to me. No one was on the Titans this year. They had no expectations, and their 5.5 Las Vegas Season Win Total was one of the smallest on the board. By all measures this team has exceeded its expectations. And normally that would result in a positive record against the spread. Yet somehow the Titans have become surprisingly relevant while continuing one of the most breathtakingly awful ATS runs in this century. The Titans are 16-34 ATS in their last 50 home games and 12-37 ATS in their last 49 games overall.
19. Green Bay Packers (6-6) - Excuse me for not jumping back on the bandwagon with the Packers. They have won two straight games against two grossly overrated opponents (Philadelphia and Houston) and Green Bay's only two wins over teams currently over .500 have come against the equally overvalued Lions and Giants. This team's issues have not gone away, and I would caution against expecting some gallant December run.
20. New Orleans Saints (5-7) - The Saints have dominated the Bucs over the last five years, going 8-1 SU against them. They've won their last four trips down to Tampa and haven't lost here since 2011. That said, you're taking your life into your own hands betting on this defense. New Orleans lost at home by 15 to Detroit last week but they probably should've lost by 40 as the Lions went just 1-for-5 in the red zone, instead settling for five field goals. The Saints are a worse version of the Falcons right now. And that's not necessarily a good thing.
21. Indianapolis Colts (6-6) - Would Chuck Pagano save his job with a playoff berth? It is an interesting question. There's no doubt in my mind that the Colts stink and that this franchise is declining rather than improving. But if Indy goes 3-1 down the stretch, gets to 9-7, and goes to the playoffs, would that be enough to keep Pagano in charge? It will be interesting to see. Remember that the Colts dominated Houston on the road back in October, only to give up two touchdowns in the last three minutes and lose in overtime. That was a second straight loss to the Texans and it makes this week's matchup a rare divisional revenge game for Andrew Luck.
22. Houston Texans (6-6) - I know that the six-point spread seems enticing for Houston this week, particularly in a game that will have a playoff-level atmosphere. But you shouldn't take the points with Houston unless you believe the Texans are going to win the game. Only three of the last nine matchups between these two teams have been decided by fewer than six points. Also, all of Houston's losses this season have come by at least a touchdown, with their road losses coming by 27, 18, 18, 7 and 8 points.
23. Philadelphia Eagles (5-7) - The Eagles are still getting plenty of respect from the oddsmakers, who opened Philadelphia as a favorite this week. But the public is pouring money into Washington this week, with over 85 percent of the betting action coming in on the Redskins. Obviously the Carson Wentz hype has subsided as he has just five touchdowns to 10 interceptions in his last eight games. It was only a matter of time before the rest of the league figured the overhyped rookie out. Now it is his turn to readjust. The Eagles are 1-4 ATS in their last five divisional games and 5-12 ATS in their last 17 December games.
24. Carolina Panthers (4-8) - What a bizarre three years for Carolina. Remember that in 2013 Carolina went 12-2 in its last 14 regular-season games before getting bumped out in the first round of the playoffs. Then in 2014 the Panthers went 1-9 SU in the middle of the season before winning four in a row to claw into the playoffs. Carolina obviously had its dream season in 2015, sans Super Bowl, and that season featured 17 wins in 19 attempts. But now the Panthers have swung back the other way, again, and they are three-point wins over New Orleans and Los Angeles (two below .500 teams) away from being 1-9 SU in their last 10 games.
25. Cincinnati Bengals (4-7-1) - People can say what they want about Marvin Lewis - and I'm already prepared for an entire offseason of reading about how Lewis' days in Cincinnati are numbered; people are so quick to forget that this guy is the best coach they've had there in 30 years! - but this Bengals team has shown no quit despite their myriad injuries. When you get a moment, check out Cincinnati's schedule over the last 10 weeks; it is brutal! The Bengals have faced just two teams (Browns and now Eagles) that are currently below .500. Cincinnati has won four straight over the Browns and are 7-3 SU in the last 10 against Cleveland. The favorite is just 6-13 ATS in the last 19 meetings.
26. Minnesota Vikings (6-6) - The Vikings are garbage. They had absolutely no business covering the spread against the Cowboys last week. That was a game where the Vikings really got absolutely every break that they could - turnovers, penalties, their own turnovers negated by penalties, etc. - and they still couldn't get a win. Even though they are playing the jokers in Jacksonville I still can't believe that the Vikings are road favorites this week. That is simply out of deference to Minnesota's 36-15 ATS run over the last three years. The Vikings are 7-1 ATS against teams below .500 and 18-7 ATS after a loss. But they are 0-4 ATS on the road.
27. Los Angeles Rams (4-8) - I am not really looking to defend Jeff Fisher, who has revealed himself to be an ass-clown. (And, really, has anything good ever come from a team being on "Hard Knocks"? I feel like the takeaway each year is that the team being featured gets exposed as a fraud.) However, I think his work in St. Louis/Los Angeles has been taken a bit out of context. The Rams roster has sucked. They have negative offensive talent and Fisher has never had a quarterback to work with. On top of that, the NFC West has been the best division in football this decade. All that can't be laid at Fisher's feet. The Rams are on a 1-7 ATS slide and they are 0-4 ATS in their last four home games.
28. New York Jets (3-9) - I understand that New York fans are even more irrational than most. But aren't the calls to fire Todd Bowles way, way, way premature? This team didn't have a chance this year; not against the toughest schedule in football. The Jets are old and, as I predicted, the Jets are mailing it in down the stretch . I'm not sure how the hell they are underdogs to the 49ers this week, considering San Francisco has lost 11 straight and in an uglier fashion than what the Jets did on Monday night. The Jets are 1-7 ATS against the 49ers going back to 1986.
29. Chicago Bears (3-9) - These guys really should be 2-0 under Matt Barkley. I know that Chicago is just playing out the string on this season and patrons are simply counting the days until the Cubs are back in Spring Training. But Chicago's young players are actually playing well. Leonard Floyd looks like a stud, Jordan Howard is making everyone look foolish for complaining about the Matt Forte dump, and Barkley has shown some moxie. I don't think Barkley is a long-term solution, but the Bears offense has been more effective the past two weeks (47 points plus a dropped game-winning touchdown pass) than it was the previous four weeks (56 points).
30. Jacksonville Jaguars (2-10) - If you are betting money on the Jaguars, ever, you are an idiot. The end.
31. San Francisco (1-11) - I literally don't have anything to say about this dumpster fire of a team. So instead I will urge you to go watch Westworld, if you haven't already. Even if you have finished the season you need to go back and give the show a second or third viewing. The experience is so much different when you aren't concerned with the plot but instead are going back to see how intricately the writers, directors and actors set everything up for later in the season. The show won't return until 2018, so you'll have lots of time to deep-dive one of the smartest shows on television.
32. Cleveland Browns (0-12) - Oh please, oh please let Hue Jackson start Robert Griffin this Sunday. Griffin is an even bigger disaster than Cody Kessler at this point and starting Griffin will all but ensure the 0-16 masterpiece that you know the Browns are capable of. This is it. This is Cleveland's last chance for a win this year. They are off a bye and facing a banged up division rival. It is now or never for this group, and I am hoping for never.
Throughout the season I will have my NFL Power Rankings every Wednesday. My next ones will be released on December, Dec. 14.
Robert Ferringo is one of the top football handicappers in the country and tallied an unrivaled $20,800 in football profit between 2011 and 2015, including his amazing 2013 NFL season in which he hit 62.1 percent (95-58). Robert has produced 15 of 23 winning football months and an amazing 38 of 58 winning football months over the past decade. Robert has hit nearly 60 percent winners over his last 750 totals picks and is the most prolific big play football handicapper in the nation, going 110-69 (62%) on all football plays rated 5.0 or higher since 2010. Also, Robert's proprietary KING College Football Betting System has posted three of four winning seasons and is 122-92 over the last three years (57.0 percent).
We are offering new clients $60 in free college football picks for Robert's picks or any Advisory Board handicapper of your choosing. Get your free college football picks now!
Read more articles by Robert Ferringo