NFL Power Rankings Week 5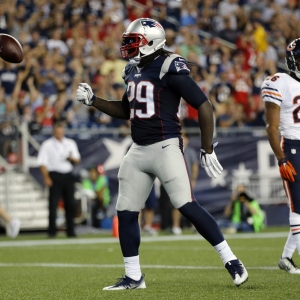 Quarterback is the most overrated position in sports.
This isn't some trolling Hot Take. And I'm not trying to take anything away from what is the most difficult and important position in sports. (Although I'm sure starting pitchers and hockey goalies would make their case otherwise.) Quarterbacks are conductors in our weekly symphony of violence. And no other position requires the talent and focus, both physically and mentally, as NFL quarterback.
But look at the NFL standings. Carson Wentz, Dak Prescott, Trevor Siemian, and Brock Osweiler have combined to go 13-2. Drew Brees and Phil Rivers are a combined 2-6, while Tony Romo and Tom Brady haven't been missed as their backups have combined to go 6-2.
All of this goes to prove something that I have discussed in this space for years. Football is a game of physicality and violence. The team is that is the most physical and the most violent is going to win more than it is going to lose. Teams need to be powerful at the line of scrimmage and need to be physical in the running game on offense and in the front seven on defense. They also need to be physical and experienced in the passing game, both offensively and defensively. Mix in disciplined coaching and smart game management and you have a winner.
This is why it makes zero sense for bad teams to draft "franchise quarterbacks". You need a stable foundation of a franchise and then you add a quarterback. The idea of doing it in reverse is absurd. Teams are drafting quarterbacks in the Top 10 when they need to be picking offensive linemen and linebackers. It is no wonder that in the 10 years I have been doing these rankings the same names pop up in the Top 10 year after year while the same names slink to the bottom 10.
Here is Doc's Sports NFL Power Rankings for Week 5:
1. New England Patriots (3-1) - Does anyone else think that Tom Brady is going to be a bit rusty when he returns this week? I actually do. I expect his timing to be off and I wouldn't be stunned to see an early turnover. And what is going on with Rob Gronkowski's hamstring? He has just one catch in two games, and the Pats need him to get healthy and get going for the offense to take off. The Patriots are an un-Belichick 2-6 ATS in their last eight road games and just 4-12 ATS in their last 16 games on grass. Belichick is 39-17 ATS following a loss.
2. Denver Broncos (4-0) - If it seems like Denver can seemingly insert any starting quarterback into its offense and move the ball it is because they can. This Kubiak-Shanahan system is the same one that made Matt Schaub a Pro Bowler. It's a very simple offense but it has been a proven commodity over the past 20 years. The Broncos haven't even named their starter for this week and the books don't care. First of all, they posted a line Monday. They would hold a line until Friday for most teams that weren't sure if their starter would play. Not only is there is a line, but the Broncos are taking a majority of the bets.
3. Green Bay Packers (2-1) - Mike McCarthy has been absolutely money coming out of a bye, posting a 10-3 ATS mark after a week of rest. I am never a fan of the early bye. But I expect Green Bay to be very aggressive offensively after two weeks of practice. This is usually the time of the year that things click for the Packers, as they are 16-5 ATS in their last 21 games in October.
4. Minnesota Vikings (4-0) - You absolutely can't question the results. However, I will say that it was disappointing that the Vikings were so passive against the Giants. New York was a disaster. And any elite team would've won that game 34-6. But Minnesota just never seemed willing to throw that knockout punch, instead letting the Giants hang around in a game that should've been a blowout. Grinding out wins is a great, proven strategy. But I left that MNF win thinking that the Vikings are a much better, more capable team than even they realize they are. And they need to find a killer instinct. The Vikings are 22-8 ATS in their last 30 home games and 37-15 ATS overall.
5. Pittsburgh Steelers (3-1) - I don't know if any other offense in football buries the needle like the Steelers do. When these get going they are pretty much impossible to stop. Here is to hoping that they can avoid injuries and suspensions and we can see what this Pitt offense is actually capable of accomplishing. The public is all over the Steelers, though. Over 80 percent of the betting action is on them over the Jets this week. This is the sixth meeting between these two teams in the last seven seasons. Pittsburgh is just 3-2 SU and ATS and lost in New York in the last meeting in 2014.
6. Seattle Seahawks (3-1) - Jimmy Graham is starting to make the impact the Seahawks hoped for when acquiring him. He is No. 2 in the NFL in receiving yards for tight ends and has topped 100 yards in back-to-back games. His one-handed grab on that back shoulder throw against the Jets last week was eye-opening, and it looks like he is starting to build a solid rapport with Rusty Wilson.
7. Carolina Panthers (1-3) - I have written plenty about Carolina and the Cover-2 defense that they feature. And one of the Achilles heels of this defense is that it susceptible to accurate quarterbacks and top-tier athletes. We saw that weakness glaring last Sunday against Matt Ryan and Julio Jones. The Panthers are the first of several teams in this rankings - Cincinnati, Arizona, Kansas City and the Jets - that I might be too stubborn with. These guys have major red flags, especially in that secondary where overmatched third-year corner Bene Benwikere is being asked to swim out of his depth at corner because Carolina's next two best options are rookies. Carolina is 20-9 ATS at home and 6-2 ATS after failing to cover a spread. The Panthers are 24-12 ATS against below .500 teams.
8. Dallas Cowboys (3-1) - The Cowboys have 14 drives of 10 plays or more this year. They are controlling the ball, controlling the clock, and taking the pressure off their mediocre defense. Dallas opened as a short favorite, but the public is all over Cincinnati in this one, with two-thirds of the betting coming down against the Cowboys in their home stadium. Perhaps Dallas' disgusting 16-35 ATS mark at home has something to do with that.
9. Cincinnati Bengals (2-2) - Every passing play that goes by when the Bengals don't throw the ball to A.J. Green I find myself wondering, "Why didn't they just throw it to A.J. Green?" The Bengals kind of boxed themselves in by gutting their receiving corps. But now that they really only have Green they should be getting him 12 targets a game. The Bengals are 9-1 ATS in their last 10 road games and they are 15-6 ATS in their last 21 overall. However, they are just 1-4 ATS in their last five games against a team over .500.
10. Arizona Cardinals (1-3) - I pointed out in my preseason season win total prediction for the Cardinals that Arizona had zero chance of winning the Super Bowl this year, despite a loaded roster, because Carson Palmer is a loser. But perhaps what is more disturbing is that Arizona chose Drew Stanton, the human pick-six, to back up their 37-year-old, injury-prone quarterback. Why wouldn't Bruce Arians have tried to develop a young quarterback when he came to Arizona? He certainly is paying the price for that decision now. The road team is just 3-7 SU in the San Francisco series, although the Cardinals have gone 3-1 SU and ATS in the last four meetings overall.
11. Kansas City Chiefs (2-2) - Andy Reid says he isn't worried. And with his track record perhaps he shouldn't be. But the fact is that the Chiefs should be 1-3 right now with their lone win coming thanks to an avalanche of turnovers by the Jets. I'm a bit of an Alex Smith fan. But if you discount the last 20 minutes of Kansas City's Week 1 comeback win over the Chargers then the Chiefs have scored just 39 points in 15 quarters.
12. Baltimore Ravens (3-1) - I don't know what happened to Baltimore's home-field advantage, but the Ravens are now 2-11 ATS in their last 13 games at M&T Bank Stadium. This is only the fifth meeting this century between these two Maryland-area rivals, so trends are sparse. But the favorite has covered four straight and the home team has won three of the last four meetings.
13. Atlanta Falcons (3-1) - I know it is way too early, but the Atlanta Falcons are on pace to score 608 points this season. It is hilarious now to think that a month ago Atlanta fans and bobblehead media people were trashing Matt Ryan - one of the 10 best quarterbacks in the game - and wondering if Matt Schaub should be the starter. However, Denver runs the same offense that Atlanta does. So the Broncos defense won't be surprised about anything that the Falcons bring to the table. Atlanta has been a terrible letdown team, going 2-9 ATS in its last 11 games following a blowout win of two touchdowns or more.
14. New York Jets (1-3) - I know a lot of people are taking shots at this team right now. And I get it. Ryan Fitzpatrick's interception numbers are borderline comical. But the fact of the matter is that New York's season was DOA before it began. The Jets have by far the most difficult schedule in the NFL. It doesn't mean that they aren't a really good team if they don't win these games; this group could end up being one of the best 7-9 teams of the past decade. Four of their next five games are on the road, and if they went 3-2 I would think that was a major accomplishment.
15. Washington Redskins (2-2) - People continue to underestimate this offense. Kirk Cousins just gets the job done and Jordan Reed is a beast. The Redskins have gone 'over' in 13 of their last 16 games and have played 'over' in five straight road games. This week's game should be hard-hitting in this regional rivalry game and it is a shame that this is only the second meeting since 2009 between these franchises.
16. Oakland Raiders (3-1) - I am always wary of jumping on the bandwagon of teams that win a lot of close, last-second games, especially when that team is getting outgained by 150 yards per game like the Raiders were last week. Still, there is no denying that Derek Carr is the next special NFL quarterback. Some of the throws that guy makes are ridiculous, and he is absolutely fearless in the pocket. The Raiders are 0-3 ATS the last three times they have been favored over the Chargers. The home team is just 3-8 ATS in this series and the favorite is just 3-13 ATS.
17. Houston Texans (3-1) - Bill O'Brien took over play-calling duties and he definitely opened up the offense last week against what had been a stingy Tennessee defense. I think that we will see some nice value betting 'over' with this team in the next several weeks as they look to be more aggressive on the attack, coupled with the fact that they are not nearly as strong defensively without J.J. Watt wrecking game plans. The Texans are a solid 7-3 ATS following a win and 6-2 ATS in their last eight games overall.
18. New York Giants (2-2) - Wow, what a mess. Everyone is focusing on Odell Beckham. But that was an embarrassing performance from Eli Manning on Monday. He looked lost and confused, had absolutely no handle on the offense or basic game management, and he missed a ton of throws. The coaching staff refused to make the most basic adjustments - like having Landon Collins cover Kyle Rudolph on third downs instead of Tevin Wade - and the bumbled several things (timeouts in the first half; a missed challenge opportunity in the second). These guys are a mess right now, and it has nothing to do with Beckham.
19. Philadelphia Eagles (3-0) - We've had a couple weeks to let the Carson Wentz Hype subside a bit. It will be interesting to see if they added anything new to the offense this week to let Wentz stretch his legs a bit against a Detroit defense that absolutely cannot stop anyone. But while Wentz is getting the love, the Eagles defense is definitely the most underrated unit in the league. They are in the Top 6 in just about every major category, including allowing just nine points per game, and I expect that this well-rested unit will dominate again on Sunday.
20. San Diego Chargers (1-3) - Uncle Phil can't do it all himself. The Chargers are averaging over 30 points per game (and are 3-1 against the total) despite the fact that his No. 1 receiver is Travis Benjamin. San Diego's late loss to the Saints last week once again proved the maxim that you just can't lay points with teams that can't get stops. The visitor in San Diego games is 10-0 ATS and the underdog in all Chargers games is 13-3 ATS. They are going on a little "bet the road team no matter what" streak similar to what the Dolphins have been on the past several years.
21. Los Angeles Rams (3-1) - Much like the Eagles, I will let everyone else get excited about this team. The Rams offense is ugly to watch. But one thing that I like about them is that they are fearless about taking shots down the field even though their receivers are horrible. The Rams are not shy about throwing deep. And they are smart enough to know that will loosen up offenses for the running game and the underneath stuff. The Rams are 6-2 ATS in their last eight games.
22. Buffalo Bills (2-2) - I thought it was interesting that a report came out this week that Rex Ryan's support of Donald Trump for president apparently pissed off a lot of black players on his team. Ryan is already a polarizing guy, and something like this really doesn't bode well for his long-term future as an NFL coach. The Bills, shockingly, are No. 2 in the NFL in turnover differential, posting a plus-six thanks to just two turnovers. The Bills are 5-0 ATS in their last five games against a team with a winning record but just 2-5 ATS in their last seven road games.
23. New Orleans Saints (1-3) - Drew Brees gets a week off to rest his arm. He is on pace for over 700 passing attempts and over 5,000 yards. The Saints have a bye this week, and I wouldn't be surprised to see them add some defensive pieces to the roster. At this point anything will be better than what they have.
24. Detroit Lions (1-3) - The Lions have what I refer to as an accidental defense. Any stop that they get is purely by accident or the direct result of the other team screwing something up. The Lions lack both talent and scheme on that side of the ball and they have no veteran leadership to speak of. They are No. 20 or worse in all major statistical categories. Detroit is just 3-7 ATS in its last 10 home games. However, they are 12-3 ATS in their last 15 games after being held to two touchdowns or less.
25. San Francisco (1-3) - In a way I feel bad for Chip Kelly, even though he seems like a relatively unlikeable guy. Look at the dumpster pile of quarterbacks that he has had to work with in his time in the NFL. Nick Foles? Mark Sanchez? Blaine Gabbert? I actually don't blame Gabbert for that game-changing interception against Dallas last week. Torrey Smith never looked back, never located the ball, and looked like he forgot he was playing. The 49ers have been outgained by an average of 176 yards per game in their last three outings and, not surprisingly, are 0-3 ATS.
26. Indianapolis Colts (1-3) - Why don't the Colts have a bye this week? I can't think of another example where a team played in London and then didn't have a bye the following week. That travel disadvantage could lead to a slow start for the Colts this week in an early game with the Bears. I also think that the lack of the bye after the London trip was the only thing that saved Chuck Pagano's job. A home loss this week to the hapless Bears could be the final nail in the coffin. Indianapolis has gone 22-7 ATS against below .500 teams and they are 22-9 ATS after a loss.
27. Jacksonville Jaguars (1-3) - For all the hype about the Jaguars offense heading into this season, Jacksonville is just No. 27 in total yards, No. 31 in rushing and No. 19 in scoring. However, the defense has been victimized by big plays. The Jaguars are No. 6 in total defense and No. 5 in passing. But they are just No. 25 in points allowed and have a horrific 11.0 opponents' yards per point.
28. Miami Dolphins (1-3) - Best wishes to everyone in the Miami area and here is to hoping that Hurricane Matt misses South Florida. The weather should be cleared up by Sunday, but it has to be awfully tough to focus on a football game this week with everything outside of football that these players have to worry about. The Dolphins are 2-12 ATS against teams that are below .500 and 7-19 ATS overall. Miami is 2-10 ATS in its last 10 home games and 5-16 ATS against AFC opponents. They are the moveable object and Tennessee is the stoppable force.
29. Tennessee Titans (1-3) - Well, Mike Mularkey is now 3-10 as head coach of the Tennessee Titans. Is absolutely anyone surprised? His "exotic smashmouth" offense has generated just 15.5 points per game, No. 32 in the NFL. It is great that the Titans have the No. 4 running game. But at some point you need to score to cover spreads and win games. It is at the point where we really should just be betting against this team every week. The Titans 5-15 ATS on the road, 12-36 ATS against AFC opponents, and 7-21 ATS against other below .500 teams.
30. Tampa Bay Buccaneers (1-3) - It's kind of a running theme of the week: teams and players performing pretty much exactly as I suspected. I have no idea how anyone is surprised that Jameis Winston is an absolute turnover machine. He has eight interceptions and two lost fumbles, helping the Bucs to a minus-nine turnover differential. I have said that Winston reminds me of Kerry Collins. He was a turnover machine as well. But at this point Winston would be lucky to have a career as great as Collins'. The Bucs haven't beaten Carolina since 2012 and they are just 1-5 ATS in the last six meetings.
31. Chicago Bears (1-3) - It looks like John Fox has finally figured out what I have been saying for years: almost anyone is a better option at quarterback than Jay Cutler. And as I predicted last week, the Bears offense was more efficient and effective with Brian Hoyer than it was with Cutler, who is a pariah.
32. Cleveland Browns (0-4) - Browns optimists will point to the fact that Cleveland has had the lead in three straight games. However, I will point to the fact that they have lost games that any decent team would've found a way to win as proof that they really are as bad as I think they are. Miami and Washington are loser franchises. But now the Browns are tangling with something else entirely. Cleveland is 1-5 ATS in its last six home games and 1-7 ATS against teams with a winning record.
Throughout the season I will have my NFL Power Rankings every Wednesday. My next ones will be released on Wednesday, Oct. 12.
Robert Ferringo is one of the top football handicappers in the country and tallied an unrivaled $20,800 in football profit between 2011 and 2015, including his amazing 2013 NFL season in which he hit 62.1 percent (95-58). Robert has produced 15 of 23 winning football months and an amazing 38 of 58 winning football months over the past decade. Robert has hit nearly 60 percent winners over his last 750 totals picks and is the most prolific big play football handicapper in the nation, going 106-67 (62%) on all football plays rated 5.0 or higher since 2010. Also, Robert's proprietary KING College Football Betting System has posted three of four winning seasons and is 122-92 over the last three years (57.0 percent).
We are offering new clients $60 in free college football picks for Robert's picks or any Advisory Board handicapper of your choosing. Get your free college football picks now!
Read more articles by Robert Ferringo