Common Football Betting Myths: Fact or Fiction?
by Jeremy Martin - 8/14/2018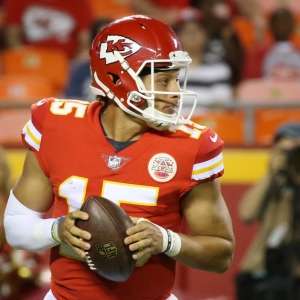 This article originally appeared in the 2018 edition of Doc's Sports Journal .
Years ago, when I first started covering the sports betting industry as a writer, I would always hear the phrase "the public always bets the 'over' and the favorite". By the second or third time I heard this statement I thought that the key to riches was just to go opposite of what these public 'square' bettors did. So, for a while I started betting only the 'under' and the underdog at sportsbooks all around Las Vegas. While my betting results improved marginally for a short time, eventually things came back the other way and I was back to breaking even rather quickly. The favorites and the overs seemed to cash in just as frequently as their 'sharp' counterparts, and I was left wondering if this was purely a football betting myth.
Of course, sports betting is never as easy as it might seem on the surface. To become a successful bettor you must learn to always adapt and adjust. I think that even the greatest sports bettors in the world probably learn something new every day in their pursuit or perfection. I've been involved in this industry for more than 25 years, and I certainly learn something new each day. I'll bet that in another 25 years that I still won't have it all figured out!
Therefore, I wanted to compile a list of common football betting myths and then provide my own opinions as well as those of my colleagues and also those that take the bets, the oddsmakers themselves. Heck, I learned quite a bit from this research, so I am sure newbies or even savvy bettors can glean some new information about this pastime that we all love. The main objective for all of us is to beat the sportsbooks, although that is something that only a very small portion of the sports betting population can achieve. Hopefully this article can give you some clarity about common betting myths.
Common Football Betting Myth No. 1: The Public Always Bets The Over And Favorite
Since this is one of the biggest myths, we will start here. In my mind this had become more and more of a legend as time has passed. There are a lot of smart people out there betting daily. There's an endless amount of information available for handicappers to pour over. Even the smallest schools that field college football and basketball teams have beat writers that cover these teams daily. I have always thought that bettors were becoming smarter and bucking some of these old wagering trends. I am right, to a degree. The general bettor has become savvier, but square bettors tend to lose at a similar rate to what we saw 10 or 20 years ago. Many people don't have the time to put in the proper research needed to become a successful handicapper, and most don't have the discipline to become a winning bettor. And, characteristically, they still generally like to bet the over and the favorite.
"In my opinion this statement is 100 percent true," said Raphael Esparza , Doc's Sports expert handicapper and former Director of the Race and Sports Book for MGM Grand's Aria. "Especially when we throw in the game being on TV. The public and the TV viewers want to bet and watch the favorite win. Who wants to watch a defensive game on primetime TV? It doesn't matter if the dog and the under have been cashing on big TV games, the public will always bet the favorite and over."
In a perfect world the sportsbooks would get 50 percent action on each side in a sports contest, and then they would collect on the vig, or commission sportsbooks charge to take a bet, on every matchup. Of course, this is not a perfect world we live in. Bookies must become amateur psychologists and number crunchers in their never-ending battle against the sharp and public bettors. Sportsbooks don't mind setting a number for a game with which they think would give them a hefty advantage over the public. But then they have to always keep the wise guys in mind as they might jump in on the other side.
"I do believe there has been an evolution of our players' knowledge as the rise of popularity in analytics websites have helped bettors (as well as bookmakers) refine or sharpen what we already believe to know," said Pat Morrow, head oddsmaker at Bovada . "While we don't see the same kind of lopsided bet percentage splits on favs and overs vs. dogs and unders as may have been the case a decade ago, the sheer increase of volume in online sports betting still has us sweating those 60-40 bet disparity decisions as if they were a 70-30 split (like in the past)."
"If the public ever stopped betting overs and favorites then we'd be out of business," added Marcus, director of trading for MyBookie. "When I say 'we' I mean every bookmaker. Surely many will deny this fact, but they're just lying to themselves. The trend has held steadily for the 15 years I have been in the industry. And the trend is very simply that more than 75 percent of your clients will lean towards playing the favorite or the over, or both in a parlay if you're lucky."
Since the bookies know the public will bet the favorite and over, they often 'shade' the lines, or add a point or two, for the favorite and over, especially for marquee matchups in college football and NFL, knowing that the public will bet into these inflated lines regardless of the number.
"Would you believe me if I said that 75 percent plus of lines are shaded away from what the math tells us and towards what we think the public will bet?" added Marcus. "Bookmaking is like any business. You understand what your client wants the most and then you charge him to get it."
"Shading happens regularly," said Scott Cooley, spokesman for BetDSI.eu. "Perception is a big factor when setting lines, so books shade in accordance to what type of public action they expect to receive. Of course, if you shade too much then the sharps are ready to pounce."
Football Betting Myth Verdict: Fact
Common Football Betting Myth No. 2: 3 And 7 Are Key Betting Numbers For Football
For last year's Doc's Sports Journal article I did an article about whether the new extra point rules in the NFL affected the traditional key betting numbers of three and seven. These are the main key numbers because so many games are decided by a field goal (approximately 18 percent) or a touchdown and extra point (around 11 percent). My research showed that key numbers had not been affected that much but that this was a hypothesis that needed to be tested again once we had several more years of data. However, it seems like many more extra points are missed in the NFL since they changed the distance, and teams are going for the two-point conversion more often, so it will be interesting to see if these percentages hold in the coming years.
Bookies must keep these two main key numbers in the forefront of their thoughts each and every week when setting their lines for football. If they move on or off these key numbers they can face an onslaught of unwanted action from sharp bettors, and they face the prospect of paying out on both sides of a bet if the final result lands right on the key number (this is called getting 'middled').
While key numbers are extremely important to the bookmaking process for the NFL, they don't come into play in college football betting quite as often as the field goal kickers across the country lack the quality and skill of NFL kickers.
"Public money will rarely move the line off a key number like three or seven," said Dave Mason, oddsmaker for BetOnline . "Pretty much only respected sharp money will get the line moving."
"There's really not a handle point where books are going to move off the key numbers," added Cooley. "We like to stay on the key numbers because that's usually bringing in the most balanced action. If you move off, you expect an influx of money to enter on the more favorable side."
Football Betting Myth Verdict: Fact
Common Football Betting Myth No. 3: Sharp Bettors Move The Number
Even before I conducted my interviews, I already knew that this one was true. All sportsbooks, whether online or brick-and-mortar shops, know who their sharp bettors are and they will pay attention if these wise guys make a move on a game. Once a very respected guy or syndicate makes their play, the line will normally move at that sportsbook, and it will often cause a ripple effect throughout the industry as many other books will move their lines in conjunction.
"Wise guys move the betting number more than anything else on a standard sporting event," said Morrow. "As such, knowing and profiling your players is extremely important in determining how you want to continue to shape and trade your line. Your generic public player is free to bet on whoever and whatever and will rarely have us bat an eye on a standard event. But when a wise guy jumps in we immediately stop what we're doing and look at the marketplace or even Twitter to see if there's something we missed. In these cases, it's more the information from the player or players that move the line as opposed to the sheer betting volume on a side."
"Except for a few public events such as the Super Bowl, online books are only moving the numbers based on smart money," added Cooley. "We have all accounts categorized as public or pro. And there are degrees of sharpness. However, yes, it's as simple as Client A makes a wager, the line is adjusted."
While the sharp bettors are the only ones that move the line on a random sporting event, for big events like the Super Bowl bookies have to take a different strategy due to the huge volume of public bettors that will wager on the game. Big events like these are the rare times when a massive influx of public money can move the line.
Football Betting Myth Verdict: Fact
Common Football Betting Myth No. 4: You Should Always Buy ½ Point In Football
Bookies allow their customers to buy points, often sold in half-point increments, on a football line to lower the price for a favorite or to give the underdog more points. This is called 'buying the hook' in sports betting lingo. According to the oddsmakers I spoke to, buying points is very popular at almost all sportsbooks. And guess who is buying points most often? Yup, the square bettors. So, you can probably tell right there whether that is a viable sports betting strategy. The only time I would suggest buying points is to either move on or off the NFL key numbers of three or seven. But sportsbooks charge a premium price to do this. Most books charge 10 cents to move the line ½ point (so the vig would move from the standard -110 for that bet to -120). They may charge up to 25 cents for a move on or off a key number. Over the long term that extra juice isn't going to do your bankroll any favors.
"I would never buy ½ point unless I was maxed out on a soft game line and buying the ½ point let me get more money on a value number," said Marcus. "I shouldn't give this advice, because I LOVE people that buy the points, but in reality the next time you think that buying ½ point is a good idea, take the extra 10 or 15 cents and throw it directly in the garbage."
"(Buying points) is very popular, but I'm not sure why so," added Mason. "I think it's popular because we have all lost or pushed by ½ point. We all know that feeling of being so close."
Football Betting Myth Verdict: Fiction
Common Football Betting Myth No. 5: 'Teasers' Are Sucker Bets
Over the years I have heard differing opinions on this one. Personally, I love playing teasers. But there is only one variety of teaser that I ever play, and only in the NFL. Every week during the NFL season I look for situations where I can play Basic Strategy Teasers. These are six-point, two-team teasers (for teasers you have to bet two or more teams, and depending on the price you want to pay you can move the line on each game from six to 13 or more points in your favor. The more teams you add the better the payout, and you have to win all games on a ticket -- like a parlay -- to cash the bet). With Basic Strategy Teasers you are looking for a favorite between 7.5 and 8.5 points or an underdog between 1.5 and 2.5 points, and you add or subtract six points to the line on each bet, moving through the two main NFL key betting numbers (three and seven). In my opinion, there is immense value in these types of teasers, and the books must agree as the standard price for a six-point, two-team teaser used to universally be -110 (the same vig as a standard point spread wager), but many shops have started to raise the juice on these kinds of bets to -120 or more, sapping much of the value out of the wager. In my opinion, all other teasers are a losing proposition in the long run.
"Teasers are a big moneymaker for the house," said Mason. "BetOnline.ag loves teasers. We do keep an eye on (Basic Strategy Teasers). A couple seasons ago we got crushed by that type of teaser. Last year was much better for the house."
"(Basic Strategy Teasers) worked when the price was -110, but good luck finding that now," added Marcus. "The industry standard tends to be -115/-120, which removes any edge the players may have enjoyed."
Football Betting Myth Verdict: Undecided
Doc's Sports is offering a great deal for new clients - you can get $60 worth of free college football picks with no obligation. No credit card is needed, and you will never have to deal with a salesman. Get $60 worth of premium members' picks free . Also, get three handicappers for the price of one when you sign up for a full-season football package! Click Here for details . Get free weekly free college football picks at Doc's Sports free football picks page.