NFL Power Rankings Week 1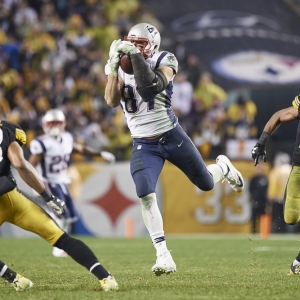 Does the preseason matter?
The general consensus is that it does not. And there is plenty of evidence, both anecdotal and statistical, that suggests that NFL Preseason performance is not an indicator for how things will go in the regular season.
After all, the Cleveland Browns went 4-0 last season, right?
But I do think that the NFL Preseason matters. I think that momentum, both positive and negative, has a better chance of carrying over from the preseason than from the offseason or last season. Teams like the Rams and Chargers have been dining out on what they did late last season. But no one is talking about how poorly some 2017 playoff teams have been this preseason.
I have been tracking how first teams, on both offense and defense, have performed over the last four years. I take scoring differential from the first quarter in Week 1, the first half of Week 2, and the first three quarters of Week 3. It's not a large sample size. And my measuring system is imperfect. But I have started to notice some trends emerging.
Positive play in the preseason shows little to no correlation to the regular season. Last year the best team in the preseason was the Broncos, who outscored their opponents by 40 points. They went 5-11.
But negative play has shown an ability to bleed into the regular season. Over the past four seasons there have been 15 teams that have seen their No. 1 units outscored by at least 20 points in their first three preseason games. Eleven of those 15 teams failed to beat their season win total.
Again, that's not definitive. But it is interesting.
This year Philadelphia (-32), Detroit (-24) and Tennessee (-23) have each been outscored over our 20-point threshold. And all three have negative momentum heading into this weekend. We will see if it carries over into this week and through the season. But for now those teams are in the crosshairs of history and will be three to watch this week when the "real" action ramps up.
NFL Week 1 is just days away. And after eight months of talking about football, we can finally get back to doing something about it.
Below are my NFL Power Rankings for Week 1. This is a brief sketch of how I see the teams heading into the beginning of the season.
This is your go-to place for an NFL betting perspective and an overview of the league landscape. Check back for these rankings every Tuesday until the end of the season.
(And if you are interested in my NFL season win total predictions for every NFL team - CLICK HERE .)
Here is Doc's Sports NFL Power Rankings for Week 1:
1. New England Patriots (0-0) - Doubt this team at your own peril. New England has been the most successful team against the spread in all of sports over the course of the last 20 years. Over the last decade, despite being one of the most public, most wagered on, and most scrutinized teams in the NFL, the Patriots are still 99-61 ATS in their last 160 regular-season games. That's a 62 percent success rate for a decade.
2. Minnesota Vikings (0-0) - The stat that will determine who covers in the Vikings game is third down percentage. Minnesota was No. 1 in third down defense last year, stopping teams 75 percent of the time. The Shanahan Offense is all about sustaining drives, so it will be crucial for Minnesota to get off the field.
3. Atlanta Falcons (0-0) - This is the fourth season in a row that the Falcons have had to take on the Eagles. The home team has won the previous three meetings - and eight of the last 10 dating back to 2005 - but the underdog has been the play. Since 2011 the dog in this series has gone 4-1 SU and ATS.
4. Los Angeles Rams (0-0) - The Rams are taking a pretty serious risk by not playing any of their offensive starters this preseason. The Rams managed just 196 yards per game as a team and scored just 47 points in four games. If they get off to a slow start against Oakland in the opener then you can expect plenty of second-guessing of Sean McVay.
5. Green Bay Packers (0-0) - The Packers are 8-1 SU and 7-2 ATS in their last nine games against the Bears. Only three of those eight wins have come by a touchdown or less. Green Bay is 26-10 ATS in their last 36 games against the Bears, and the favorite is 11-4 ATS in the last 15 meetings.
6. Philadelphia Eagles (0-0) - Nick Foles is going to get the call on Thursday night in Philadelphia's Week 1 rematch with Atlanta. He has looked pretty bad this preseason, and he is nowhere near 100 percent. The Eagles will also be without Alshon Jeffrey. The defending Super Bowl champion has gone 11-7 ATS in Week 1 since the turn of the century.
7. Pittsburgh Steelers (0-0) - It doesn't look like Le'veon Bell is showing up any time soon. But James Conner has looked solid this preseason, so I think the Steelers will be fine in the short term. Pittsburgh is just 2-5 ATS in Week 1 and they are 0-3 ATS in their last three games against the Browns.
8. New Orleans Saints (0-0) - Dennis Allen continues to improve this New Orleans defense, which was No. 1 in the NFL this preseason while allowing just 216 yards per game. The Saints are 13-5 ATS in divisional games and 5-2 ATS in their last seven home games against the Bucs.
9. Baltimore Ravens (0-0) - I thought it was an outstanding decision - both in the short-term and the long-term - for the Ravens to keep Robert Griffin III. Now the Ravens will get a crack at Nathan Peterman this week, and Baltimore is 7-3 ATS in its last 10 games in Week 1.
10. Kansas City Chiefs (0-0) - The Chiefs defense was not good at all this preseason, and they will likely have to play this weekend without Eric Berry. Andy Reid has never lost to the Chargers as head coach of the Chiefs, going 8-0 SU and 6-2 ATS against them.
11. Houston Texans (0-0) - This is the fourth time in less than two years that the Texans have to travel to Foxboro to take on the Patriots. They have lost all three of the previous meetings and are on a seven-game losing streak in the series since 2012. But they were extremely competitive last year, losing on a Tom Brady touchdown pass with just 23 seconds to play.
12. Jacksonville Jaguars (0-0) - I don't know what to do with these guys. That defense is still hard-hitting and potentially devastating. But Blake Bortles is a certified loser. This may just be a team to avoid all year long.
13. Cincinnati Bengals (0-0) - The Bengals have the youngest roster in the NFL this year with an average age of 25.2 years old. They were No. 3 last year. The Browns and the Rams are the only other two teams to be in the Top 5 each of the past two seasons.
14. Carolina Panthers (0-0) - The offensive line is a major, major problem for the Panthers this week. Left tackle Matt Kalil is on injured reserve, and right tackle Daryl Williams is still recovering from a torn MCL. Starting guard Amini Silatolu is also questionable for this game, and Cam Newton should be running for his life against that Dallas pass rush. Oh yeah, and don't forget that linebacker Thomas Davis is suspended as well.
15. Washington Redskins (0-0) - This might seem a little high for the Redskins. But I think this is an improved group. Washington beat the Cardinals 20-15 last December as a four-point favorite. The home team is 6-0 SU (4-2 ATS) in the last six meetings between these two teams.
16. Dallas Cowboys (0-0) - Dan Bailey, the second-most-accurate kicker in NFL history, was cut this week. That is yet another established veteran gone from the roster as Dallas continues to look for younger, cheaper options as part of their rebuild.
17. Los Angeles Chargers (0-0) - Am I the only NFL analyst in the country that isn't enamored with the Chargers this year? They are still extremely average at a lot of position groups (receiver, offensive line, linebackers, secondary), and the Chargers haven't won 10 or more games since 2009. Throw in their comical home field and a dicey schedule and I think the Chargers are one of the most overrated teams in the league heading into the season.
18. Detroit Lions (0-0) - This was one of the worst-looking teams in the preseason. Matt Patricia doesn't look like he has any clue, and the Lions first-team offense and defense were outscored 16-40. The Lions are 5-1 ATS in their last six MNF games.
19. Oakland Raiders (0-0) - I know the Raiders are getting killed about the Khalil Mack deal. I thought they did fine. I thought the Martavis Bryant debacle, wasting a third-round pick on a guy that didn't make it a month, was much worse. The Raiders enter the season with the oldest roster in football (27.2 years average age).
20. Seattle Seahawks (0-0) - Early-season road games have been the bane of Seattle's existence. The Seahawks have lost four straight road openers and they are a horrific 1-10 straight up in their last 11 road openers. Seattle is 1-12 ATS in their first road game of the season over the last 13 years, with the lone win coming in Carolina in 2013.
21. Denver Broncos (0-0) - The Denver-Seattle game may not be pretty, but it is one of the more consequential games of the opening week for two teams that are really struggling to find an identity and momentum heading into the season. Denver is 5-1 ATS in their last five Week 1 games. The Broncos are 1-4 ATS in their last five home games.
22. San Francisco 49ers (0-0) - In spite of all of the offseason love for the 49ers, San Francisco is taking barely over one-third of the action in their game against the Vikings and their line has spiked from 4.5 to 6.0.
23. Tennessee Titans (0-0) - This week's trip to Miami is a revenge game for the Titans after a brutal, ugly 16-10 loss in South Beach last October. The Titans mustered just 188 yards off offense (and allowed just 178) in that game as Jay Cutler outdueled Matt Cassel in one of the worst games of the NFL season. The underdog in this series is 6-1 ATS dating back to 2006.
24. New York Giants (0-0) - I don't think the Giants defense is in sync enough to do much against an outstanding Jaguars defense this weekend. This is also a big revenge match for Tom Coughlin, who put this Jaguars team together and is returning home to take on his old franchise.
25. New York Jets (0-0) - Had the Jets gone with either Teddy Bridgewater or Josh McCown in Week 1 I think they would've been a very live underdog on Monday in Detroit. But there's no telling how rookie Sam Darnold will respond to that situation. The Jets are 20-8 ATS in their last 28 games on Monday Night Football as an underdog.
26. Cleveland Browns (0-0) - I think if we learned anything from "Hard Knocks" it is that A) Hue Jackson is a loser, B) Todd Haley and Gregg Williams are both insufferable maniacs, C) Tyrod Taylor is a pro's pro and deserves better than this team, D) Jarvis Landry is really, really good and E) these guys don't seem ready for their close-up. They are clearly improved. But we still don't know how much.
27. Tampa Bay Buccaneers (0-0) - Very quietly, the Bucs first-team offense and defense had a solid preseason. They finished plus-30 against opposing first teams, No. 2 in the NFL this exhibition season. Tampa has about one-tenth of the preseason "buzz" this year that they had last year when they were a "Hard Knocks" team. And they could be a little under the radar because of it.
28. Indianapolis Colts (0-0) - The Colts are an incredible $58 million under the salary cap this year. Their roster isn't even close to competing, despite having Andrew Luck back under center. Indianapolis is just 1-9 ATS in their last 10 season openers.
29. Miami Dolphins (0-0) - Miami's rush defense was horrible this preseason, allowing 4.9 yards per carry and 151.5 rush yards per game. They will be tested in Week 1 against a Titans team that wants to pound the ball.
30. Arizona Cardinals (0-0) - The Cardinals finished the preseason with a ridiculous plus-15 turnover differential. Half of their 16 forced turnovers came in one sloppy game against Dallas. I don't expect any of that turnover luck to transfer into the regular season. But five of the last six teams that finished the preseason with a turnover differential of plus-10 or greater finished the season .500 or better.
31. Buffalo Bills (0-0) - The Bills have an incredible $54 million in dead money on their salary cap this year. That is more than 30 percent of their allowed $177 million for their entire roster this season. Buffalo will obviously try to compete. But this looks very much like a rebuilding season akin to what Cleveland ($47 mil) and San Francisco ($41 mil) endured last year because of their dead money situations.
32. Chicago Bears (0-0) - I know I'm in the minority here, but I thought the Khalil Mack deal was terrible for Chicago. You can give up a load of draft picks for a guy or you can give up a load of money for a guy. But you can't give up a load of draft picks just so you can turn around and give out a load of money to a guy. The Bears gave up way, way too much for Mack, and it is not going to help their long-term rebuild.
Throughout the season I will have my NFL Power Rankings every Tuesday. My next ones will be released on Tuesday, Sept. 11.
Robert Ferringo is coming off a dominating opening weekend in college football, banking +$1,500 while nailing blowout winners with his top three selections. Robert is back for more this week with his first full combined college and NFL football card. Robert will have a 7-Unit NFL Play and a pair of other 6-Unit selections. Don't miss out!
Robert Ferringo has been the top football handicapper in the country the past seven years, earning nearly $28,000 in total football profit. He has also posted seven of nine winning seasons (including back-to-back winning years) and produced 26 of 41 winning football months and an amazing 45 of 70 winning football months over the past decade. Robert has eight of 10 winning NFL preseasons and he is at nearly 60 percent winners over his last 900 totals picks. Also, Robert's proprietary KING College Football Betting System has posted three of five winning seasons. Robert is looking for a third straight winning football year and wants more profit this fall. SIGN UP HERE TODAY AND TAKE ADVANTAGE OF OUR 3-FOR-1 FOOTBALL SPECIALS!
We are offering new clients $60 in free NFL football picks for Robert's picks or any Advisory Board handicapper of your choosing. Get your free NFL football picks now!
Read more articles by Robert Ferringo
---
Most Recent NFL power rankings