NFL Power Rankings Week 3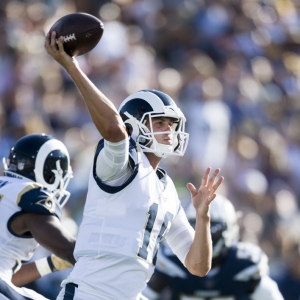 Overreaction Week lived up to its name, as the underdogs - spurred by massive line overreactions to Week 1 results - cleaned up. Teams taking the points went 11-5 against the spread last week with seven outright winners. And those seven wins don't include Cleveland's near-miss in New Orleans or the tie that Green Bay took at home against Minnesota.
If last week was marked by overreactions then I think that Week 3 will be marked by desperation. It's a well-known fact that teams starting 0-2 only have roughly a 10 percent chance of making it to the playoffs. Or at least, those are the figures dating back over the last decade. Of course, teams that have started the season 2-0 have only made it to the postseason 57 percent of the time as well, so there are no guarantees after just two weeks.
But you can feel the desperation starting to sink in. Things are already getting out of hand for some squads, be they teams harboring Super Bowl dreams like Pittsburgh or teams with new coaches or quarterbacks like Detroit or the New York Giants. Further, even some of the teams that have started 1-1 - like Atlanta, Philadelphia and New Orleans - have to be feeling a little restless about the thought of dipping below .500 this early in the year.
That should make Week 3 one of the most interesting and intense of the year. No one wants their season to be all but finished before September is finished. And I expect them to act accordingly.
Below are my NFL Power Rankings for Week 3. This is your go-to place for an NFL betting perspective and an overview of the league landscape. Check back for these rankings every Tuesday until the end of the season.
Here is Doc's Sports NFL Power Rankings:
1. Los Angeles Rams (2-0) - This team has yawned its way to a 67-13 point differential and two blowout wins. They continue to ring up 30+ points per game with little to no effort, and I think they'll do it again versus a suspect Chargers defense. The home team in the Rams-Chargers series is 7-0 straight up dating back to 1989.
2. Minnesota Vikings (2-0) - It is astounding to see a 17-point spread in an NFL game in Week 3. There is no doubt in my mind that the Vikings could pick their own score this week against Buffalo. However, remember that they are coming off an emotional road game against rival Green Bay. And the Vikings have a huge Thursday night home tilt at L.A. against the Rams on deck (followed by a road game at Philadelphia). You have to wonder about Minnesota's motivation this week.
3. New England Patriots (1-1) - I don't know why anyone thinks that Josh Gordon is going to contribute to this team at all. Look, 2013 was a long time ago. Gordon hasn't done squat in the NFL in four years, for a variety of reasons. He doesn't care about football and he can't get himself together. The idea that the Gordon trade is somehow a season changer for the Patriots is kind of ridiculous. The Patriots are 14-4 ATS in their last 18 road games and 43-18 ATS in their last 61 games after a loss.
4. Kansas City Chiefs (2-0) - I know I don't want to be the one that jumps out in front of the Chiefs scoring regression. But there is no way Pat Mahomes is going to throw five touchdowns every week. Kansas City's total for its home opener is already up to 56.0! That is one of the highest totals in the NFL this century. There were 66 combined points in the opener and 79 points last week. But the 'under' is an outstanding 45-19 in Kansas City's last 64 home games.
5. Jacksonville Jaguars (2-0) - That was a beat down. The Jaguars got their revenge against the Patriots in punishing style last week. But if this team is really ready to compete for an AFC title then they will show some maturity and avoid a letdown this week against division rival Tennessee. The Jaguars went 0-2 against the Titans last year. But the Jaguars are 5-1 ATS at home in this series, and the home team is 6-1 ATS in the last seven meetings.
6. Green Bay Packers (1-0-1) - The Packers offense will feel like its been let out of prison this week after facing the Bears and Vikings the first two weeks of the season. The Packers are an outstanding 8-2 ATS in their last 10 meetings with the Redskins but were blown out 42-24 in their last trip here back in 2016.
7. Atlanta Falcons (1-1) - Tevin Coleman, Ito Smith and the Falcons offensive line deserve the game balls for Sunday's win. They pounded an outstanding Carolina front seven on the ground, and if Atlanta can run the ball like that all year they are going to be tough to beat. The Falcons are 9-2 SU and 8-3 ATS in their last 11 September games, and Atlanta is 5-1 ATS in their last six home games.
8. Philadelphia Eagles (1-1) - I still think that people are overestimating Carson Wentz. The guy is coming back from a major knee injury. And for as good as he was last year, that was still in a pretty limited sample size. The Eagles have problems. And I actually think this might be a little high for them. Philadelphia is 8-2 ATS in their last 10 home game and 5-1 ATS after a loss.
9. Cincinnati Bengals (2-0) - Injuries are starting to creep up on this team, and they don't have the depth to sustain too many lost starters. The guys to keep an eye on this week are center Billy Price, linebacker Preston Brown, safety Shawn Williams and corner Dre Kirkpatrick. They will need all four if they want to get a road win at Carolina.
10. Baltimore Ravens (1-1) - Wow Joe Flacco. That was horrendous. All the guy needs to do is not turn the ball over and occasionally make a third down throw and Baltimore should win 10 games. The favorite in the Broncos series is 6-1 ATS, and the home team has gone 5-2 ATS when these squads face off.
11. Pittsburgh Steelers (0-1-1) - Big Ben is a wreck, and the wheels are coming off this season quickly. I was one of the few analysts in the country that was selling the Steelers coming into this season (releasing a 3-Unit Play on them 'Under' 10.5 wins). And so far they haven't done anything to make me think that they will turn this around. There is too much volatility and too much drama around this group. And, frankly, there is not enough talent to overcome the distractions. This implosion is not an aberration. The Steelers are just 12-21 ATS as road favorites against nondivisional opponents.
12. New Orleans Saints (1-1) - The Saints should be 0-2 right now with home losses to the Buccaneers and Browns. New Orleans has been outgained in both of those games. Red flags are flying all over the Bayou. The Saints-Falcons rivalry has been a wild one. Both teams are 5-5 SU and ATS in the last 10 meetings. But the underdog has had the upper hand, going 7-3 ATS the last 10 times these two teams have squared off.
13. Carolina Panthers (1-1) - The Panthers put up more than 400 yards of total offense despite getting next to nothing from their receivers. Say what you want about Cam Newton, but this guy is a one-man gang. The Panthers are 4-0 ATS after a loss and 5-1 ATS in their last six home games. It should be an emotional home game after everything that has happened in North Carolina the past week.
14. Denver Broncos (2-0) - Case Keenum is the definition of "limited". But he just keeps winning. Denver's running game has been outstanding, averaging 157 yards and 5.2 yards per carry. The Broncos are just 1-9 ATS in their last 10 road games and a horrible 5-15 ATS in their last 20 games overall.
15. Tampa Bay Buccaneers (2-0) - The Bucs are starting to get some love. They are catching 66 percent of the betting action this week against the Steelers on Monday Night Football. That spread has dropped to 1.0 from an open of 3.0, and it looks like this bandwagon is starting to fill up.
16. Los Angeles Chargers (1-1) - The seven-point spread in the Chargers-Rams games is a lot of points to lay out to Phil Rivers. Over the Chargers' last 18 games they've only lost by more than three points four times. The Chargers are 24-12 ATS as a road underdog, and they make a habit of hanging around against better teams.
17. San Francisco 49ers (1-1) - Will Kyle Shanahan be smart enough to play keep-away from the Kansas City offense, trying to work San Francisco's No. 3 rushing offense to control the ball and the clock? Or will pride get the best of Shanny and will he foolishly try to outscore the Chiefs? The 49ers are 7-3 ATS on the road but just 6-15 ATS against teams with a winning record.
18. Washington Redskins (1-1) - Alex Smith definitely cuts coupons on his days off. Alex Smith spell checks his grocery lists. Alex Smith always makes sure that his tires are inflated to the factory recommended PSI. But beyond Alex Smith, the rest of this organization looks erratic, disorganized and unfocused. The Redskins are 5-1 ATS in their last six games following a loss.
19. Miami Dolphins (2-0) - I am taking a cautious approach with this team. But I really think that they might be able to hang around in the feeble AFC. Miami is +2 in turnover differential, and they have five interceptions in two games. As long as they take it away more than Ryan Tannehill turns it over then this team is capable of playing with and scoring with most teams.
20. Chicago Bears (1-1) - Right now the Bears are an "everything…but" team. They have everything they need to make the playoffs, but they don't have a quarterback. Mitch Trubisky can make some throws. But he can't make plays, shows questionable decision-making, and is a guy that needs training wheels on the offense. He's still a long way away. And so are the Bears.
21. New York Jets (1-1) - This is what you get with rookie quarterbacks. Sam Darnold's numbers looked impressive at the end of the game. But if you watched the game you see a guy missing open receivers, throwing interceptions, and generally looking out of control. The Jets are 4-1 ATS following a loss and 4-1 ATS in their last five Thursday night games.
22. Houston Texans (0-2) - That's embarrassing that Bill O'Brien got outcoached by one of his former assistants that was in just his second game ever as a head coach. That's some loser stuff right there. Where is J.J. Watt, by the way? And Deshaun Watson looks like a guy that spent all offseason reading about how great he was going to be. But he looks shaky as hell.
23. Dallas Cowboys (1-1) - They may have won handily over a bad Giants team on Sunday. But I am definitely not buying into this group. The public obviously is, as the Cowboys went from +3.0 to just +1.0 after Seattle's sloppy effort on Monday Night Football. Dallas is 7-3 ATS in their last 10 games against the Seahawks, dating back to 2004.
24. Oakland Raiders (0-2) - The Raiders are now 0-2 after two disappointing, deflating losses. Now they have to make a long flight east for the dreaded 10 a.m. PST kickoff down in the heat and humidity of Miami. It will be interesting to see how the oldest roster in the NFL handles this situational disadvantage.
25. Indianapolis Colts (1-1) - I'm still keeping the Colts this low because their roster is still full of holes. But it is shocking just how much of a difference having Andrew Luck makes. Without him this team would be 2-14 or 3-13. With him they might end up competing for the AFC South title. The Colts are just 1-7 ATS following a win, but it is very tough to bet against Luck when he's catching this many points.
26. Seattle Seahawks (0-2) - Much like Arizona, this is a team with problems that can't be fixed with changes to their scheme. The Seahawks just don't have any talent. Russell Wilson has absolutely nothing to work with on offense, and the defense, which is down three starters from what was already set to be a mediocre group, is too young and too undermanned to be as dominating as it needs to be.
27. Tennessee Titans (1-1) - If we are lucky, that win over Houston convinces Mike Vrabel that Tennessee can win some games with Blaine Gabbert under center. Of course, everything we've seen from Gabbert - going back to his college days - suggests otherwise. So, this team should be a blind fade every time that Gabbert is announced as the starter. These guys won despite getting outgained by 150 yards. Tennessee is 16-40 ATS in its last 56 conference games and just 9-22 ATS in their last 31 road games.
28. Cleveland Browns (0-1-1) - This team should be 2-0 right now. But that's the problem with losers - it's a tough cycle to break. They should fire Hue Jackson immediately, toss Gregg Williams and Todd Haley in a row with a broken cue stick, and let the guy that leaves the room be the new head coach. The Browns defense has played better than their stats suggest, allowing just 42 total points to Big Ben and Drew Brees. The Browns are 7-19 ATS at home and 16-34 ATS in their last 50 games overall.
29. Detroit Lions (0-2) - That was a vintage Detroit Lions scummy backdoor cover on Sunday in San Francisco, complete with Matt Stafford just piling up the garbage time statistics. It will be interesting to see if Matt Patricia has absolutely any insight in how to attack the Patriots offense when the Lions host them this week.
30. New York Giants (0-2) - Yes, the offensive line deserves a lot of blame. But quarterbacks in the NFL these days have to be able to move around, extend plays, and make plays outside of the pocket. Eli Manning can't do that at all and is a slow-moving train wreck under center right now. I said before the season that he was a horrible fit for Pat Shurmur's offense, and that is clearly the case.
31. Arizona Cardinals (0-2) - Play-calling may be an issue for an offense that has just six points in two games. But the bigger problem is that they just don't have any talent. Sam Bradford stinks. But he also doesn't have anyone to throw to. Arizona is 4-10 ATS in its last 14 games against AFC teams, but they are 5-2 ATS in their last seven games against the Bears.
32. Buffalo Bills (0-2) - Not a great sign when guys would rather retire at halftime than continue to play on this team. Also not a great sign when the head coach has to take over play-calling from the defensive coordinator in the middle of the game. Things are going to get a lot worse before they get better.
Throughout the season I will have my NFL Power Rankings every Tuesday. My next ones will be released on Tuesday, Sept. 25.
Robert Ferringo nailed his 8-Unit NFL Game of the Year last week with Atlanta taking care of business at home against Carolina. Robert nearly predicted the final score in that game, calling for a 30-21 final and getting a 31-24 game! Robert has gone 6-1 for +$3,150 with his top plays this season and will be back with a 7-Unit NFL Play on Sunday that you absolutely don't want to miss. Robert has hit 60% of his last 281 football plays rated 5.0 or higher (169-112) and will keep it rolling this week.
Robert Ferringo has been the top football handicapper in the country the past seven years, earning nearly $28,000 in total football profit. He has also posted seven of nine winning seasons (including back-to-back winning years) and produced 26 of 41 winning football months and an amazing 45 of 70 winning football months over the past decade. Robert has eight of 10 winning NFL preseasons and he is at nearly 60 percent winners over his last 900 totals picks. Also, Robert's proprietary KING College Football Betting System has posted three of five winning seasons. Robert is looking for a third straight winning football year and wants more profit this fall. SIGN UP HERE TODAY AND TAKE ADVANTAGE OF OUR 3-FOR-1 FOOTBALL SPECIALS!
We are offering new clients $60 in free NFL football picks for Robert's picks or any Advisory Board handicapper of your choosing. Get your free NFL football picks now!
Read more articles by Robert Ferringo
---
Most Recent NFL power rankings