NFL Power Rankings Week 10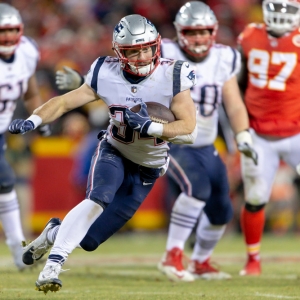 If I've said it once, I've said it 100 times: football is a physical and violent game. The team that is more physical and more violent is going to win more than they are going to lose.
Sure, the bobbleheads at the top of the NFL have been trying to change things. They've tried to make it a "safer" and more "passer friendly" game. But you can't. The danger in this sport is inherent. It always has been and always will be. And those attempts to "soften" this violent sport have only served to muddle it and water down the product.
(The insane and convoluted pass interference rules - both the regular rules and now the replay nonsense - are really the perfect cherry on top of Roger Goodell's reign over the sport.)
Despite all of the talk about how the NFL has become primarily a passing league, I have definitely noticed that the pendulum has started to swing back the other way. And now, rather than teams trying to build their rosters and game plans to just outshoot and outscore opponents, we are seeing a return to the fundamental NFL strategy: running the football.
Take a look at the Ravens. The Packers. The Eagles. The Saints. The Cowboys. The Vikings, Panthers and Colts. Even the Chiefs, now without Pat Mahomes, have become more run-oriented. What is old is new again, and teams are putting more focus on running the football.
The top three rushing teams in the league are the Ravens, 49ers and Vikings. Their combined record is 20-4. The three worst rushing teams in the NFL are the Bengals, Dolphins and Jets. Their combined record is 2-22.
Of the 10 worst rushing teams, only two have a winning record (the Chiefs and Patriots).
Of the 10 best rushing teams, only two have a losing record (Raiders and Jaguars).
You do still need to be able to throw the football. The five worst passing offenses all have losing records. However, it is not necessary for success, as the teams with the three best passing offenses - the Falcons, Chiefs and Lions - have a combined 10-14-1 mark.
Football is not complicated. Run the ball and play good defense. Football is 100 years old. If they are still playing it 100 years from now (they won't be), that equation will still win.
Here is Doc's Sports NFL Power Rankings:
1. New England Patriots (8-1) - You can always tell when Bill Belichick knows his team is in trouble. New England almost always goes with a no-huddle, hurry-up offense. They want to speed up the game and add as many possessions as they can.
2. New Orleans Saints (7-1) - The Saints have been sensational out of a bye week, going 9-1 ATS over the last 10 years after regular season byes. They are also 16-8 ATS since Week 3 of last season, and they are 17-8 ATS in their last 25 divisional games. They are also 4-1 ATS against the rival Falcons and 6-2 ATS at home against Atlanta.
3. San Francisco 49ers (8-0) - San Francisco is averaging nearly 40 rushing attempt per game. Their 38 rushes per game are the most in the NFL since 2009. Defensively, they are pressuring opposing quarterbacks on 32 percent of their drop backs. It will be interesting to see if they are able to hem Russell Wilson in on Monday.
4. Baltimore Ravens (6-2) - This is a killer letdown spot for the Ravens after their big-time win over the Patriots. Baltimore also hasn't played well against the Bengals at all over the past few years. The Ravens are just 4-6 SU and 3-7 ATS in the last 10 meetings. Only three of those 10 games were decided by more than 10 points, and the average margin in this series has been 8.1 points per game.
5. Green Bay Packers (7-2) - Green Bay's defense has gotten a lot of love from the national media this year. But the reality is that they haven't been very good at all since a hot three-week run to start the season. Green Bay is No. 26 in total defense, and they have allowed 25.7 points per game over their last six games. Not surprisingly they have gone 'over' in five of seven.
6. Kansas City Chiefs (6-3) - My gut feeling is that Patrick Mahomes will sit again this week. I think if Kansas City had lost to the Vikings, they would be feeling the pressure to rush Mahomes back. However, if Moore can just hang in there and force a split over these next two weeks and get Kansas City to its Week 12 bye, then Mahomes will have more than enough time to heal and be fresh for a December stretch run.
7. Seattle Seahawks (7-2) - It is incredible that Seattle backers were rewarded for the Seahawks incompetence. Jason Myers missed a 40-yard field goal that would've won the game but not covered the spread. He missed. So naturally Seattle got the ball first and scored a touchdown in overtime, earning a 'push' for early week bettors.
8. Minnesota Vikings (6-3) - I don't understand Minnesota's game play in Kansas City at all. You could tell the Chiefs were terrified of the Vikings running game. So what did the Vikings do? They came out throwing the ball. They ended up throwing the ball 38 times to just 27 rushes on the day. Just incredible.
9. Los Angeles Rams (5-3) - Despite what has appeared to be a somewhat disappointing start to the season, the Rams are actually 6-2 ATS this year. Los Angeles is 10-3 ATS in its last 13 games and they are 6-0 ATS in their last six road games. Los Angeles has also covered in five straight games after a bye week.
10. Carolina Panthers (5-3) - Cam Newton has officially been put on injured reserve, essentially ending his season. He has just one year left on his contract, and if the Panthers trade or release him after the season they will save $19.1 million against the salary cap. To me that's a no brainer. The Panthers are 6-2 ATS in their last eight games against a team with a winning record, and they are 4-1 ATS in their last five against Aaron Rodgers and the Packers.
11. Indianapolis Colts (5-3) - Look man, Adam Vinatieri has got to go. It's over. He was a great story. He's a Hall of Famer. But how many more games are you going to let this guy cost you? He has missed an incredible five extra points this year, not to mention two game-winning field goals. This team should be 7-1 right now. I don't understand their loyalty to this guy. Even he knows it is over.
12. Houston Texans (6-3) - That was a clinic by the Texans defense, which had to step up without J.J. Watt. I also liked what Houston was doing offensively. Not only were they running a lot of RPO action, but Watson himself had run-pass option on a lot of his rollouts. Houston was forcing Jaguars linebackers to decide between either covering Houston's tight ends and letting Watson scramble for gains or leaving the tight end and allowing Watson simple throws.
13. Dallas Cowboys (5-3) - Don't be fooled by the final score: that win over the Giants was a lot closer than the 37-18 final score suggests. The Cowboys are just 1-9 ATS in their last 10 games against the Vikings, and it will be interesting to see how they counter punch against a team that is just as good running the ball on offense and much better at stopping the run on defense.
14. Philadelphia Eagles (5-4) - The Eagles head into their bye week with an inside track to at least a Wild Card berth this year. They have five wins. They have two games left against the Dolphins and Redskins, two moron teams. They also have two games against the Giants. They should win all four. But even if they cough up one of those games, Philadelphia can get to 10 wins by going 2-1 against the Patriots (after the bye), Seahawks and Cowboys. The good news about those three tough games: they are all at home.
15. Buffalo Bills (6-2) - The Bills are basically playing a Sun Belt-caliber schedule this season! Their opponents to this point have a combined 22-45 record, with eight of those wins belonging to the Patriots. Their next three games, against the Browns , Dolphins and Broncos, are against teams that are a combined 7-18. Buffalo only has three remaining games against teams with a winning record. They are going to fall into 10 wins this season, and in my head I'm already spending the money I am going to make betting against them next season.
16. Pittsburgh Steelers (4-4) - How did so many people miss on T.J. Watt? He went No. 30 in the 2017 draft, meaning just about everyone had a shot at him. And through just 2.5 seasons, the guy already has 27.5 sacks, 10 forced fumbles and two interceptions on his resume. He might be the best player on that Steelers defense.
17. Oakland Raiders (4-4) - Quick turnaround for the Raiders, who get two home games in five days after playing zero home games in almost two months. Oakland is 6-1 ATS in their last seven home games, but there is definitely going to be a weird vibe in this stadium over the next two months as they wrap up their time in Oakland before ditching The Bay for Vegas.
18. Los Angeles Chargers (4-5) - As expected, the Chargers rededicated themselves to the running game under new offensive coordinator Steve Steichen. The result was 38 carries for 159 yards against a decent Packers defense. They still need to clean things up in the red zone, though. They were just 2-for-5 against Green Bay and they have scored touchdowns on just 46.9 percent of their red zone appearances this season.
19. Detroit Lions (3-4-1) - The Lions have beaten the Bears seven of the last 10 times they've squared off. Detroit is just 2-5 ATS in its last seven divisional games but they are 5-2 ATS in their last seven road games.
20. Jacksonville Jaguars (4-5) - Gardner Minshew has been a fun story and he's really shown some promise. I still don't think there is any doubt that the Jaguars should go back to Nick Foles as their starting quarterback after the bye week. Jacksonville is in a window of being competitive. And those windows close quickly. Foles is only 30 years old, and he's a proven commodity. Minshew can wait a couple of years and develop a bit before he gets his shot.
21. Chicago Bears (3-5) - The Bears put their season on this negative trajectory back in March when they basically gave away Pro Bowl running back Jordan Howard for a sixth-round pick. Several teams have stabilized their season by leaning on the running game. The Bears can't pass because Mitch Trubisky is terrible. And now they don't have a between the tackles back like Howard to fall back on.
22. Tennessee Titans (4-5) - For some reason, the Titans gave Derrick Henry only two carries in the first half. By the time they realized that they should be pounding the ball on the ground, they were already down 17-0 and it was too late. Tennessee is just 21-50 ATS in its last 71 conference games and they are 2-5 ATS in their last seven games as an underdog.
23. Cleveland Browns (2-6) - I don't know how it is even a debate about Freddie Kitchens being a one-and-done coach. I don't think that anyone in sports is as in over their head as Kitchens, and he has absolutely no business leading a team. The Browns are just 21-44 ATS in their last 65 games and 9-23 ATS in their last 32 home games.
24. Denver Broncos (3-6) - I don't know that Denver was more aggressive with its play calling on Sunday. I just think Brandon Allen was more aggressive with his decision making. Joe Flacco can piss and moan about play calling all he wants. But when he had his opportunities, he did nothing but check down and make safe plays. Allen made some dicey throws. But his receivers rewarded him for his daring with some big plays. The result was one of Denver's highest scoring outputs of the season.
26. Tampa Bay Buccaneers (2-6) - We all agree that the Bucs are better than their record. They have played an absolutely brutal schedule, and this week's game is their first home game since Sept. 22. They have been on the road for five straight weeks. However, because of Jameis' turnover issues, there is just no way I trust this team laying points. The Bucs are on an 0-4 ATS slide, and they are just 1-4 ATS in their last five home games.
26. Arizona Cardinals (3-5-1) - Don't be fooled by the BS backdoor cover from the Cardinals on Thursday. These guys are still trash, and they were physically dominated by the 49ers. Kliff Kingsbury continues to make simple mistakes in his game management and shows no signs of being a competent NFL coach. Yet despite all this, these scrubs are 4-1 ATS in their last five games. The NFL makes sense.
27. New York Giants (2-6) - Pat Shurmur just continues to make confounding game management decisions that are costing his team. His clock management at the end of the first half was absurd and essentially gave the Cowboys three points. And his decision to waste a timeout on a doomed pass interference challenge in the second half was a turning point.
28. Atlanta Falcons (1-7) - It is insane to me that the Falcons got offers on Devonta Freeman and didn't take them. His disastrous contract is an anchor around this team's payroll, and it would've been worth a middle round pick just to get his number off the books. He's going to count nearly $30 million against the cap for the next three years. And in the three years since he signed the deal, he has run for an average of 420 yards per season.
29. Miami Dolphins (1-7) - I released Miami as a rated pick last week and said I thought they would win outright. Now I'm just mad I didn't trust that more and make it a bigger wager! Miami has been battling. They are completely overmatched, talent-wise, but they are fighting. They are on a 4-0 ATS run in their last four games.
30. Washington Redskins (1-7) - The Redskins haven't scored a touchdown since their October 13 win over Miami. They have a bye this week and next play on Sunday, Nov. 17, meaning they will have gone over a calendar month without scoring a touchdown. They are averaging 7.5 points per game over their last six games.
31. New York Jets (1-7) - This week's "Battle for New York" is essentially a test of which team can walk and chew gum at the same time. The Giants have, not surprisingly, dominated this series with their crosstown rivals. The Jets are just 1-5 SU and ATS in this series over the last 25 years. Though the Jets did win the most recent matchup, 23-20 in OT, back in 2015.
32. Cincinnati Bengals (0-8) - I suppose the Bengals have a situational advantage this week against the Ravens. Cincinnati has had two weeks to prep and get ready for this game. And they are facing a Baltimore team that is in a killer letdown spot after their primetime upset over the Patriots.
Robert Ferringo has been the top football handicapper in the country the past nine years, earning nearly $40,000 in total football profit (average profit: +$4,400). He has also posted 7 of 9 winning seasons (including three straight winning years) and produced an amazing 50 of 76 winning football months over the past 12 years. Robert has eight of 10 winning NFL preseasons and he is at nearly 60 percent winners over his last 1,000 totals picks. Also, Robert's proprietary KING College Football Betting System has posted three of five winning seasons. Robert is looking for a fourth straight winning football year and wants more profit this fall. SIGN UP HERE TODAY AND TAKE ADVANTAGE OF OUR 3-FOR-1 FOOTBALL SPECIALS!
We are offering new clients $60 in free college football picks for Robert's picks or any Advisory Board handicapper of your choosing. Get your free college football picks now!
---
Most Recent NFL power rankings