2014 AFC East Predictions with Odds and NFL Betting Picks
by Robert Ferringo - 7/31/2014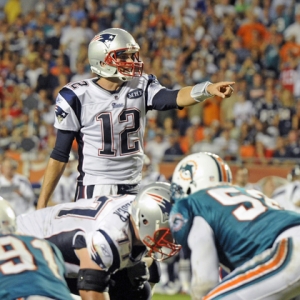 The Patriots are going to win the AFC East.
The End.
My brevity is only partially in jest. The AFC East has been one of the biggest mismatches in the NFL over the past decade-plus. New England has won the division 11 times in 13 years, and according to Sportsbook.ag the Patriots are an overwhelming -300 favorite to win the title again in 2014.
It is not a stretch to suggest that one of the key factors of New England's dynasty during the Belichick Era has been the good fortune of playing in the same division as the Dolphins, Jets and Bills, three of the worst franchises in football over the past decade. In fact, those three franchises have accounted for just nine winning seasons, out of a possible 30, in the last 10 years. The Patriots? They are a perfect 10-for-10.
I wouldn't bet much because of the juice. But a wager on the Patriots to win the division again in 2014 is about as easy as money gets.
Here is the rest of my NFL predictions and betting odds with my 2014 AFC East preview:
New England Patriots Predictions
2013 Record: 12-4 (8-0 home, 4-4 road)
2013 Against the Spread: 8-8 ATS, 9-7 vs. Total
2013 Rankings: 7th offense (10th pass, 9th rush); 26th overall (18th pass, 30th rush)
2014 Odds: 9.5/1 to win SB, 3.5/1 to win AFC, 1/3 to win AFC East, 10.5 wins O/U
Offense: It is a testament to the greatness of Tom Brady that the Patriots finished in the Top 10 in most key statistical categories last year. Their receiving corps was a clown car of awful last season. How awful? Running back Shane Vereen (who played only eight games) and tight end Rob Gronkowski (who only played six) were the No. 3 and No. 4 receivers, respectively, and former Toledo quarterback Julian Edelman was No. 1.
Anyone, such as semi-sham site Pro Football Focus, that suggests that Tom Brady is no longer playing at an elite level is an idiot. Brady is one of the two or three greatest quarterbacks of all time and still lethal. His young receivers, like Edelman and Kenbrell Thompkins, should only be better. And the key will be the health of always-injured starters Danny Amendola and Gronkwoski. (Spoiler alert: they will both get hurt again.)
The Patriots offensive line is still top-notch. But depth is nearly nonexistent. And any injuries along that front will cripple the running game, which has improved each of the past two years.
Defense: Speaking of injuries crippling something, the Patriots defense was shredded last season. Yet they still managed to finish in the Top 10 in points allowed for the second straight year and the ninth time in 11 years. What is amazing about that is New England has been in the top half of the league in points allowed the last four years despite finishing No. 25 or worse in yards allowed. Their yards-per-point average is consistently one of the worst in the league. And while that is a red flag that a team is due to take a step back, the Belichick Patriots have been seemingly immune to it.
The Pats lost three starters, including stalwarts Brandon Spikes and Aqib Talib. But they seem to have upgraded the defense overall by hauling in corners Darrelle Revis and Brandon Browner. Revis, who I believe is overrated, should replace Talib's production. And when Browner returns from suspension he will offer some Super Bowl champion cache and physicality to the back line.
Just as with the offense, the starting 11 for the Patriots are rock-solid. But their second unit is a bunch of no names. So if there are any injury issues again this year, I can't see this group holding up.
Skinny: The Patriots are one of the few teams that I don't have to do much research on in the preseason. After all, they are the Patriots. As long as they have Brady and Belichick - and as long as their division mates remain colossal losers - they are going to be an elite team.
It seems like it would be nearly impossible to find value with this very public team. But the opposite is actually true. New England has not finished below .500 against the spread in over a decade, and they are 91-64-5 ATS in the last 10 years. That's a healthy 58.7 percent success rate, and the Pats remain a moneymaker. Enjoy it while it lasts.
Miami Dolphins Predictions
2013 Record: 7-9 (5-3 home, 2-6 road)
2013 Against the Spread: 9-7 ATS, 7-8-1 vs. Total
2013 Rankings: 27nd offense (20th pass, 26th rush); 21st defense (16th pass, 24th rush)
2014 Odds: 75/1 to win SB, 35/1 to win AFC, 7.5/1 to win AFC East, 7.5 wins O/U
Offense: Joe Philbin earned the head-coaching gig in Miami based on his offensive work with Aaron Rodgers and the Packers. He has not been able to duplicate that success in South Beach and brought in former Eagles quarterbacks coach Bill Lazor as the new offensive coordinator. The goal is for Lazor to help the Dolphins pump up the tempo with a faster-paced offense.
That all sounds good. But the problem with Miami's offense is not the scheme. Miami's running back corps may be the worst in football. And their crop of receivers, "led" by overpaid ex-Steeler Mike Wallace, is not much better. I'm a big fan of tweener tight end Charles Clay. But there is only so much he can do, and he can't carry the pass attack.
Further, the Dolphins have completely reconstructed the offensive line after last season's bizarre bully scandal ripped that group to shreds. The addition of Pro Bowler Branden Albert was outstanding. But center Mike Pouncey could miss half the season, and the rest of the starters are young and overmatched.
Finally, the jury is still very much out on quarterback Ryan Tannehill, who has completed less than 60 percent of his passes and boasts a 36-30 TD-to-INT ratio in two years. Tannehill has a strong arm and shows flashes of being capable. But this third year will be crucial for a guy that probably shouldn't have been starting the past two seasons.
Defense: Miami's defense has been one of the toughest and most underrated in football the past several seasons. The Dolphins have finished No. 8 or better in points allowed in each of the past three years, and they added some solid pieces in the secondary with corner Cortland Finnegan and safety Louis Delmas.
One of the keys to Miami's solid stop unit is the fact that they don't rely on a lot of young players. Only one starter, third-year end Olivier Vernon, has less than four years of experience in the NFL. And that gives coordinator Kevin Coyle some latitude with his scheming.
Skinny: I like Philbin. I think he has the potential to be a good NFL coach. But last year's off-field debacle, the late-season collapse, and Philbin's mediocre 15-17 record has given birth to grumbling in the front office and from the fan base. The Fins haven't made the playoffs since 2008, which was their lone postseason appearance since 2001. The pressure is building.
However, I think playoff aspirations for this team are ambitious. Miami is below average in too many spots on offense. The defense will have to shoulder most of the load once again. But I think that their YPP numbers are a bit unsustainable.
Miami's schedule has plenty of pitfalls as well , including a trip to London the first month of the season and a midseason stretch of five of seven games on the road. The Dolphins will be competitive and should be right around the 7-8-win mark that they've struck in four of the last five years. But this is not a team that I think is poised for a breakout.
New York Jets Predictions
2013 Record: 8-8 (6-2 home, 2-6 road)
2013 Against the Spread: 9-6-1 ATS; 9-7 vs. Total
2013 Rankings: 26th offense (31st pass, 6th rush); 12th defense (24th pass, 3rd rush)
2014 Odds: 70/1 to win SB, 30/1 to win AFC, 9/1 to win AFC East, 7.0 wins O/U
Offense: The Jets have finished No. 28 and No. 29 in the NFL in scoring in each of the past two years, respectively. And despite all evidence to the contrary, they are all-in with quarterback Geno Smith. The second-year signal caller's maturation will be the determining factor in a lot of coaches keeping, or losing, their jobs next offseason.
Smith was pretty terrible as a rookie in 2014. He threw just 12 touchdowns to 21 interceptions, completed just 55.8 percent of his passes, and sported a pathetic 66.5 quarterback rating. But I have no idea what the Jets expected from the in-way-over-his-head quarterback. Smith should be on the bench, watching and learning. Instead he is trying to carry an offense that he is obviously not capable of leading.
New York overpaid for free agent wideout Eric Decker and laughably/predictably bit on overrated running back Chris Johnson. Johnson did run hard last year in Tennessee. But while his overall stats look quality there are a whole lot of two-yard losses and one-yard gains that get glossed over. These two can play. They can. But I don't know if the Jets new duo is good enough to compensate for this attack's overall weaknesses.
Defense: Supposedly, if there is one thing that Rex Ryan can do it's coach defense. But the Jets have finished No. 19 or worse in scoring defense in each of the past three years. They are kind of the anti-Patriots or anti-Dolphins that way. And their yards allowed, while still a very strong No. 11 in the league, declined for the fourth straight year of Ryan's five-year tenure.
New York boasts one of the best 3-4 defensive lines in football. Tackle Sheldon Richardson was the defensive rookie of the year, and end Muhammad Wilkerson is a Pro Bowl player. They added Jason Babin during the start of training camp to bolster the pass rush and help take the pressure of their erratic linebacking corps.
Despite investing significant resources, the Jets secondary is still a mess. Starting corner Dee Milliner and safety Calvin Pryor have exactly one year of experience between the two of them. Former first-round pick Kyle Wilson hasn't panned out. And guys like Antonio Allen, Dimitri Patterson and Dawan Landry are simply solid.
The Jets will still be a decent defense. But they just don't have many game-changers or top-end players beyond the cloggers along the line. I don't expect a big jump in production.
Skinny: If you ask the Jets, they have the best defense in football, one of the best coaches in football, one of the best young quarterbacks in football, and they are one of the favorites in the AFC. Basically, the Jets think that they are the balls.
New York's players, fans and coaches are delusional. At best, the Jets are mediocre. At worst, they are primed for meltdown that could cost Ryan his job. New York surpassed its Pythagorean Win Total by a whopping 2.6 games last year, well beyond the standard deviation, and they went 4-1 in games decided by six points or less. They won't benefit from that type of good luck again, and we'll have to see just how far this team falls.
Buffalo Bills Predictions
2013 Record: 6-10 (4-4 home, 2-6 road)
2013 Against the Spread: 8-8 ATS, 10-6 vs. Total
2013 Rankings: 20th offense (28th pass, 2nd rush); 10th defense (4th pass, 28th rush)
2014 Odds: 75/1 to win SB, 35/1 to win AFC, 12/1 to win AFC East, 6.5 wins O/U
Offense: So close. The Bills were SO close to having a potential Top-10 offense for the first time since 2000. When they traded up to select Sammy Watkins, whom I thought was the most talented player in May's draft, their skill positions looked stacked. A set of C.J. Spiller, Fred Jackson, Stevie Johnson, Mike Williams and now Watkins would've given second-year quarterback E.J. Manuel a host of playmakers to work with.
Instead, they traded their best receiver (Johnson averaged 70 catches, nearly 1,000 yards and six touchdowns the past four season) to San Francisco for a song. They are now over reliant on their rookie receiver - and almost nothing in football is as overrated as a rookie wideout.
Buffalo is OK along the offensive line, as long as Cordy Glenn comes back at full strength. And they have one of the best groups of running backs in the NFL. C.J. Spiller, Fred Jackson, Anthony Dixon and Bryce Brown give them a bevy of tanks on the ground.
But just as with the Jets and Dolphins, it all comes back to how quickly their young quarterback can figure things out. But let me clue you in on how that will go: E.J. Manuel is going to be an erratic turnover machine, teasing with some big throws and great games, but generally floundering because he lacks consistency and savvy. So goes the Bills offense.
Defense: Just as with the offense, the Bills were so close to having one of the best defenses in football. They were No. 10 in yards allowed last year, sent three players to the Pro Bowl and had a fourth, Jerry Hughes, register double-digit sacks. Buffalo added talented vets Keith Rivers and Brandon Spikes to bolster the sorry run defense and were on the way up.
But then they lost their defensive coordinator, safety Jarius Byrd left via free agency, stud inside linebacker Kiko Alonso was put out for the year by injury, and massive tackle Marcel Dareus had several run-ins with the law and could be subject to a suspension. There are still several talented players on this side of the ball. But they aren't what they could've been.
Former Lions coach Jim Schwartz has taken over as defensive coordinator. He is scrapping the 3-4 base that former DC (and now Browns coach) Mike Pettine installed last year. Schwartz is going back to the 4-3 that the Bills employed in 2013 and has the personnel to make it work. Schwartz will also use some Wide Nine fundamentals in his new scheme. We'll see what impact that has on the pass rush, but playing the linebackers back should assist the run defense.
The Bills had just a 13.7 yards-per-point average last year, which is an anomaly. If they can avoid any more personnel losses and simply play as well as they did last year then this team should show marked improvement simply based on statistical regression.
Skinny: There is a lot of uncertainty surrounding the Bills right now. They will dedicate this season to the memory of former owner Ralph Wilson. But his passing has put the future of this team in Western New York in doubt. There are other questions as well: is Manuel the answer at quarterback? Is Doug Marrone the answer on the sideline? Can the defense overcome the loss of several key players?
I would be much higher on this team if they kept Johnson and if Alonso hadn't gotten injured. But those things happen to the Bills because the Bills are losers. They haven't won more than six games in the last four years, haven't finished above .500 in almost a decade and haven't been to the playoffs in this millennia. The minute they grabbed Watkins I was counting the money I would win with this team. But since then they have just proven why they are a league bottom-feeder.
Buffalo's success and failure this year may be out of their control. If the Jets and Dolphins, who each have their own issues, slide back then it could open some room for the Bills to improve. But this team has proven time and time again that it can't be trusted to stay out of its own way.
For more of Robert Ferringo's articles CLICK HERE.
Robert Ferringo was the top football handicapper in the country last year, earning nearly $8,000 in total football profit in 2014-14 and posting one of the best seasons in America. He hit 62.1 percent for the entire NFL season (95-58) and was amazing down the stretch, closing with 11 of 14 winning NFL weeks and 12 of 15 overall winning football weeks. Robert has posted 3 of 4 winning football seasons, 6 of 7 winning NFL seasons, 30 of 44 winning football months, and 6 of 7 winning NFL preseasons. Also, Robert's proprietary KING College Football Betting System posted another winning season (now 2-for-2) and is 83-58 over the last two years (58.9 percent).
We are offering new clients $60 in free college football picks for Robert's picks or any Advisory Board handicapper of your choosing. Get your free college football picks now! Also, get three handicappers for the price of one when you sign up for a full-season football package! Click Here for details.
Read more articles by Robert Ferringo